NHL Free Agents 2013: Players Who Won't Live Up to Potentially Huge Contracts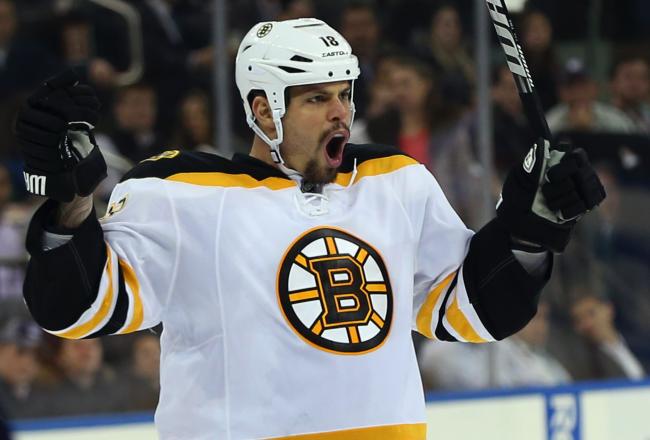 Bruce Bennett/Getty Images
The 2013 NHL free-agent class isn't overly strong, but that certainly won't stop teams from spending. Even if there isn't a ton of top-flight talent available, organizations are desperate to improve and they will overpay in order to do so. There are bargains to be had, but the top names available are in line to receive massive contracts.
Although some of those players may be able to live up to the monster deals they are likely to sign, others will be doomed from the start. Signing a hefty contract is great from a monetary perspective but a great deal of pressure comes along with it. Supporting players will be paid like superstars, and that is a recipe for disaster.
Here are three highly touted free agents who will ink huge contracts but will be unable to meet the lofty expectations that their new teams will place upon them.
Nathan Horton
A handful of players cash in on playoff success every offseason, and while former Boston Bruins forward Nathan Horton had a decent regular season as well, there is no doubt that his playoff prowess will lead to a big payday.
Horton was a huge factor for Boston during the postseason as he racked up 19 points in 22 games and helped lead them to the Stanley Cup Final. Horton also scored 13 goals in just 43 regular-season games, but he was only on pace for around 40 points overall.
At 6'2", 229 pounds, Horton is a true power forward who could be an important piece for several teams. His track record doesn't suggest that he deserves first-line money, though.
Horton had consecutive 62-point seasons for the Florida Panthers in 2006-07 and 2007-08, and he has one 30-goal season to his credit, however, those aren't superstar numbers.
According to Aaron Portzline of the Columbus Dispatch, the Columbus Blue Jackets are pushing hard for his services.
Dispatch: #CBJ jump quickly into free agency derby, host Nathan Horton in Columbus on Wednesday http://t.co/3iazp5LtJ4 #Bruins #NHL

— Aaron Portzline (@Aportzline) July 4, 2013
Horton would likely be a good fit in Columbus as he could mesh with the likes of Brandon Dubinsky and Marian Gaborik, but the Jackets will have to overpay to get him.
There also has to be some concern about Horton's injury history as he suffered a concussion during the 2010-11 playoffs that kept him out for half of the 2011-12 season. Horton seemed to bounce back this year, but making a huge financial commitment to guy who could be on the shelf after one hit is a major risk.
Tyler Bozak
As risky as Horton is, he has at least shown flashes of dominance in the past. One player who has never done that is former Toronto Maple Leafs center Tyler Bozak. While the 27-year-old center has been a steady contributor for the Leafs, he will be looking for a monster deal in free agency.
According to TSN's Darren Dreger, Bozak is asking for five years at $5 million per season, but the Maple Leafs have refused to take the bait thus far.
Told no progress on Bozak extension talks with Leafs. Negotiation is ongoing. Sense is Nonis will not do $5 x 5yrs. Will someone else? #TSN

— Darren Dreger (@DarrenDreger) July 5, 2013
Bozak is a low-end No. 2 center and a fantastic No. 3 option, but that profile doesn't scream $5 million per year.
His best season came two years ago as he put up 18 goals and 47 points. Bozak had 28 points in 46 games this past season, so he was on pace for about 50 points, but that simply isn't enough to production to give into his demands. The Leafs just dumped an awful contract in the form of Mikhail Grabovski, as per Mark Zwolinski of the Toronto Star, and they cannot afford to take on another.
Even if the Leafs refuse to re-sign him at that price, though, the market suggests that some other team will. Playmaking centers are hot commodities in the NHL, and even though Bozak has yet to put up fantastic numbers, a team will bank on him eventually reaching his ceiling.
Nothing that Bozak has done suggests that he will ever be a good enough player to make $5 million per season, but he very well may get that contract anyway.
David Clarkson
Former New Jersey Devils winger David Clarkson is unquestionably one of the toughest men in the NHL today, as he throws his body around with reckless abandon, drops the gloves when necessary and drives to the front of the net in order to make things happen.
All of those things make him a great supporting player, but he'll never be confused with the Sidney Crosbys and the Alexander Ovechkins of the world. Despite that, he is in line to be a very rich man Friday, according to Dreger.
Little doubt David Clarkson will get a 7 year term. Some gm's think he will get $6 mil or higher per. #TSN

— Darren Dreger (@DarrenDreger) July 5, 2013
Which player will have the most difficult time living up to a huge contract?
Any team would love to have a player like Clarkson, but players who make $6 million per season generally have more than one 20-plus-goal season on their resume.
Clarkson really stepped up two seasons ago when he scored 30 goals and helped lead the Devils to the Stanley Cup Final. He followed that up with 15 goals in 48 games this past season, so he was well on his way to at least 25 tallies.
Clarkson isn't a particularly gifted offensive player, though, so there is no guarantee that the goal-scoring production will persist over the long haul.
An even bigger issue than potentially making $6 million per year, though, is a seven-year term. Clarkson is already 29 years old, and it's doubtful that he'll be scoring 30 goals by the time he is 36.
With the salary cap going down, Clarkson's contract is going to be an absolute albatross if Dreger's projections are close to accurate. Clarkson is the type of player who contributes to a winning cause, but the price tag becomes too steep at some point.
Follow @MikeChiari on Twitter
This article is
What is the duplicate article?
Why is this article offensive?
Where is this article plagiarized from?
Why is this article poorly edited?