UFC 162 Results: Questions Heading into UFC on Fox 8 Johnson vs. Moraga Card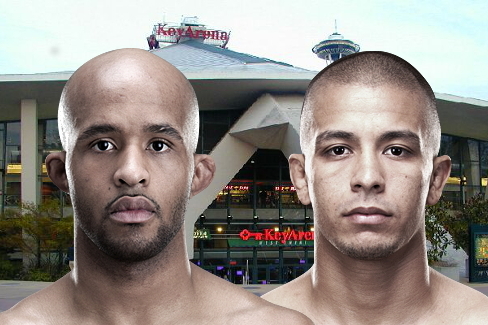 UFC 162 is in the books and the full results are below:
Chris Weidman defeats Anderson Silva via knockout at 1:18 of Round 2
Frankie Edgar defeats Charles Oliveira via (30-27, 29-28, 30-27)
Tim Kennedy defeats Roger Gracie via unanimous decision (30-27, 30-27, 29-28)
Mark Munoz defeats Tim Boetsch via unanmimous decision (30-26, 30-27, 29-28)
Cub Swanson defeats Dennis Siver via TKO at 2:24 of Round 3
Andrew Craig defeats Chris Leben via split decision (29-28, 28-29, 30-27)
Norman Parke defeats Kazuki Tokudome via unanimous decision (30-27, 30-27, 29-28)
Gabriel Gonzaga defeats Dave Herman via knockout at 0:17 of Round 1
Edson Barboza defeats Rafaello Oliveira via TKO at 1: 44 of Round 1
Brian Melancon defeats Seth Baczynski via knockout at 4:59 of Round 1
Mike Pierce defeats David Mitchell via TKO at 2:55 of Round 2
Following Saturday's event, the UFC will take a break until July 27. When the promotion returns it will be at Seattle's Key Arena for UFC on Fox 8, a card that will be headlined by a flyweight title bout between champion Demetrious Johnson and challenger John Moraga.
What follows are some questions we have heading into that upcoming fight card.
Begin Slideshow

»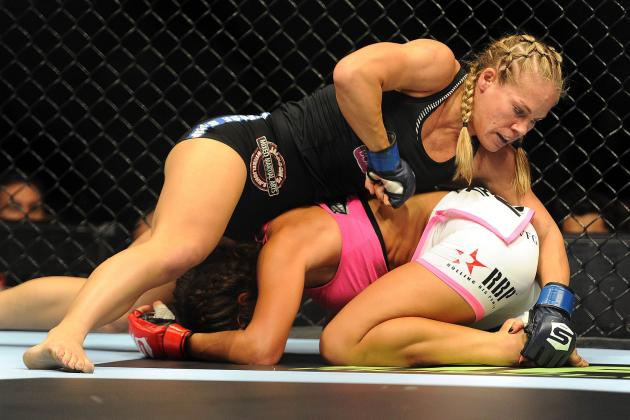 Jayne Kamin-Oncea-USA TODAY Sports

Success comes quick for some. For others, it's a long journey to success, if it comes at all. If you look at women's mixed martial arts, Ronda Rousey would fit the former description, while Julie Kedzie would fall into the latter.
Rousey made her professional debut in March 2011. By November 2012, she was wearing UFC gold.
Kedzie, on the other hand, has been toiling away as a professional mixed martial artist since 2004, putting together a record of 16-11, while fighting for various promotions.
Kedzie will make her UFC debut on July 27 when she faces Germaine de Randamie at UFC on Fox 8. The door is open for Kedzie to have success on the largest stage in the sport she has devoted years to, but will she be able to kick it open and seize the opportunity?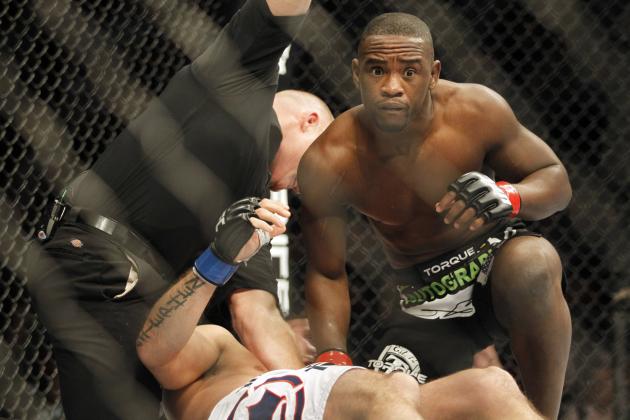 Joe Nicholson-USA TODAY Sports

Time eventually catches up to everyone, and after 62 professional MMA bouts, time may be catching up to Yves Edwards.
Edwards has been in the game a long time, debuting back in 1997, racking up a record of 42-19-1 since that debut. The problem is that three of those 19 defeats have come in Edwards' past five contests.
At 36 years old and with a lot of miles on his body, Edwards is going to need to beat Father Time and Spencer Fisher at UFC on Fox 8.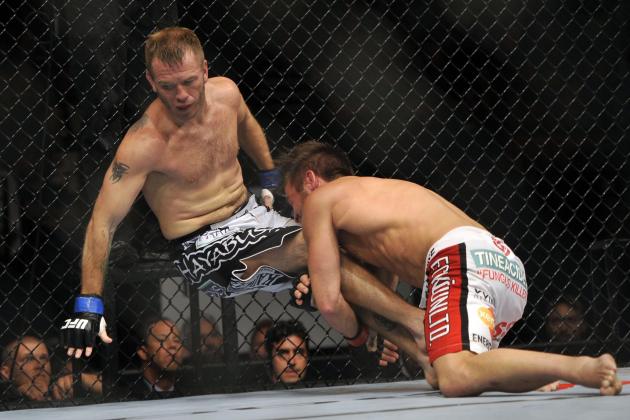 Joe Camporeale-USA TODAY Sports

If there is one fighter who needs a win at UFC on Fox 8, it would be Spencer Fisher. Fisher, a UFC fighter since 2005, is in the midst of a deep slump, going 1-5 in his past six fights.
Fisher's last win came against Curt Warburton in October 2010. If he fails to defeat Edwards in Seattle, it's almost a guarantee that he will be released from the promotion.
If you are looking for a sleeper pick for "Fight of the Night," you could do worse than pick the Edwards vs. Fisher scrap.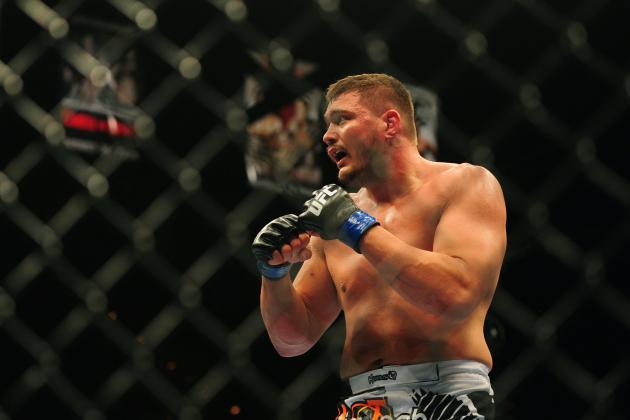 Mark J. Rebilas-USA TODAY Sports

Entering UFC 157, Brendan Schaub was on a two-fight losing streak. Matt Mitrione was also riding a two-fight slump when he stepped into the Octagon at UFC on Fuel 9. Both fighters walked away from those bouts with victories. Schaub earned a decision over Lavar Johnson, while Mitrione knocked out Phil De Fries.
Now that both fighters have avoided the dreaded three-fight UFC losing streak, the pressure will be on for them to make a move in the heavyweight rankings.
It's doubtful that a win will launch either fighter into the top 10 in the division, but it's not out of the question that a victory could earn the winner a shot at a top-10 opponent in his next bout.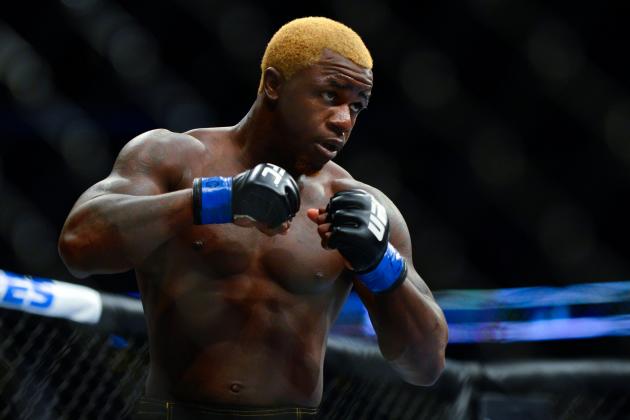 Ron Chenoy-USA TODAY Sports

For a hot minute, Melvin Guillard was a fighter without a home, a nomad looking for a place to train in the sport he made his living at since 2002.
In March, it was announced that Guillard had left the Blackzilians and rejoined Jackson's MMA, but that announcement turned out to be a bit premature. The fighters at Jackson's said, yeah…no in a vote to allow Guillard to rejoin the gym he had once trained at.
Guillard then found a home at Grudge Training Center in Denver.
The question here is will the change in scenery help Guillard? The fighter known as "The Young Assassin" is 1-4 in his past five fights. Guillard's current slump comes after a three-year run where he went 8-1 and seemed poised for a breakthrough in the lightweight division.
On Saturday, Guillard won't be fighting for a chance to get in the mix—he'll be fighting for his job.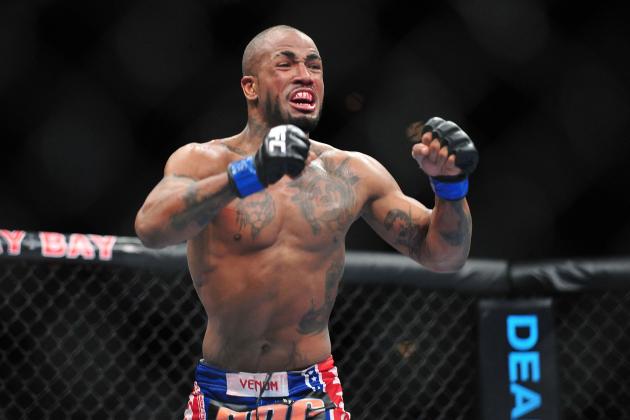 Gary A. Vasquez-USA TODAY Sports

Following UFC 156, UFC president Dana White was quick to point out the poor performance of some of the fighters on the card, but he was also happy to heap praise on Bobby Green, who defeated Jacob Volkmann. He said, "That kid wanted to win that fight, he had tons of heart. I loved that fight. That was my favorite fight of the night. Bobby Green's getting a check. That was a fun fight, I had a good time watching that fight, and I liked how he had the will to win tonight. Nothing was going to stop that kid from winning tonight. Bobby Green."
If you missed the fight, it had one moment of terrible refereeing that could have ruined Green's UFC debut.
After being dominated on the ground in the first round, Green got top position early in the second round and went to work with strikes to the head and body from Volkmann's half guard. Green was active on the ground, but referee Kim Winslow disagreed and stood up the fighters, despite the fact that Green had landed more than 30 strikes on the ground.
Green then went into the third round and earned the submission victory, taking some of the heat off Winslow's poor decision-making. The rear-naked choke earned Green "Submission of the Night" honors and gained him a big fan in White.
When he faces Danny Castillo in Las Vegas, we'll find out if he can keep the boss as a fan.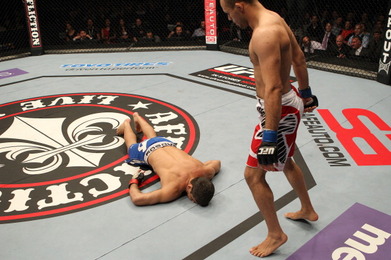 Josh Hedges/Zuffa LLC/Zuffa LLC via Getty Images
Siyar Bahadurzada had a great UFC debut, knocking out Paulo Thiago in 42 seconds. It was the first KO loss in the 18-fight career of Thiago and earned Bahadurzada "Knockout of the Night" honors. Not surprisingly, the MMA world was looking forward to seeing what Bahadurzada could do in his next bout.
The answer turned out to be, not that much.
Bahadurzada ran into the strong wrestling skills of Dong Hyun Kim and dropped a unanimous decision.
Odds are high that Bahadurzada will not have to worry about wrestling when he steps into the Octagon in Seattle. After all, he will be facing Robbie Lawler, a fighter who has 17 knockout victories to his name.
The memory of the Thiago knockout is still pretty fresh, so expectations remain high for Bahadurzada. The pressure will be on for him to show that his impressive debut was more than just a fluke.
Jayne Kamin-Oncea-USA TODAY Sports

Robbie Lawler's first run with the UFC ended after stoppage losses to Nick Diaz and Evan Tanner. Lawler's record with the promotion during that stint, which ran from 2002 to 2004, was 4-3.
Lawler went on to fight for various promotions before signing with Strikeforce in 2009. His Strikeforce career was up and down, going 3-5 while facing some of the top fighters in that promotion.
When Strikeforce was shuttered, Lawler made the move back to the UFC. For his first fight back with the promotion, he was given a tough test. The UFC matchmakers pitted him against Josh Koscheck.
Lawler made the most of the opportunity, using ground strikes to earn a first-round TKO victory and "Knockout of the Night" honors in launching himself into the top 10 in the welterweight division.
He will have a lot of momentum heading into his contest against Siyar Bahadurzada, but Bahadurzada is a fighter with a lot to prove.
If you're looking for a leading candidate for "Knockout of the Night," this is the fight.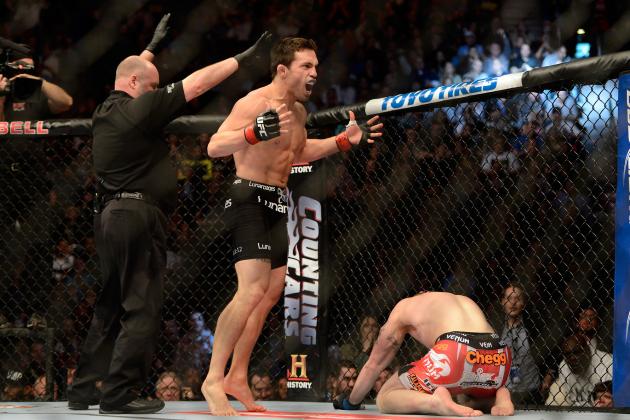 Eric Bolte-USA TODAY Sports

Jake Ellenberger has been very active with his Twitter attacks on Rory MacDonald, and while it has been somewhat amusing, one has to wonder what the motivation is and if it will backfire on Ellenberger.
I understand the desire to build interest in a fight. I understand that Ellenberger may be feeling a little overlooked by fans and UFC brass at the expense of his more inexeprienced opponent, but it all seems unnecessary.
The fight between these two top-five welterweights will have a big enough spotlight on it without any added or manufactured drama. Plus, MacDonald is one of the most focused fighters in the sport. It's hard to think that Ellenberger's words will shake him.
What is not hard to imagine is that Ellenberger's tweets sharpen MacDonald's focus and desire. Remember the MacDonald that many thought was just toying with BJ Penn during their bout in December? The fighter some thought could have finished Penn but opted to punish him further? There's always the chance that Ellenberger has awakened that Rory MacDonald.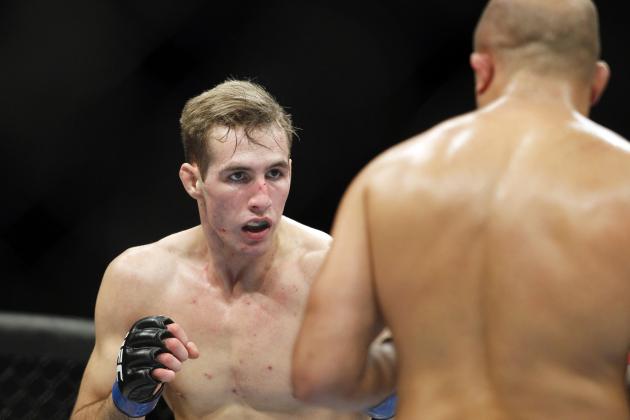 Joe Nicholson-USA TODAY Sports

Training camps should be winding down for the UFC on Fox 8 fight card, and so far so good as far as Rory MacDonald's health is concerned. However, if we have learned one thing as of late, it's that we shouldn't count on a fight being carved in stone until the cage door locks behind the fighters.
MacDonald, at 23 years old, has experienced more than his fair share of injuries since joining the UFC in 2010.
He was pulled from a fight against Matt Brown in November 2010. He was forced from a December 2011 bout against Brian Ebersole. He was injured prior and removed from his scheduled September 2012 bout with BJ Penn, and most recently he was knocked out of a bout against Carlos Condit in March of this year.
Hopefully, MacDonald is bubble-wrapped for the next few weeks.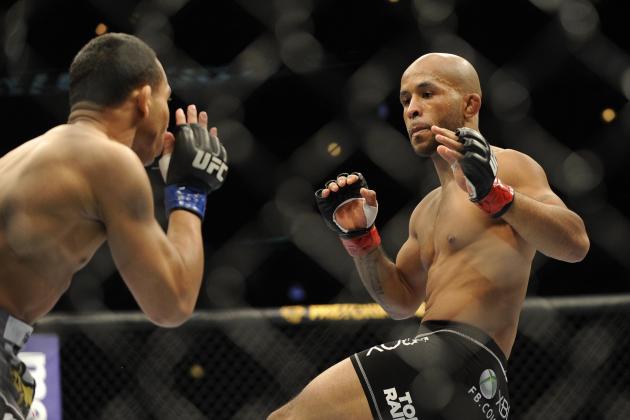 David Banks-USA TODAY Sports

Ask even the most hardcore fans who John Moraga's past three opponents were, and I'll bet that the majority will not be able to answer without some Internet sleuthing. When Moraga is part of the main event at UFC on Fox 8, and the UFC has a monster August planned, that makes me a little nervous about how well this fight card will do with viewers.
The other thing that makes me nervous is the promotion of this event. Remember the last Fox card that had a lower weight title fight as a main event? That was UFC on Fox 6, and that fight was advertised without a mention of the weight class the fighters were competing in.
I will be curious to see how much of a push the UFC and Fox put behind this card knowing they have UFC on Fox Sports 1 coming in August.