United States vs. Guatemala: Live Score, Highlights, Recap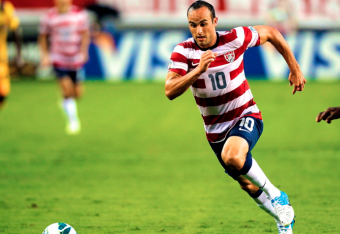 International friendly—Friday, July 5, 2013, San Diego, Calif.
United States 6-0 Guatemala (full time)
USA: Rimando; Parkhurst, Onyewu, Goodson, Beasley (capt.); Beckerman, Torres; Corona, Donovan, Castillo; Gomez
Subs: Diskerud 46', Holden 46', Wondolowski 59', Shea 59', Bedoya 59', Bruin 73'
Guatemala: Jerez; Castrillo, Vasquez, Gallardo, Hernandez; Trujillo, Contreras, Marquez, Santeliz, Lopez; Campollo
GOALS: Gomez (USA) 42'; Donovan (USA) 55', 73', Wondolowski (USA) 71', Goodson (USA) 85', Bedoya (USA) 88'
FULL TIME: USA 6, GUA 0
There's the final whistle. Landon Donovan scores two, while Chris Wondolowski and Alejandro Bedoya both score their first international goal. Donovan is up to 51 now for his career, the most in U.S. history.
It was a slow start, but the U.S. found their feet as Guatemala tired.
Onto the Gold Cup. Belize on Tueday.
That's Bedoya's first international goal, by the way.
GOAL USA!!! Bedoya makes it 6-0, finishing off another surging attack. Shea runs onto Holden ball, sends ball in, Bedoya finishes it off

— Ives Galarcep (@SoccerByIves) July 6, 2013
88'—GOAL!
There's No. 6. Bedoya slams another home.
More like Clarence Greatson

— Stars and Stripes FC (@StarsStripesFC) July 6, 2013
84'—GOAL USA!
Clarence Goodson shows off some skill, juggling the ball in the box to set up a volley.
The volley is blocked, but Goodson tracks down the rebond and slams his shot into the roof of the net.
WOW!
80'—USA 4, GUA 0
This one has become quite comfortable for the U.S. How many can they score?
If you missed it, Will Bruin replaced Landon Donovan right after Donovan's second goal.
Landon Donovan now has a goal for each state and that last one was for Puerto Rico. Way to go, Lando. Thumbs up.

— Chris Peters (@chrismpeters) July 6, 2013
72': USA was passing it around before it gets flicked right to the middle of the box where Donovan is all alone and scores his 51st US goal

— FOX Soccer Trax (@FOXSoccerTrax) July 6, 2013
Nice ball by Holden!
72'—GOAL!
Now Donovan makes it 4-0 and the rout is on!
MORE ON THE GOAL
Landon Donovan is the architect again, driving through the midfield before laying off for Wondolowski. The defender intercepts but redirects the ball to Wondolowski, who tucks his shot home.
No assist for Donovan, but he was instrumental nonetheless.
71'—GOAL!
Chris Wondolowski scores his first international goal, and it's 3-0 USA!
It's been all USA in the second half…
69': USA with a much improved performance in this half - creating significant chances so far

— FOX Soccer Trax (@FOXSoccerTrax) July 6, 2013
67'—CHANCE!
Another chance for the U.S. as Brek Shea crosses from the left for Mix Diskerud.
Diskerud sets himself up for a shot with his first touch, but the defense closes in and shuts down the chance.
Rimando called into action for the first time in awhile. He's out to grab a cross. #USAvGUA 2-0, 64'

— U.S. Soccer (@ussoccer) July 6, 2013
61'—OOH!
Donovan crosses into the middle, where a couple U.S. attackers narrowly miss putting a foot on the ball.
In the end, it's barely offside, but a good chance. Looks like Donovan is in the mood this second half…
This is where friendlies get weird. Klinsmann brings on 5 subs and 2 American Outlaws for ambiance.

— Nutmeg Radio (@NutmegRadio) July 6, 2013
How fitting was it that Beasley was there to celebrate Donovan's 50th goal. Those 2 have been through plenty together. Panenka a nice touch

— Ives Galarcep (@SoccerByIves) July 6, 2013
GOAL!
And he converts it with a cool kick down the middle! Cheeky!
54'—PENALTY!
Donovan is leveled in the box, and it's a penalty!
He steps up to take it…
53'—USA 1, GUA 0
The U.S. has started the second half well—much better than the first half. Is it coincidence? Or the subs?
Early, but so far Holden-Diskerud getting the ball moving forward much quicker than Beckerman-Torres for #USMNT.

— Steve Davis (@SteveDavis90) July 6, 2013
50'—CHANCE!
50': WOW! A cheeky flick into the box lets Gomez get a toe on the ball, it is saved - but a great chance early in 2nd half.

— FOX Soccer Trax (@FOXSoccerTrax) July 6, 2013
Donovan was lurking as well.
49'—SHOT!
Holden flashes a shot wide of the near post from long distance. Nice strike, but it looked like the keeper had it covered.
Mix and Stu in for Beckerman and Torres.

— American Soccer Now (@ThisIsASN) July 6, 2013
This article is
What is the duplicate article?
Why is this article offensive?
Where is this article plagiarized from?
Why is this article poorly edited?