Novak Djokovic survived a tremendous semifinal encounter with Juan Martin del Potro in a match that was a perfect example of the term "instant classic." The triumph sends Djokovic to his second Wimbledon final, after previously winning the title in 2011.
Sweet backhand winner. #Djokovic through to the #Wimbledon final 7-5 4-6 7-6(2) 6-7(6) 6-3 v #DelPotro pic.twitter.com/wMq4wJqGis

— Wimbledon (@Wimbledon) July 5, 2013
Djokovic advanced in five memorable sets (7-5, 4-6, 7-6, 6-7, 6-3). He was able to do it despite Del Potro showcasing the hard-hitting form that allowed him to win the US Open in 2009. It all added up to the longest semifinal in Wimbledon history.
By moving on, the Serbian sensation has now reached the final in nine of the past 12 majors. He's won five of those, most recently capturing the Australian Open crown for the fourth time to kick off the Grand Slam schedule earlier this year.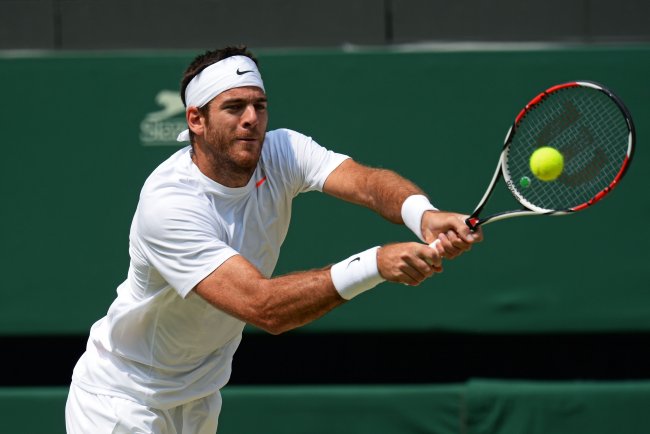 Mike Hewitt/Getty Images
As expected, the match featured a lot of service holds. Both Djokovic and Del Potro are extremely solid on serve and faced very few worrisome situations at the outset. In fact, there were just two break chances during the 55-minute opening set.
Don't try this at home. pic.twitter.com/xEMAXs9gaY

— ESPNTennis (@ESPNTennis) July 5, 2013
Both break opportunities belonged to Djokovic. He capitalized on the second one to capture the first set, 7-5. After so many easy holds, the chance came for the No. 1 seed late, and in the blink of an eye, he was able to avoid the tiebreak and gain the early edge.
It's an area in which he's excelled in recent years. When an opponent shows even a brief weakness, it seems to send him into another gear, and he usually takes advantage. Del Potro had one lackluster service game, and the set got away from him.
#Djokovic gets the break and the 1st set 7-5 v #DelPotro #Wimbledon #SF

— Wimbledon (@Wimbledon) July 5, 2013
So, the start of the second set was crucial for the Argentinian. He was either going to dig in and make it a match, or Djokovic was going to use the momentum to gain complete control. After a few holds, the turning point came at 3-3.
Del Potro had received a quick visit from the trainer at the previous changeover and fought to hold serve. Djokovic then tested the potentially problematic knee with a drop shot, but Del Potro chased it down and hit a terrific passing shot before finishing off the break.
Trainer taking a quick look at del Potro at 2-3 but no medical timeout. At 1-1, 30-0 Delpo favored his left knee. Something to watch

— Howard Bryant (@hbryant42) July 5, 2013
He held out to win the second set and get back level. Djokovic had five break chances in the set but couldn't convert. Del Potro only needed one.
Who will win the 2013 Wimbledon title?
The third set went to a tiebreak, but not before both players had chances. Djokovic was once again in trouble at 3-3, but he fought off several break opportunities. He then had looks to end the set with a break at both 5-4 and 6-5, but he failed to make the most of them. Credit Del Potro for some clutch serves.
The key point in the tiebreak came with Djokovic leading 3-2 and Del Potro serving. The No. 8 seed had what appeared to be an easy put away, but he smashed it right back within reach of Djokovic, who stabbed it back and Del Potro put the next attempt into the net. Djokovic held the edge and regained the lead in the semifinal.
Feeling like #Djokovic has spent most of his time on the deck in this semi. Doesn't stop him taking 3rd 7-5 4-6 7-6. pic.twitter.com/W7Y0WrCGiA

— Wimbledon (@Wimbledon) July 5, 2013
Just when it seemed like Djokovic was getting ready to punch his ticket to the final, Del Potro fought back again. After the top seed broke to grab a 4-3 edge, the Argentinian broke right back to get back on serve.
After that rare exchange of breaks, the fourth set went to a tiebreak, and Del Potro rose to the occasion again. Not only did he save two match points, but his shots appeared to get harder as the tiebreak went on, and he emerged with the fourth set in impressive fashion.
#DelPotro's done it! Saves 2 m.pts. Takes tiebreak v #Djokovic. 2-sets all. 3hrs 58mins. #itsanepic! #Wimbledon pic.twitter.com/mIOo4zXS9z

— Wimbledon (@Wimbledon) July 5, 2013
Finally, after nearly five hours and plenty of drama, Djokovic was able to grab the lead he needed to put away his worthy opponent. He broke Del Potro, who was clearly working on his third or fourth wind by that point, to take a 5-3 lead in the deciding set.
#Djokovic: "That's why he's a grand Slam champion. Because when he gets in tough spots he comes up with great shots." #Wimbledon

— Wimbledon (@Wimbledon) July 5, 2013
Djokovic held serve––after giving Del Potro one more glimmer of hope with some tired misses of his own, of course––to earn his spot in the final.
A hug at the net for @DjokerNole & @delpotrojuan to a standing ovation. A shame someone had to lose. #Respect pic.twitter.com/4RXEAigd5m

— ESPNTennis (@ESPNTennis) July 5, 2013
He will face the winner of the second semifinal between No. 2 seed Andy Murray and rising star Jerzy Janowicz.