Any way you slice it—or however you could fathom pounding down 69 hot dogs and buns in 10 minutes—Joey Chestnut's world-record display at the 2013 Nathan's Hot Dog Eating Contest was nothing short of amazing.
The sheer physical demand of stretching one's stomach to such an extent is daunting enough, but to have the mental toughness to carry on in front of thousands of fans and a national Fourth of July audience is all the more impressive.
It is worth examining some of the mind-blowing statistics of the 29-year-old Chestnut's unprecedented display in Coney Island, N.Y. What's really interesting, too, is to look at Chestnut's win as an athletic achievement and how it stacks up with other all-time greats in other sports.
Bleacher Report's graphic of stats does a pretty stellar job to summarize the quantity of dogs Chestnut tackled, with numbers from ESPN's Darren Rovell: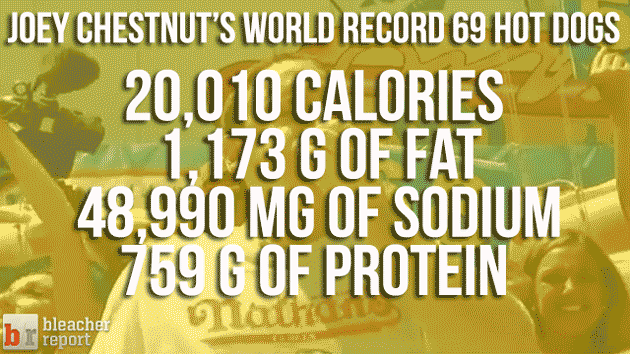 Perhaps the most unique look at Chestnut's eating prowess was done by Jeremy Lundblad of ESPNBoston.com. Lundblad compared the hot dogs consumed in the past six Chestnut triumphs to the putrid record of the Houston Astros in that same time span since 2008:
Since 2008, Joey Chestnut has had more hot dogs (380) than the #Astros have wins (377)

— Jeremy Lundblad (@JLundbladESPN) July 4, 2013
Even after winning his second straight NBA title, along with his regular season and NBA Finals MVP awards, it seems Miami Heat superstar LeBron James can't catch a break:
Since 2007, Joey Chestnut has had 1 more hot dog (446) than @KingJames has had wins (445)

— Jeremy Lundblad (@JLundbladESPN) July 4, 2013
As for others who have won more than two championships in their respective sports, ESPN Stats & Info highlights some of the elite company Chestnut has joined while still in his '20s:
Joey Chestnut's 7 titles at Nathan's Hot Dog Eating Contest ranks him among some elite individual competitors: pic.twitter.com/IplvJDonKw

— ESPN Stats & Info (@ESPNStatsInfo) July 4, 2013
Martina Navratilova won nine Wimbledon titles, including six consecutive Wimbledons (h/t ESPN). She also won four of them in a row without dropping a single set.
To stack up Tiger Woods' eight wins in the Arnold Palmer Invitational at Bay Hill against Chestnut's seven titles, it's worth noting that the golfing legend's most recent, his 78th career victory at The Players Championship, came in his 286th start as a pro, according to Golf Channel's Will Gray.
ESPN betting expert RJ Bell documented oddsmakers' projected odds of Chestnut winning his seventh straight Nathan's showdown:
Joey Chestnut now even a bigger favorite: 88% chance he'll win Nathan's Hot Dog Eating Contest. Any other eater pays +700

— RJ Bell (@RJinVegas) July 4, 2013
Whose achievement would you be most comfortable comparing to Joey Chestnut's?
Woods is one of the most prolific winners in golf history, but had won just 27 percent of his starts as of his last tournament win. From when he first won at Bay Hill in 2000, it's been 12 starts and eight victories (h/t PGATour.com)—a staggering rate of 66.6 percent. The first four of those wins were consecutive.
Prolific NASCAR driver Richard Petty won back-to-back starts in the Daytona 500 in 1973 and 1974 (h/t CBS Sports). That is very respectable, and he faced more competitors than Chestnut routinely faces.
Petty also had the longest span—17 years—between trips to victory lane, and led a whopping 20 races in NASCAR's premier event.
Some may frown upon references to competitive eating and the implication that it is a sport. As with nearly everything, there is a scientific explanation. Let's let ESPN Sports Science's'John Brenkus take it away with some mind-blowing data analysis of Chestnut's jaw strength:
Video Credit: ESPN Front Row
Chestnut has set 25 world records in eating contests, according to ESPN Stats & Info. He broke his own mark of 68 on Thursday, besting it by one in the final seconds as the crowd erupted.
It also broke Chestnut's tie with Takeru Kobayashi for the most consecutive wins in the Nathan's Hot Dog Eating contest. Chestnut beat the prolific Japanese eater for his first three Nathan's wins.
Kobayashi hasn't participated since 2009, when Chestnut emerged victorious, 68-64 over his rival. Chestun set a world record then, and matched it last year.
Here are some more numbers, courtesy of Rovell, to show that Chestnut actually makes money off of this job—$200,000 annually to be exact:
Joey Chestnut makes an estimated $200,000 annually from competitive eating. It is his only job.

— darren rovell (@darrenrovell) July 5, 2013
Chestnut doesn't need any other means of employment. As long as he can scarf down various foods at alarming rates for the common human, his stream of income is intact.