How the Stats Lie About These 10 NFL Players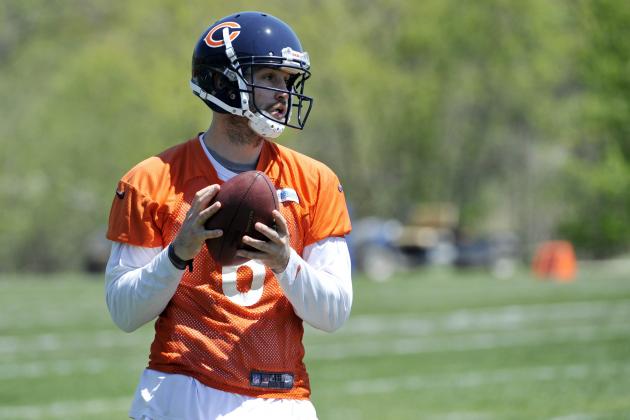 David Banks-USA TODAY Sports

In the NFL, sometimes stats can be the most misleading aspect of the game. We see a guy catch a bunch of touchdowns and assume he has reached a pedestal of greatness. A player hits double-digit sacks, and we are ready to crown him the next Reggie White.
But what if we look beyond the numbers?
There are many factors that go into a list of statistics, for better or worse. Did someone play great because he was in a contract year? Have injuries prevented someone from playing to his full potential? And what about the guys with no supporting cast around them?
Whatever the case may be, sometimes we have to go beyond the stats and realize that there is more to players than meets the eye.
Let's examine the 10 most egregious cases in which statistics are clearly lying about players.
Begin Slideshow

»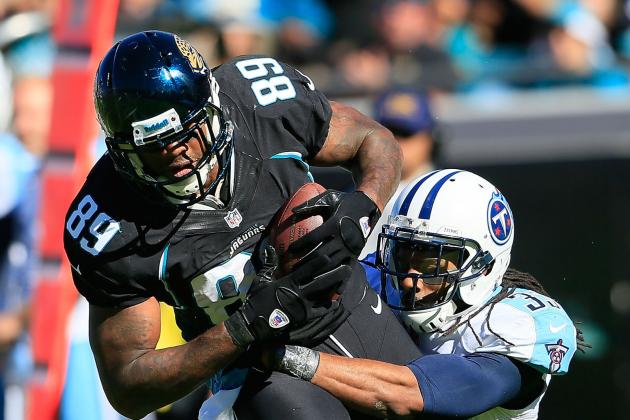 Sam Greenwood/Getty Images

What the stats say: Marcedes Lewis has only caught for 1,000 yards and four touchdowns over the past two seasons combined.
The stats would suggest that you write off Jacksonville Jaguars tight end Marcedes Lewis and pretend he does not exist. He has just four touchdowns in two years and is not the same guy who found the end zone 10 times in 2010.
However, has anyone else seen what has happened in Jacksonville? This is an organization struggling to develop an offensive identity and trying to find a long-term answer at the quarterback position. Blaine Gabbert was inserted as the guy in 2011 and clearly had no chemistry with Lewis.
This is still a 6'6", 272-pound athlete with the ability to catch the ball over the middle of the field and gain positive yardage at all times. He is nowhere near over the hill at 29 years old, and he caught 52 of the 78 passes directed his way last season.
It is at least interesting to wonder what Lewis would be able to do in a competent and balanced offense, because he is a true talent at the tight end position who is wasting away in Jacksonville.
Lewis is a Pro Bowl-caliber player, even if his recent statistics don't reflect it.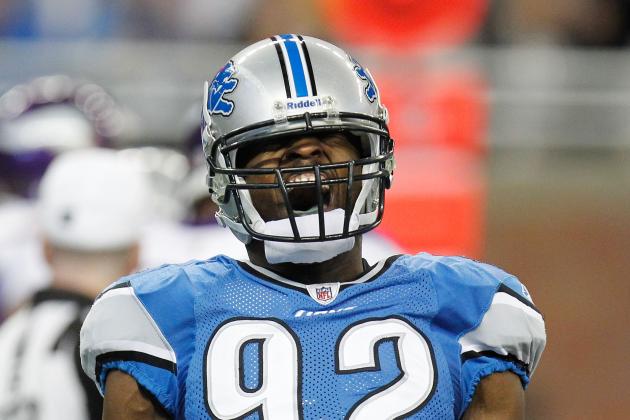 Gregory Shamus/Getty Images

What the stats say: Cliff Avril has registered 20.5 sacks and eight forced fumbles over the past two seasons.
There are some who believe the Seattle Seahawks got a steal of a deal by inking Cliff Avril to a two-year, $13 million contract this offseason.
I am not one of those believers.
Avril's stats were down in 2012 compared to 2011, as he went from 11 sacks down to 9.5 and had four fewer forced fumbles. Those are scary drops for a player in the midst of a contract season. Avril is only 27 years old, so there is still room to get better and enhance his game.
The problem is that he did not look like a player all that worried about improving his game last year. He was the premier pass-rusher for the Detroit Lions yet would often get lost in the shuffle, making no impact for multiple series at a time.
How could someone have an inconsistent motor in a year in which he is supposed to be showcasing his best talents to the rest of the league? Avril has all the physical tools and has had great seasons in the past, but his lack of drive and tenacity in 2012 is a serious red flag.
Perhaps Avril will prove to be a great bargain for the Seahawks, but his performance last season says otherwise.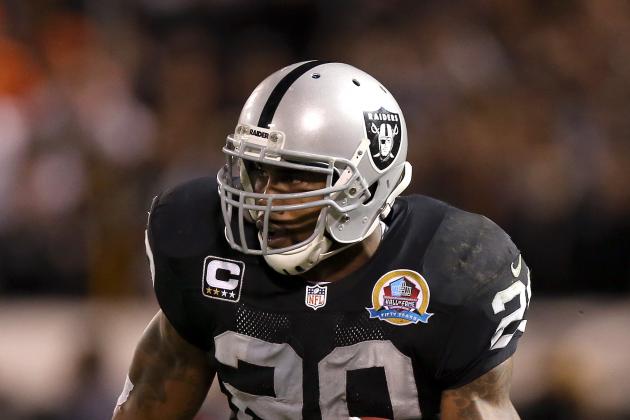 Ezra Shaw/Getty Images

What the stats say: Darren McFadden gained just 707 yards last season and scored two touchdowns. He averaged 3.3 yards per carry and played in 12 games.
At some point Darren McFadden absolutely, positively has to showcase what he is capable of. There is an elite running back inside of this member of the Oakland Raiders. To this point, we have only seen glimpses of his talent.
Sure, McFadden displayed his ability proudly while at Arkansas, but since joining the NFL, he has been riddled with injuries and never seems to be playing at 100 percent. Still, when he is on the field, he knows how to make an impact.
In McFadden's healthiest season, 2010, he averaged 5.2 yards per carry while gaining 1,157 yards and found the end zone seven times on the ground. He is a downhill runner with breakaway speed who is also not afraid to make contact between the tackles.
Unfortunately, he never seems to be healthy, and potential only takes you so far. Now, McFadden is 25 years old and entering a contract season.
The stats say that he is holding the Raiders back, but his talent says that he is on the verge of becoming an elite running back at any moment.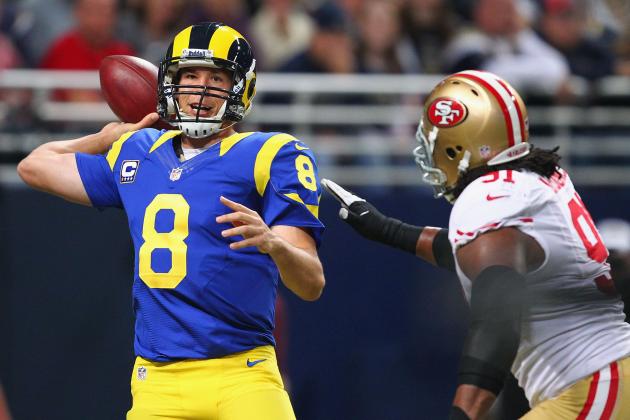 Dilip Vishwanat/Getty Images

What the stats say: Sam Bradford completed only 59.5 percent of his passes last season and averaged 6.72 yards per pass attempt.
Why does Sam Bradford seem like the forgotten quarterback of the NFL?
He never generates much publicity or water-cooler talk, but Bradford is quietly becoming the type of steady and quality quarterback the St. Louis Rams hoped for when they drafted him No. 1 overall.
His mechanics, decision-making ability, footwork and accuracy have all needed development, but Bradford has been trying to improve those things while working with some of the worst passing weapons in football over the past few seasons.
Names like Chris Givens, Brandon Gibson and Lance Kendricks have been among the top guys Bradford has been able to throw to. Yet even without a bevy of superstars around him, the Oklahoma product has thrown for at least 3,500 yards in two of his three NFL seasons and has 45 career touchdowns compared to 34 interceptions.
Those stats may not put him in the top 10 of any passing categories, but they show an ability to work within the confines of the Rams offense and make the most out of a tough situation.
Now, with targets like Tavon Austin and Jared Cook entering the fold, Bradford's numbers can start to reflect how good of a quarterback he really is.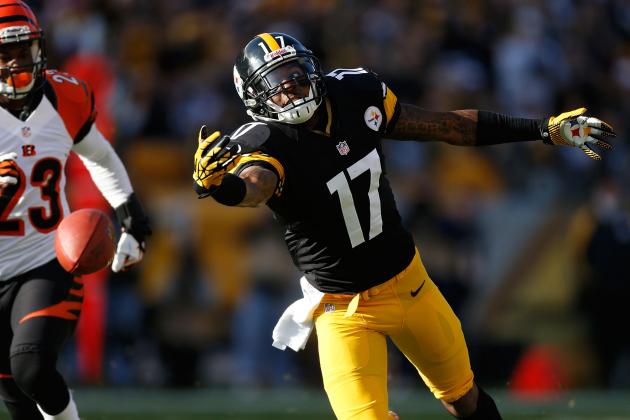 Gregory Shamus/Getty Images

What the stats say: Mike Wallace has had an impressive three-year stretch, catching 196 passes for 3,286 yards and 26 touchdowns in that time.
There are simply too many question marks surrounding wide receiver Mike Wallace to not believe that the stats are downright lying.
He has all the physical tools, and his straight-line speed is undoubtedly among the best in football, but is anyone buying what his stats are selling? Sure, his career totals are impressive, especially for a four-year veteran, but Wallace failed to produce exceptionally well in his contract year of 2012.
He has been exposed as a bit of a one-trick pony who is not going to make tough catches in traffic, struggles in press coverage and drops more passes than a No. 1 receiver ever should.
Wallace was targeted 119 times last season but only managed to haul in 64 of those passes. He also greatly benefited from having a potential Hall of Fame quarterback getting him the ball in Ben Roethlisberger. Can Wallace shine as brightly with a young signal-caller in Ryan Tannehill?
His lofty statistics may be hiding a wideout who's just slightly above average.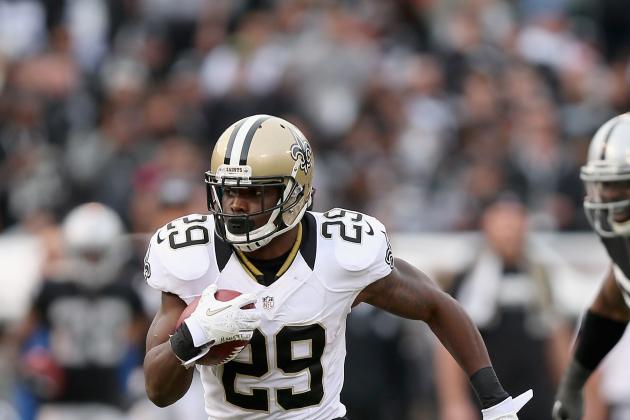 Ezra Shaw/Getty Images

What the stats say: Chris Ivory has rushed for just 1,307 yards and eight touchdowns in three NFL seasons.
Chris Ivory has been flying under the radar in recent years, buried on the New Orleans Saints depth chart with limited opportunities to truly prove his value.
When Ivory has been afforded the chance to touch the ball, he has made the most of it. Ivory has averaged 5.1 yards per carry on 256 carries in his three-year career. To maintain an average over five yards per carry after 250 carries is an impressive accomplishment in and of itself.
He has only had 119 touches over the past two seasons, so Ivory has not exactly been handling a heavy workload. However, he shows a willingness to attack the hole with authority and make quick cuts to avoid defenders, plus has the needed speed to get away from would-be tacklers in the open field.
Ivory may never be a full-time starter in the NFL, but what he has showcased thus far is that he is deserving of a chance to at least try.
His 1,307 yards and eight touchdowns in three seasons aren't indicative of what Ivory can do.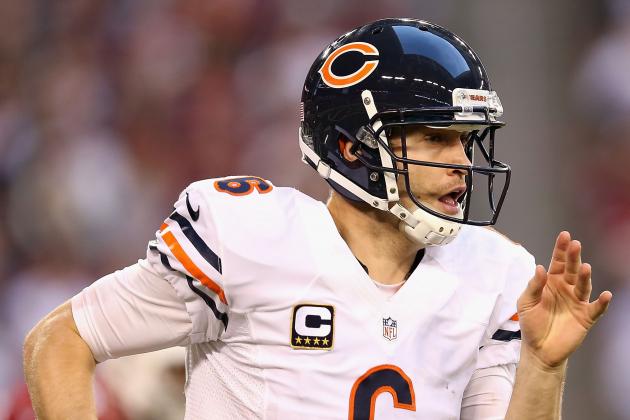 Christian Petersen/Getty Images

What the stats say: Jay Cutler threw for 3,033 yards, 19 touchdowns and 14 interceptions in 2012.
I'm not sure if the stats fully lie about Jay Cutler as much as they do not do him justice. Cutler has battled negative publicity, hatred from fans and a poor image more than most other players in the league.
While some of those problems have been brought on by Cutler himself, he is not at fault for the type of offensive line play he has been forced to work with.
Just last season, Cutler was sacked 38 times, hurried 130 times and hit 43 times in 15 games (via Pro Football Focus; subscription required). Few QBs could succeed under that kind of pressure, yet Cutler has still been able to throw at a Pro Bowl level.
He has a great No. 1 receiver in Brandon Marshall who can spread the field vertically and open up underneath routes for other players. The team has also smartly overhauled the offensive line by bringing in free agents Jermon Bushrod and Matt Slauson, as well as drafting Kyle Long.
These steps should ensure that Cutler's stats finally start to reflect the skill he has demonstrated since joining the Bears in 2009.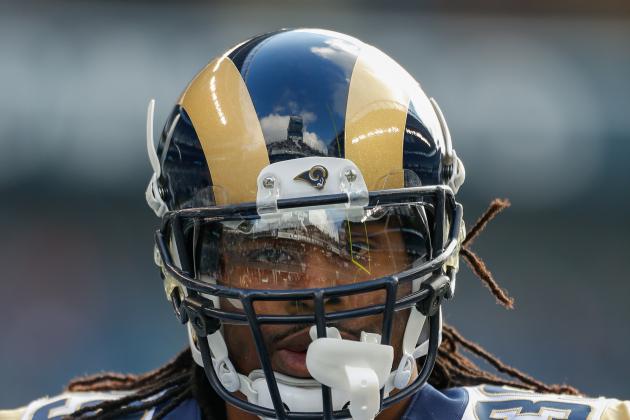 Otto Greule Jr/Getty Images

What the stats say: Steven Jackson has 10,135 career rushing yards to go along with 56 career rushing touchdowns.
Steven Jackson has been an elite running back in the NFL for the better part of a decade, so it is fair to believe he is still one of the best backs in the game. However, the stats are misleading here, and Jackson's age (he is going to be 30 when the season rolls around) is finally catching up to him.
In fact, it's Jackson's longevity and penchant for staying healthy that may be coming back to bite him. Jackson has missed just two games over the past four seasons and has played in at least 12 games every year of his career.
This means he has also had 2,395 rushing attempts to his credit. That kind of wear and tear would get to any player, and while Jackson's stats have still been impressive recently, they are declining.
Jackson's rushing yards have dropped in every season since 2009, and he has not rushed for at least seven touchdowns since 2008. His 1,042 yards in 2012 prove that Jackson is still a solid producer, but this is not someone who can shoulder the brunt of a rushing workload single-handedly for much longer.
The Atlanta Falcons are getting an aging running back who is only going to get worse with each passing season. Not many players at this position are able to produce at high levels after they hit 30 years old.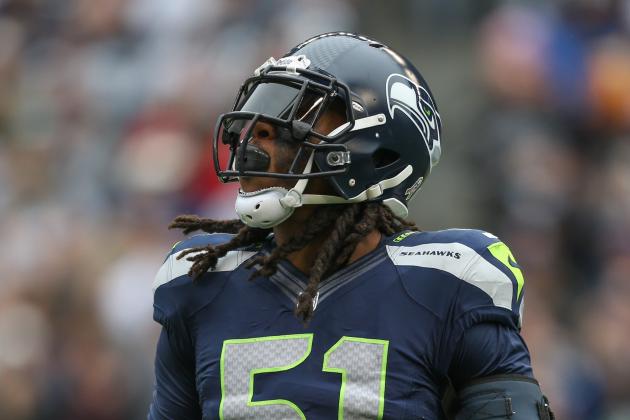 Otto Greule Jr/Getty Images

What the stats say: Bruce Irvin recorded eight sacks in his rookie season with the Seattle Seahawks.
Some of Bruce Irvin's stats jump right off the page. And for those of us who watched the Seattle Seahawks vs. Green Bay Packers Monday Night Football game last year, Irvin seemed to jump right out of the television set.
He can wreak havoc in the backfield. He had two ferocious sacks that turned momentum in Seattle's favor in that game. That is the type of impact he can have on a game with just one or two big plays.
But Irvin only ever makes one or two plays a game, and sometimes none at all.
His eight sacks as a rookie look really impressive, but when you look closer, you see that six of those sacks came in games in which he had two of them. That means that Irvin did not register a sack in 10 different contests, and he had only 16 total tackles all year.
Does that sound like a true difference-maker? Irvin clearly has the ability to get to the quarterback, but his inconsistency is what should stand out most. He is generally asked to only rush the passer, yet he goes dormant for long stretches of time, sometimes entire games.
Irvin's current career trajectory suggests we are going to see flurries of tremendous production surrounded by periods of invisibility. His rookie stats display a budding superstar, but he has a long way to go.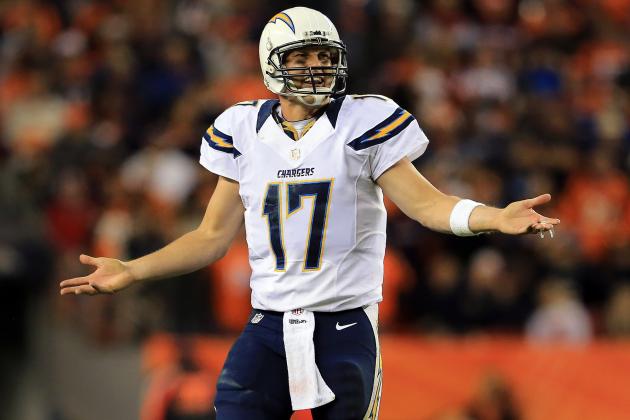 Doug Pensinger/Getty Images

What the stats say: In 2012, Philip Rivers threw for 3,606 yards, 26 touchdowns and 15 interceptions.
Here is one of those players who undoubtedly draws a polarizing reaction from fans around the league. Some people love Philip Rivers, but most despise the San Diego Chargers quarterback.
Whatever the feelings toward him may be, the consensus has been that his play has deteriorated in recent seasons. His yards are down, his interceptions are up and he has become generally timid in the pocket. However, most people fail to fully grasp why these things are happening.
Rivers has not forgotten how to play QB. Rather, he has been stuck behind one of the most poorly assembled offensive lines in football and has had little support from the rushing attack. It becomes infinitely harder to succeed at the position when play-action fools no one, receivers have no time to get downfield and linebackers blitz frequently simply because they can.
These are not excuses for Rivers, but they are clear reasons for his statistical regression. When he was not pressured last season, he completed 74 percent of his passes and threw 22 touchdowns, per Pro Football Focus (subscription required).
If he has a legitimate pocket and time to throw, this is a dangerous quarterback with plenty of talent.