Ohio State Football: Can the Buckeyes Handle Sky-High Expectations in 2013?
Use your ← → (arrow) keys to browse more stories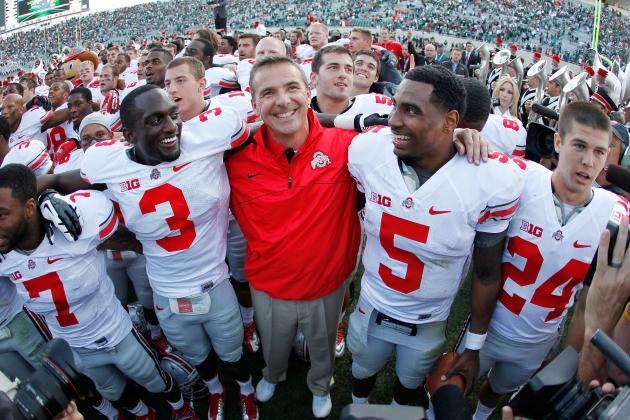 Gregory Shamus/Getty Images

As the 2013 football season approaches, Ohio State fans everywhere are getting excited for what could be a historic year for the Buckeyes.
As it turns out, former Ohio State quarterback Kirk Herbstreit is included in that group.
While speaking at The Morning Sports Report in Columbus, Ohio last week, Herbstreit voiced an opinion that many Buckeyes fans carry about the upcoming football season.
"Do yourself the favor, make plans now, get your hotels, because we're going to Pasadena," Herbstreit said, according to Ben Axelrod of BuckeyeGrove.com.
Herbsreit wasn't necessarily predicting a national title game appearance for the Buckeyes. Pasadena will be the destination for both the Rose Bowl Game and the BCS National Championship Game this January. Herbstreit, though, is having a hard time envisioning a season that doesn't end with the Buckeyes playing in one of those games.
With the anticipation and excitement building in Columbus, Urban Meyer is just trying to get the Buckeyes focused for their Week 1 matchup against the Buffalo Bulls.
Meyer, who spoke at the same event, responded to Herbstreit's comment.
Meyer says his biggest concern for 2013 is distraction. "My good friend Herbie is talking about us going to Pasadena. Lets just get to 1-0."

— Jeff Svoboda (@JeffSvoboda) June 25, 2013
Riding the nation's longest winning streak (12), Ohio State will enter the season as one of just a handful of teams expected to contend for the national title. Keeping those distractions out will likely be a year-long endeavor for the Buckeyes.
Fortunately for Meyer, Ohio State is just one year removed from displaying a tremendous amount of focus.
On the heels of one of the worst seasons in Ohio State football history, the Buckeyes entered 2012 with a postseason ban, a tattered reputation and a new coaching staff that was dramatically changing the culture of the program.
While some acknowledged that going 12-0 was a possibility, most came to the conclusion that a 10-2 season was a realistic, best-case scenario for the Buckeyes.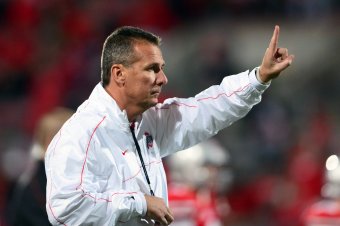 Andrew Weber-USA TODAY Sports
Of course, Meyer guided the Buckeyes over all of those hurdles to complete just the sixth undefeated season in school history.
Because Ohio State is now eligible for postseason play, 2013 will give Meyer a new set of hurdles. But with the composure the Buckeyes displayed last year, it's hard to imagine an unfocused team taking the field this fall.
Former Ohio State running back Eddie George, who spoke alongside Herbstreit and Meyer last week, has trained with the Buckeyes personally this offseason. George came away impressed by Ohio State's maturity and thinks that it can compete with any team in the country.
"They have matured to the point where they can contend now with the elite teams in the country, like the Alabamas or the Stanfords and so-forth," George said, via Axelrod.
If George is right, Herbstreit's Pasadena prediction is right on the money.
David Regimbal is the lead Ohio State football writer for Bleacher Report .
Follow him on Twitter @davidreg412.