Free Agents LA Lakers Must Pursue to Build Around Dwight Howard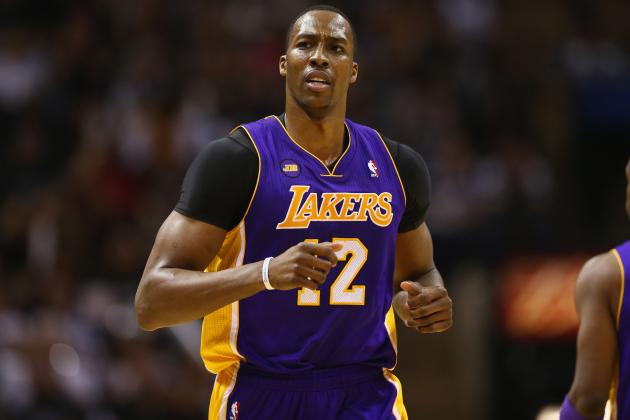 Ronald Martinez/Getty Images
Dwight Howard of the Los Angeles Lakers.
In the eventuality Dwight Howard re-signs with the Los Angeles Lakers, we must look at the free agents Mitch Kupchak must pursue to surround the big man.
It's obviously important for the Purple and Gold to retain Howard's services, but they must also tailor the roster to his strengths. Before discussing available players on the market, a little housecleaning is in order.
Unless Howard decides to give the Lakers the royal hook up by taking a hometown discount, the front office will sign the superstar to a deal in the neighborhood of five years, $118 million. His starting salary in 2013-14 will hover around $20.5 million.
The Lakers are more than likely already over the luxury tax (a figure that should be determined at the end of the 2013 July moratorium) given the deals they already have on the books.
The addition of Howard's contract raises the player salaries for 2013-14 to just about $98 million. Because the Lakers in this scenario are over the luxury tax apron, they cannot acquire players via sign-and-trade.
Instead, Kupchak can only rely on the taxpayer mid-level exception (also referred to as the mini mid-level) of $3.183 million. It can be split up amongst multiple players, and the contract length cannot exceed three seasons.
In terms of the talent needed to fit alongside Howard, the Lakers are best served going after triple-threat types.
The three-time Defensive Player of the Year is a terrorizing interior force whenever he catches the ball going to the basket. Synergy Sports tells us the Laker center converted 79.6 percent of his field-goals as the roll man in pick-and-rolls during the 2012-13 campaign.
In straight post-up situations, though, his conversion rate dropped to 44.5 percent. Howard is a good post player, but he is a little slow and mechanical in his movements down on the block.
Hence, opponents can bother him by sending defenders his way when he puts the ball on the floor and then quickly retreat back to shooters. The key is to make the big man indecisive.
The Lakers can offer Howard some relief in these scenarios by acquiring players that are both shooters and playmakers. Indeed, it's difficult even for the best defenses to leave great shooters open from long range.
Also, playmaking is important because defensive gurus are adept at taking away open looks from shot-makers. Players who can put the ball on the floor and create plays for themselves or others will give Howard more space to operate in the low post.
Ideally, the Lakers must target free agents that fit both roles. However, because the number of available players capable of handling both tasks is limited, some of the targets might be a little less qualified in one of these areas.
Begin Slideshow

»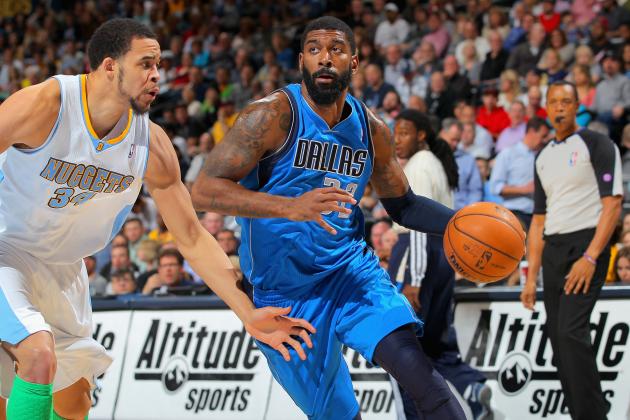 Doug Pensinger/Getty Images
O.J. Mayo (right) of the Dallas Mavericks.
O.J. Mayo is a very underrated player who can play both guard spots for most teams. On the Lakers, he can comfortably fit next to Steve Nash and Kobe Bryant in a three-guard lineup that spaces the floor.
Mayo has consistently been a solid deep threat—as evidenced by his career 38.2 percent three-point shooting—and has always shown the ability to score. Last year, he demonstrated that he's improving as a facilitator, as he averaged 4.4 assists per game.
Per Basketball-Reference.com, the former Dallas Maverick has career averages of 16.4 points and 3.3 assists per 36 minutes per game. Thus, he is the type of guard Howard would enjoy playing with given that Mayo attracts defenders and is getting better at finding open teammates.
The $3.183 million mini mid-level is a pay cut for Mayo but not necessarily a substantial one. His cap figure so far has been somewhere within the range of $3 million and $5 million in his five NBA seasons.
It's worth noting though, he opted out of his contract with the Dallas Mavericks because he was looking for a longer contract with more money attached to it. Hence, joining the Lakers is not exactly a foregone conclusion given what Los Angeles can offer.
On the other side of the spectrum, if the guard wishes to join a playoff team and contribute, the Purple and Gold might very well be the best destination available.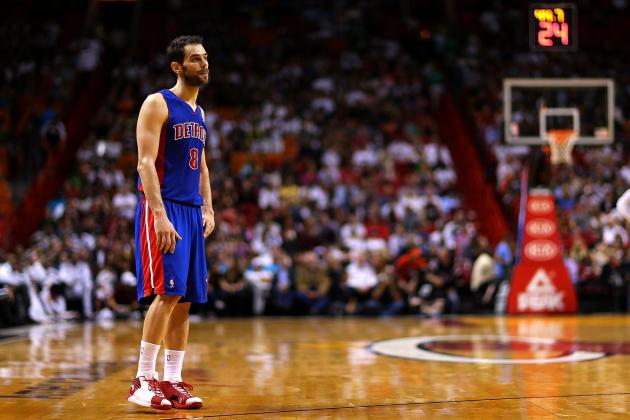 Mike Ehrmann/Getty Images
Jose Calderon as a member of the Detroit Pistons.
As a member of the Toronto Raptors and Detroit Pistons, Jose Calderon has been a productive guard despite the multiple role changes he has faced in order to accommodate his teams.
Calderon has been both a starter and reserve in the league, and he has thrived in both settings. He is a good point guard as well as a good option in spot minutes at the 2-guard position.
The Spaniard has excellent instincts and consistently finds teammates at the rim either in the pick-and-roll or through straight drives to the hoop. According to Hoopdata, the majority of his assists lead to scores directly at the basket.
Hence, Calderon can play with the starting unit of the Lakers and also orchestrate the offense alongside reserves with Howard on the floor.
The former Raptor is a high-assist and low-turnover player that is also deadly from long-range. One could say he is a poor man's version of Steve Nash.
Indeed, in the 2007-08 season, Calderon joined the prestigious 50/40/90 club. He converted 51.9 percent of his field-goals, 42.9 percent of his three-pointers and 90.8 percent of his free throws. The feat has only been accomplished 12 times in league history (minimum of 50 games played) according to Basketball-Reference.
Surprisingly, his career shooting averages are all within range of the 50/40/90 club. Needless to say, his shooting prowess will space the floor for Dwight Howard.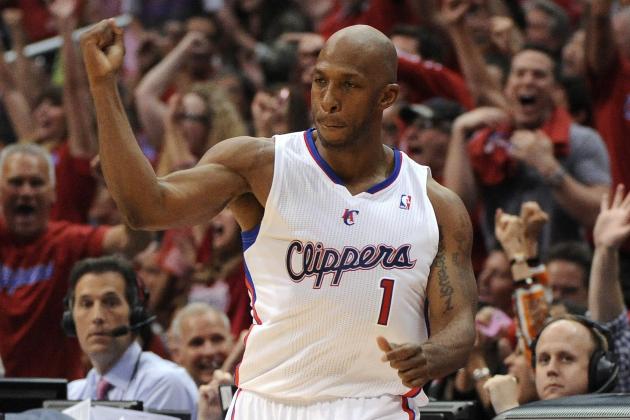 Harry How/Getty Images
Chauncey Billups celebrates after a play.
Chauncey Billups has played the bulk of his career as a point guard, and he's been quite productive. He reads defenses well, sets up the offense and creates his own shot when the situation calls for it.
In addition, his size and strength typically give him a physical advantage over most point guards. Thus, he can take them down into the low post and create high-percentage shots.
Given his stature, Billups is also a solid candidate to play shooting guard as well. His size comes into play once again here. His body is built to withstand the physical demands that come with defending two-guards both on the wing and in the low block.
He will not shut down the likes of James Harden and Dwyane Wade, but for a few minutes per game he can play with them without embarrassing himself. More importantly, though, he can make those players work defensively because he is a constant threat on offense.
Billups is ideal as a free agent because of his prowess as a scorer. Although he might force the action occasionally, he must be defended at all times. He is a 38.8 percent career three-point shooter and has routinely demonstrated he can put the ball on the floor and create plays.
He is no longer a great finisher at the rim as evidenced by his shooting percentages around the basket in the last two seasons, but Billups is as good as it gets beyond 10 feet. Hence, defenders must honor his jumper and stay within proximity.
This provides Howard with spacing on the court, which affords him one-on-one opportunities in the interior. In addition, Billups and Howard should complement each other quite well in the pick-and-roll.
The 2004 Finals MVP is a good passer, and he will find Howard rolling towards the basket for easy scores.
If there is one area of concern with Billups, it's unquestionably his durability. The Lakers were decimated by injuries in 2012-13 and wish to avoid that predicament next season.
One cannot predict injuries, but taking chances with players who have proven they are injury prone is a big risk. Billups has appeared in 42 out of a possible 148 regular-season games since the 2011-12 season.
His talents probably blend in perfectly with the Lakers, but spending the entire taxpayer mid-level on the former Detroit Piston is not a prudent decision.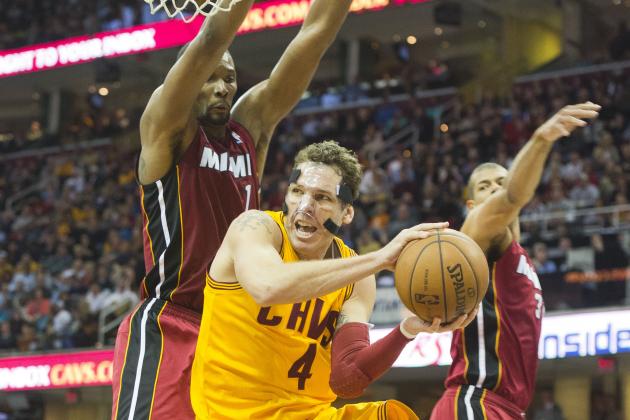 Jason Miller/Getty Images
Luke Walton can at times deliver the ball with the best of them.
Laker fans might be surprised to see Luke Walton's name here since many were glad he was traded over to the Cleveland Cavaliers during the 2011-12 season. The former Laker is only a 32.6 percent shooter from three-point range and is not exactly blessed with a tremendous amount of athleticism.
Nonetheless, the former Arizona Wildcat has some value on the right team, and the Lakers are just that.
If we look at Walton's assists per 36 minutes during his career, what stands out is that his best seasons in a Laker uniform (2003-04, 2008-09 and 2009-10) coincide with the presence of great finishing big men as teammates.
In his rookie season, he played with Shaquille O'Neal and Karl Malone, and in 2008-09 and 2009-10 he complemented Pau Gasol and Andrew Bynum.
Walton is one of the most underrated passers in the league and has a very good understanding of the ways he can exploit even the most complex defenses. Consequently, he is terrific at making post-entry passes and feeding guys on the move.
In addition, because he understands the schemes he faces, the former Cleveland Cavalier knows when to attack a rotating defender off the dribble and set up his big man for an easy finish.
Keep in mind, Walton has played almost exclusively as a small forward in his time in the league. Under Mike D'Antoni, he probably becomes a small-ball power forward playing in lineups featuring Howard.
Walton will occasionally compromise the floor spacing because he is not a great three-point shooter, but his playmaking skills will give Howard a teammate capable of finding him the moment he becomes open near the basket.
It's worth noting that playing Walton at power forward forces his man to cover him out on the perimeter. Even though the player guarding him will probably abandon him and help towards Howard, it will sufficiently spread the floor and give the big man release options when extra defenders come his way.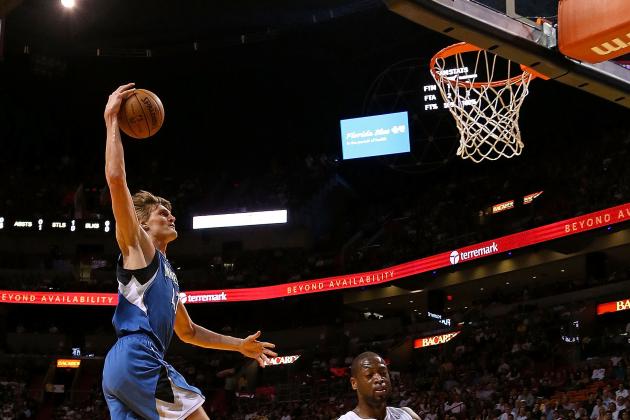 Mike Ehrmann/Getty Images
Andrei Kirilenko attacks the rim.
Josh Smith is on every team's radar and rightfully so. His combination of athleticism, defense, playmaking, shot-blocking and scoring is quite unique and also incredibly valuable. Very rarely does one player possess all of those gifts.
Andrei Kirilenko is no Smith, but he is a poor man's version of him. That sounds preposterous right? Yet, when we compare their 2012-13 regular seasons head-to-head, they are incredibly close statistically, per 36 minutes.
Smith's youth and defensive impact give him the edge in terms of value. His athleticism also tends to get him noticed a little more than his counterpart. Nonetheless, Kirilenko is a terrific option for the Los Angeles Lakers if they can nab him for the mini mid-level.
The former Utah Jazz player plays both forward positions, which is a plus for Mike D'Antoni. Kirilenko will thrive playing minutes in small doses at the 4 next to Howard.
It gives him an opportunity to get out on the break and outrun slower power forwards. His 31 percent career three-point shooting is somewhat problematic, given that defenses will be able to ignore the Russian forward on the perimeter.
Kirilenko mitigates this by rarely remaining in one spot. Synergy Sports tells us he attempted 109 field goals this past season simply by cutting to the basket. That represents close to 20 percent of his shot attempts. The constant movement forces defenses to account for him and as a result they cannot simply leave him unattended to clog the lane in an effort to discourage Howard's post-up opportunities.
Much like O.J. Mayo, Kirilenko opted out of his contract because he was looking for financial security and a hefty payout. Per Basketball-Reference, he made $9.8 million in 2012-13 and thus probably declines an offer from the Lakers that maxes out at $3.183 million. There is a chance though that might wish to join a winning ball club and thus sacrifice a big payout. It is unlikely but not necessarily impossible.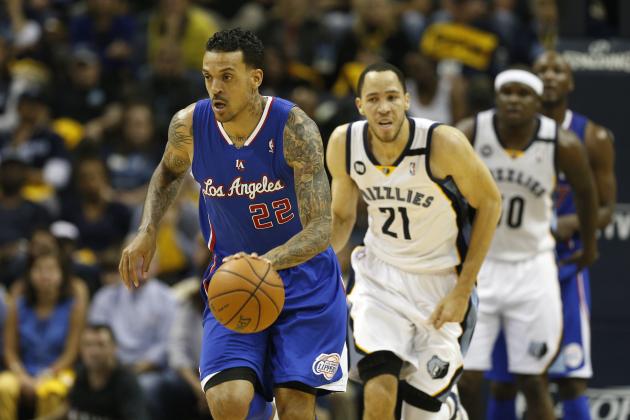 Joe Robbins/Getty Images
Matt Barnes (left) gets out on the fast break.
Matt Barnes played with Dwight Howard during the 2009-10 season and thus has some familiarity playing next to him.
Barnes is a scrappy player that does the little things on the floor that do not appear in the box score. Set hard screens, bump cutters in the lane and balance the floor with precisely timed cuts towards the hoop.
He also has some value as a three-point shooter, although he is not a lights out marksman from that range as evidenced by his career 33.1 percent shooting from long-range.
Barnes is an adequate small forward, but when playing at the other forward spot he speeds up the tempo and causes problems for opposing defenses. He loves to get out in transition, which forces big defenders to chase him.
Thus, when Howard flashes to the basket as the trailer on the fast break, he is met with easy catches down in the paint for scores. Barnes can probably be had for the veteran's minimum or part of the mini mid-level.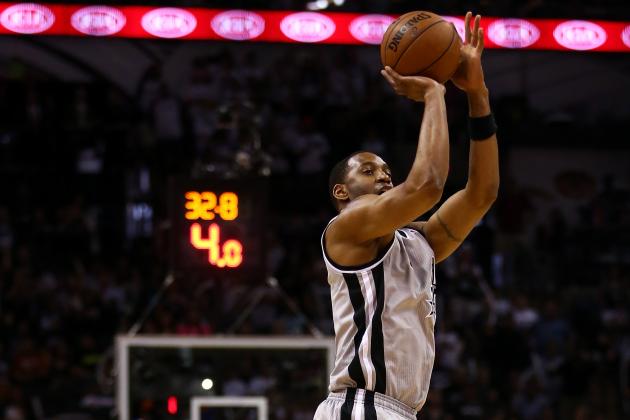 Ronald Martinez/Getty Images
Tracy McGrady elevates for a jumper.
Signing Tracy McGrady to $1 million contract with a team option for the 2014-15 season might be an interesting course of action for the Los Angeles Lakers. The former Orlando Magic is no longer the athletic marvel he once was but he is still a serviceable player.
McGrady has always been a good ball handler and he navigates quite well in the pick-and-roll because of his size and ability to understand the defensive coverage.
He is a good passer and has always had a knack for hitting players in stride heading to the basket. At 6'8'', the former Toronto Raptor can probably play at power forward in a pinch but it's not a place where he can play big minutes.
McGrady has always favored playing on the perimeter and can operate in the backcourt and as a small forward. He is an average shooter at best but his ball handling and playmaking off the bench are skills Howard will certainly welcome.
J.M. Poulard is a featured columnist and can be found on Twitter under the handle name @ShyneIV.