Ranking the Greatest Signings in Last Decade of NBA Free Agency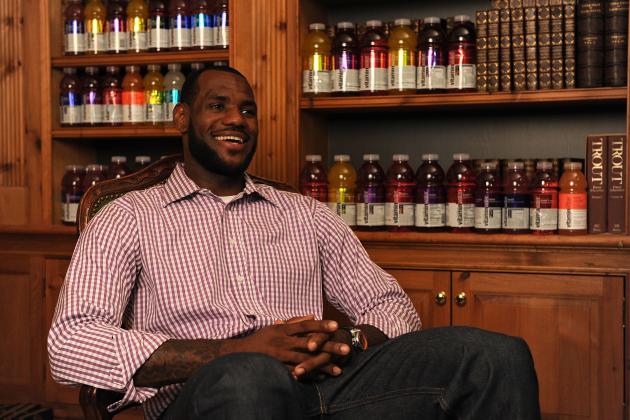 Larry Busacca/Getty Images

Who are the biggest free-agent signings in the last 10 years?
Dwight Howard will eventually figure out where he wants to go, and when he does, he will become one of the biggest free-agent acquisitions in history. When Chris Paul signed, he added himself to that list as well.
Who else makes it?
Before proceeding, we need to explain some of the criteria for this list. Who is and isn't a free agent can be difficult to pin down. For instance, technically LeBron James was traded but only after deciding on a team as a free agent.
There are also free agents like Kobe Bryant, Tim Duncan and Dirk Nowitzki who chose to remain with their teams and were never seriously considering moving. We could include them, but that would just make the list boring.
Finally you have players such as Carmelo Anthony who forced trades before teams lost them in free agency. While technically never hitting the free-agency market, they moved to the team they wanted without doing so. In other cases, such as with Deron Williams and Chris Paul, teams used that potential as a loss to obtain players whom they later kept.
And then, weirdly enough, there were cases where a player just signed with a new team.
Therefore, for this list, we are listing players who changed teams as a result of imminent free agency. They are ranked by a combination of actual impact and potential impact.
Begin Slideshow

»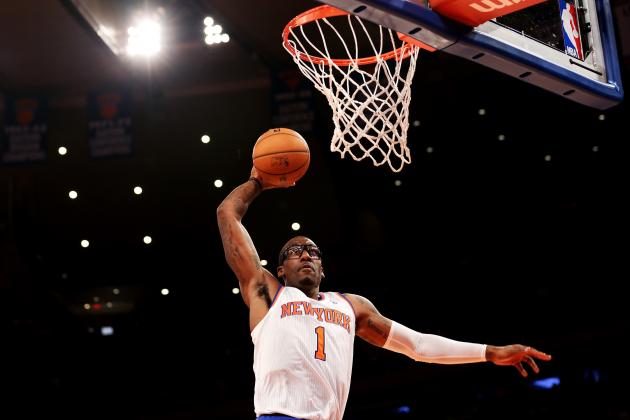 Nick Laham/Getty Images

When Amar'e Stoudemire signed with the New York Knicks in 2010, it was exciting news for the fans. On that day, it seemed the Knicks were only days away from landing LeBron James too.
Of course we all know that didn't work out so well.
But Stoudemire was in New York, and it paid off for a time. He put up some massive numbers—26.4 points and 8.8 rebounds—during his first half season with the Knicks, and they were winning games for the first time since the days of Patrick Ewing.
Carmelo Anthony was still in Denver and had seemingly narrowed his team down to either the Knicks or no one, although the New Jersey Nets kept trying to get in the conversation to no avail. We can only speculate how much his friendship with Stoudemire influenced his decision, but it seems that it did.
Eventually, Anthony did make it to the Knicks, and while they haven't won a title, they're at least relevant in the NBA again.
Stoudemire's tenure has been up and down. He's had injuries, some self-inflicted. There are plenty of reasons that he could be left off this list entirely.
However, if it weren't for his tremendous start, would Anthony have joined the Knicks? Do they ever experience Jeremy Lin and "Linsanity?"
Are the Knicks nearly the team they are today without Stoudemire? The last three years have been a fun ride for Knicks fans, and Stoudemire's signing kicked it off.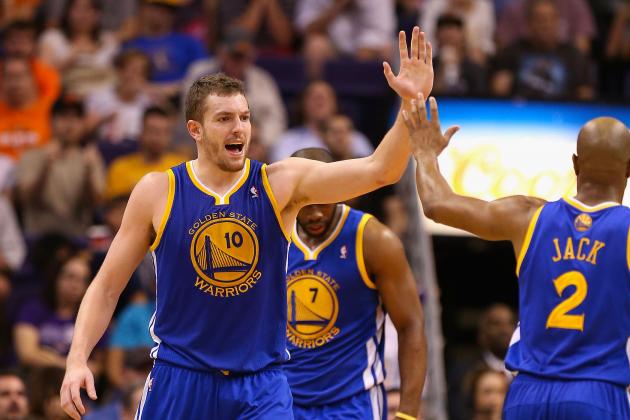 Christian Petersen/Getty Images

2010 was the biggest year in NBA history for major free-agent movement. Never before had free agency had so much impact on the championship picture. Both teams in the Eastern Conference Finals had been virtually rebuilt in free agency.
In the wake of all that, David Lee was a bit of a forgotten player.
Players like Carlos Boozer, who signed with the Chicago Bulls, and Amar'e Stoudemire, who signed with the New York Knicks, commanded far more media attention and larger contracts. Chris Bosh was one of the "Big Three" in Miami.
But of the four, Lee has arguably had the best tenure with his new team.
Here is what the four big men have done with their teams in the three years since.
| | | | | |
| --- | --- | --- | --- | --- |
| Player | Games | Points | Rebounds | Total |
| Lee | 209 | 3809 | 2145 | 5954 |
| Boozer | 204 | 3305 | 1900 | 5205 |
| Stoudemire | 154 | 3207 | 1148 | 4355 |
| Bosh | 208 | 3695 | 1594 | 5289 |
Stats don't say everything, but they do say something, and what they say here is interesting. Lee used his underrated play to be a big part of a turnaround in Golden State.
It just goes to show that the biggest name isn't always the best signing.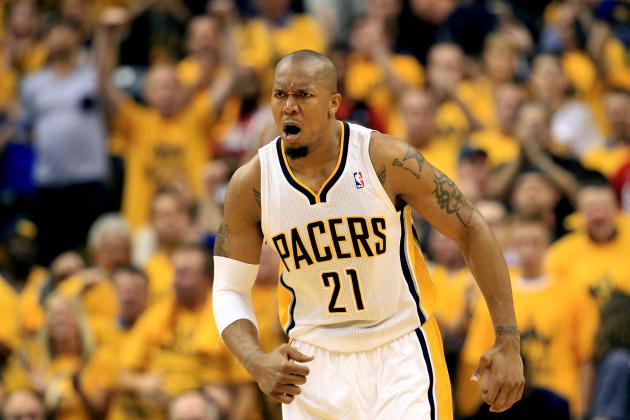 Ronald Martinez/Getty Images

The Indiana Pacers were a league joke when they hired Frank Vogel as a head coach. It's doubtful that even the most optimistic Pacers fans would have guessed that the team would be where it is today, which was a single game away from the NBA Finals.
During the last two years, the Pacers have outscored their opponents by a total 584 points while West has been on the court. They've been outscored by a total of 40 points while he's on the bench.
He's not one of those players who put up prodigious stats, but he contributes solid numbers, averaging 15 points, seven rebounds and two assists per game in his two years as a Pacer.
It's appropriate that his numbers are solid. He's a solid dude. Actually, physically solid. Like granite.
He is the perfect fit for Vogel's hard-nosed system, and he's arguably the biggest reason it works, even over Paul George and Roy Hibbert. He is the perfect complement to both men. Together, they combined for the third best frontcourt in the NBA last season, according to HoopsStats.com.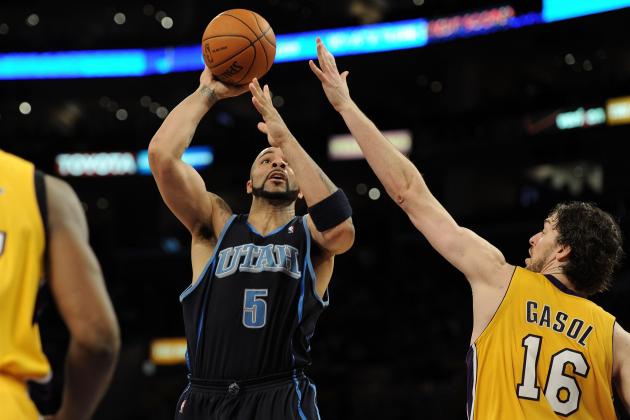 Harry How/Getty Images

The target of more unmerited crisis than anyone in the NBA is probably Carlos Boozer. Sure, he spray paints his head and doesn't play much defense, but lots of power forwards don't play defense without the criticism.
In 2004, he signed with the Utah Jazz and was a major factor for the team over the duration of his contract.
He averaged 19.5 points and 10.6 rebounds in Utah. The only other players who averaged 19 and 10 over that span were Kevin Garnett, Tim Duncan and Yao Ming.
The Jazz might not have won any titles during that time, but they went from a 26-win team to a Western Conference finalist within two years.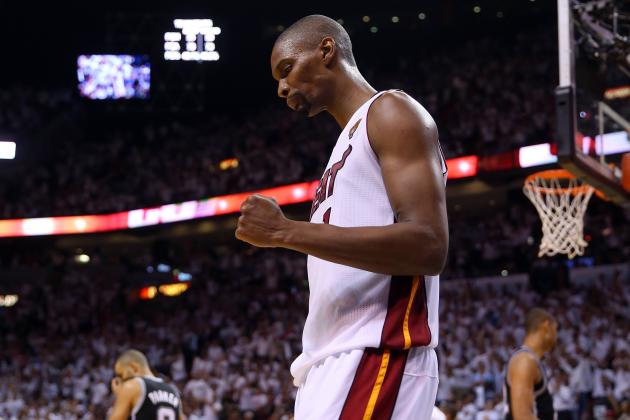 Mike Ehrmann/Getty Images

The two sides of Chris Bosh are interesting to compare. There's the Toronto Bosh and the Miami Bosh. Before he went to Miami, he was putting up great numbers on a bad team and so was considered to be underrated.
Now he's putting up marginal numbers as the third option on a championship team, so he's considered to be overrated.
His last five years with the Raptors, he averaged 22.8 points and 9.9 rebounds per contest. In Miami, he's averaged 17.8 points and 7.7 rebounds.
While those numbers are a steep drop-off, they're not bad for a third option by any stretch. In fact, they're better than any third option on another team.
But that's the thing about Bosh. He never had postseason success in Toronto, but he has two titles in Miami. He didn't score a point in Game 7 of the NBA Finals, but his 20-point, 10-rebound game in Game 3 might have saved the series.
He's good and he's bad.
Bosh is a terrific second or third option, which is all he's been asked to be in Miami. If he were carrying the team, something would be wrong with the game plan.
He might be the biggest dork in NBA history with two rings, but he's still a valuable asset to the Miami Heat.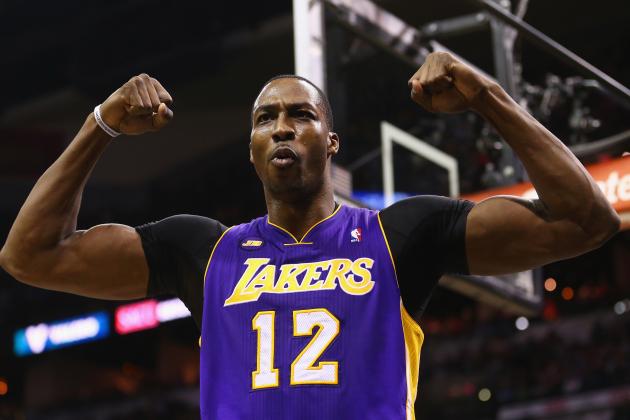 Ronald Martinez/Getty Images

One of the pitches in the Dwight Howard sweeps has been to offer him his own TV show. Here are a few ideas:
The Dwight Stuff
Howard has to go through selected belongings Hoarders style, deciding whether he wants to keep or donate them. He has to choose between five items in 10 seconds, or they all go in the donate pile. Then he can shoot free throws to keep what's in the donate pile, but a lucky contestant gets to keep what he doesn't retain.
Dwight Collar
Dwight is a volunteer police officer a la Shaquille O'Neal. Follow him as he collars criminals and brings them in—or does he?
Dwight Rider
Howard has to complete an obstacle course with a contestant on his back. At a series of stations he must make difficult decisions. The "rider" is allowed to talk to him and make him second guess. If Howard doesn't finish on time, the rider gets a prize.
With or without a show, Howard is going to sign with someone, and immediately he'll be one of the biggest additions in history. Since coming into the league, only five players have more win shares. He is 10th in total points, and his 9,017 rebounds are 2,205 more than anyone else. He's won the Defensive Player of the Year three times.
He's a stellar player.
His reputation has taken a hit because of his indecisiveness, and he can only blame himself for that, but he didn't forget how to rebound, play defense or dunk. The team that signs him will immediately vault into contender status, and his reputation will recover.
Which is too bad, because those shows would be fun.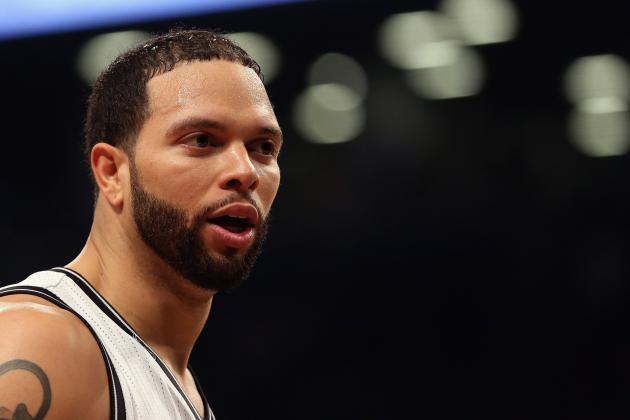 Bruce Bennett/Getty Images

In 2011, shortly after the New York Knicks had acquired Carmelo Anthony, we all thought the trade noise would settle down. Then, out of absolutely nowhere, the New Jersey Nets snared Deron Williams.
There may have been bigger moves, and there have been more surprising ones, but I don't remember a move this big happening so quietly before. There was not even a whisper of it until it was announced out of the blue. Not even Williams knew about it.
In fact, he learned about the trade while watching SportsCenter in the training room.
The Nets gave up a lot to get Williams, and they were putting a new spin on the whole idea of a free-agency grab. Williams was a year off from hitting the free-agency market, but New Jersey hoped that by giving him that time to try on their team, he'd be convinced.
The Nets threw all their chips in, gambling on the audition.
They made him the cornerstone and aggressively made trades, acquiring Joe Johnson and Gerald Wallace. The result was going from long shots to favorites to winners in the Williams sweeps. Eventually, they won.
The two Los Angeles teams have since applied the same strategy, and for at least one of them, it's worked. The strategy might change the approach to free agency for years to come.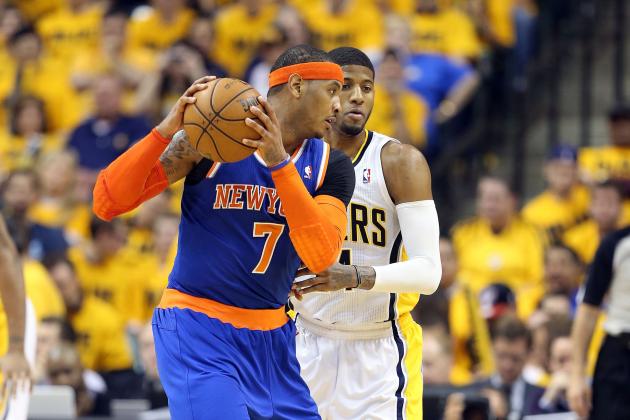 Andy Lyons/Getty Images

Here's a new word for you.
Bar-name: A name which the mere mentioning of in any bar will cause full-blown fights at every table within 15 minutes.
There are three bona fide bar-names in the league right now—LeBron James, Kobe Bryant and Carmelo Anthony. Bar-name players do two things: They generate passion, for or against, and they sell tickets.
The most popular team in the NBA Finals this year was neither the Miami Heat nor the San Antonio Spurs. It was LeBron's opponents.
Of the three notable bar-names, Anthony is the one who doesn't have championship ring and has a reputation for being the most selfish. He's also the reigning scoring champion.
Both sides have plenty of fodder.
Since he's arrived in New York, the Knicks finally won their first playoff series since the days of Patrick Ewing, and they had the second best record in the Eastern Conference this year. They shattered the NBA record for three-point shots made in a season.
They also did so without Derrick Rose playing in Chicago. They also got manhandled by the Indiana Pacers. They have their little brother in Brooklyn breathing down their necks.
The Knicks should be concerned.
But who cares about all that? Basketball matters in New York again, and the biggest reason is Carmelo Anthony.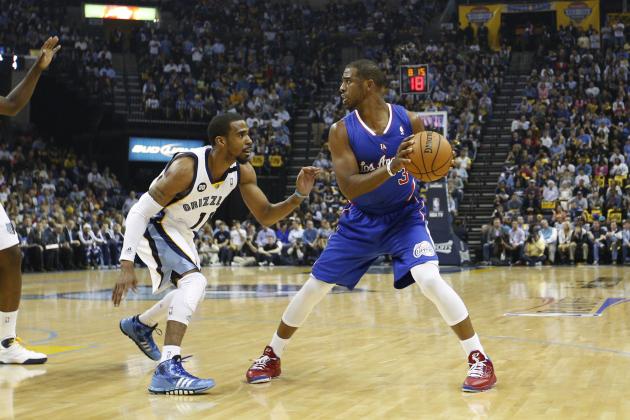 Joe Robbins/Getty Images

At the pace he's going, when Chris Paul hangs up his sneakers, he'll be in the conversation for greatest point guard ever.
No true point guard has amassed 5,000 assists and more win shares in their first eight seasons, not even Magic Johnson. (Oscar Robertson also played a lot of shooting guard).
Of course you'll hear the "but he hasn't won anything yet!" argument. He? Really? I'm not sure which is more trite—"he won" or "he hasn't won."
Teams win. Teams lose.
Stop the petty argument long enough to let this thought penetrate: Paul has turned the Los Angeles Clippers into a winning team. Complaining about how deep he got in the playoffs is the equivalent to watching a guy bench press a mountain and chiding, "But there weren't any leaves on the trees."
The Clippers had a winning percentage of .362 in the 40 years prior to Paul's arrival. To be that bad for that long is hard to fathom.
To put it in perspective, the Boston Celtics, who have been around for 24 more years, and the Lakers, who have been around for 22 more years, both have lost fewer games as a franchise.
Since Paul has joined the team, the Clippers have won a division championship, reached to the playoffs both years and became a true contender.
So yes, he's the second most impactful signing of the last decade. Keeping him was a huge get for the Clippers.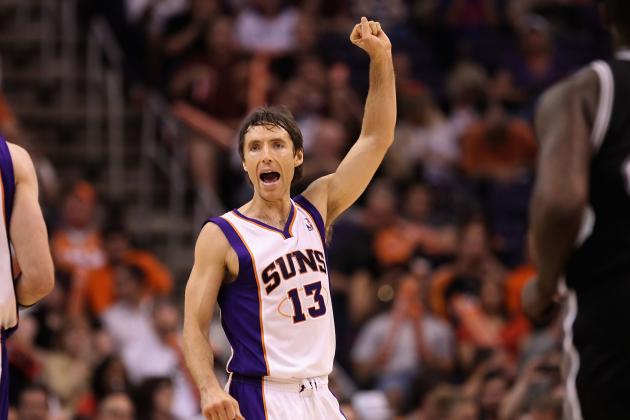 Christian Petersen/Getty Images

When Steve Nash signed with the Phoenix Suns in 2005, it was not heralded with the same enthusiasm as other signings have been over the last decade, but the impact of that signing both on the court and, in terms of franchise defining moments, is nearly unparalleled.
Nash only went on to win two MVPs, take the Suns to the Western Conference Finals and become possibly the best post-30 point guard in NBA history. He and John Stockton are the only two players to score 10,000 points and dish 5,000 assists after turning 30.
Over his time in Phoenix he amassed 6,697 assists, which is 1,493, almost 30 percent more than anyone else in the NBA.
He also won two MVP awards. He and LeBron James are the only two free agent acquisitions over the last decade to have won an MVP with their new team. And it's worth pointing out the operative word here is "won,' not "stole." There were votes and everything! Nash actually got more votes than Kobe Bryant.
In fact when Nash won his first award, Bryant didn't receive a single MVP vote. When he won his second award, Bryant only finished fourth. If he "stole" MVPs from anyone, he stole them from Shaquille O'Neal and LeBron James respectively. But he didn't steal them from them either. I know, because the votes were there.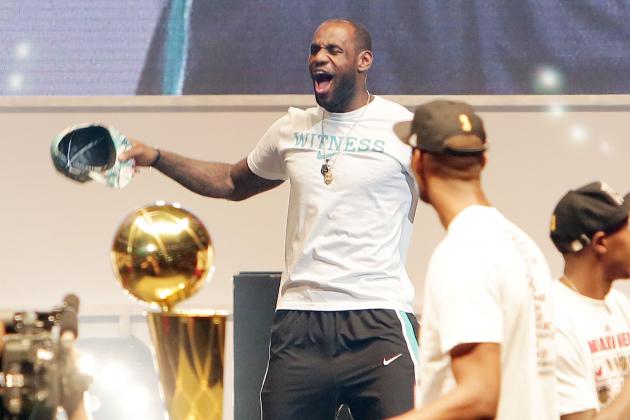 Alexander Tamargo/Getty Images

Since LeBron James joined the Heat, they've won two titles, and while his teammates might have helped them get there, there can be no question he is the one who carried them across the finish line.
In fact, arguably the only free-agent acquisition in the history of basketball on this level is when the Lakers landed Shaquille O'Neal.
Those are the only two times where the most dominant player in the world changed teams in the prime of his career through free agency and helped his new team win multiple championships.
Everyone wants to talk about LeBron's place in history. Is he top 10 yet? Has he passed Kobe Bryant? Will he? Will he be there with Jordan?
Here's my pitch, and I mean this as nicely as possible: Shut up.
People tilt both ways—they either talk about what he hasn't done yet to prove their argument, or they try and project what he's "going to do" to state their case.
Don't be so swept up in debating his place in history that you miss the opportunity to witness history. Be a basketball fan, even if you're not a Heat fan.
Players like LeBron don't come along once in a lifetime. They just come along once.