NBA Players Who Will Be Grossly Overpaid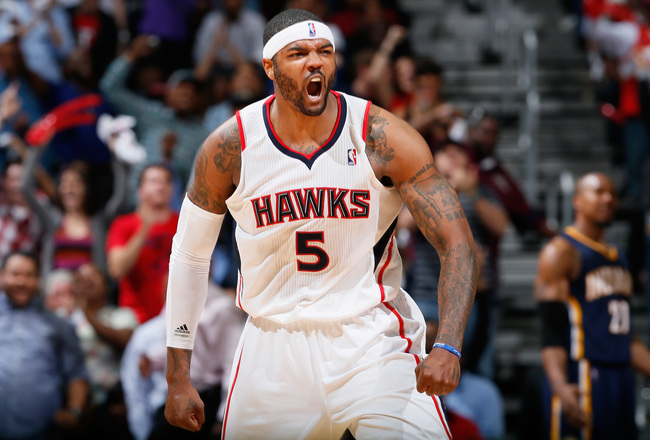 Kevin C. Cox/Getty Images
Free agency is like a game of minesweeper.
Remove all rookie deals, which are the best value contracts in the game. Then, get rid of the one or two true superstars, who only make themselves available to a select group of teams.
Then what's the landscape like for everyone else? Players who have to be overpaid for that are highly capable of blowing up a franchise's hopes and dreams.
Whether it's a young team pushing in way too early (like the Detroit Pistons), or a terrible team that just wants to be slightly more respectable (like the Charlotte Bobcats), overspending is bound to happen in free agency. Here are the most likely candidates to be on the receiving end of that equation.
Brandon Jennings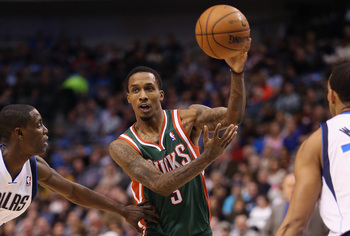 Ronald Martinez/Getty Images
Who wants to make a point guard who has a career field goal percentage of 39.4 percent and a true shooting percentage under 50 percent one of their highest paid players? Hello...? Anyone?
Marc J. Spears of Yahoo! Sports reported a few months back that Brandon Jennings turned down a $40 million, 4-year extension with the Milwaukee Bucks, which would leave you to believe that Jennings is searching for a similar or better payday elsewhere in free agency.
Truth is, Jennings probably wasn't worth that extension offer, let alone what he'll likely get on the open market. Last year, his PER of 16.3 rated him 26th among fellow point guards, and his incredibly high career usage numbers (25.2 percent) suggest he'll struggle to take a backseat offensively, wherever he ends up.
In a fair world, Jennings would probably deserve a contract more in the Goran Dragic range of $7.5 million a year, but it's hard to imagine Jennings signing anything less than what he reportedly rejected in Milwaukee.
Jennings has an aesthetically pleasing game, and he's still very young, but anything past $10 million a year would be overspending. Buyer beware.
Josh Smith
Kevin C. Cox/Getty Images
When do we stop waiting for Josh Smith to "figure it out" and accept him for what he is?
Smith is an elite defender, a killer rebounder and a great passer. And he also has one of the worst shot selections in all of basketball.
For a short period of time, it looked like Smith had begun to understand his limitations. In the 2009-10 season, he only attempted seven three-pointers (and made none). Naturally, that was his most efficient offensive season ever.
But Smith has since reverted back to his chucking ways, as he attempted 201 three-pointers last season. Any team that expects Smith to play small forward in today's game is disrespecting the concept of floor spacing.
Smith is a tempting player because you'd like to think he could control his limitations all the time. His nine-year career tells us otherwise.
Smith is ideally a third option offensively as a dynamic power forward who makes right around $11 million a season. Instead, it's very possible that the Detroit Pistons offer him something closer to a max contract this offseason.
Al Jefferson
Streeter Lecka/Getty Images
According to Marc Stein of ESPN.com, Al Jefferson has agreed to a three-year deal worth $41 million with the Charlotte Bobcats.
If Jefferson only had to play offense, he'd be worth every penny. No one dominates the left block like he does, and he also has a nice jumper to go along with that great post game. Sure, you wish Jefferson would get to the line more often (2.8 times per game last year), but big men who can score are a rarity.
The problem with Jefferson's huge deal is that it doesn't account for his shoddy defense. Jefferson can't defend pick and rolls, he can't protect the rim and he's pretty immobile on rotations. He's a pretty bad defensive player all in all, and that's reflected by his plus/minus numbers with the Utah Jazz last season.
When Jefferson was on the court last year, the Jazz gave up 110.5 points per 100 possessions. When he was off the floor? 100.7 points. That's a big deal.
A contract in the $10 million a year range would have been more appropriate, but for obvious reasons, the Charlotte Bobcats have to overspend on just about any free agent, and Jefferson was no exception. Still, it's hard to see Jefferson justifying his massive payday and making the Bobcats significantly better overall.
Tyreke Evans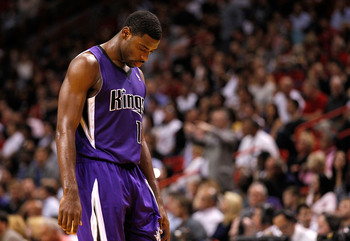 Mike Ehrmann/Getty Images
Marc Stein of ESPN.com reports that Tyreke Evans is involved in a three-team trade that will send him to the New Orleans Pelicans, where he'll ink a contract worth $44 million over four years.
That's a lot of coin for the former Rookie of the Year award winner, but the fit in New Orleans is most perplexing. Add up the Pelicans' starting five usage percentages for last year, and the number is more than 120 percent. Essentially, that means less shots for everyone this season.
To avoid the issues of a Jrue Holiday, Eric Gordon, Evans wing combo that doesn't share very much, the Pelicans may bring Evans off the bench. $11 million a year sure is a lot for a sixth man, particularly when he he's just one of many mouths to feed on the roster.
In a different situation, you could make sense of Evans getting a big payday. He has great size, vision and athleticism for a wing, and he's capable of being a pretty good defender. But from the point of view of New Orleans, he's a big luxury that doesn't fill many needs at a price that could be crippling down the line.
Monta Ellis
Mike Ehrmann/Getty Images
Can you build an offense around a combo guard who takes a lot of shots but is ineffective from behind the arc?
That's the question teams will have to ask when considering Monta Ellis, a guy who has always seemed destined to be a great sixth man and not much more.
Ellis built his reputation in an era where points were put on a pedestal, no matter how they came. In reality, he's probably a slightly better, more dynamic player than guys like J.R. Smith and Jamal Crawford, but his role and salary should be in the same ballpark. Somewhere in the $6-7 million range sounds right.
What's more likely to happen, however, is teams will treat Ellis as if he's one of the best starting shooting guards in the game, and pay him accordingly.
If Evans is worth $11 million a year as a positionless wing player who needs the ball in his hands to be effective, it's not hard to imagine a team talking themselves into giving Ellis similar money. And that, my friends, is how the free agent market gets out of control.
Nikola Pekovic
Harry How/Getty Images
Once the Dwight Howard domino falls, the market for Nikola Pekovic should spike dramatically. Al Jefferson already got his big check, and Pekovic might be next in line.
Pekovic is another old school scorer in the post, and there's value in that. He's a killer offensive rebounder and bruiser who eats up his space, but his impact defensively is hurt by his lack of mobility or vertical ability.
What's a double-double threat every night worth? It's hard to gauge, but the market for centers is always inflated in restricted free agency. If Roy Hibbert was worth a max deal last offseason and DeAndre Jordan was worth around $11 million a year, Pekovic might fall in between those numbers in $12-13 million range.
In my mind, that would be a mistake. Defensive performance translates very closely to playoff success, and the best defenses almost always have a defensive anchor at the 5. Think Kevin Garnett in Boston, Joakim Noah in Chicago or Marc Gasol in Memphis. Pekovic is a great scorer, but it's hard to say he helps on the defensive end very much.
Pekovic deserves a nice deal, but sinking anything close to max money into a player who only impacts one side of the floor is rarely advised.
Keep Reading