The Los Angeles Lakers relied on Kobe Bryant to help keep Dwight Howard on the team. This appears to have been a mistake.
As the biggest prize in the free agent market, Howard has been heavily pursued by a number of teams around the league. In two days, he met with representatives from the Atlanta Hawks, Golden State Warriors, Houston Rockets, Dallas Mavericks and finally the Lakers, according to ESPN.
After taking a few days to make a decision, he will reportedly decide on a team by Friday.
For the most part, Los Angeles used a similar strategy to the rest of the teams on this list. There was talk of how important Howard would be to the organization and other ways to make the player feel good about himself.
Steve Nash, who was part of the team's pitch, followed this strategy on Twitter:
Flying from NYC to LA. @DwightHoward we're coming for you. You're going to love the statue we build for you outside Staples in 20yrs!

— Steve Nash (@SteveNash) July 1, 2013
However, it seems Bryant did not get the message (or simply ignored it). The straight-talking superstar tried a brutally honest approach when talking to Howard, relaying this message to his teammate (via Adrian Wojnarowski of Yahoo!):
You need to learn how it's done first, and I can teach you here. You have to learn how it's done. I know how to do it and I've learned from the best – players who have won multiple times over and over.

Instead of trying to do things your way, just listen and learn and tweak it, so it fits you.
Where everyone else used these meetings to stroke Howard's ego, Bryant took him down a few notches by saying that he does not know how to win.
According to Chris Broussard of ESPN, this is unlikely to go over well:
Sources close to Howard tell me Kobe's reported pitch in Tuesday's meeting about teaching D12 how to win will be a "complete turnoff" to D12

— Chris Broussard (@Chris_Broussard) July 4, 2013
The center has received a lot of negativity over his attitude in the past few years, but Howard has been a part of team success in his career, helping the Orlando Magic to an NBA Finals appearance in 2009.
It is unlikely that he wants to hear someone question his work ethic, especially when that person could be his teammate for a few more years.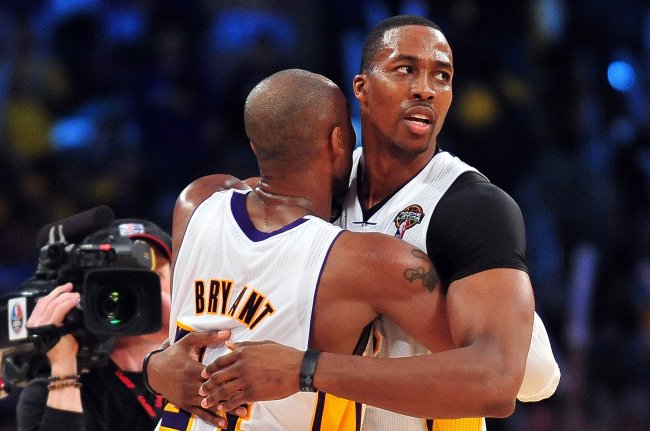 Gary A. Vasquez-USA TODAY Sports
Since Howard joined the Lakers at the start of last season, it was clear that he and Bryant had very different personalities and would struggle to get along. There were certainly issues throughout the year, even though the pair did joke about the feud rumors:
The mamba vs d12 !! It's on lol pic.twitter.com/cZQO5Avf

— Kobe Bryant (@kobebryant) January 7, 2013
Still, this is one of a few factors working against Los Angeles as the player makes his decision.
Coach Mike D'Antoni plays a style contrary to Howard's strength on the court. Thanks to the spread-floor offense, the center had his worst offensive season since his second year in the league.
He will also have to play on a team that will be without Bryant for a few months as he recovers from his Achilles injury.
As ESPN's Mike Greenberg notes, the Lakers are now pretty far from title contention:
Can't think of any reason Dwight Howard would stay with #Lakers besides money. He'd be closer to title any of the other places begging him.

— Mike Greenberg (@Espngreeny) July 4, 2013
Combining these problems with the attitude of Bryant, it appears unlikely that the team will be able to re-sign Howard this offseason. The organization simply better hope he cannot "learn to be a champion" somewhere else.
Follow Rob Goldberg on Twitter for the latest updates in sports.