Predicting Boston Celtics Starting Lineup for 2013-14 Season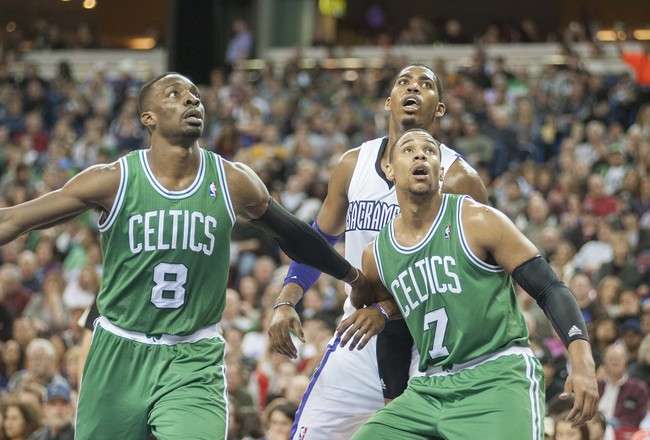 Ed Szczepanski-USA TODAY Sports
There no longer is any doubt as to what direction the Boston Celtics are headed following the departures of Kevin Garnett and Paul Pierce.
President of basketball operations Danny Ainge and the Celtics' front office made it clear that they are entering a full rebuilding mode by signing former Butler coach Brad Stevens to a six-year, $22 million contract, according to ESPN.com.
The 2013-14 season might look bleak, especially since the Celtics have not been players in free agency, but it will give the team the opportunity to assess its current talent and see which pieces should stay for the long haul and which players the team should look to deal for future assets.
Though the blockbuster trade with Brooklyn made Boston a deeper team than they have been in recent years, it also knocked the Celtics firmly out of title contention. As a result, players like Jared Sullinger and Kelly Olynyk, who may have found themselves as nothing more than rotation players, will now have the opportunity to prove their true values to the organization with regular minutes of playing time.
Boston's starting five will look radically different without the familiar sights of Pierce on the wing and Garnett manning the paint, but with a young, up-and-coming coach in tow and a number of players who have yet to reach their ceilings, the Celtics are ready to begin a new era of basketball.
Barring any unexpected signings or radical trades, let's look at what the Celts' starting lineup should look like once the 2013-14 campaign tips off in October.
Statistics courtesy of ESPN and HoopData.
Point Guard: Rajon Rondo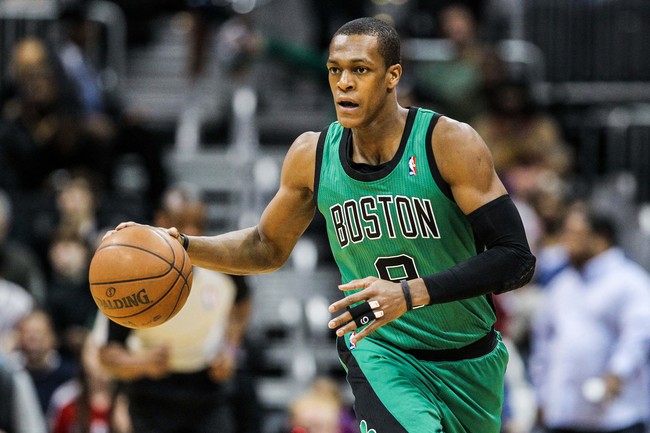 USA TODAY Sports
Despite Rajon Rondo partially tearing his ACL in a double-overtime loss at Atlanta last season, Danny Ainge has indicated that he believes Rondo will be ready to play by the start of the regular season, according to Jay King of MassLive.com.
Even if the team plays it safe and rests Rondo for parts of October and November by starting Avery Bradley at the point, once he is fully healthy, Rondo will assume the starting role in his eighth season as a Celtic.
Though teams like Dallas and Detroit have expressed interest in dealing for Rondo during the offseason, the reality is that his value is simply not high enough right now for a deal to be the right decision.
In 38 games last season, Rondo averaged 13.7 points, 5.6 rebounds and 11.1 assists while shooting a solid 48.4 percent from the floor. Though he forced passes at times instead of looking to score himself, Rondo continued to refine his game in his seventh NBA season.
Despite being criticized for his shaky jumper, Rondo shot from mid-range at an elite level, connecting on 48 percent of his 3.6 jumpers from 16-23 feet. If he can continue to expand his range, Rondo could become the franchise building block that many believe he needs to be to stay in Boston.
Rondo is already one of the league's most versatile players, and as long as he is not too hampered by the effects of his knee injury, he should still have plenty of good basketball left to play.
Rondo has gained a reputation as being difficult to coach, making concerns about whether or not he'll be receptive to the message of new coach Brad Stevens, who is younger than Kevin Garnett and has no NBA experience. That is a legitimate concern, but the chance to finally be the Celts' franchise player should undoubtedly be appealing to him.
While a deal for Rondo could present itself at some point in the future, expect Rondo to be Boston's starter for the 2013-14 season.
Shooting Guard: Avery Bradley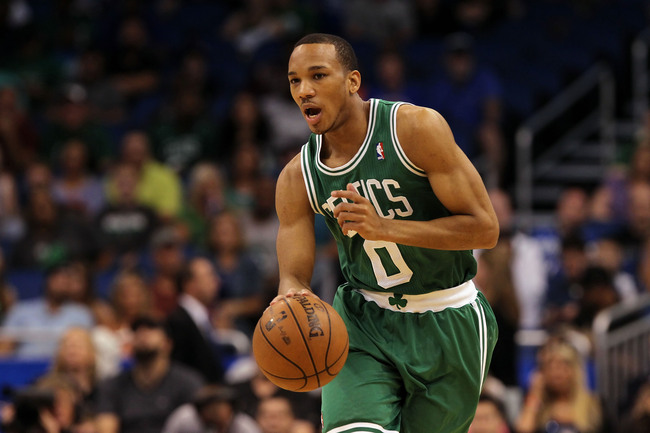 Kim Klement-USA TODAY Sports
Avery Bradley had a horrendous postseason in 2013, averaging just 6.7 points, missing a slew of layups and being dominated by a surprisingly resurgent Raymond Felton in Boston's six-game, first-round loss to the New York Knicks.
Still, that should not diminish his 2012-13 regular season, which was mostly solid. Bradley averaged 9.2 points, 2.2 rebounds and 2.1 assists while earning an NBA All-Defensive Second Team nod despite only playing in 50 games.
Bradley remains one of the league's best perimeter defenders and an absolute nightmare for opposing point guards when he picks them up 90 feet from the basket, but his offensive game is still a work in progress.
While his midrange jumper is decent at 43 percent from 16-23 feet on 3.1 attempts per game, his three-pointer is still a work in progress. He is decent in catch-and-shoot situations from the corner, but playing with a point guard who doesn't shoot threes well in Rajon Rondo. Bradley needs to develop into a consistent outside shooter from everywhere on the court.
He also needs to improve at finishing inside, where he shot a mere 51.5 percent at the rim. Bradley is a very good cutter without the basketball, who can get open in the paint, but he needs to convert those opportunities at a higher clip to establish himself as a consistent double-digit scorer.
The Celtics have a number of players at the 2-guard position currently on their roster. While Bradley's defense will earn him the majority of the minutes at the spot, if he wants to play 32-36 minutes per night, he needs to round out his offensive game, both as a scorer and a facilitator.
That being said, Bradley is only 22 years-old and still has plenty of upside, making him a key piece in Boston's upcoming rebuilding project.
Small Forward: Jeff Green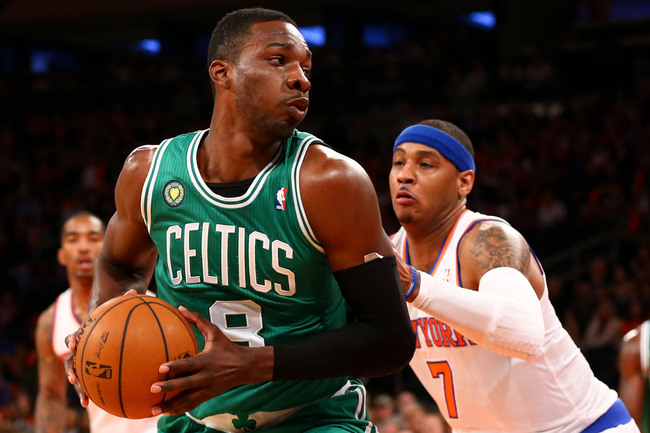 USA TODAY Sports
There were not a lot of positives for Boston during a bleak, injury-plagued 2012-13 season, but the play of Jeff Green as a starter certainly was one of them.
In 17 appearances in the starting five, Green averaged 20.1 points, 5.9 rebounds and 2.9 assists while shooting 52.3 percent from the floor, including an absurd 51.9 percent from beyond the arc.
While his three-point percentage is undoubtedly unsustainable, Green demonstrated a confidence and aggressiveness on both ends of the court as a starter that he lacked as a reserve. He guarded the opposing team's best perimeter player, attacked the basket at will and even handled the ball for stretches as a point-forward.
His play also stayed high in the playoffs, as Green averaged 20.3 points, 5.3 boards and 2.3 assists while shooting 45.5 percent from deep. He guarded Carmelo Anthony well and dropped in 26 points on two occasions in Bostons six-game series with New York.
Suddenly, the four-year, $35.2 million deal that Green signed in the 2012 offseason looks much more reasonable than it did while the ink was drying. With Paul Pierce gone, the 26-year-old Georgetown product is the Celtics' small forward of the present and the future.
Though Boston acquired Gerald Wallace in its blockbuster trade with Brooklyn involving Pierce and Kevin Garnett, Wallace does not fit into the team's rebuilding mode and will likely be a rotation piece, but certainly not a starter. The 30-year-old shot just 39.7 percent with the Nets and averaged his fewest points since the 2003-04 campaign.
For the first time in his career, Green has the opportunity to be a team's first option offensively. Along with that pressures comes the opportunity for Green to blossom into the star player he never could have been playing alongside Pierce and Garnett in Boston or with Kevin Durant, Russell Westbrook and James Harden in Oklahoma City.
Power Forward: Jared Sullinger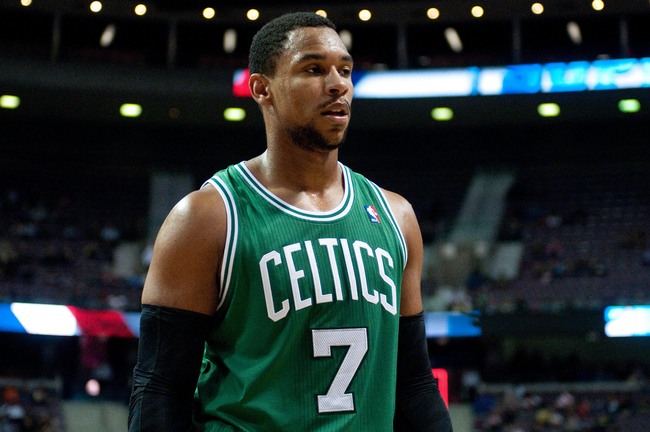 Tim Fuller-USA TODAY Sports
Before going down with a back injury in his rookie season, Jared Sullinger showed flashes of potentially being an impact player for the Celtics down the road.
Sullinger appeared in just 45 games, but earned the trust of head coach Doc Rivers, which is easier said than done, and began to steal minutes from Brandon Bass.
His season averages of six points and 5.9 rebounds on 49.3 percent shooting were not exactly staggering, but he did manage to post four double-doubles and carve out a consistent role in a deep power forward rotation for the Celtics.
Green posted 10.9 points, 10.7 boards and 1.4 assists per 36 minutes, emerging as a nightly double-double threat when he got consistent minutes.
Though not the most talented athlete by any means, Sullinger uses his length and strength to make up for his unimpressive leaping ability. The 6'9" forward has a knack for carving out great position in the paint on both the offensive and defensive glass as he can rebound effectively against taller opponents.
A team like the Celtics could use any easy points they can get, and while Sully is still honing his post game and refining his midrange jumper, he is a skilled finisher inside who shot 68.8 percent at the rim in his first NBA campaign.
While Bass' ability to play in the pick-and-pop game is valuable alongside Rajon Rondo and he is an underrated defensive presence, the 28-year-old had an underwhelming 2012-13 season and does not possess nearly the upside that Sullinger does.
Bass will certainly get his share of minutes, as will rebounding ace Kris Humphries, but in the second year of a three-year contract, Bass is not a key piece in the Brad Stevens era and may end up being dealt to a team with young assets.
If Sully can stay healthy and not break down while playing heavier minutes, including some stretches of center, he could very well end up as the C's most improved player in the 2013-14 campaign.
Center: Kelly Olynyk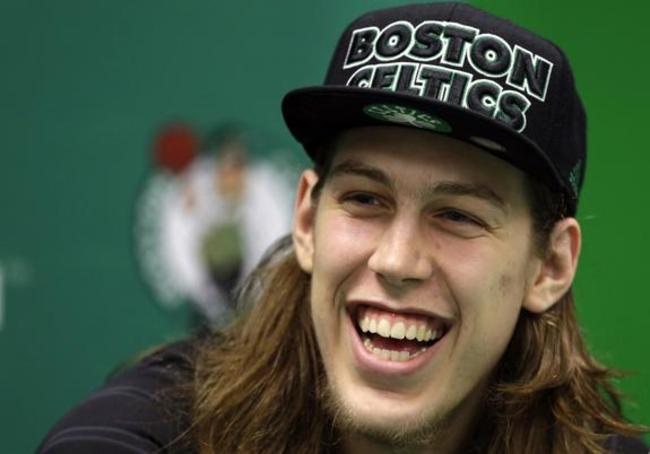 Photo courtesy of The Spokesman-Review

Had Boston hired a veteran coach with a shorter shelf life, the Celtics may have looked to go small next season, playing Brandon Bass, Kris Humphries or Jared Sullinger at starting center, but since they appear poised for a full-scale rebuilding phase, rookie big man Kelly Olynyk should get the nod as the team's starting center.
Olynyk was an afterthought in his first two seasons at Gonzaga, but redshirted in 2011-12 to work on his game and his body. The move paid off, as he wound up averaging 17.8 points, 7.3 rebounds and 1.7 assists while shooting 62.9 percent from the floor.
One of the nation's most improved players, Olynyk ended up being named an All-American while leading the Bulldogs to their first national top-ranking. Though his team underachieved in the NCAA tournament, Olynyk solidified his NBA lottery pick status with strong play against Southern and Wichita State.
Though he is not a great defender, particularly in the pick-and-roll, Olynyk has perhaps the best offensive skill set of any big man drafted in 2013. He is a reliable perimeter shooter and a decent ball-handler who can thrive in the pick-and-pop and stretch out opposing defenses.
The league is moving into an era of skilled, face-up big men, and if Olynyk can at least become a passable rebounder, he could be a key piece for Boston in its rebuilding process.
The C's simply do not have many options at the 5 spot. The only other true centers on their roster are Fab Melo and second-round draft pick Colton Iverson, neither of whom are ready to play regular minutes in the league yet.
Lacking NBA-level athleticism, there is the chance that being thrown into the fire as a rookie could backfire and Olynyk could prove to be a bust, but he is the Celtics' best bet at center on the current roster and it does not look like they are going to be adding a starter in free agency.
Olynyk won't be a star from Day 1, but he has the chance to make an impact from the first moment he puts on a Boston jersey.
Keep Reading

Boston Celtics: Like this team?