The corner of Surf and Stillwell Avenues on Coney Island, N.Y., played host to the 2013 Nathan's Hot Dog Eating Contest on the Fourth of July, and Joey Chestnut managed to emerge victorious for the seventh consecutive time.
That put Chestnut in elite company with several other prominent athletes, per ESPN Stats & Info:
Joey Chestnut's 7 titles at Nathan's Hot Dog Eating Contest ranks him among some elite individual competitors: pic.twitter.com/IplvJDonKw

— ESPN Stats & Info (@ESPNStatsInfo) July 4, 2013
Chestnut devoured a whopping 69 hot dogs and buns in just 10 minutes—breaking his own world record by one as the clock wound down to the dramatic finish in front of the packed crowd.
He beat out fellow competitors Matt "Megatoad" Stonie and Tim "Eater X" Janus, who downed 51 and 50 hot dogs and buns respectively. It wasn't even close, but the record was within reach, and Chestnut risked it all to beat his personal best.
Here's a bit more useful information, courtesy of B/R (stats via ESPN's Darren Rovell):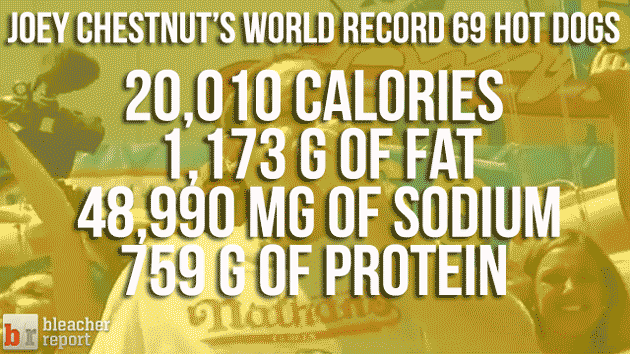 B/R also documented the grand, royal entrance Chestnut enjoyed before he retained his mustard yellow championship belt, solidifying his No. 1 ranking in Major League Eating:
Joey Chestnut gets carried in for the Nathan's Hot Dog Eating Contest. pic.twitter.com/cjB8beeLAV

— Bleacher Report (@BleacherReport) July 4, 2013
ESPN betting expert R.J. Bell highlighted just how much of a prohibitive favorite Chestnut was to make history on Thursday:
Joey Chestnut now even a bigger favorite: 88% chance he'll win Nathan's Hot Dog Eating Contest. Any other eater pays +700

— RJ Bell (@RJinVegas) July 4, 2013
On his 27th dog consumed at just under three minutes into the contest, Chestnut reached the milestone 400th of his career in the marquee event in competitive eating.
The first win for Chestnut came in 2007, but ESPN's Jeremy Lundblad unearthed a crazy cross-sports statistic, which pokes a bit of fun at the recently dire state of the MLB's Houston Astros:
Since 2008, Joey Chestnut has had more hot dogs (380) than the #Astros have wins (377)

— Jeremy Lundblad (@JLundbladESPN) July 4, 2013
As for the contest, Janus came on stronger in the end, while precocious 22-year-old sensation Stonie lived up to the expectation that he'd be Chestnut's biggest competition. However, neither of them were able to mount a formidable challenge.
Stonie was hanging tough in the early going, but once Chestnut broke past the 30-dog threshold, he began to really separate himself, taking a double-digit lead with four minutes left.
Video Credit: ESPN Front Row
A big reason Chestnut has been able to dominate to the extent that he has is that competitive eating is far more a test of individual mental strength than grinding past the opposition by intimidation.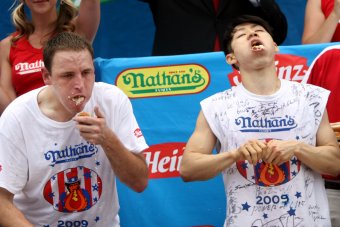 Yana Paskova/Getty Images
While amounts are announced throughout the food binging, each competitor is focused on forcing down as many dogs as possible. No one can match Chestnut in that regard, and he wasn't going to be denied in breaking a tie with Takeru Kobayashi for most consecutive wins in this contest.
Chestnut has to be considered the greatest hot dog eater of all time now that he's eclipsed Kobayashi's previous record. He entered uncharted territory with 69 hot dogs and buns in 10 minutes.
ESPN's Andrew Brandt was just hoping Chestnut would survive after the severe stomach-stretching showcase:
Hoping Joey Chestnut travels with a defibrillator...

— Andrew Brandt (@adbrandt) July 4, 2013
Some may call it repulsive or hard to watch, but we have to give credit to Chestnut for his sheer determination in enduring such a grueling physical and mental undertaking.