Power Ranking the 10 Best Coaches in World Football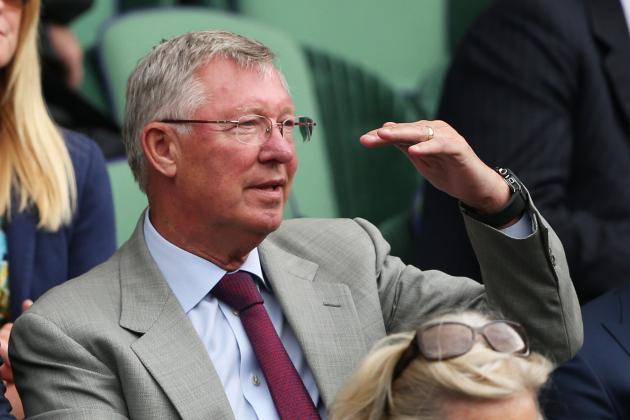 Clive Brunskill/Getty Images
The recently retired Alex Ferguson has left his former counterparts to scrap over the title he once held as the "World's Best Manager".
Everybody knows that—to parallel the old adage about great men and their women—behind every great team, there is a great manager.
It's natural really; you can have the most talented group of forwards in front of the most solid defence in the world, but without someone to guide and contain all those egos and helping the players improve, it counts for nothing. Just ask Manchester City (make sure you refer to before they won the title, of course).
In this list we have the 10 best managers currently working in the game today, ranked not just by overall success—though it does play a part—but also their reputation, spending power this summer (international managers are exempt from this criteria), and finally, durability (success across different clubs).
Reputation, success and durability will be rated 1-10, while spending power is denoted by between one and three '£' signs e.g.
£££ - He signs who he wants. ££ - Money is there to be spent, but wisely. £ - He works like David Moyes did at Everton.
All stats are courtesy of Transfermarkt unless linked otherwise.
Begin Slideshow

»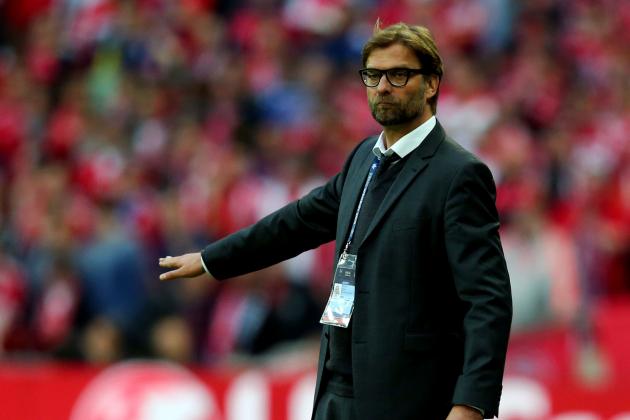 Alex Grimm/Getty Images
Klopp during the 2013 Champions League final, where his Dortmund team were unlucky to lose 2-1 to Bayern Munich.
The man credited with the rebuilding of Borussia Dortmund from mid-table strugglers back to challenging domestically and in Europe, despite his relatively short spell of success, fully deserves his place in the list.
With Klopp, it is not so much what he has achieved, but more about what lies ahead for the former Mainz '05 manager.
His Borussia Dortmund side wrestled back the Bundesliga from perennial winners Bayern Munich, managing not just to win it twice in succession, but they also set a league points record (81, since broken by Bayern Munich) while capturing the domestic cup also, all without breaking the bank.
The reason Klopp is so revered is what he has done with his youth players, moulding them from an early age into double Bundesliga champions and Champions League finalists in a fashion that has been compared to Pep Guardiola and Barcelona. In addition, his knowledge of the game is impressive, as evidenced during his time as a German TV pundit.
Although Bayern Munich have already poached Mario Gotze, Shinji Kagawa left last summer for Manchester United, and now Robert Lewandowski is attracting attention, Klopp has committed to Dortmund and believes they will mount another title challenge next season—bearing in mind how Bayern are at the moment, the guy either has some master plan up his sleeve, or considerable cojones.
Reputation – 7 Success – 5 Durability – 5 Spending - ££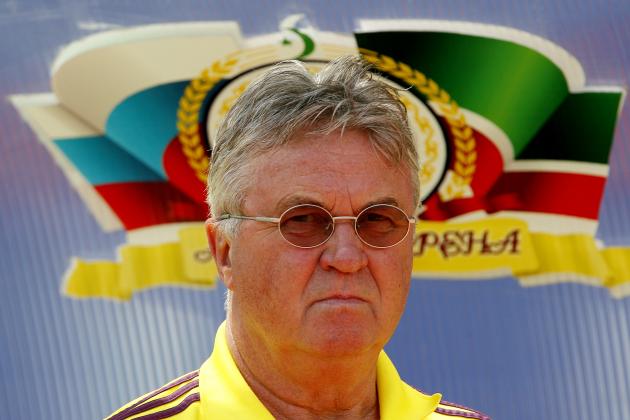 Epsilon/Getty Images
Guus has earned his lucrative retirement plan.
Despite being better known nowadays for his international prowess, Hiddink's earlier years in club management were draped in success.
While he is currently in relative isolation collecting millions for his retirement fund with Anzhi Makhachkala, the 66-year-old can look back on a period of Eredivisie dominance in the late eighties and early 2000s, and any guilt he might have would surely evaporate.
During his first tenure with PSV Eindhoven, he won three successive league titles between 1987 and 1989, and upon his return nearly repeated the feat, securing the 2003, 2005 and 2006 titles—an achievement that, even though the Eredivisie is hardly the EPL or Bundesliga, should not be sniffed at.
But, despite never actually winning anything, it is in international management that he has really garnered acclaim for his achievements with so-called minnows.
His 2002 South Korea team crashed their own party during the World Cup, getting their first ever victory at the group stage and going on to reach the semi-final before being knocked out by Germany.
Then, in 2006, he did again with Australia, giving the Socceroos their first ever World Cup tournament victory and making it to the second round.
The Russian national team had already secured Hiddink's signature before World Cup 2006, and in Euro 2008 Hiddink took them all the way to semi-final, defeating the Netherlands and current holders Greece on the way before being eliminated by eventual champions Spain.
So, even though he appears to be thinking more about retirement than management, with Anzhi having had to recently persuade him to renew his contract, Guus Hiddink still remains one of the top managers around today.
Reputation – 7 Success – 4 Durability – 7 Spending - £££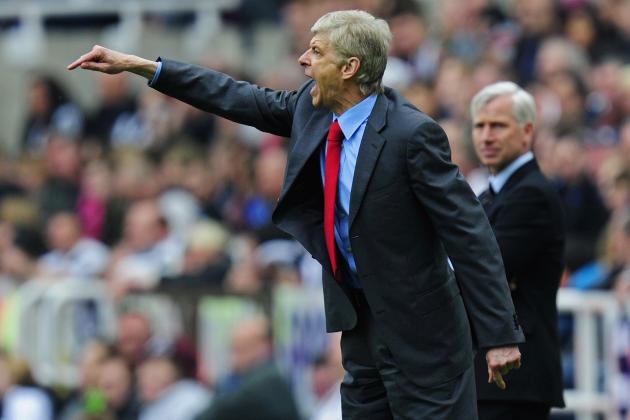 Stu Forster/Getty Images
Arsene is not the manager he once was, but there is still more to come from the Frenchman.
"Le Professeur" has fallen some way since former glories such as the "Invincibles" season, his Arsenal side just managing to scrape fourth place ahead of Tottenham Hotspur last season, but he still has plenty left in his locker.
Some football fans may be getting tired of the year-on-year vows that Arsenal will be a challenging force every season, which is getting to the point where it bears comparison with the sentiments that they espouse over at Liverpool.
But I'm not an Arsenal fan, and, contrary to a past article of mine (Arsene Wenger Must Leave Arsenal), I believe that as long as Arsene is at the Arsenal, they will continue to be a top team in England, if not title-winners.
And things are looking up.
Concerns over budget and the indecisiveness of the board are being lifted (however slightly) by the early bids for Gonzalo Higuain, and it finally feels as though Wenger and his staff are at the same level of frustration as the fans regarding the desperate lack of silverware (eight years and counting) and are doing something about it.
But forgetting recent troubles, we have to commend the way that Wenger changed a lot about English football when he arrived in 1996. The diets, the training programmes; everything was carefully regimented in such a way that it would get the best from his players without draining them—it is not bombastic or silly to refer to the Frenchman as visionary or revolutionary.
The only team to play an unbeaten league season in the English top flight? Hats off to Arsene. Wrestling a domestic double from the then-dominant Manchester United in 1998? Hats off to Arsene. Building a stadium that will keep Arsenal financially secure for years to come, but not complaining (much) that he doesn't see any of the money from it to buy players? Partial credit, but still, hats off to Arsene.
Reputation – 8 Success – 5 Durability – 4 Spending - ££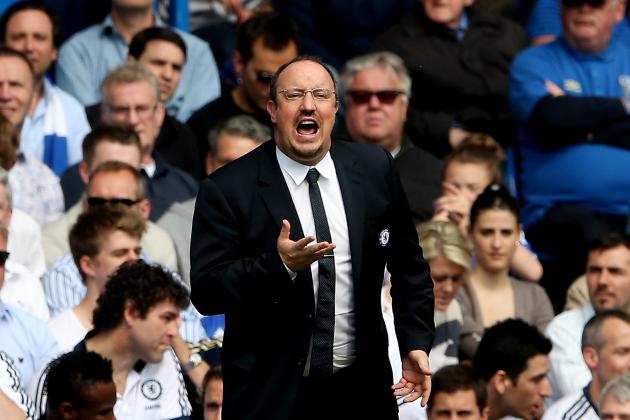 Scott Heavey/Getty Images
Benitez is known for being hard to please.
Rafa wouldn't have made it into this list if it wasn't for his controversial time at Chelsea where he defied the fans' ire to win the Europa League, which was Chelsea's second European title in two years. As a result, his trophy collection, and surely his reputation, have improved since his disappointing time at Inter Milan.
But he has been successful at pretty much every level.
In his early days, he took both Extremadura and Tenerife to La Liga from the second division, before going on to win two La Liga titles with Valencia, breaking the Real Madrid/Barcelona cycle, and adding a UEFA Cup for good measure.
His success in breaking teams' dominance was noticed by Liverpool, who employed Benitez to restore them at the top of the English top flight. But, while Benitez couldn't deliver the league, managing second-place in his best domestic season, he did secure an FA Cup and the small matter of a landmark fifth European Cup.
His career stalled for a couple of years after his exit from Liverpool was brought about by a seventh-place finish, with a less than happy jaunt at Inter Milan lasting a little over six months. He did, however, win the Club World Championship during this period, but it was with a team that had been created by Jose Mourinho, so Benitez could take little credit.
But it was his time at Chelsea that most impressed, with the Spaniard showing that he could remain collected despite being goaded by his own fans at every home game, who seemed to be perturbed by a past reference to "plastic flags". Nevertheless, he brought the Europa League to Stamford Bridge, and duly left, now in charge at Napoli.
Reputation – 5 Success – 6 Durability – 8 Spending – N/A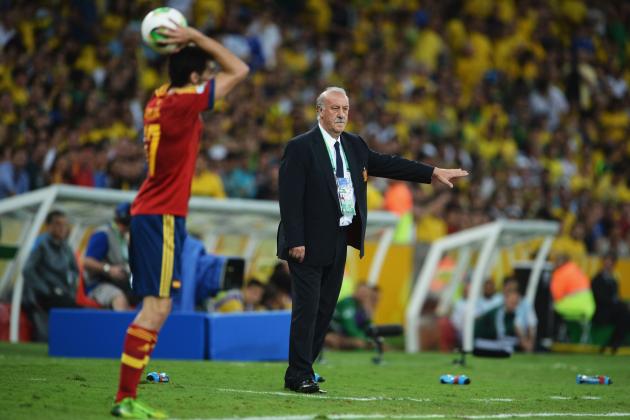 Michael Regan/Getty Images
Del Bosque during an unusally nervous moment during the 2013 Confederations Cup final.
Although Del Bosque is best known for the footballing utopia that Spain have been living in since his appointment in 2008, he is not just a dab hand when utilising the some of the best players in the world.
Well, actually, he is a bit.
His earlier major successes came while at Real Madrid between 1999 and 2003, which included two league titles, one domestic cup, two Champions Leagues and one Super Cup, so it's true that he has never really proved (or had to) himself at the lower levels or with a lesser budget.
But it takes someone special to create the seemingly invincible machine that Spain have been since Euro 2008, and still are, unless you count their final three games of this year's Confederations Cup (which you shouldn't). In fact, it seems quite likely that the players were not following Del Bosque's instructions, as the usually reserved manager was present on the touchline for much of those aforementioned three games, so we'll have to assume that it was simply a bad day for the players.
So while his trophy cabinet pales when compared to others on this list, reputation counts for a lot in football, and Del Bosque has that in spades.
Reputation – 9 Success – 9 Durability – 2 Spending – N/A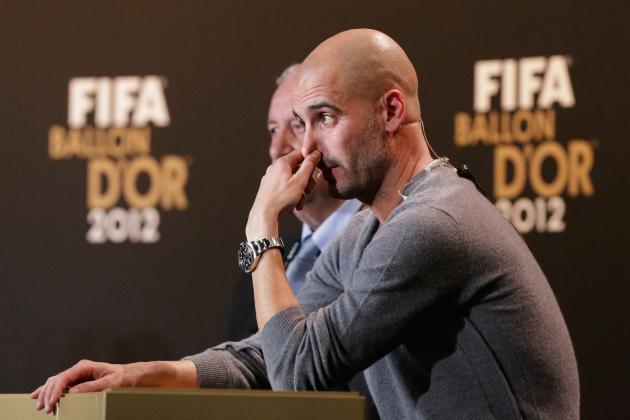 Christof Koepsel/Getty Images
Pep has not been bored during his sabbatical, using his time to visit musuems, shows, and even the occasional football event.
It is a phrase that is bandied around far too often, but Josep Guardiola really did take the football world by storm.
After just a year with Barcelona B, Pep made the jump to the first team and has never looked back. He remained with Barca from 2008 to 2012, and, in that four-year period, swept his foes aside, collecting three La Liga titles, five domestic cups, two Champions Leagues, two Super Cups and two Club World Championships.
But he did not just win trophies for the Catalans.
Although he is sometimes erroneously credited with developing the "Barcelona way" i.e. the tiki-taka style that is synonymous with the club, what he did do was to successfully implement the style into his team and tailor the players he had available almost exactly to his needs. It would be fair to say that he certainly reaped the benefits and also retained the respect of the players, even after announcing his departure.
Since leaving Barcelona, the 42-year-old has been on a year-long sabbatical in New York, and, earlier this year, he agreed to take over at Bayern Munich after Jupp Heynckes' retirement, which is a very exciting prospect for everyone except Borussia Dortmund fans.
Reputation – 10 Success – 9 Durability – 1 (as yet, unproven) Spending - £££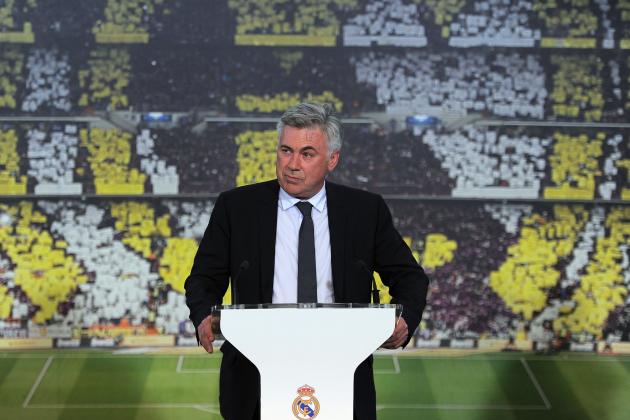 Denis Doyle/Getty Images
Ancelotti during a press conference with his new club.
Ancelotti must still be gritting his teeth over the way he was rather unfairly dismissed by one Roman Abramovich from his position at Chelsea two years ago. Then again, what did he expect? Roberto Di Matteo won them the Champions League and got the boot not long after.
That doesn't matter now though; having recently departed PSG, Ancelotti now has an equally—if not more—demanding task on his hands than the one he had a Chelsea—managing Real Madrid.
Madrid have certainly got the pedigree they want though; during his eight-year stint at AC Milan, he won the Serie A, two domestic trophies, two Champions Leagues, two Super Cups and also became the first manager to guide a European club to victory in the Club World Cup. At Chelsea he won the club their first domestic double, but was sacked less than a year later after coming second in the league to Manchester United (not much of an offence, but there you go).
Personally, I think Ancelotti will do better than Mourinho at Real Madrid, for the simple reason that Mourinho allowed his ego to interfere, while, barring something extraordinary, Ancelotti will not.
He commands the respect of his players and is one of the most tactically astute working in the game—it will be interesting to see how he gets on with the outspoken president, Florentino Perez.
Reputation – 8 Success – 7 Durability – 7 Spending - £££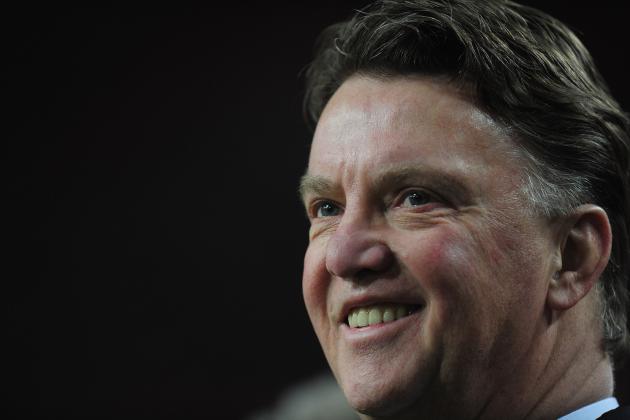 Jamie McDonald/Getty Images
Van Gaal appears pleased by something as the Netherlands take on Estonia in a World Cup qualifier.
Currently in his second spell managing the Dutch national team, it's almost a shame that Van Gaal's most significant achievement was the one that came first—winning the Champions League with Ajax against the odds in 1995.
His time at Ajax didn't just consist of one miraculous European campaign—during the six years that he was there, the club won three successive league titles, a UEFA Cup and the Super Cup.
Since the astonishing Champions League triumph, Van Gaal's career has been slightly more conventional, taking over Barcelona to win La Liga twice, then onto Bayern Munich for a Bundesliga title. However, a stint at AZ Alkmaar showed that he can still pull off the unexpected, as he led them to the 2009 Eredivisie title.
During his time at Bayern, he introduced some now household names into the team from the youth setup, who have been important in the club's development back into the fearsome powerhouse it is today—Thomas Muller, Holger Badstuber and Bastian Schweinsteiger.
Van Gaal is one of the most respected names in club management, but his early run at international level did not go smoothly, with the Netherlands failing to reach the 2002 World Cup. He is now back at the helm though, so they will be even more interesting to watch leading up to next year's tournament in Brazil.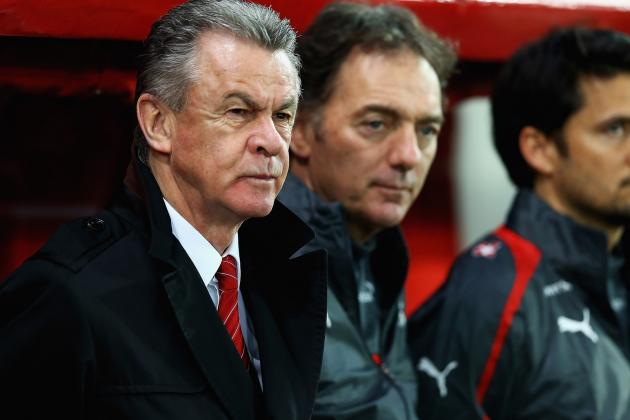 Matthew Lewis/Getty Images
The Swiss national team, who are an improving side, are watched in a friendly match by Hitzfeld.
It seems as though by choosing to manage the Swiss national team that Ottmar Hitzfeld is slowing down a bit in his old age. But who can blame him—not everyone can boast 18 league titles in Germany and Switzerland, with a side of two European Cups won at different clubs.
His first claim to fame as a manager was taking Zurich-based Grasshoppers to consecutive domestic double success in the late eighties and early nineties, but his career really took off after joining Borussia Dortmund in 1991. It took Hitzfeld four seasons, but he eventually claimed the Bundesliga title in 1995 and 1996, while also winning the German Supercup in both years, which was followed by Dortmund's first European Cup triumph in 1997.
But Hitzfeld was not letting anyone call him a one-club wonder, and moved to Bavaria in 1998 to continue his success with Bayern Munich. By the time his contract was terminated in 2004, he had earned the club four consecutive Bundesliga titles, including a domestic double in 2003, and a Champions League triumph, so it's difficult to see exactly why they dispensed of him.
However, Bayern obviously realised they'd made a mistake, and he renewed his service for one last season in 2007-08, during which he claimed another league title.
Nowadays, as mentioned, he can be found taking it (fairly) easy over in Switzerland, but the Swiss are an emerging force, and especially when considering the presence of Hitzfeld, it would be foolish to ignore them.
Reputation – 8 Success – 10 Durability – 8 Spending – N/A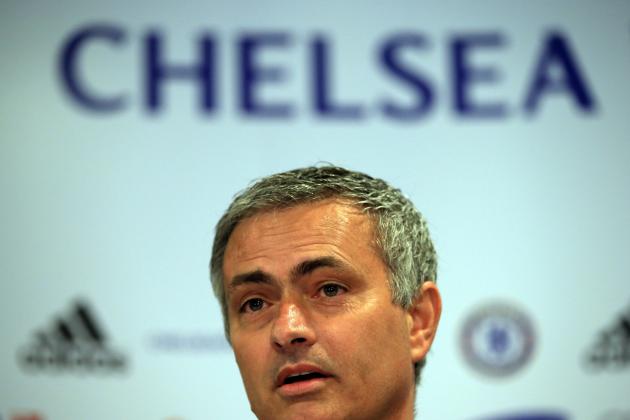 Richard Heathcote/Getty Images
"The Special One" is back where he feels "loved".
When he arrived at Real Madrid in 2010, the world knew that it was about to see the formation of one of the greatest managerial rivalries in football history. Mourinho, the perfect tonic, to Pep Guardiola—brash, impulsive, controversial and a completely different approach to management.
Problems arose when Mourinho realised that a lot of his players didn't actually like him, while his rivals Barca adored their manager, and he ended his time with Real after winning only two trophies in three years. It doesn't sound that bad, but this is Real Madrid, and what they really wanted was their unprecedented 10th European Cup, which Mourinho couldn't deliver.
It's strange actually, how Jose can win the Champions League with Porto in 2004 and Inter Milan again 2010, but, while they are both good teams in their own right, couldn't do the job with Madrid. This shows the importance of having a good rapport with the players, as, had Mourinho not let his rather large ego get in the way, he was certainly well-equipped to dominate.
But it's not all been grandiose statements and eye-poking; Jose is now back with the club where he claims he is "loved". And, despite Financial Fair Play rearing its head, both Mourinho and Roman Abramovich will be desperate to buy sufficiently this summer to go and win Chelsea's second Champions League in three years, as demonstrated by interest in Edinson Cavani.
Other than his time at Real, which ironically seemed to be a match made in heaven when it first happened, Mourinho has enjoyed success and adoration with every club he's managed, and now that he's back at Chelsea, expect it all over again.
Reputation – 10 Success – 9 Durability – 8 Spending - £££