Nathan's Hot Dog Eating Contest 2013 Results: Live Reaction and Analysis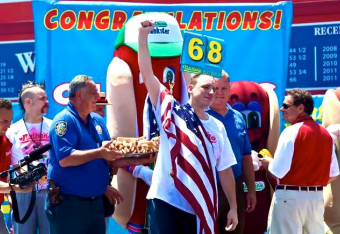 The Fourth of July is one of the biggest holidays in the United States, but the 2013 edition of the Nathan's Hot Dog Eating Contest will only help to raise the importance of the day for real Americans.
What is more patriotic than eating as many hot dogs as possible?
2013 Women's Champion: Sonya Thomas (36 3/4 hot dogs and buns).
2013 Men's Champion: Joey Chestnut (69 hot dogs and buns).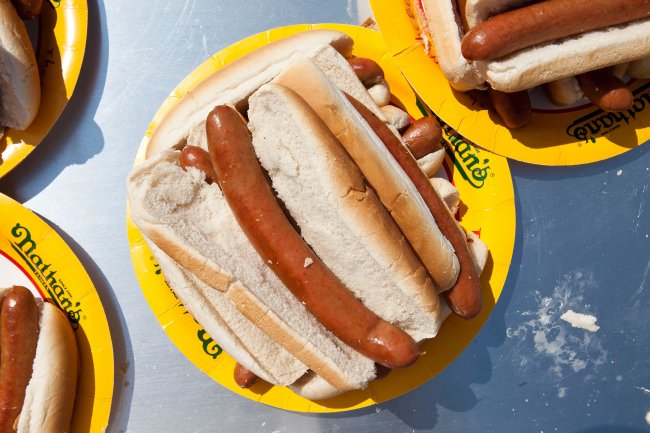 Andrew Burton/Getty Images
That's it for the 2013 Nathan's Hot Dog Eating Contest! Thanks for stopping by and please enjoy a happy and safe Fourth of July!
Joey Chestnut just ate about 8 days worth of the recommended calories for a man in 10 minutes.

— darren rovell (@darrenrovell) July 4, 2013
When you eat too much tonight, find solace in the fact that it will pale in comparison to what Chestnut ate today, according to ESPN's Darren Rovell:
The official replay of the event is now on ESPN. Worth a watch for certain.
Official final standings for the men's Nathan's Hot Dog Eating Contest:
Joey Chestnut - 69
Matt Stonie - 51
"Eater X" Tim Janus - 50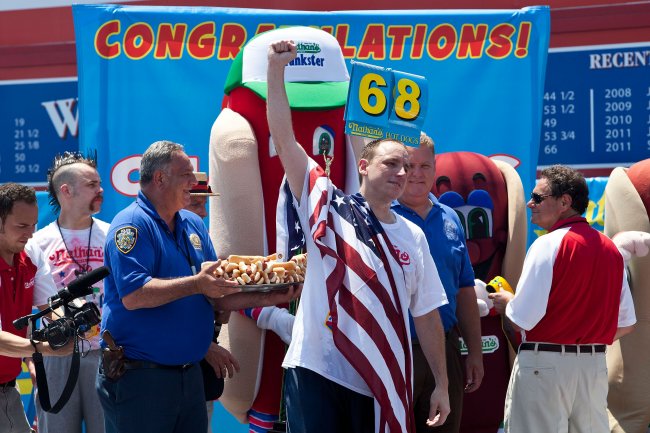 Andrew Burton/Getty Images
Joey Chestnut wins the seventh Nathan's Hot Dog Eating Contest by eating a new world record of 69 hot dogs and buns.
There is one minute left! Chestnut is in the lead with 63 hot dogs and buns, Janus overtook second with 47 and Stonie was in third with 46.
With three minutes left in the Nathan's Hot Dog Eating Contest, Chestnut has amassed 53 hot dogs and buns, Stonie is in second with 42 and Eater X is firmly in third with 40.
After four minutes, Chestnut had stretched a solid lead with 35 hot dogs and buns with Stonie stuck at 28. Eater X Tim Janus was trailing at 26.
After two minutes, Joey Chestnut took an early lead, but Matt Stonie had tied it at 21 hot dogs and buns. Tim Janus was in third with 17.
YES! Joey Chestnut is brought in on a mustard-yellow chariot carried by Nathan's employees with The Who's Baba O'Riley blaring over the PA system. He has his title belt in hand.
The crowd is eating the American star up and the competition is almost underway.
Matt Stonie out now. He is 22 years old and looks no older than 16. He could be a darkhorse in this competition.
Stonie is followed by Eater X. A real threat to Chestnut's title.
There are a lot of talented eaters in this field, but few can hold a candle to what Chestnut has accomplished over the years.
Juan "More Bite" Rodriguez and Eric "Badlands" Booker are looking strong for today's competition.
The introductions are starting! George Shea is yelling and this is already awesome.
Sonya Thomas talking to ESPN. She says she's not happy with eating 36 3/4 hot dogs and buns, but is happy with her championship victory. That's the kind of stuff legends are made of, folks.
ESPN is showing the Sports Science behind Joey Chestnut's techniques. If you need more of it, here is the video.
If Joey Chestnut wins again this year, he will hold the record for most total championships with seven.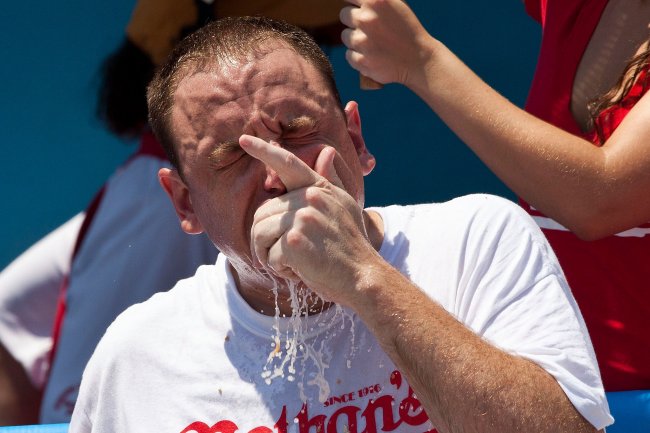 Andrew Burton/Getty Images
The main storyline coming into the event is Joey Chestnut's dominance of the Nathan's Hot Dog Eating Contest. While Eater X is coming back strong and young contender Matt Stonie will be trying to dethrone the champion, Chestnut is ready for anything they have.
Look for former second-place finisher Pat Bertoletti (2011) to be a threat Thursday as well.
Also, a great piece on Hurricane Sandy and the impact it had on Coney Island.
The men's competition is kicking off on ESPN 2. It's almost time!
This is already amazing! A scissor jack lifting the straw hat man to his perch high above Coney Island with a choir singing. This is America!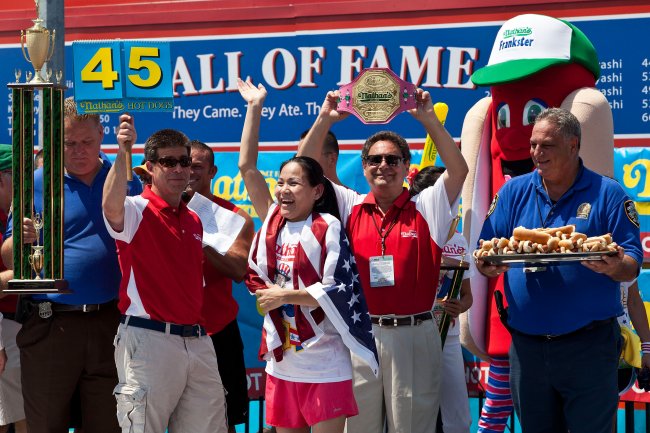 Andrew Burton/Getty Images
After having a chance to breath after the fierce competition, Thomas' third Nathan's Hot Dog Eating Contest championship has to be her sweetest. She trailed the whole time and was even marked the unofficial loser before the final tally revealed the shocking outcome.
She didn't beat her world record, but the win was legendary.
Thomas is a great champion and deserves the Pepto Bismol pink belt. 2013 champion, Sonya Thomas!
The men's contest starts at noon on ESPN 2 or ESPN 3.
If it's anything like the women's battle, you won't want to miss a second of the action!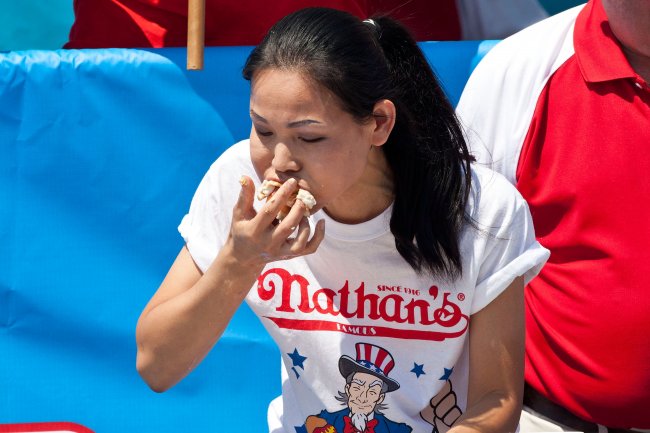 Andrew Burton/Getty Images
The final seconds were an absolute battle! Lee and Thomas fought so hard to get this win, but it was The Black Widow that eat 36 3/4 hot dogs and buns over Lee's 36. Michelle Lesco finished third with 27 1/4.
One minute left! Lee and Thomas are locked in the lead with 33 hot dogs and buns!
This article is
What is the duplicate article?
Why is this article offensive?
Where is this article plagiarized from?
Why is this article poorly edited?