10 NFL Players in Contract Seasons Who Must Step Up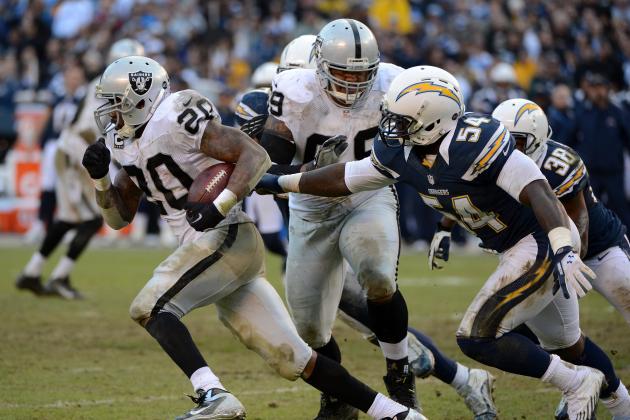 Donald Miralle/Getty Images

Sometimes all an NFL player needs to step up and produce is a little motivation. When you are in a contract season, that motivation comes in the form of money.
The 10 players (ranking down from 10-1 in terms of fantasy impact) listed in this slideshow have a lot to prove this season. Whether it be overcoming injuries, inconsistency, or off-the-field issues, the following players have a lot on the line in 2013.
Considering they are playing for a new contract, there may be some game left in these players after all.
Begin Slideshow

»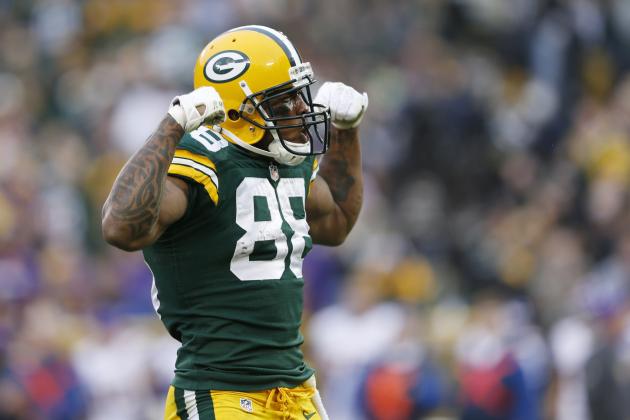 Joe Robbins/Getty Images

As Weston Hodkiewicz of USA Today Sports accurately describes, this is a crossroads season for Finley.
Finley has teased and tantalized fantasy players (not to mention Packers fans) for years, but he has yet to put it all together. With great size and speed, Finley should post better numbers than he has in his five-year career.
Maybe this is the year Finley plays to his maximum talent. With Aaron Rodgers as his quarterback, Finley will always have the ability to put up some impressive numbers.
With a contract to play for, Finley has good value as a low-end No. 1 tight end.
After reuniting with Brandon Marshall last year, all felt right with Cutler, and he had himself a respectable season. In 2012, Cutler threw for 3,033 yards and 19 touchdowns.
Those are numbers that can be improved upon. With the Bears offense under the new direction of offensive whiz Marc Trestman, expect Trestman to test the limits of Cutler.
With Marshall in tow and emerging receiver Alshon Jeffery, as well as free-agent signing Martellus Bennett, providing Cutler with some nice new weapons, the veteran signal-caller could be poised for a solid year.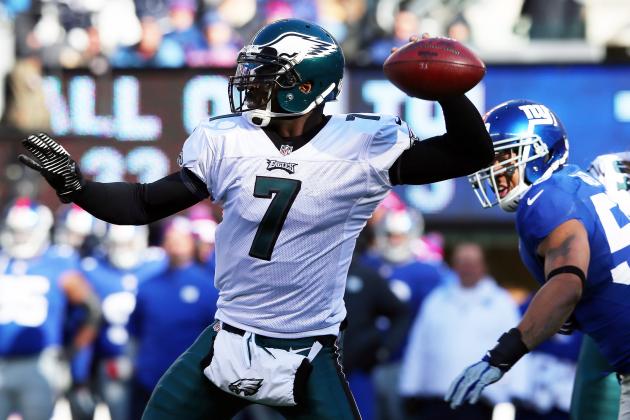 Elsa/Getty Images

Maybe you have heard this sentiment before: "What if Michael Vick could stay healthy?"
Staying healthy has always been the former Atlanta QB's problem. Vick has not played in more than 13 games since 2006, when he was a member of the Falcons. Maybe the lure of a new contract will inspire him to stay on the field.
If Vick can stay relatively healthy, he can still be an impact performer in fantasy circles. New Eagles head coach Chip Kelly can possibly get the best out of the 33-year-old, and for a guy who can throw and run like Vick can, he should not be given up on just yet.
Vick could make for an excellent backup fantasy quarterback.
It's put up or shut up time for Britt.
For a player who had his share of injuries and run-ins with the law, Britt has to be all-in this year if he wants to be paid like a star.
If Britt can show he is healthy and committed to the game of football full time, he can be in line for a breakout season. Britt has as much raw big-time ability as anyone in the league.
Britt is a sleeper who could far exceed his value this year. Britt makes for a solid No. 3 wide receiver pick with upside for so much more.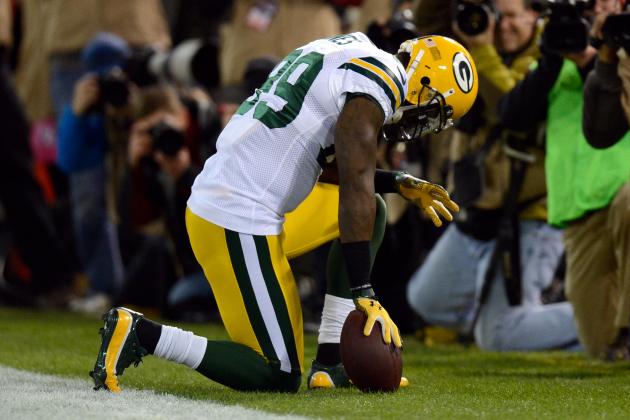 Thearon W. Henderson/Getty Images

Coming off a season in which Jones inexplicably led the NFL with 14 touchdown receptions, Jones has to prove last year was no fluke.
Jones obviously made the most of his receptions last year. However, he registered just 64 receptions for 784 receiving yards. Those are admirable numbers, but with the Packers loaded at wide receiver, can Jones reach the end zone this year at the same rate he did last year? Much of Jones' value last year was tied to his TD production.
It's not likely Jones can repeat his touchdown success from last year, but he can still have a solid enough year to get a nice new contract.
He should make for a fine No. 3 wide receiver in 2013.
When Maclin is at his best, he can be a very valuable fantasy asset.
Maclin's 2010 numbers can attest to that, when he had 70 catches for 964 yards and 10 touchdowns. However, the last two years Maclin has suffered a few bumps and bruises along the way and thus diminishing his value a bit.
With a new coach, a new system and a contract to play for, Maclin should be primed for a solid, bounce-back year. Maclin will make for an excellent low-end No.2 or flex play for fantasy purposes.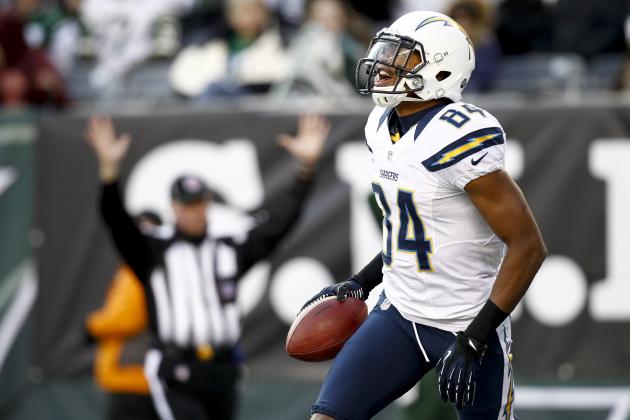 Jeff Zelevansky/Getty Images

Alexander came on at the end of last year and put up elite numbers (37 receptions for 658 receiving yards and seven touchdowns in only 10 games played) while shocking many fantasy players in the process.
Suffice it to say, Alexander has his work cut out for him to live up to the standards he set late last year. Alexander, who's had a myriad of injuries in his career, should be extremely motivated to stay healthy for an entire season. If he can prove last year was no fluke, Alexander will get rich in the offseason.
As long as he is healthy prior to camp, Alexander can be counted on as a No. 2 wide receiver for fantasy purposes.
With fellow teammate Victor Cruz likely to get a new contract soon, Nicks would like to join in on the fun and earn a long-term deal as well.
The only thing holding Nicks back from reaching his full potential is staying healthy. Nicks has yet to play a full season in his four years in the NFL. Credit Nicks, though, for gutting it out and playing through injuries—even though it has hindered his fantasy value in the process.
When he is healthy, Nicks can be as good a receiver as there is in this league. Look at his 2010 and 2011 numbers for proof. If Nicks is able to play a full season, expect the numbers to be there—with an eventual hefty pay raise next after that.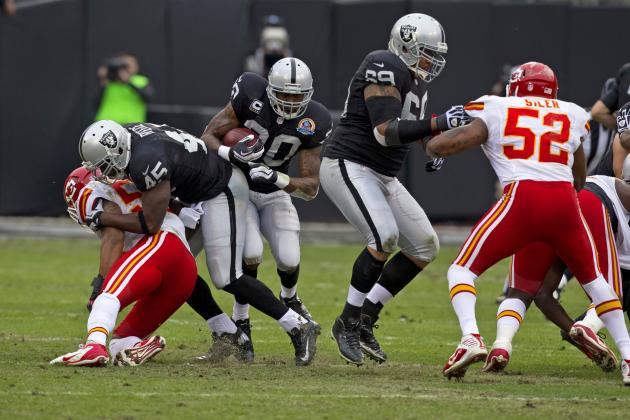 Jason O. Watson/Getty Images

McFadden is yet another player who, if he only stayed healthy, can be one of the game's best.
McFadden has missed 20 games in his five-year career and may not fit in with the Raiders' long-term plans, so if he wants a nice, fat payday, it would behoove him to stay healthy and get with the program.
McFadden told Steve Corkran of the Bay Area News Group that he feels charged this year to put last year's disappointing season behind him. If you have some guts, McFadden could make for a steal as a No. 2 running back on draft day.
Any success the Jaguars have had in the last couple of years directly correlates to the contributions it gets from Jones-Drew.
Jones-Drew has carried this moribund franchise for years. Prior to getting hurt in 2012, and missing 10 games, Jones Drew has averaged 1,142 rushing yards and 10.3 touchdowns in his first six seasons in Jacksonville.
Now that he appears to be healthy and looking to get rich this coming offseason, expect Jones-Drew to return to his elite production ways.