Early NBA Rookie of the Year Award Predictions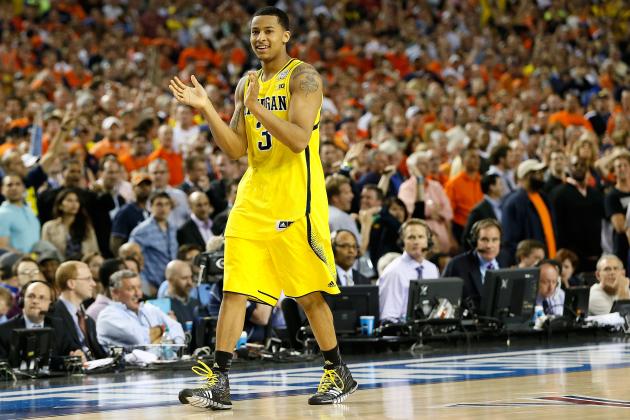 Kevin C. Cox/Getty Images

The 2013-14 NBA Rookie of the Year race appears to be as wide open as any in recent memory. You can realistically make a case for at least five rookies to win the award, especially when you consider that many of the top talents from this year's class landed in positions where they should get substantial playing time.
That's really what handicapping the award race is about. This is a stats-driven honor above all else, and players who aren't blocked from getting on the court naturally have a better chance. It also helps if those players have the ball in their hands more frequently, as six of the last eight seasons, a guard has won the award.
With that in mind, let's predict the 2013-14 NBA Rookie of the Year.
Begin Slideshow

»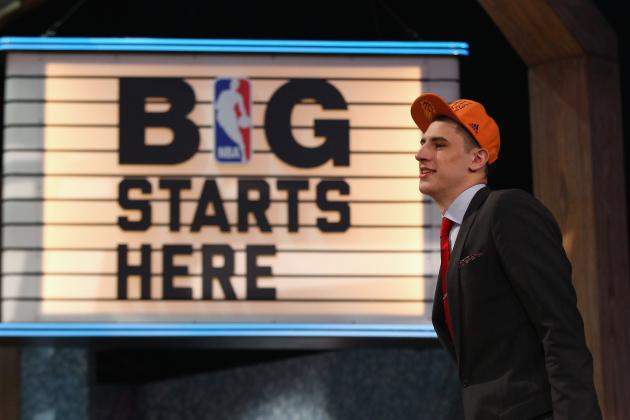 Mike Stobe/Getty Images

Alex Len will play a prominent role in the Phoenix Suns' forthcoming rebuilding era, but at least for now, Marcin Gortat stands in his way of starting. That's not a pairing that can (or will) play together much, if at all.
It's not necessarily that Len can't be better than Gortat right away, but rather that the front office will want Gortat to boost his trade value, and that coaching staffs rarely trust young big men to play substantial minutes because of the learning curve it takes adjusting to NBA rotations. Gortat just knows more right now.
With that in mind, it's not hard to see Len playing somewhere in the 20-minutes-a-night range. It's not out of the question that the Suns will find a trading partner for Gortat's expiring salary sooner rather than later, but Len is still a pretty raw prospect who never really dominated in college.
Add in a serious ankle injury that still requires recovery, a bad team with virtually no chance of making the playoffs and the uphill possession battle rookie big men have compared to guards, and Len is a big underdog in this race.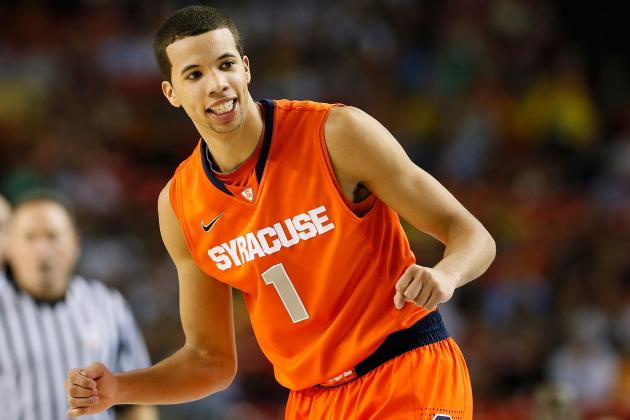 Kevin C. Cox/Getty Images

Michael Carter-Williams has the advantage of getting to start at point guard from day one, something that has helped many winners of this award in the past. Philadelphia 76ers general manager Sam Hinkie showed he wasn't afraid to shake things up by trading Jrue Holiday, and it's certainly likely that more moves are on the way.
Carter-Williams isn't a great scorer, and his outside stroke isn't great. His sub-40 percent field-goal percentage in his sophomore campaign at Syracuse leaves a lot to be desired, and you'd feel better about his chances if Philadelphia had some real scorers next to him other than Evan Turner.
Again though, MCW will have the ball in his hands an awful lot, and Philly won't mind riding out his mistakes and bad shooting nights. This is a rebuilding team, and with fellow lottery pick Nerlens Noel likely sidelined a good portion of the year, he'll be high up on the pecking order offensively regardless of performance.
As Woody Allen said, 80 percent of success is just showing up. Carter-Williams may be a long shot, but he'll have a chance.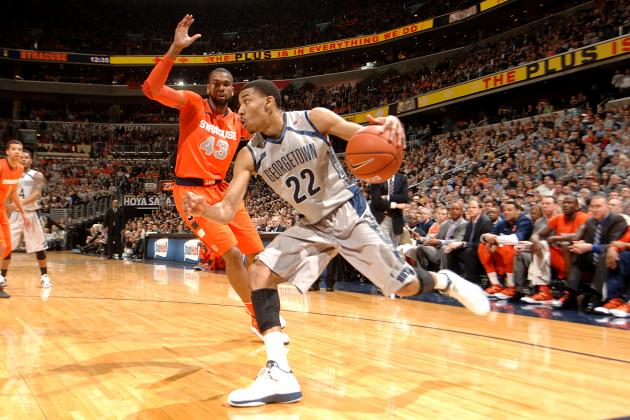 Mitchell Layton/Getty Images

Before the Washington Wizards agreed to a deal with Martell Webster for four years and $22 million, Otto Porter's Rookie of the Year candidacy was looking pretty good.
With the Boston Celtics blowing it up and the Philadelphia 76ers going young, the bottom of the Eastern Conference playoff picture is wide open.
Enter the Wizards, who were 24-25 with John Wall in the lineup last year. With a good mix of young studs like Wall and Bradley Beal and veterans like Nene, you could see Otto Porter getting a voting boost from playing a substantial role on a playoff team.
Here's the problem, however. A huge part of the reason the Wizards had success once Wall returned was because of the Wall-Beal-Webster trio. When those three players were all in the lineup (25 games), the Wizards had a point differential of a 55-win team.
Webster's corner three-point shooting was obviously highly valued, and he wasn't paid this offseason to watch a rookie play a lot of time over him.
Porter can still have an impact in a variety of ways, especially when you consider Webster's injury history.. If he gets the minutes and the Wizards get a playoff spot, he'll be in the discussion, even if his per-game stats don't knock anyone over.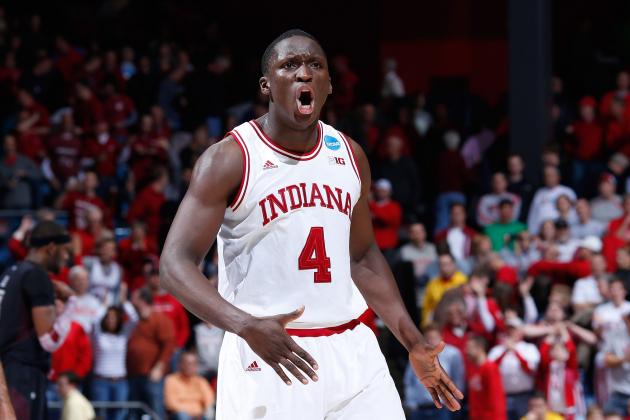 Joe Robbins/Getty Images

The Orlando Magic are going to let Victor Oladipo get some "major run" at point guard in summer league, per Adrian Wojnarowski of Yahoo! Sports, which is a smart move. It's summer league. Why not throw stuff at the wall and see what sticks?
It's interesting, mainly because the knock on Oladipo has been his ball-handling and ability to create for others. The real takeaway here, though, is that the Magic want the ball in Oladipo's hands a lot, and since he was one of the most efficient players in college basketball last year from a scoring standpoint, that makes an awful lot of sense.
The Magic will find a way to get Oladipo all the minutes he can handle, so I wouldn't worry much about Jameer Nelson or Arron Afflalo blocking time. The question is, will he put up big stats in those minutes? Oladipo was never a high-usage player at Indiana, and at least right now at the pro level, his biggest contributions will likely come from defensive and energy-type plays.
There will probably be turnovers galore with Oladipo, but it won't be anything Orlando isn't prepared for. How he translates as a scorer will likely dictate his rank. He's a dark horse to win it.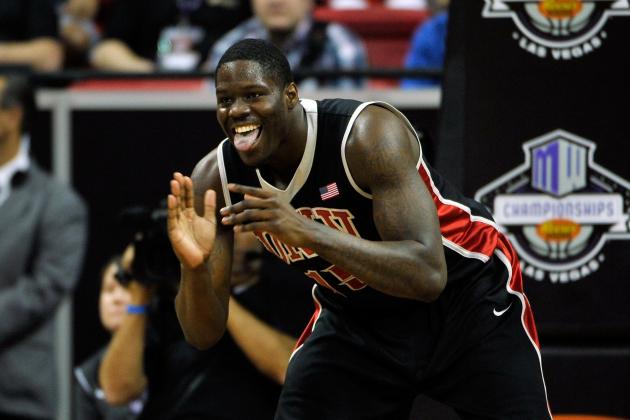 Jeff Bottari/Getty Images

Anthony Bennett was maybe the most shocking No. 1 pick we've ever seen. Can he justify his draft slot right away by putting an award on his mantle?
Bennett, once again, is the real wild card in all of this. His defense may not be good enough to keep him on the floor for a full slate of minutes, and Tristan Thompson will get burn at the 4 as well. That said, the Cleveland Cavaliers are obviously committed to Bennett as a scoring forward with high potential. If they weren't, they would have went elsewhere with the first pick.
Will Bennett get enough touches with Kyrie Irving and Dion Waiters calling their own numbers so frequently? That's also a concern, but Bennett should be a real pick-and-pop option with Irving, something the young point guard has never had before.
Bennett will almost certainly put up good numbers in the time he plays. He's a great rebounder and a capable scorer, which is the first thing voters tend to look at. While it's unlikely he'll make the biggest on-floor impact of any rookie, if Bennett looks the best in the box score, it might not matter.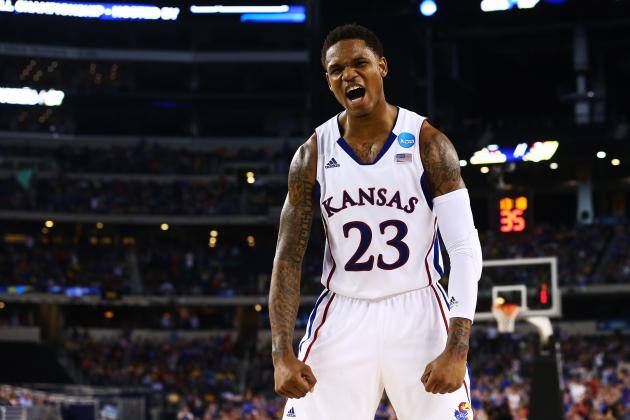 Ronald Martinez/Getty Images

Ben McLemore was the top player on the Sacramento Kings' draft board, which is always a nice endorsement heading into a rookie season. But do the Kings love him enough to let Tyreke Evans walk in free agency without matching?
As Marc Stein and Jeff Goodman of ESPN.com note, the Kings have sent mixed signals.
Considering how many possessions Evans uses, and his natural position being on the wing, McLemore's ranking depends a lot on Evans leaving. Don't forget that the Kings have Marcus Thornton as well, although he seems more likely to retain his role as a bench scorer.
New Kings coach Mike Malone is a defensive-minded guy, and McLemore's athleticism and strength on that end may make him the Kings' best perimeter defender already. That's important, and his ability to space the floor for DeMarcus Cousins to do his thing doesn't hurt, either.
McLemore could have a very similar rookie year to Bradley Beal, who really kicked it in gear once John Wall assumed the role of primary scoring option. McLemore is probably best suited to being a secondary scorer who has looks created for him, and it will be interesting to see if he's able to fall into that role in Sacramento.
More so than ever before, the game is shifting toward three-point shooters, and McLemore is one of the best spot-up shooters among all rookies. If his teammates help him be who he is, he could win it just by being solid across the board.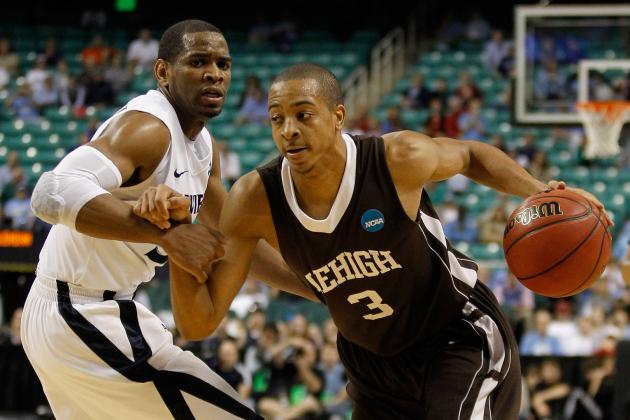 Streeter Lecka/Getty Images

You want points in a hurry? Combo guard C.J. McCollum is your guy.
The Portland Trail Blazers struggled mightily to get any offense out of their second unit last year, but McCollum should solve quite a bit of their woes. He can shoot off the dribble and be a knockdown guy in spot-up situations, and he's used to carrying an offense all by himself. For 15 minutes a night or so, McCollum will be a high-usage, top-scoring option.
What about those other minutes? That's where it gets tricky.
Damian Lillard, LaMarcus Aldridge and Nicolas Batum will all rank higher on the offensive pecking order, and Wes Matthews will still demand plenty of time. McCollum can follow the paths of Jamal Crawford and J.R. Smith to sixth man glory, but there isn't much of a precedence for a guy coming off the pine winning Rookie of the Year.
One thing you have to consider, however, is Portland's playoff chances. If McCollum is a high-scoring, solid-rebounding sixth man on a team that sneaks into a bottom seed, he'll be a strong favorite. Even if Portland can't do that, it's not hard to see McCollum leading all rookies in scoring, which matters quite a bit.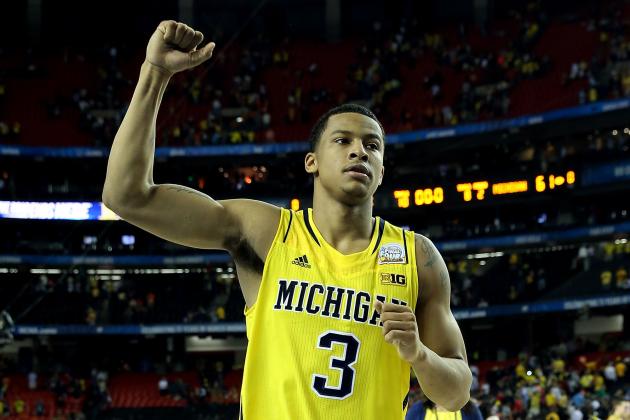 Streeter Lecka/Getty Images

This is probably the best fit between player and team. The Utah Jazz needed a point guard. Trey Burke needed a place where he could have the ball in his hands an awful lot. It's a perfect match.
The Jazz appear to be ready to roll with their young frontcourt duo of Derrick Favors and Enes Kanter, and that plays heavily into Burke's favor. If either of those players have big years, the young point guard will get an awful lot of credit for setting them up.
But more than that, the Jazz don't have a No. 1 scorer on their roster, or anything close to one. That means Burke can step into that role from day one, assuming alpha status as the lead guard on a team that will welcome his ability to step back and hit the three or score in the paint with little floaters.
Burke is the best pick-and-roll prospect, he'll likely get the most playing time and he'll have the ball in his hands more than anyone else. When you combine talent with fit and opportunity, good things usually tend to happen. He's the strong favorite to bring home the hardware.