As Tottenham look to move players off to new boroughs, towns, cities and countries, some are shaping up to be easy moves. Some look like they are going to take some serious work.
Scott Parker looks likely to be back under the guise of one Harry Redknapp at QPR soon. Sky Sports said that its in-house betting line briefly halted bets on a move and slashed the odds heavily soon after. The Mail added that Parker might join up with Peter Crouch at the West London club.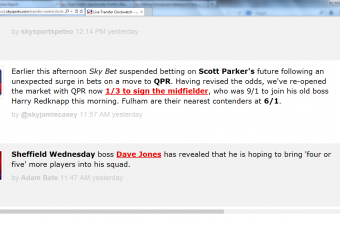 Emmanuel Adebayor, on the other hand, will be somewhat harder to move along.
The Mirror pointed out that Turkish outfit Besiktas would be willing to acquire the player by parting with £5 million, and Spurs would love to do business with them. The Mail, in the same article on Parker, has a brief, if telling, snippet about the deal as well.
The club's director, Ahmet Kavalci, points out the obvious:
"We are definitely interested in him Adebayor and have made an offer. He wants more than what he were hoping however, talks are ongoing."
The crux of the Mirror's article is that Adebayor "will not be pushed out against his will" and, more particularly, will not be "forced into giving up the lucrative deal Spurs handed to him."
And therein lays the gist of the problem: Someone is going to have to pay Adebayor, or he's not moving an inch.
If anyone recalls, part of the problem in offloading Adebayor to Spurs in the first place was the massive wage packet the Togo forward was receiving from Manchester City.
Shaun Botterill/Getty Images
The Mail said the rate was around £175,000 a week, a layout Tottenham had no desire to pay. During the 2011-12 season, City were paying around £105,000 of his wage while Spurs paid the rest.
When Adebayor made a case to stay—or, depending on who's perspective you take, City decided to send him on his way—working out an agreement on the wages proved to prolong the transfer for more than a month.
Spurs would only offer around £100,000 to the forward, who obviously was not all that impressed with the offer. He demanded compensation from City. While desperate to rid themselves of the Togo man, paying him the whole transfer fee as compensation must have been rather insulting.
In time, the two sides finally made peace, and the transfer—which began somewhere in early July and ended late in August—finally happened.
You know the rest of the story by now: Adebayor stunk up the joint for a while after Luka Modric and Rafael van der Vaart both departed. Unable to find a suitable rhythm for some time, Adebayor floundered for much of the season, only scoring five Premier League goals.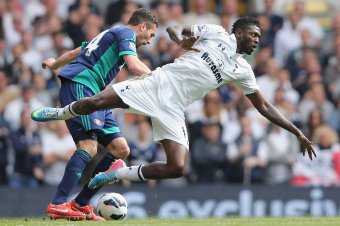 Ian Walton/Getty Images
The problem now is finding a club willing to pay Adebayor the wages he will eventually demand. One would think France might have a few wealthy clubs around, but it seems unlikely that PSG would be interested. Monaco could certainly do the job, but whether or not they want the forward is unknown.
Turkish clubs have the desire for imports like Adebayor, but as Besiktas are showing, Adebayor's demands are high enough to even make major clubs there reconsider their positions.
Getting Adebayor's massive wage off the books at Tottenham will be a challenge. While certainly a valuable asset in the right system and when motivated, having the resources to pull Adebayor in will be a challenge that might be too difficult for many to overcome.