Jonjo Shelvey: A Good Signing for Swansea?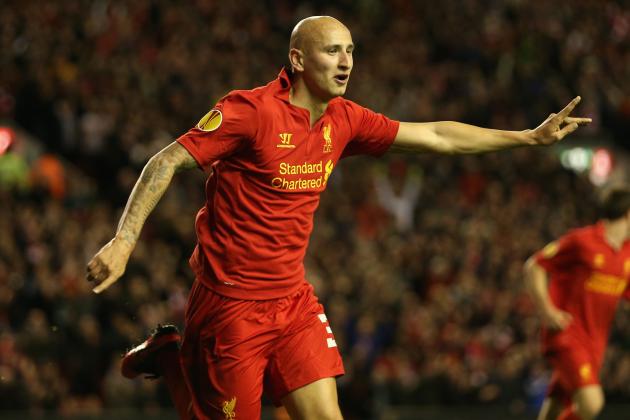 Clive Brunskill/Getty Images
New Swansea signing, Jonjo Shelvey.
Swansea City have completed a move for Jonjo Shelvey, who joins the club on a four-year deal from Liverpool.
As reported on the BBC Sport website, the midfielder signed for the Swans for an initial fee of £5 million.
While the rest of the football world has been gossiping about the likes of Edinson Cavani, Cristiano Ronaldo and Wayne Rooney, the Swans have been quietly going about their business in South Wales
Shelvey joins Alejandro Pozuelo (Real Betis), Gregor Zabret (NK Domzale) and Alex Gogic (Olympiakos) as the club's fourth new signing since the transfer window officially opened on July 1.
But is Shelvey a good purchase for the Premier League side? It's not so long ago that he was being touted as "the next Steven Gerrard," but his stock seemed to plummet during the 2012/13 season.
Over the next few slides, we will discuss the pros and the cons that shape his game and decide whether he'll be an asset to Michael Laudrup's team.
Super strikes, tough tackles and calling Sir Alex Ferguson "a grass," it's all in here. Read on for more!
Begin Slideshow

»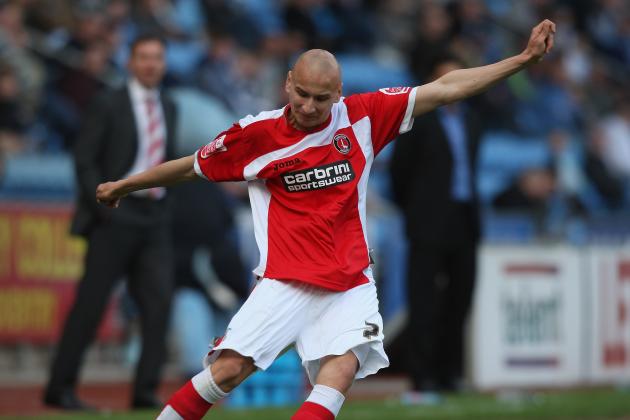 David Rogers/Getty Images
Shelvey, pictured during his Charlton Athletic days.
Shelvey has been at Liverpool since 2010, when he signed from Charlton Athletic for £1.7 million, as seen here on the BBC Sport website.
The midfielder was the Addicks' youngest-ever player when he made his first-team debut aged 16 years and 59 days.
He impressed as a youngster, which saw him turn down offers from Chelsea and Everton before deciding to join Liverpool, as reported by Dominic King in the Daily Mail.
Shelvey admitted that he based his game on hero Steven Gerrard, and it wasn't long before Liverpool fans mused that he could be a natural replacement for their club captain.
In addition to one senior cap, Shelvey has played for England at all youth levels and has captained the U-16s and the U-19s. He is now a regular in the U-21 set-up.
Shelvey has potential. His distribution of the ball makes up for his lack of pace and, when confident, his shooting ability is first-class.
This is a player who has belief in his own ability yet needs to develop his game. He has the raw talent, but he needs playing time.
Shelvey may be just 21, but he is not scared of anything or anyone, sometimes to his chagrin.
Over to you, slide two…
Shelvey can be aggressive, and he is not afraid to dive, feet first, into a challenge. And herein lies the problem—he can't tackle.
His maturity can also be called into question, following last season's now infamous sending off when Liverpool lost 2-1 against Manchester United.
Shelvey was shown the red card after a two-footed lunge at United's Jonny Evans. When the midfielder was leaving the pitch, he had a very public argument with Sir Alex Ferguson after the Scot had discussed his challenge with the fourth official.
Arguing with Fergie? Some would call it brave, others would call it stupid.
Via Twitter, the then-20-year-old said, "I apologise to the fans for getting sent off but no way was I pulling out of that tackle in a game of that importance. I'm sorry."
He added a second tweet that was later deleted, via the Daily Mail, "I have also apologised to Sir Alex, just where I come from people don't grass people up to get someone sent off."
Liverpool fans loved him for standing up to Ferguson, but it might have been the catalyst for the decline of Shelvey's season. He made just 15 appearances for Liverpool following the incident.
Shelvey may not have set the scoring charts alight, but he has a great shot, especially from long range.
Under Brendan Rodgers, he was unable to cement a position in the Liverpool first team and asked to play for the U-21s.
This gave him time to jell with his teammates, grow in confidence and score outstanding goals like the one above, against Manchester United.
This goal, scored in a friendly against Austria with the England U-21s, also shows his ability as a dead-ball specialist.
He also created plenty of chances at the 2013 UEFA European U-21 Championships:
7 - No English player created more chances at the 2013 UEFA Under-21 Championships than Jonjo Shelvey. Potential.

— OptaJoe (@OptaJoe) July 3, 2013
There might be a lot more to come from Shelvey, if Swansea can give him an extended run in the side.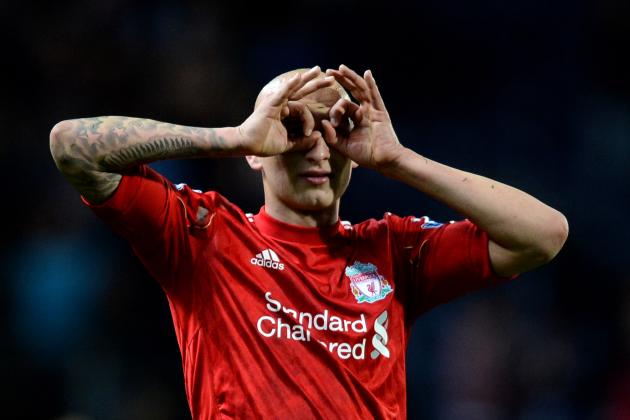 Laurence Griffiths/Getty Images

Shelvey made 69 appearances for the Liverpool first team, where he scored seven goals and registered four assists.
He spent a portion of his time on loan at Blackpool in 2011, where he had a better return of six goals in 10 games.
The 21-year-old's conversion rate was one of the worst in the Premier League last season:
Jonjo Shelvey: Had a conversion rate of 2.9% this season - better than only 7 of the Premier League's 257 goalscorers in 2012/13

— WhoScored.com (@WhoScored) June 8, 2013
Shelvey wants to be an attacking midfielder, but with the likes of Gerrard, Philippe Coutinho, Lucas Leiva, Jordan Henderson, Joe Allen and Suso in the squad—it's unlikely that he'd get the playing time he needs at Liverpool.
Whether his confidence and prowess in front of the goal can grow at Swansea remains to be seen.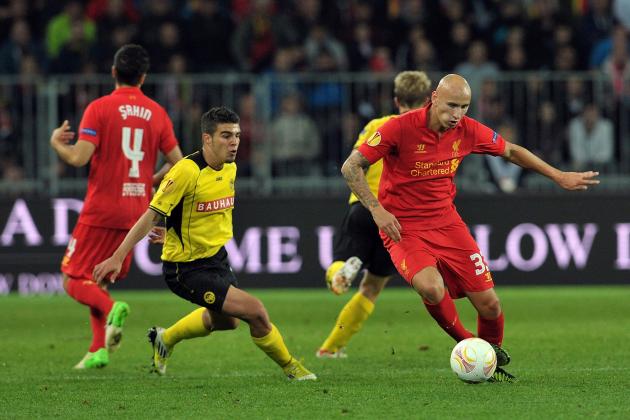 Harold Cunningham/Getty Images
Shelvey, in action for Liverpool in the Europa League against Young Boys.
Shelvey made 13 appearances for Liverpool in the Europa League where he found the back of the net four times.
While limited, this experience could prove invaluable to Swansea, who have qualified for next season's tournament.
The Swans will need more players in rotation as they prepare an assault both domestically and in Europe.
This will give Shelvey one more opportunity to find playing time. Had he stayed at Liverpool, there would be no option of European football this season.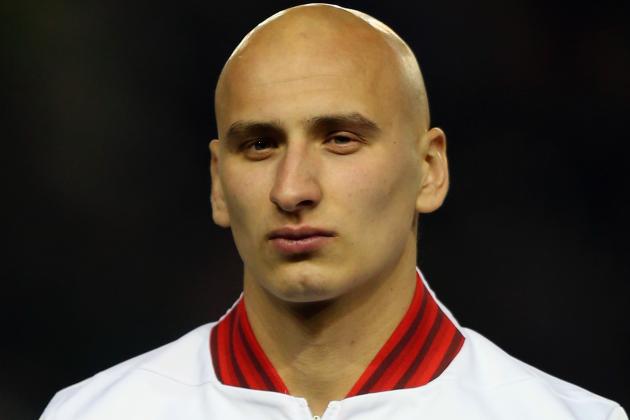 Bryn Lennon/Getty Images
Shelvey, on international duty.
It seems that Shelvey entered a period of regression under Brendan Rodgers.
The midfielder appeared to be a favourite of the Anfield boss in episodes of the documentary Being Liverpool, where Rodgers told the player he'd like to have him in the team for 10 years.
Shelvey got his first call-up to the England senior squad in October and made his debut against San Marino.
All looked rosy until he started to fall down the pecking order at Anfield and was eventually allowed to leave the club this month.
It may be a decision that Liverpool come to regret in the future, but for Swansea and Shelvey, this could prove to be a very good move.