Worst MLB All-Star Game Candidate Promotions on Twitter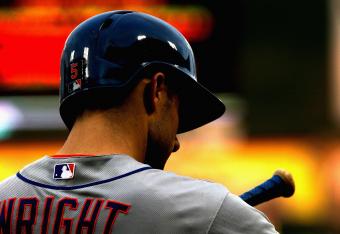 David Wright
Jonathan Daniel/Getty Images
On July 16, 2013, the MLB All-Star Game comes to the Big Apple as Citi Field, the home stadium of the New York Mets, will host the 84th Midsummer Classic.
The game will feature baseball's best players, as the voting is decided by fans who fill out their choices in ballots dispensed at games and, more increasingly, in online voting.
In the last few seasons, however, there have been a number of out-of-the-box campaigns to get specific players selected.
There are several instances of such types of promotions working. Last year's voting saw the Giants' Pablo Sandoval defeat the more-qualified David Wright of the Mets. Sometimes, however, some campaigns for these players appear to be more silly than others. Here are several such examples:
1. Mr. Wright
Batting .307 with 13 home runs, despite injury problems this year, David Wright doesn't really need a full-strength push from outside sources for his All-Star bid. Since the game is at Citi Field this year, though, the Mets are pulling out all the stops to make sure their hometown star gets the vote. The team is imploring fans to vote for Wright through billboards and signs behind home plate.
The silly part of the #VoteWrightNow campaign isn't the Twitter hashtag specifically, though. It's the fact that the Mets felt the need to involve the dating website CougarLife.com to earn votes for Wright as the "MLB's Hottest Cub". Distressing as that is, Wright is recently married, so the campaign never got off the ground.
Verdict: Silly...and a little creepy.
2. Hunter Being Hunted
In a fantastic career which has thus far included over 300 home runs and nine Gold Gloves, the Tigers' Torii Hunter is having another superb season. Batting .300 with an on-base percentage of .344 at age 37, Hunter's bounce-back year has him fifth in the A.L. online voting. Obviously, the @Tigers Twitter handle's campaign for all of their starters to make the All-Star Game is working to a certain extent.
However, the one thing which makes the choice to #votehunter instead of, perhaps #votetorii, is the other #votehunter campaign in support of an All-Star outfielder, for San Francisco's Hunter Pence.
Since Giants fans are somewhat notorious for being ballot-stuffers, this probably hurts Torii more than Pence. However, since both players are having superb seasons, and Detroit's Hunter is still on track to make the A.L. roster, this is likely just a humorous anomaly.
Verdict: Funny, but not harmful.
3. The Phantom All-Star
Let's get one thing straight: The Captain is an all-time great.
Behind Honus Wagner, Derek Jeter may be the best shortstop of all time (Oriole fans, settle down, Cal Ripken ended his career as a third baseman). However, due to an Achilles injury that he suffered during last year's ALCS against the Tigers, Jeter has not played in a single game so far this year. That's what makes this tweet from the Yankees organization fairly off-putting.
Jeter is a Hall of Famer, but allowing him to potentially steal votes from more deserving shortstops (such as Baltimore's J.J. Hardy and Detroit's Jhonny Peralta) is harmful, and against the point of putting the most deserving players in baseball's premier game during the regular season. Let Jeter have the shortstop spot...when he plays.
Verdict: Ridiculous.
This article is
What is the duplicate article?
Why is this article offensive?
Where is this article plagiarized from?
Why is this article poorly edited?