Lisicki vs. Radwanska: Score, Highlights for Wimbledon 2013 Women's Semi Finals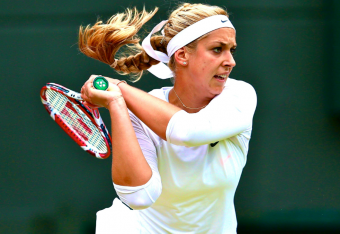 Sabine Lisicki, the 23rd seed, continued her fairy-tale Wimbledon run as she defeated fourth seed Agnieszka Radwanska in a three-set thriller in Thursday's women's semifinal.

Having defeated defending champion Serena Williams earlier in the draw, Lisicki took the first set 6-4 thanks to her explosive service game. The more experienced Radwanska stayed patient, waited for her chances, and took advantage of service breaks to win the second set 6-2.
The third set was a picture of the best that women's tennis has to offer. Momentum shifted multiple times as both ladies showed tremendous perseverance and skill to push the match to its limit.
After surrendering her first chance to serve out the match, Lisicki eventually broke Radwanska at 8-7, then dialed in that big serve to advance to her first-ever Grand Slam Final.

Lisicki will face Marion Bartoli in Saturday's ladies' final at the All England Club.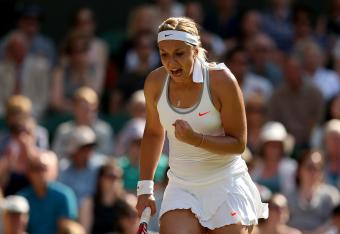 Lisicki has nine aces in the match.
She opens this game with a fault but wins the point, then goes up 30-0, then 40-0.
Three match point chances for her first Grand Slam final opportunity.
Radwanska answers back to make it 40-15 but that's all she's got. A clean forehand down the line seals the deal.
Sabine Lisicki of Germany wins 6-4, 2-6, 9-7 and advances to the Wimbledon final.
Lisicki grabs a break point after a second serve from Radwanska.
She faults again, serves up another soft second serve, but this time Lisicki hits it long. We're back at deuce.
Radwanska's backhand is long and it's a second break point.
She gets the first serve in and knocks Lisicki on her backside, but a volley error hands Lisicki the break.
It's 8-7 with Lisicki serving for the match for a second time.
Lisicki holds.
She served beautifully to get up 40-0, then a sneaky point by Radwanska and a double fault put her at 40-30.
This time, the net ball falls her way, and the set is tied again, 7-7.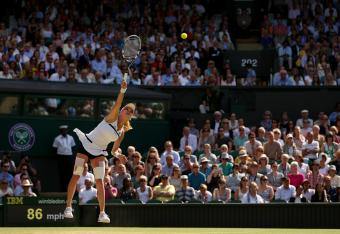 Radwanska faults. Serves up an easy second serve and Lisicki responds with a massive forehand at 89 mph.
15-40. Two break points for Lisicki.
But suddenly, we're back to deuce again. Radwanska drops in a sneaky net shot that gives Lisicki no chance at all.
Radwanska uses a challenge on her first serve and she's right. It's on the line, so that's an ace and the game.
7-6 Radwanska.
We've just passed the two hour mark and both ladies continue to battle hard.
We're seeing tremendous movement around the court on both sides.
Radwanska gets to deuce, but Lisicki is able to hold. Set three is 6-6. How long will we go?
No matter who triumphs in today's match, it's been a big win for women's tennis.
Both Radwanska and Lisicki are showing great skill and tremendous heart, knowing this may be the best chance they've had in their careers to win a Wimbledon championship.
Radwanska holds to lead 6-5 with Lisicki serving. I get the feeling the best is yet to come.
Radwanska takes big chances to push to 15-40 for two break points, but Lisicki fights back to deuce.
Radwanska hits a big return for another break point, and Lisicki answers back again.
After a fault, Radwanska hammers a service return and earns her fourth break point of the game. This time she converts.
We're at 5-5. Fantastic clutch play from Radwanska, especially on her service returns.
Lisicki's serve is her key tool as she tries to serve out this match.
She opens with an ace, but Radwanska makes her pay with a drop shot. 15-15.
Lisicki breaks!
After being down 3-0, she now leads the third set for the first time at 5-4.
Sabine will serve for the match.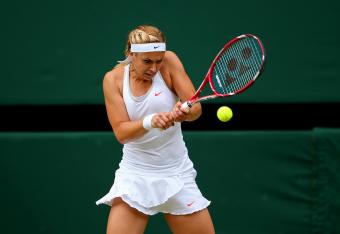 Both ladies are fighting hard and using every tool in their toolkit, giving the fans at Centre Court an entertaining show.
Lisicki holds serve to knot the match back to 4-4.
As we approach the two-hour mark, it comes down to the next few critical moments. Every point counts now.
Radwanska's back on serve to take a 4-3 lead.
She's now boasting 14 winners against 7 unforced errors, while Lisicki has 45 winners against 39 unforced errors.
Awesome.
Four serves. Four points for Lisicki. Set is now tied 3-3.
Lisicki came back to beat Serena. Can she do it again?
@TeamSabine YAS! Come on! @sabinelisicki Awesome break back! Freakin' rollercoaster! #LetsGo #Wimbledon

— Neema (BAD) (@NeemaEslami) July 4, 2013
Lisicki uses some big returns to get to 15-40. Against the pattern of the play, perfect forehand placement at the end of a long rally gives her a break of her own and puts set three back on serve.
There's the Sabine we saw in the first set!
Total control of her service game. She gives up just one point to bring the score to 3-1.
Lisicki gets to 30-30, but more unforced errors at her end allow Radwanska to hold serve.
The Polish star has been strong in third sets throughout the tournament so far and shows no sign of letting up now that the match is on the line.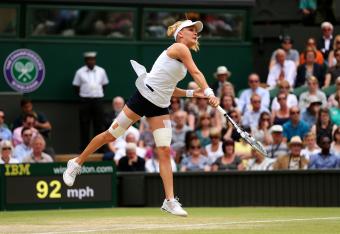 Long rallies definitely favor Radwanska.
The latest one sets up another break point, and Lisicki smashes her big forehand into the net.
Radwanska breaks again. She's now up 2-0 in the third set.
Three unforced errors for Lisicki hand Radwanska an easy service win in the first game of the third set.
Radwanska looks calm and cool and is showing no signs of distress, while Lisicki has lost her smile and is spiraling down.
Two double faults put her in a big hole, and Radwanska breaks again to take set number two, 6-2.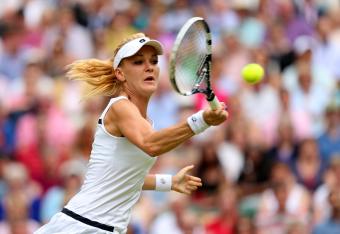 Radwanska breaks again to go up 4-2.
She's now boasting 10 winners against just 5 unforced errors and in complete control of her service game. Lisicki doesn't even manage a point. It's 5-2 Radwanska.
Lisicki is looking to continue a proud women's tradition for her homeland of Germany.
Wow.
Radwanska wins one gorgeous point, but Lisicki's having none of it. She breaks right back to pull to 3-2 and put the set back on serve.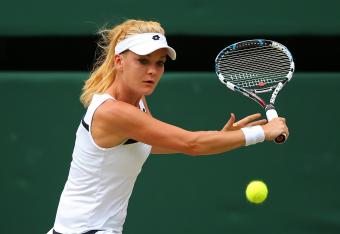 In Lisicki's match against Serena, she let down after winning the first set and lost eight games in a row.
She's given up a break point in the fourth game and is fighting to put the set away. Two advantages have gone back to deuce. A fifth ace gives her another chance to hold serve, but the serve is a double-edged sword—she double-faults.
Radwanska finally grabs the advantage and gets to second serve, but it's hit into the net to take us back to deuce again.
Lisicki hits it long; another break point. A fault, then another long shot and there it is. Radwanska's up a break and leads 3-1.
Radwanska holds to go up 2-1. The crowd is getting behind her—hoping for a three-set thriller after such a one-sided first semifinal.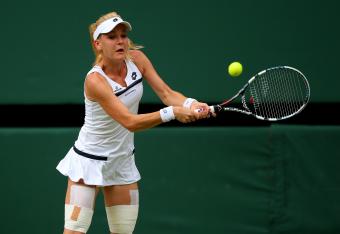 Things just got interesting. Radwanska is able to break right back, so we're tied 1-1 in the second set.
Lisicki fell 15-40 in her service game, but fought back to deuce, then hammered an ace.
A volley goes long and we're back to deuce.
This article is
What is the duplicate article?
Why is this article offensive?
Where is this article plagiarized from?
Why is this article poorly edited?