The Minnesota Wild only have two needs in free agency: re-signing center Matt Cullen and adding another starting goaltender to split time with recently re-signed Niklas Backstrom (three years, $10.25 million).
Cullen was instrumental in the development of Jason Zucker, 21, and Devin Setoguchi, 26, and was a productive player at age 36.
Backstrom played well in net but got injured in warm-ups before Game 1 of the playoffs against the Chicago Blackhawks. The injury was likely due to overuse, as the 35-year-old netminder played 42 of the team's 48 games in 2012-13.
Minnesota may also add depth on defense and at forward, since Cal Clutterbuck and Justin Falk were traded away at the deadline, and Tom Gilbert was recently waived, according to The Associated Press.
At the same time, the Wild got Benn Ferriero, a forward, in the Falk trade and may not want to take ice time away from young players like Mikael Granlund (21), Nino Niederreiter (20)—who came over in the Clutterbuck trade—and Mathew Dumba (18), should they be ready for the NHL.
Right now, the top priority is re-signing Cullen and finding Backstrom's backup.
Keeping Cullen in Minnesota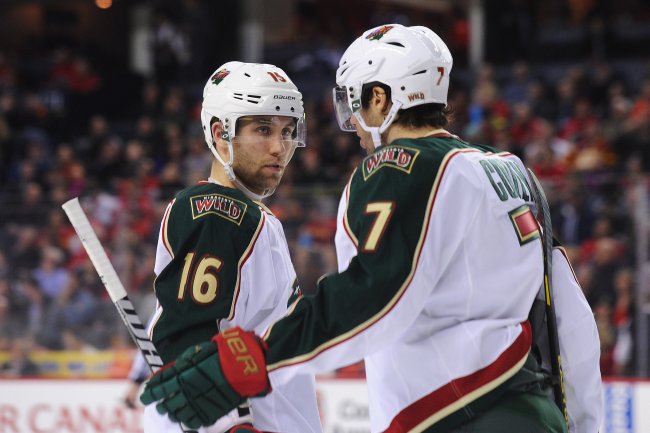 Derek Leung/Getty Images
Cullen is a Virginia, Minn., native, and although he has been a journeyman throughout his career, he was a valuable asset to the team last season.
Setoguchi looked like an elite scorer when paired with him on the second line, but he could not find the net when Cullen was injured.
Zucker's puck-hounding style of play will allow him to create opportunities on his own, but he told Michael Russo of the Star Tribune that Cullen was helpful in ways that could not always be seen on the ice.
"It's great having him mentor me," he said. "[Cullen has] been around the block. He knows the game and all the details of it."
Cullen's speed and keen passing ability merited seven goals and 20 assists in 2012-13. Adjusted for an 82-game schedule, that is right on par with what he has been doing for the latter part of his career.
My guess is that Cullen will end up playing for a few more years. The Wild should ensure that he retires in a forest green sweater.
Adding another goaltender
Backstrom could use a friend too.
Darcy
Kuemper
received some playing time in the postseason when
Backstrom
went down and showed flashes of brilliance, but he is in need of some grooming in the minors.
This is not an insult, as Kuemper is only 23 and was a sixth-round pick. Rather, it is an acknowledgement that he, like many netminders, is not ready to make the jump from major-junior to the big leagues in one year.
He could be the franchise goaltender of the future, but for right now, he should be playing in Des Moines.
Josh Harding is a longtime backup who looked ready for regular duty last season but had a surprising case of multiple sclerosis. He was awarded with the Bill Masterton Memorial Trophy for his resilience and ability to play hockey at a high level after being diagnosed.
The Wild do not want to bank on him being a No. 1 goaltender for the whole year, however, and need to find someone who is willing to split duties with Backstrom.
I can't get enough of this. I really can't.
According to Sarah
McLellan
of
USA Today
,
Mike Smith re-signed
with the
Phoenix Coyotes,
which leaves no other high-end
netminders
on the market. The Wild might not have been able to fit Smith under the cap anyway.
Their best bet is to go with another veteran goaltender. It's a short-term fix, but many veterans are available. Furthermore, Kuemper and Jonah Gustavsson (21) should be competing for the starting position in the near future anyway.
The Wild could take a risk and go with mercurial Ilya Bryzgalov (33) or throw a short-term contract at Evgeni Nabokov (37), Jose Theodore (36) or Chris Mason (37).
Conclusion
It's good that the Wild don't have much to do in free agency. It means they have found a core they like and are only adding peripheral pieces.
Things got crazy around this time last year, but now it's time for the team to settle in and start a tradition of winning in Minnesota, the state of hockey.
Tom Schreier covers Minnesota sports for Bleacher Report and is a contributor to Yahoo! Sports.