Chris Weidman is days away from fighting the man that many believe is the greatest mixed martial artist of all time, Anderson Silva. Silva, the UFC middleweight champion, has not lost a fight in more than seven years, and he's never lost in the UFC. Silva was UFC champion before Weidman even had his first sparring session as a mixed martial artist.
Silva's lengthy reign as UFC kingpin has allowed Weidman to train with a single goal in mind, not merely winning UFC gold, but winning a UFC title by beating an icon. Weidman made it clear that he's had Silva's image tattooed on his brain from day one. "As soon as I started my first sparring session ever I envisioned beating Anderson Silva."
During the lead up to Saturday's fight, we found out that a lot of fighters share that vision. The fact that he is getting so much support from fighters outside of those that he trains with on a daily basis has not been lost on Weidman, "He's [Silva] one of the greatest of all time, and he's been unstoppable. For people to see something in me that they think I can beat him, that's pretty cool. Honestly, half the guys that are picking me, I'm like, how are they picking me? I don't know where they're getting it from, but it's cool."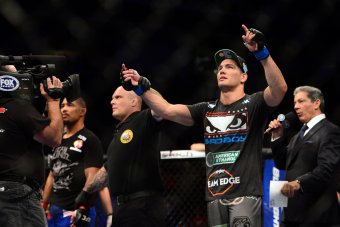 Kyle Terada-USA TODAY Sports
With UFC 162 fight night fast approaching, Weidman has a very positive mindset, and he's ready to step into the Octagon inside the MGM Grand Garden Arena and go to work, "It's time to do my thing. I've been envisioning it, now it's just time to get out there and do it. It's time to shine, it's time to go out there and make a statement. I just want to come out and beat him."
That's a refrain we have heard in the past from Silva's UFC opponents. No one walks into a fight telling the press they are going to lose. However, Weidman feels that sometimes that has been the case, "It's easy to beat yourself in any fight, and I think Anderson does a great job in making people beat themselves, and I'm not going to let that happen."
There have been some questions of Silva looking past Weidman. Some feel that the recent statements Silva made about Jon Jones were somehow Silva looking to set up a superfight with the UFC light heavyweight champion. Weidman does not share that view, but if Silva is looking past him, all the better. "I don't think he's overlooking me. If he is, that'll be an easier night for me."
Weidman is confident he is ready for the style of the champion, "He's long, he's quick, he's a finesse fighter, definitely hard to prepare for, but I brought in a lot of different guys that can emulate him."
As for how he will beat Silva, Weidman has a simple plan, "I just got to go out there and make it my fight and not worry about what he's doing."
**All quotes obtained first hand by Bleacher Report MMA.