Stock Up, Stock Down for the NFL Offseason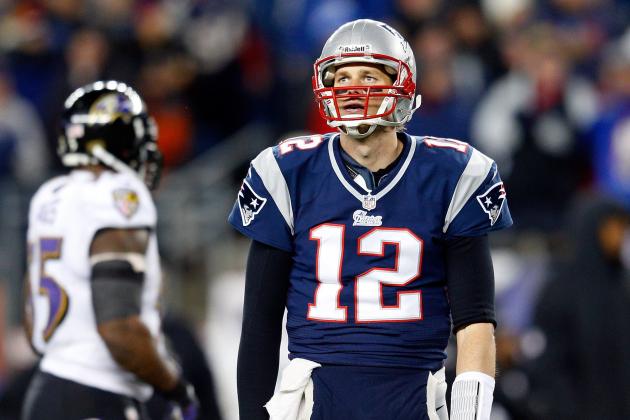 Jim Rogash/Getty Images

The NFL offseason is about to wrap up as teams prepare for training camps around the league later this month.
Certain teams improved a great deal via both free agency and the draft, while other teams struggled to gain a grasp of what they were actually going to do once the Super Bowl wrapped up last February.
The New England Patriots, likely one of the last real dynasties of this era, have seen their passing game take a major hit with the departure of Tom Brady's four favorite targets.
Meanwhile, the division rival Miami Dolphins have closed the gap. Despite overspending a bit in free agency, general manager Jeff Ireland and co. primed to challenge the Patriots for the division.
Certain players lost starting jobs or were put in less than stellar situations. Other players received a boost in confidence from organizations fully prepared to rely on them moving forward.
Let's take a look at players, coaches, executives and teams who have seen their stock go up or down during the offseason.
Begin Slideshow

»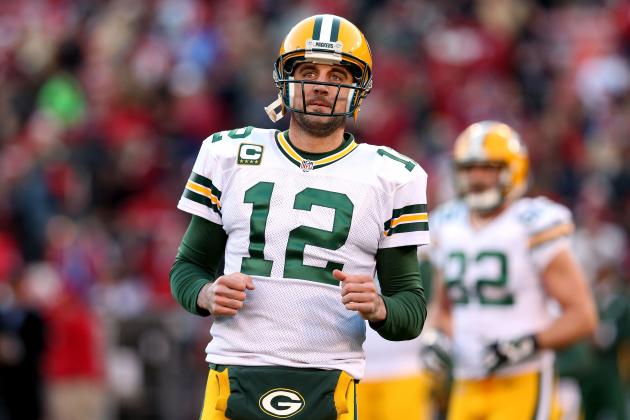 Stephen Dunn/Getty Images
Renewed emphasis on the running game in Green Bay will help Aaron Rodgers.
Aaron Rodgers has not had a consistent run game behind him during his tenure with the Green Bay Packers. For what it's worth, Green Bay's front office really hasn't gone out on a limb to get him one.
The selections of running backs Alex Green and James Starks in previous seasons don't count.
General manager Ted Thompson figured that the Packers needed to change that philosophy this past April.
Did they ever.
Green Bay selected two running backs, Eddie Lacy and Johnathan Franklin, who sat atop Matt Miller's big board at that position.
Lacy and Franklin combined for a ridiculous 3,568 yards (3,056 rushing) and 34 total touchdowns in college this past season.
Talk about production.
Whether it is Lacy or Franklin getting the start to open the season, or if the two split carries, Rodgers now has the best backfield that he has had since Marshawn Lynch and J.J. Arrington were rocking defenders at Cal in 2004.
This will only help the pass protection in front of Rodgers and the level of balance Green Bay's offense shows in 2013.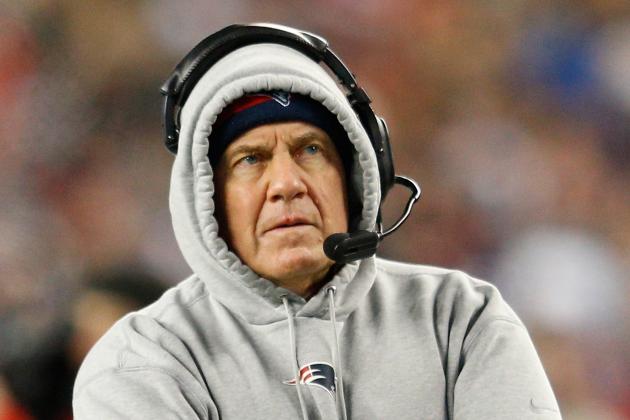 Jim Rogash/Getty Images
Bill Belichick needs to have something up his sleeve in 2013.
Recent events in New England are really going to test the Patriots' resolve as they look to continue what has been pure and utter domination in the AFC East.
By virtue of a wide array of different issues, Tom Brady will be without his top four targets from a season ago.
Wes Welker left town to join forces with Peyton Manning in Denver, while the Patriots released Brandon Lloyd in March.
Rob Gronkowski underwent yet another surgery last month, this time on his back. According to NFL.com's Ian Rapoport, the talented tight end will start training camp on the physically unable to perform list.
His recovery time coincides directly with New England's regular-season opener against the Buffalo Bills in September. He could conceivably miss the first week or two of the season, depending on how his recovery goes.
Former Patriots tight end Aaron Hernandez, who faces multiple charges including first-degree murder, is no longer in the team's long-term plans, as it released him on June 26 following his arrest.
An offense that once featured the best tight end combination in the league is now searching for answers in the passing game.
Currently, Brady is without receiving options that added up to three-quarters of his completions last season.
As we have seen in the past, Brady has a way of turning mediocre receivers into ultra-productive options in the passing game. That being said, his ability to do that this season will be tested.
At the very least, New England is no longer the overwhelming favorite to capture the AFC East heading into training camp.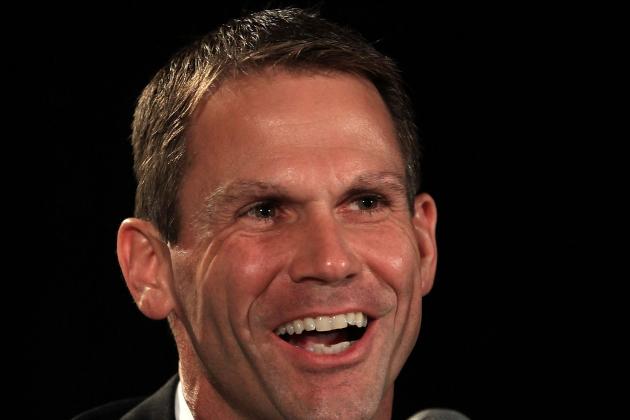 Ezra Shaw/Getty Images
49ers GM Trent Baalke has gone all ninja on us.
What general manager Trent Baalke has done during his tenure in San Francisco is nothing short of amazing. He has built a powerhouse from what appeared to be a roster filled with underperforming talent and lackluster draft picks.
His performance this offseason only added to that.
From acquiring Anquan Boldin from the Baltimore Ravens for a lowly sixth-round pick to finding talent on a massive scale in April's NFL draft, Baalke has proved his worth among the best executives in the league.
After trading up for Eric Reid in the first round of the draft, Baalke and the 49ers traded out of the 34th slot in the second round to the 40th slot. In the process, San Francisco nabbed defensive end Cornellius Carradine, who Matt Miller had as the No. 5 overall player in the draft. It also picked up a third-round pick in the 2014 NFL draft from the Tennessee Titans in that deal.
Interestingly enough, that pick came from the Kansas City Chiefs in the Alex Smith deal.
As of right now, San Francisco has acquired Carradine as well as two likely third-round picks in the 2014 draft for Smith.
That's mighty impressive.
Baalke then went on to add running back Marcus Lattimore and wide receiver Quinton Patton later in the draft. Those two players represent tremendous upside and went much later than what was originally anticipated. If Lattimore can return to form, he is clearly going to be one of the top five running backs in the NFL a couple years from now.
Turning his attention to locking up veterans on long-term deals, Baalke has helped create a sound salary cap in San Francisco. He has locked up Anthony Davis, NaVorro Bowman and Justin Smith to cap-friendly deals over the past nine months (via Spotrac).
These types of moves have made San Francisco into a title contender for the foreseeable future. It's no coincidence that the reversal of fortunes for this franchise began when Baalke took over the front office a few seasons back.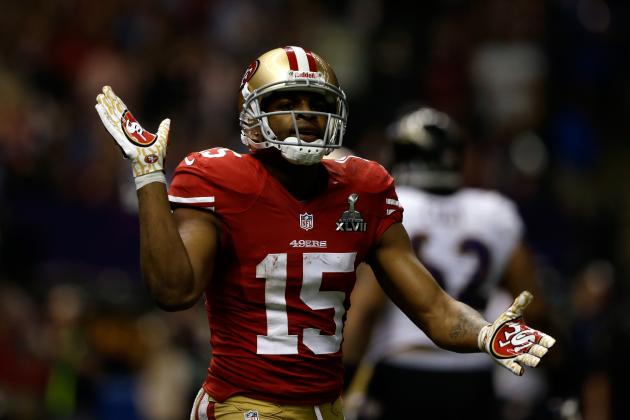 Ezra Shaw/Getty Images
Michael Crabtree's injury comes after career season.
It took Michael Crabtree some time to live up to the expectations of being a top-10 pick, but once he did, San Francisco's passing game and success on offense took hold.
Including the postseason, Crabtree put up 55 receptions for 823 yards and seven touchdowns in his final eight games last season. Those are Pro Bowl numbers right there.
Things looked really good for Crabtree to collect a huge paycheck following the 2013 season. He seemed to have a great connection with new quarterback Colin Kaepernick and was entering a contract year.
Then news broke that he ruptured his right Achilles during OTAs and would likely be lost for a vast majority of the 2013 regular season.
It is now up in the air whether Crabtree will make any type of impact this upcoming season. If not, he can kiss that long-term contract goodbye.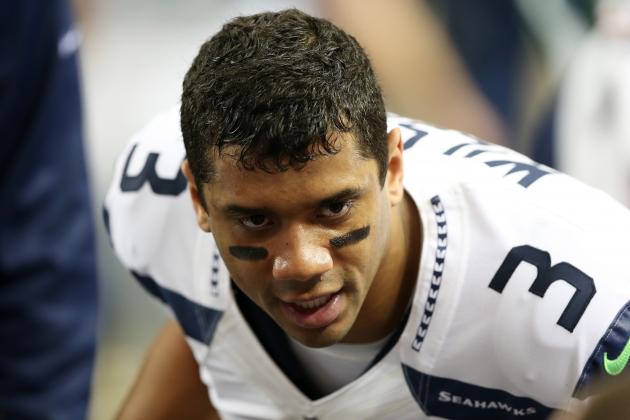 Streeter Lecka/Getty Images
With the addition of Percy Harvin, it appears Russell Wilson has that No. 1 wide receiver.
Coming off what has to be considered one of the best rookie seasons for a quarterback in the history of the NFL, Russell Wilson seems to be in a great position to elevate his game even more in 2013.
General manager John Schneider and co. pretty much assured that when Seattle gave up the house for talented wide receiver Percy Harvin in a trade with the Minnesota Vikings early in the offseason.
For the first time in his short pro career, Wilson now has a legitimate No. 1 wide receiver to throw to on the outside. Harvin's presence on offense will go a long way in helping Seattle open up its passing game from the conservative scheme we saw during the first half of last season.
If that does happen, Wilson will be able to show all of his naysayers why he is one of the top young quarterbacks in the entire league.
Remember, Wilson is still playing with a chip on his shoulder after falling to the third round of the 2012 NFL draft because of concerns about his height.
This added drive will only help Wilson's performance on the field as he hopes to lead Seattle past the defending division champion San Francisco 49ers in the NFC West.
Having Harvin to rely on in the passing game will help Wilson a great deal.
These are all indications that Wilson will have another stellar season in 2013 and improve upon what was a nice little performance as a rookie.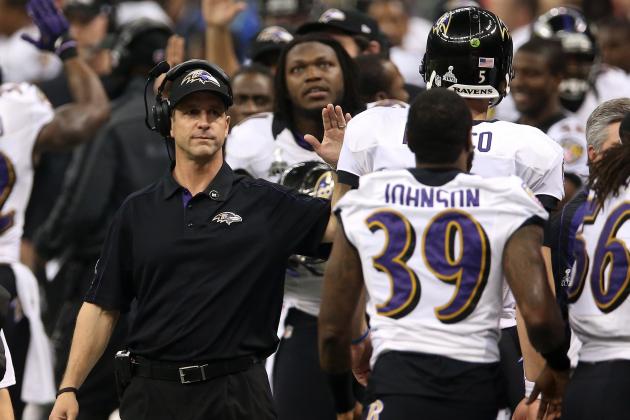 Ronald Martinez/Getty Images
The Baltimore Ravens will need to replace three key veterans in order to repeat.
It really doesn't matter how much young talent Baltimore brought onto the roster in the draft this past April. The likes of linebacker Arthur Brown and safety Matt Elam are not going to be able to fill the leadership holes left by Ray Lewis and Ed Reed.
While Lewis and Reed might have left a lot to be desired on the field in 2012, they were practically coaches on the defensive side of the ball. Their mere presence on the field helped the rest of Baltimore's defense avoid confusion throughout the season.
You simply can't replace 28 years and 388 games of experience by drafting well in April. At the very least, Baltimore will hurt when it comes to leadership this season.
Baltimore will need to find another leader or two to step up both on the field and in the locker room if it hopes to repeat as Super Bowl champions.
Besides those two obvious choices, Baltimore traded Anquan Boldin to the San Francisco 49ers for a sixth-round pick early in the offseason.
Boldin was one of the primary reasons Baltimore made a surprise run to New Orleans. In fact, if it wasn't for him, the Ravens would likely have missed out on a shot at winning the Super Bowl.
Where Baltimore might have filled voids left by Lewis and Reed, it didn't find anyone to replace the production we saw from Boldin last season.
That has to be a major concern for head coach John Harbaugh and co.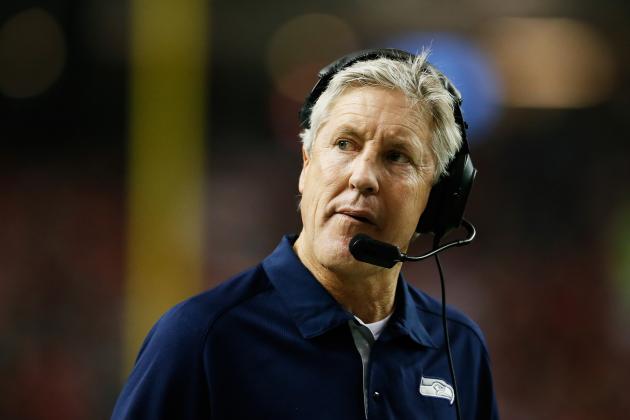 Kevin C. Cox/Getty Images
Seattle is in prime position to challenge for the NFC West title.
It wasn't too long ago that the NFC West was the laughingstock of the NFL. Remember when it put a below-.500 Seattle Seahawks team into the playoffs? Now remember the backlash that it brought around the league.
Fast-forward three seasons, and this is the best division in the entire league.
It boasts the reigning NFC champion San Francisco 49ers, who are fully prepared to repeat as conference champions after a stellar offseason.
It boasts a Seattle Seahawks team that might be primed to knock off the 49ers as the best unit in the division. If not, Seattle will be in a mighty fine position to nab a playoff spot and contend for a conference crown come January.
In reality, it could easily be concluded that San Francisco and Seattle are the two best teams in the NFC at this point.
Bad news for the rest of the NFC West, right? Not too fast, my friends.
The St. Louis Rams, coming off an extremely productive 2012 campaign, loaded up on talent on the offensive side of the ball via both the draft and free agency. The acquisition of franchise left tackle Jake Long will help protect quarterback Sam Bradford more than we have seen in the past.
In addition, St. Louis brought in two talented youngsters at skill positions. Veteran tight end Jared Cook comes over from the Tennessee Titans and can stretch the field between the hashes.
Flush with picks from the Robert Griffin III trade, St. Louis had the ability to trade up for the ultra-athletic Tavon Austin in the first round of April's draft. The West Virginia product should be able to provide Bradford with a consistent weapon in the passing game.
This doesn't even take into account a vastly improved defense that boasts one of the best lines in the entire league. The likes of Chris Long, Robert Quinn and Michael Brockers will make it difficult for opposing offenses to have any type of success in the trenches.
While St. Louis might be a step or two behind San Francisco and Seattle in the race for the division crown, there is no reason to believe it cannot content for a playoff spot.
Arizona, on the other hand, is looking up from the basement for some glimmer of light.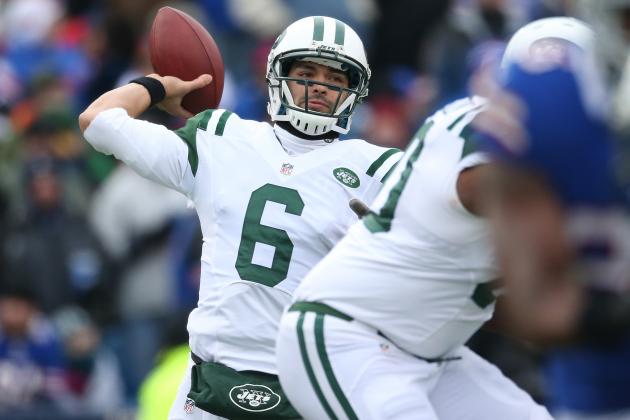 Tom Szczerbowski/Getty Images
If Mark Sanchez opens the season as the Jets' starter, expect things to get bad.
What can be said about the New York Jets that hasn't already been written in every major newspaper publication in New Jersey and New York?
If Mark Sanchez opens up the season as the Jets' starting quarterback, head coach Rex Ryan will quickly be scouring the classified ads for job opportunities.
According to Pro Football Focus (subscription required), Sanchez graded out second-to-last among quarterbacks last season. That's just not going to get it done.
New York is also in a difficult spot as it relates to rookie second-round pick Geno Smith. The young quarterback is nowhere near ready to take regular snaps in the NFL and could use a year or two of seasoning.
I personally liken his situation to Colin Kaepernick back in 2011. If the Jets play their cards right and give Smith time to develop, they might have found a steal. If they decide that he needs to be thrown to the wolves because of Sanchez's lackluster play, it could be disastrous.
Add in the fact that New York doesn't possess the best wide receiver group, and you have what promises to be a lackluster passing game in 2013.
Most of us knew 2013 would represent a down season in New Jersey, but the Jets might actually be the least talented team in the entire league at this point.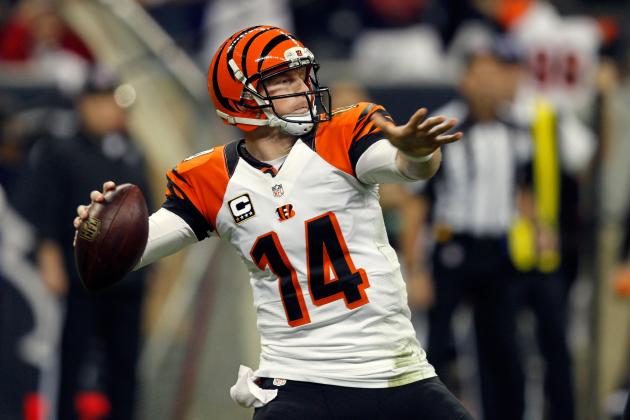 Bob Levey/Getty Images
Led by Andy Dalton, the Cincinnati Bengals appear to be clear favorites in the AFC North.
Things might be taking a turn in the ultra-competitive AFC North this season. While the Baltimore Ravens and Pittsburgh Steelers might struggle living up to the success they had in the past, the Cincinnati Bengals are prepared to take the next step in that competitive division.
For the Bengals, that next step means contention for the conference crown.
They added a plethora of young talent around quarterback Andy Dalton in the draft. Running back Giovani Bernard comes in as the best all-around back in the entire draft class and should challenge BenJarvus Green-Ellis for the starting job.
Meanwhile, Cincinnati made the surprising decision to select former Notre Dame tight end Tyler Eifert in the first round. The physical specimen will immediately provide Dalton with a solid end-zone target outside of having to rely too much on A.J. Green at wide receiver.
In addition to its moves on the offensive side of the ball, Cincinnati's defense appears to be stacked at this point.
Its defensive line goes about nine deep and features three Pro Bowl-caliber players in the form of Geno Atkins, Michael Johnson and Carlos Dunlap. Looking over its depth chart, Cincinnati is in prime position to dominate the trenches on that side of the ball.
There's every reason to believe the Bengals are clear favorites to win the AFC North this upcoming season.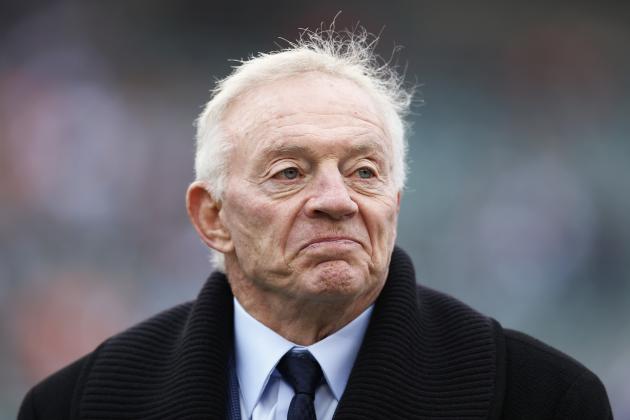 Joe Robbins/Getty Images
With another questionable offseason under his belt, some are questioning Jerry Jones' ability to lead.
Boy, did the Dallas Cowboys have a questionable offseason. Whether it was placing the franchise tag on a marginal pass-rusher in the form of Anthony Spencer or spending a first-round pick on a mid-round talent in April's draft, there are now people who question whether owner Jerry Jones has lost his marbles.
First, let's take a look at the Cowboys' misguided selection of center Travis Frederick in the first round of the 2013 draft.
Our very own Matt Miller had Frederick graded as the 100th-best prospect in the entire draft. This didn't stop Dallas from trading down from the 18th pick to the second-to-last selection in the first round and then grabbing the former Wisconsin center.
While some of the criticism for that move can be muted because Dallas was able to acquire a third-round pick it ended up using on wide receiver Terrance Williams, that's horrendous value for a team in need of upgrades on both sides of the ball.
Dallas then ignored other needs along the defensive line and in the secondary to pick up tight end Gavin Escobar in the second round. While I am a huge fan of the San Diego State product, he didn't necessarily fill a need there.
Other options at that slot included Johnathan Hankins, Margus Hunt, Jamar Taylor and D.J. Swearinger, all of whom play positions of need for Dallas.
Outside of the draft, Dallas really bombed out by placing the franchise tag on Anthony Spencer. The former outside linebacker, who will be playing defensive end in the Cowboys' news scheme, is now the 10th-highest-paid defensive end in terms of annual salary in the NFL (via Spotrac).
This means Dallas has $22 million committed in 2013 to two outside linebacker converts, DeMarcus Ware being the other, who are being asked to switch positions in a new scheme.
If Dallas is unable to come out of the NFC East and earn a postseason spot this year, all heck will break lose in Texas, and owner Jerry Jones will be at fault.
The time may have finally come for Jones to step down from a player personnel capacity and give someone else a shot at building the Cowboys back up. It's obvious he's not doing the job right now.