MLB Fantasy Factory: Which April Slumberers Will Wake Up?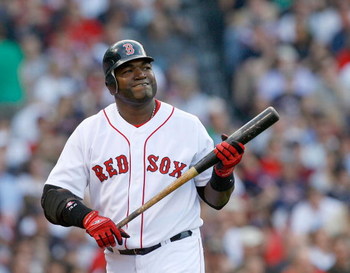 Throughout April, many previously unheralded baseball players posted monster stats, surging to the top of the rankings at their positions.
Fantasy owners everywhere cashed in on bargain picks such as Kevin Youkilis (.393 BA, 6 HR, 20 RBI), Raul Ibanez (.351 BA, 8 HR, 21 RBI), and Josh Johnson (2.57 ERA, 38 K's, 6 BB's), to name a few.
But, as fantasy owners know, with surprise standouts come surprise slumpers.
Every team has one—that guy that you drafted early who's being outperformed by a backup you got in the 10th round.
Every year, big name players get off to slow starts, and the hardest question in fantasy arises: "Do I trade him?"
Well, slow starts aren't always followed by an entire bad season. But sometimes, they are.
Predicting which slumps are going to last is like predicting who Al Davis is going to draft next (Barry Bonds?).
So which slumbering superstars are going to wake up in May? June? This season? I've got the answers.
David Ortiz, DH, Boston Red Sox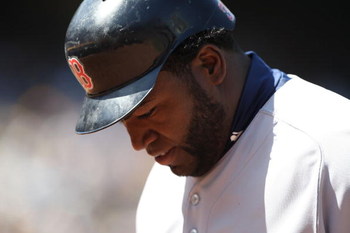 Just how far has David Ortiz fallen off this year? Well, consider this. His lifetime batting average is .286, and he has never had a home run/fly ball percentage below 14.8 percent with the Red Sox.
This year, he's chugging along at .225 with zero home runs. Thats a home run/fly ball percentage of zero percent, for those without a calculator.
So where'd Ortiz's power go? Maybe, as a kid grows out of his shoes as he ages, Ortiz has grown out of his power.
I mean, he is almost 34.
Clearly, his best years are behind him, and he has shown no signs of breaking out of his slump, batting .182 over his last seven games with just two extra base hits, both doubles.
And it's not as if he isn't getting enough protection in the lineup. After his three run blast on Tuesday, Jason Bay is hitting .322 with seven HR and 25 RBI.
Dustin Pedroia, one spot ahead of Ortiz in the batting order, has a .414 OBP. Ortiz is clearly getting the opportunities to produce runs, he just isn't taking advantage of them.
It comes as no surprise that steroid rumors have already started to fly, considering they tend to go hand in hand with any former slugger's power struggles nowadays.
Considering he averaged 41.6 homers a season from 2003-2007 (he was injured part of 2008 but still slammed 23), a homer-less April certainly seems to support steroid allegations.
Chance at Revival?
No. Sorry, Boston fans, but Ortiz will never return to the monster bat he has proved to be the last decade. Face it, players get older. Now, can he still throw up 30 HR a year?
Perhaps, but he'll need to break out of this slump soon to escape the wrath of fantasy owners across the globe. If you haven't already, see if you can't find an optimistic Boston fan to trade away some decent players for him.
Jimmy Rollins, SS, Philadelphia Phillies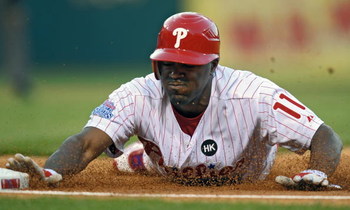 Yes, your 2007 NL MVP is having another slow start. Is this cause for concern, fantasy owners?
Consider this: Rollins hit 30 HRs and 94 RBI in his MVP 2007 campaign, but notched only 11 last year with 59 RBI.
Yes, he did miss 25 games, but that's still a huge decline.
This year, Rollins hasn't exactly charged out of the starting gate, hitting .210 thus far with just one HR, seven RBI, and one stolen base. Rollins, one of the games elite five tool players, still has speed. But to steal, you have to get on base, something he just isn't doing enough of.
Chance for Revival? Yes. Don't trade him just yet, fantasy owners.
Despite lower numbers in all other categories last year, Rollins has six more stolen bases than his 2007 MVP year (47 in 2008).
Once his bat starts heating up again this year, and it will, expect his stolen base numbers to rise, as well as his batting average. Remember, he's still young, and the Phillies have plenty of talent around him.
Cliff Lee, SP, Cleveland Indians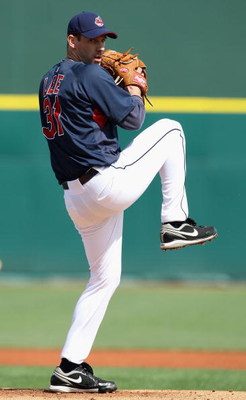 After a breakout 2008 campaign that landed him the AL Cy Young, many expected Lee to fall back down to earth. 22 and three with a 2.54 ERA is unreal, especially in the AL.
How does he respond? Well, with a one and four start in 2009.
Lee got battered around in his first couple starts, allowing 11 runs in 10 innings in consecutive losses to the Rangers and Blue Jays. He's also already walked 10 batters this year, despite walking just 34 all of last year.
Chance for Revival? Yes. In his last three outings, Lee has thrown eight innings twice (seven the other time) and allowed just five runs.
It looks, for now, like he's getting back on track. Just don't expect Cy young caliber numbers from him. A 15 win season, however, isn't out of the question.
Mark Teixeira, 1B, New York Yankees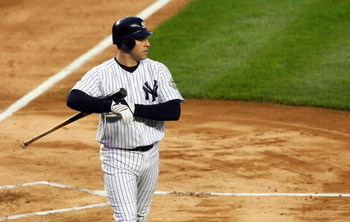 I once overspent on a pair of old Nike Dunks by about 25 dollars. W
When they broke the next week, I was beyond angry. Taking that into account, I can only imagine how the Yankees feel after forking over $20.625 million for Mark Teixeira this year, only for him to post lackluster numbers through the first month of the season.
Talk about overpriced.
Big Tex is hitting .209 so far with five home runs and 12 RBI.
While he certainly isn't living up to his contract, he is also disappointing fantasy owners who took him early in the draft, hoping his move to a loaded Yankee lineup would mean monster numbers from the guy. A lifetime .538 slugger, this year's .407 slugging percentage just isn't getting it done.
Chance for Revival? Yes, but I would consider the possibility of trading him.
He'll put up decent numbers once his bat starts to heat up again, but he hasn't hit more than 33 home runs since 2005 with the Rangers, and he's almost 30 now.
I find it hard to believe he'll hit much more than 30 again, which is all he needs to hit in that Yankees lineup, but if you're relying on him to be a cornerstone for your fantasy team, might as well field a few trade offers.
Brian Giles, RF, San Diego Padres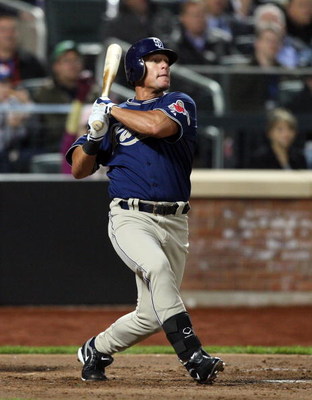 Brian Giles, a lifetime .298 hitter before 2009, started this season with one of the worst slumps of his career, hitting just .163 in April.
A yearly OBP stud, Giles reached base just 22 times in the first month of the year.
Despite hitting in the vast confines of Petco Park, his low numbers led to an exodus of sorts in fantasy, with a good majority of teams who decided to take a flyer on him sending him packing to the free agent pool.
Many reasons could point to Giles' horrific start, his age being the primary one.
At 38, he is clearly not the hitter he once was for the Pirates, where he crushed 149 home runs in four seasons.
Despite his power numbers dropping when he was traded to the Padres, he had shown the ability to consistently get on base, prompting his move to the lead off spot last year.
Is that ability gone? A commonly accused steroid user, Giles' drop off the face of the earth in basically every offensive category in 2009 makes many think he is no longer a viable fantasy option, or an everyday player, for that matter.
Chance for Revival?
Yes. Giles is a notoriously slow starter, and already showed signs of coming out of his slump with a 10th inning game winning double Tuesday against the Rockies.
Granted, it was the Rockies, but Giles is too skilled of a hitter to stay under a .200 batting average for long. Will he hit 30 home runs and knock in 100 RBI? No, but he could prove valuable in any league that takes OBP into account, considering it would take nearly nothing to trade for him at this point.
Buy Low.
Milton Bradley, OF, Chicago Cubs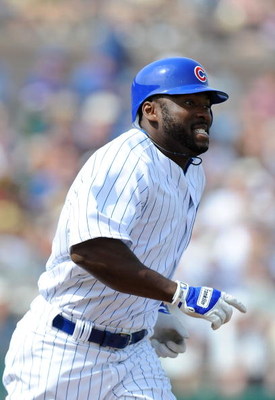 Milton Bradley has had his good moments and his bad moments during his stay in Major League Baseball.
Among his bad moments? Throwing a bucket of balls onto the field after a disagreement with an umpire, breaking Mike Cameron's hand while running for a ball in center field, tearing his ACL in the same game while being held back by his coach during an argument with an umpire...the list goes on and on.
However, last year's offensive outburst with the Rangers was definitely one of his good moments. He batted .321 with 22 HRs and 77 RBI, despite missing 36 games.
A trade to Chicago later, and Bradley seems to be suffering from the same curse that's plagued the Cubs for 100 years.
Through May 7, Bradley was hitting an unbelievably low .128, with two HR's and two RBI.
Wow. Talk about a free agent bust.
To make matters worse, Bradley is approaching 32. Couple that with a history of injuries as well as character issues, and it doesnt look like it'll be a comfortable stay in Chicago for Mr. Bradley.
Chance for Revival? No.
Trade him, if you can still get anything back. I don't see him playing more than 120 games this year anyways due to injury, and there are much better options out there at the OF position.
C.C. Sabathia, SP, New York Yankees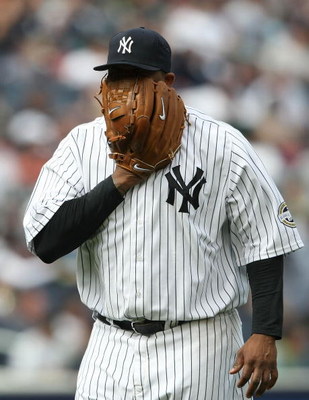 Based on average 2009 Fantasy Drafts, I know the Yankees aren't the only ones who overpaid for Sabathia.
Millions of fantasy leagues saw him go in the first round after a super human performance last September for the Brewers.
This year, the Yankees are paying more than $15 million for the pitcher, and to say he is under performing is a gross understatement.
Sabathia, a notoriously slow starter, is 1-3 with a 4.85 ERA and just 24 strikeouts in 39 innings of work.
Yankees fans expect big results to accompany big contracts, and they're just not getting it from this preseason Cy Young favorite.
Chance for Revival? Hmm...This is a tough one.
While Sabathia has gotten off to slow starts before (IE: last year), perhaps all those complete games he threw down the stretch really did take a toll on his arm.
Stay tuned, because his next couple of starts could determine his future as a staff ace on your fantasy team.
If he doesn't do well, dont worry. There are always people willing to take a flyer on him who will fork over plenty of talent in a trade. Just don't expect first round caliber talent. Not anymore.
Keep Reading