The 2013 Nathan's Hot Dog Eating Contest is set to commence on Independence Day, as Joey Chestnut and Sonya Thomas will look to defend their men's and women's titles in Coney Island.
Fans will come in droves to see some of the world's most impressive eaters take the stage and attempt to eat as many hot dogs as they can in 10 minutes, as evidenced by this post from Nathan's Hot Dogs on Twitter:
Cant wait to watch over 40,000 people watch the Nathan's Hot Dog Eating Championship in 2 days @eatingcontest pic.twitter.com/LbB2em7t1j

— Nathan's Hot Dogs (@NFHotDogsCanada) July 2, 2013
This year marks the 98th consecutive time the event has been held, and according to this press release from Major League Eating (also known as the International Federation of Competitive Eating), the contest will be free and open to the public.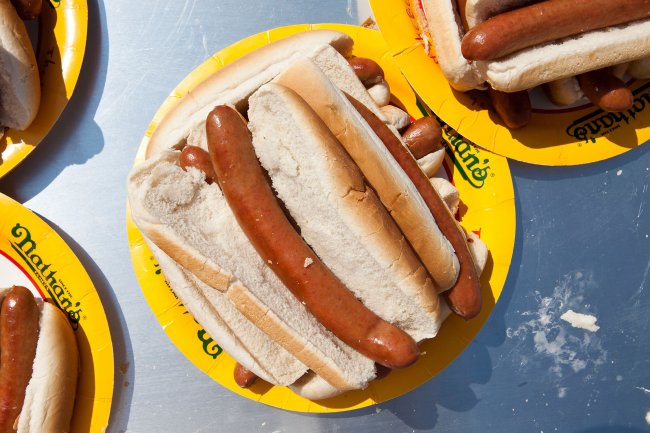 Andrew Burton/Getty Images
A total of $40,000 in prize money is up for grabs between the men's and women's divisions, and if things hold true to the format of last year's allocation (via IFOCE.com), a $20,000 purse will be allocated to each division.
An official list of the eaters vying to take home the Nathan's championship belt has not yet been released.
Don't be fooled if you're usually the big eater at family gatherings—this contest is for the best eaters on the planet.
As you can see in this tweet from the New York Mayor's office, even the weigh-in is a big deal:
It's a July 3rd tradition! Annual weigh-in before tomorrow's Nathan's Famous Hot Dog-Eating Contest: pic.twitter.com/glODFqdDPv

— NYC Mayor's Office (@NYCMayorsOffice) July 3, 2013
With ESPN gearing up to provide full television coverage of the event on Thursday and the threat of a new record always looming, this year's eating showdown has a chance to be the best contest ever.
Check out the sections below for full event information, including where to find the live stream and an online viewing guide for those watching at home.
2013 Nathan's Hot Dog Eating Contest Information
When: Thursday, July 4
Time: Women's Championship, 11:30 a.m. ET; Men's Championship, 12:30 p.m. ET
Where: Nathan's Famous Restaurant, Coney Island
Watch: ESPN 2 (Live at 12 p.m. ET), ESPN (tape delay at 1 p.m. ET)
Live Stream: ESPN3.com
Online Viewing Guide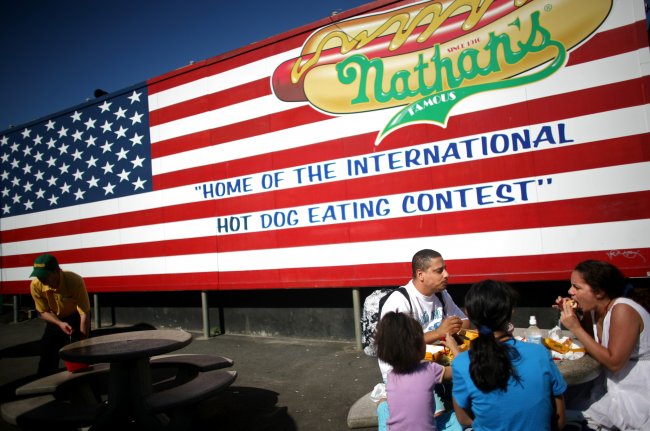 Yana Paskova/Getty Images
As you can see in this tweet from Coney Island, we've come a long way since the early days of the Nathan's Hot Dog stand:
What a great throwback pic!RT @newyorknatives: Nathan's Hot Dog Stand, Coney Island. July 1939 #Vintage #NY pic.twitter.com/hiYKuSTjJ5

— Coney Island (@ConeyIslandFun) April 8, 2013
The format for this year's men's and women's contests will be similar to the 2012 contest. A long stage will house the competitors in front of sizable crowds in Coney Island, but all eyes will be on the current champions when things get underway.
Sonya "The Black Widow" Thomas continued her reign as the only woman to ever win the women's contest last year, and in 2013, she'll go for title No. 3 while trying to break her own world record.
Thomas finished with 45 hot dogs and buns in Coney Island in 2012, and she's one of the best eaters in the entire competition—gender aside.
Juliet Lee was second in 2012, finishing with 33 HDBs. Michelle Lesco finished third, but if Thomas is on top of her game, we should be talking about a third straight win for "The Black Widow" when the 10-minute buzzer sounds.
On the men's side, it's all about Joey "Jaws" Chestnut.
The six-time contest winner is approaching unprecedented territory as he prepares for the 2013 event. Chestnut can become the only person to ever win seven Nathan's Hot Dog Eating Contests with another victory in Coney Island on Thursday.
He's certainly showing no lack of confidence:
@OddsShark the over is a safe bet.

— Joey Chestnut (@joeyjaws) July 3, 2013
Chestnut broke his own record by eating 68 hot dogs and buns during the 2012 event, besting the second-place competitor (Tim "Eater X" Janus) by 16. Patrick Bertoletti finished third in 2012 with 51.
While it's clear the reigning champions are going to once again be the favorites on Thursday, that's no reason not to tune in and let your jaw drop in wonder as these eaters do what they do best—eat.
Follow B/R's Ethan Grant (@DowntownEG) on Twitter.