Examining Baltimore Ravens' Offseason and Key Preseason Positional Battles
Ronald Martinez/Getty Images

The Super Bowl champion Baltimore Ravens lost more starters this offseason than any defending title squad in the Super Bowl era.
Forget about that.
Much has been made of Baltimore's tumultuous offseason of retooling and adjusting. In an AFC North division loaded with contenders, losing eight starters following a championship run could easily be the team's kiss of death.
But general manager Ozzie Newsome is one of the best in the business at restocking talent through both free agency and the draft. With a talented young core already in place, Newsome went to work to make up for some big losses—and he did a tremendous job.
With Ed Reed, Bernard Pollard, Paul Kruger and Dannell Ellerbe, Cary Williams and Ma'ake Kemoeatu all departing the Ravens defense for free agency, center Matt Birk and linebacker Ray Lewis retiring and receiver Anquan Boldin finding a new home with the San Francisco 49ers following an offseason trade, Newsome had to do a tremendous job.
It wouldn't be easy, though. Joe Flacco's new $120.6 million contract gave the 57-year-old GM limited cap space with which to work—one of the biggest reasons he was forced to let a bevy of veteran starters walk without new contracts.
To offset some of those issues, Baltimore had to make the most of its draft selections.
The Ravens did a fantastic job keying in on value and positional needs in the early rounds of the draft, selecting potential starters in each of the first four rounds. Along with the free-agent acquisition of defensive lineman Chris Canty and pass-rusher Elvis Dumervil and an already talented core of role players and new starters, Baltimore shouldn't experience too many ill effects following the mass exodus of starters this offseason.
Especially with a healthy Terrell Suggs and Lardarius Webb returning.
Suggs and Webb combined to play in just 14 regular-season games in 2012, each dealing with serious injuries from which they both hope to rebound in 2013.
Webb—one of the best cover corners in the AFC North—tore his ACL and missed all but six games last year. Fresh off a 14-sack campaign in 2011, Suggs battled a torn Achilles tendon last season and never looked like his old self.
Provided Webb and Suggs are back to old form in 2013, there's no reason to believe the Ravens will experience much of a drop-off in defensive performance, even with more than half of their championship defense no longer on the roster.
All that said, Baltimore still faces some questions on the offensive side of the ball.
While some still question whether Flacco is an elite NFL quarterback, he just led his team to a championship with an underutilized running game and a relatively young receiving corps. Say what you will about his new contract, but quarterback isn't a position the team will have to worry about in the near future.
But that receiving corps did take a blow with the departure of Boldin, who likely would have been looking for a sizable contract this offseason. Torrey Smith and Jacoby Jones could be in line for even bigger seasons in 2013, though both must continue taking big strides this year.
We'll take a closer look at the Ravens' passing offense in the following slideshow, as well as their 2013 NFL draft class and a few positions to watch as the season draws near. Read on.
Begin Slideshow

»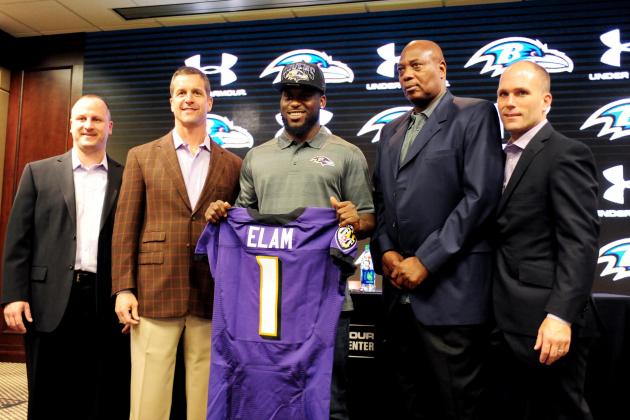 Evan Habeeb-USA TODAY Sports

Round 1 (Pick 32): S Matt Elam, Florida
Round 2 (Pick 56): LB Arthur Brown, Kansas State
Round 3 (Pick 94): DT Brandon Williams, Missouri Southern State
Round 4 (Pick 129): DE/OLB John Simon, Ohio State
Round 4 (Pick 130): FB Kyle Juszczyk, Harvard
Round 5 (Pick 168): OT Ricky Wagner, Wisconsin
Round 6 (Pick 200): DE Kapron Lewis-Moore, Notre Dame
Round 6 (Pick 203): OT Ryan Jensen, Colorado State-Pueblo
Round 7 (Pick 238): WR Aaron Mellette, Elon
Round 7 (Pick 247): CB Marc Anthony, California
Grade: A
Baltimore couldn't have done a much better job of fusing value and positional needs in the 2013 draft.
With Ed Reed and Bernard Pollard both finding new homes this offseason, the Ravens had to use an early-round selection on a replacement safety. What they found, however, was one of the class' top defensive backs with the last pick of the first round.
Florida's Matt Elam was widely considered the draft's second-best safety behind Kenny Vaccaro, but Elam slipped to the bottom of the first round and into Baltimore's lap, due in part to his size (5'10", 208 pounds). While Elam certainly doesn't have prototypical height for the NFL safety position, there's not much else to dislike about what he brings to the table.
Elam is a big hitter with above-average ball skills and the range to fill in at either safety position. Given the offseason acquisition of Michael Huff, however, the Florida product will likely be slotted at strong safety from Week 1.
Similarly, Ozzie Newsome found tremendous value in the second round in Kansas State linebacker Arthur Brown—a versatile, physical defender who inexplicably slipped right into Baltimore's hands.
Brown played both inside and outside linebacker at Kansas State, tallying 100 tackles in 2012. At 6'0" and 241 pounds, he doesn't have ideal height for a 3-4 inside linebacker, but he has more than enough aggressiveness, physicality and football acumen to give the Ravens another quality option at the position.
In Brandon Williams and John Simon, Newsome also attempted to make up for the losses of Paul Kruger and Ma'ake Kemoeatu.
A defensive end at Ohio State, Simon will transition to outside linebacker to fill the pass-rushing role vacated by Kruger. The Ravens probably won't need him to take on a massive role this season, but he adds a lot of depth to Baltimore's pass rush and gives the team another option should Terrell Suggs not make a full recovery from last season's Achilles tear.
Williams is the kind of wide-bodied defensive tackle who can step in at the 0-technique role in Baltimore's 3-4 front in a rotational capacity. One of the best small-school prospects in the draft, Baltimore once again found tremendous value in selecting Williams near the end of Day 2.
Day 3 didn't yield as many high-value selections, but Baltimore did find a pair of talented offensive linemen to replenish the unit's dwindling depth, as well as another edge-rusher in Kapron Lewis-Moore and a high-upside small-school receiver in Aaron Mellette.
Newsome proved once again that he's one of the best in the NFL at replenishing talent through the draft. In all, there's little bad to be said about what Baltimore did on draft day.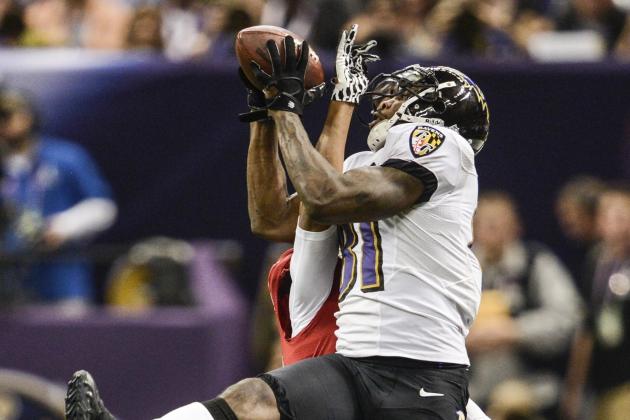 Jack Gruber-USA TODAY Sports

Baltimore didn't field a particularly deep group of receivers last season, but the steady production of Torrey Smith paired with the big-play ability of Jacoby Jones and veteran experience of Anquan Boldin gave Joe Flacco plenty to work with.
Smith and Jones have another year of first-team experience under their belts, but Boldin was handed his walking papers for a sixth-round pick. Someone is going to have to fill that void.
As noted by Garrett Downing of BaltimoreRavens.com, Tandon Doss, Deonte Thompson, David Reed, Tommy Streeter and LaQuan Williams were all in the mix for reps during OTAs, each competing to fill that void. Given Jones' importance on special teams, the No. 2 spot is essentially up for grabs as well, though Jones won't be relinquishing a spot on the offensive depth chart this season.
Flacco doesn't feel that there's a big difference in talent with Boldin gone, though he is looking for one of the young receivers on the roster to step up, as quoted by Downing:
One of the biggest things about Anquan is that he knew he was the man. So, when he went out there, he didn't care what happened. He was the man. You don't realize how much that helps out your play and your team's play. And when these young guys can get to the point where they're out there and their attitude is that, they have all the ability in the world, and I feel very confident with those guys.
With both the No. 3 and No. 4 spots still up in the air, it may take the entire offseason to decide on who will fill those roles, however.
Doss is arguably the most experienced option of the group. Behind Smith, Jones and Boldin, the third-year receiver caught seven passes for 123 yards and a touchdown, followed by Reed and Thompson with five catches each.
Obviously that's not the kind of experience a team would like to have in its potential No. 3 and No. 4 receivers, but no other receiver on the current roster caught a single pass last year. Limited experience is sometimes better than no experience at all, especially in this case.
Streeter and Williams could certainly impress this offseason, but neither should be considered a likely candidate to secure those roles. With Ray Rice, Bernard Pierce, Dennis Pitta and Ed Dickson all in line for their typical share of targets, there simply won't be a need for a receiver depth chart more than five players deep.
The talent is there, but this group of receivers needs to impress this offseason. Given the team's inexperience at the position, receiver will remain a big question mark entering the 2013 season.
Projected WR Depth Chart
| | |
| --- | --- |
| No. 1 | Torrey Smith |
| No. 2 | Jacoby Jones |
| No. 3 | Tandon Doss |
| No. 4 | David Reed |
| No. 5 | Deonte Thompson |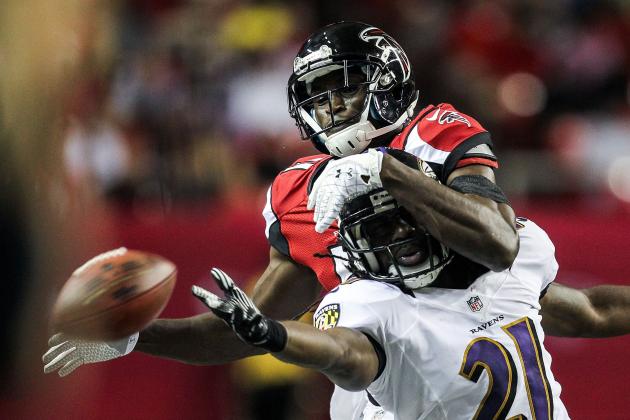 Daniel Shirey-USA TODAY Sports

The loss of Ray Lewis, Dannell Ellerbe and Paul Kruger was a major focus this offseason, and while that trio was instrumental in much of the Ravens' success last year, their secondary is an even bigger concern heading into the 2013 season.
Baltimore replaced Bernard Pollard and Ed Reed with the acquisitions of Matt Elam and Michael Huff, respectively, and there isn't really much competition at either position. Apart from James Ihedigo—in his second season with the Ravens—no other safety on the roster should push either player for the starting role.
At cornerback, however, there's a lot more uncertainty to sort through.
If Ladarius Webb makes a full recovery, he'll have the No. 1 cornerback spot locked down. Beyond Webb, things get a little more interesting.
Corey Graham returns with a legitimate shot at securing the No. 2 role after filling in for Webb last season, but he'll be competing with 2011 first-round pick Jimmy Smith, who, according to Aaron Wilson of the Baltimore Sun, has made some big strides this offseason:
With more diligent preparation this offseason having lost 10 pounds after taking up a boxing regimen, the 2011 first-round draft pick has impressed the coaching staff with how seriously he's taking his job after a lackluster first two seasons. Smith is building on the momentum he started in the postseason.
Every team needs at least three starting-caliber cornerbacks, and as long as all three remain healthy, that shouldn't be an issue for the Ravens this season.
Chykie Brown and Chris Johnson will also return in 2013, but neither saw much action on the defensive side of the ball last season. Brown played in 16 games—mostly on special teams—while Johnson played in just five contests with the Ravens in 2012.
Baltimore has plenty of depth to work with, but depth will go out the window if Webb doesn't remain on the field in 2013.
The biggest question mark facing Baltimore's secondary will be how easily Huff and Elam transition to the starting safety roles, however. Should either player struggle in 2013, there may be legitimate reasons to worry about how the team will hold up against the more explosive passing offenses on its 2013 slate.
Projected Secondary Depth Chart
| | |
| --- | --- |
| CB1 | Lardarius Webb |
| CB2 | Corey Graham |
| Nickel | Jimmy Smith |
| Sub-Package | Chykie Brown |
| FS | Michael Huff |
| SS | Matt Elam |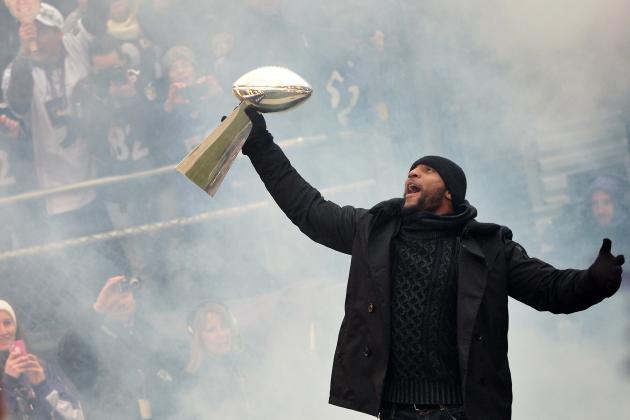 Patrick Smith/Getty Images

Losing a first-ballot Hall of Famer to retirement is never easy, especially when his departure is paired with the loss of another starting-caliber linebacker and talented pass-rusher.
With Dannell Ellerbe and Paul Kruger signing elsewhere in free agency, it was clear Baltimore would be looking for replacements on either the free-agent market or in the NFL draft. Given their limited cap space, the Ravens opted mostly for the latter option—and they found some tremendous talent in doing so.
Second-rounder Arthur Brown is a fantastic fit at inside linebacker in Baltimore's 3-4 front, and he'll likely be given an opportunity to prove it this season next to the team's third-leading tackler in 2012, Jameel McClain. While Lewis' loss certainly stings, Baltimore isn't lacking talented replacements to fill the void.
Third-year linebacker Josh Bynes gives defensive coordinator Dean Pees a little extra depth at the position, and there's reason to be hopeful that the trio can facilitate a smooth transition away from the Lewis era. Inside linebacker will be a position to keep an eye on, but it shouldn't be as big a concern as many thought it would be following Lewis' retirement.
Similarly, the Ravens shored up the outside linebacker position with the free-agent acquisition of Elvis Dumervil, who now reunites with linebackers coach Don Martindale. Martindale was instrumental in Dumervil's tremendous success with the Denver Broncos in 2009, and will look to replicate similar results in 2013.
Dumervil will be transitioning away from the one-gap 4-3 scheme he played in Denver, but he shouldn't struggle with the change. At its core, the 3-4 outside linebacker position is all about setting the edge and getting pressure on opposing quarterbacks—two things he excelled at with the Broncos.
Provided Terrell Suggs is healthy, Baltimore's pass-rushing duo will remain a formidable unit, especially with Courtney Upshaw, Pernell McPhee and John Simon in the mix.
Neither Suggs nor Dumervil is particularly adept at filling every requirement of the 3-4 outside linebacker position. Both can slide down to the end of the line in nickel and dime packages, but the Ravens will likely rely on Upshaw and McPhee to play a big part in the pass coverage aspects of the position.
That's not a bad thing, either. Despite losing Kruger to free agency, the Ravens enter the 2013 season with plenty of depth at each linebacker position.
Again, time will be the ultimate test for this linebacking corps going forward, but there's no shortage of talent or depth. Given Ozzie Newsome's history of retooling at key positions, Ravens fans shouldn't be too concerned with how the unit performs this season.
Projected Linebacker Depth Chart
| | | |
| --- | --- | --- |
| ROLB | Elvis Dumervil | Courtney Upshaw |
| RILB | Arthur Brown | Josh Bynes |
| LILB | Jameel McClain | Albert McLellan |
| LOLB | Terrell Suggs | Pernell McPhee |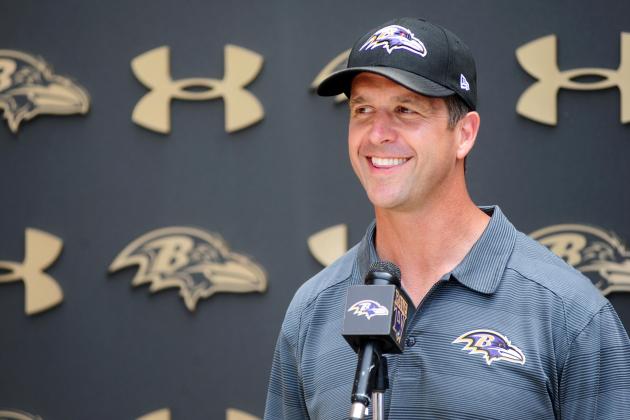 Evan Habeeb-USA TODAY Sports

*For a complete look at Baltimore's 2013 schedule, check out NFL.com.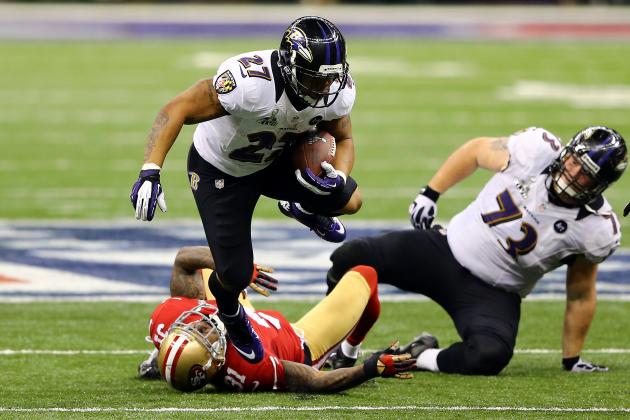 Al Bello/Getty Images

Despite Baltimore's offseason losses, there's no reason to be concerned about its defense heading into the 2013 season. Ozzie Newsome did a terrific job replacing the talent his team lost, and the Ravens should once again field a top-10 unit this season, even in a loaded AFC North.
But Baltimore's offense is a different story.
The Ravens have the potential to be a top-10 offensive team this year as well, but they need to start relying on their most reliable offensive weapon on a more consistent basis.
Ray Rice is the engine that can drive Baltimore's offense, as he proved on multiple occasions in 2012. Unfortunately, those occasions were scattered throughout the regular-season slate as former offensive coordinator Cam Cameron underutilized his best weapon.
After Jim Caldwell took over play-calling duties, Rice saw a little more consistency in his workload, though he was going up against some of the toughest defenses in the league at that point in the season, his production declining as a result.
But with Caldwell at the helm, Rice has the potential to do much bigger things in 2013. If the Ravens hope to keep their offense moving forward—and negate the loss of Anquan Boldin—Rice will need to continue playing a huge role in the team's offense.
Lots of uncertainty. Lots of potential.
Everyone was ready to hit the panic button when Baltimore lost a bevy of veteran talent this offseason. Everyone except for Newsome, it seems.
The Ravens have as much talent as any team in the division, and there's no reason to believe they can't put together another division-leading campaign in 2013. As is often the case, though, their success will be largely dependent on how the AFC North rebounds.
Like the Ravens, the Pittsburgh Steelers lost a lot of talent this offseason on the heels of a deflating 8-8 campaign and a missed opportunity for a playoff berth. Still, Newsome has a peer in Steelers general manager Kevin Colbert, and fans should expect nothing short of a fierce battle for the division running through both squads.
The Cincinnati Bengals will again be in the conversation for the AFC North title this season, and the Cleveland Browns made a lot of progress this offseason as well. As it stands, the division looks to be as strong as ever entering the 2013 campaign.
Prediction: 11-5, First in AFC North
I've also predicted the Steelers to record an 11-5 record this season, and at this point in the year, it's impossible to predict tiebreakers.
Suffice it to say one of the two squads will be in line to retain the division title this season, despite Cincinnati's resurgence of late. Anything is possible, but it's hard to give the Bengals the advantage after Baltimore and Pittsburgh's string of division titles in recent years.
That said, the Ravens don't face the easiest schedule this season, starting with a Week 1 contest against the Denver Broncos.
Baltimore also faces non-division matchups with AFC powerhouses in the Houston Texans and New England Patriots, as well as the NFC juggernaut Green Bay Packers.
Realistically, Baltimore could win anywhere from nine to 13 games this season based on offseason moves and 2013 opponents. We'll temper expectations and split the difference.