The 2013 Nathan's Hot Dog Eating Contest will get underway on the Fourth of July on Thursday and mark the 98th edition of the competitive eating showcase in Coney Island, New York.
Joey "Jaws" Chestnut is once again the headliner as the six-time defending champion at the corner of Surf and Stillwell Avenues. He set a world record by downing a ridiculous 68 hot dogs and buns in 2009, and matched that feat in his triumph last year.
Women just begun competing in 2011, and the only champion so far has been Sonya Thomas, who devoured 40 hot dogs and buns in her inaugural win and 45 in 2012.
Below is an overview of when the proceedings will begin, as well as a complete guide to the extraordinary eating that will ensue in a 10-minute spurt on Independence Day.
Note: All information, unless otherwise indicated, was obtained from Nathan's Famous' website and IFOCE.com.
When: Thursday, July 4
Where: Coney Island, New York
TV: ESPN (1 p.m. ET), ESPN2 (Noon ET)
Live Stream: Watch ESPN
*Women's Championship begins at 11:25 a.m.
History and Stipulations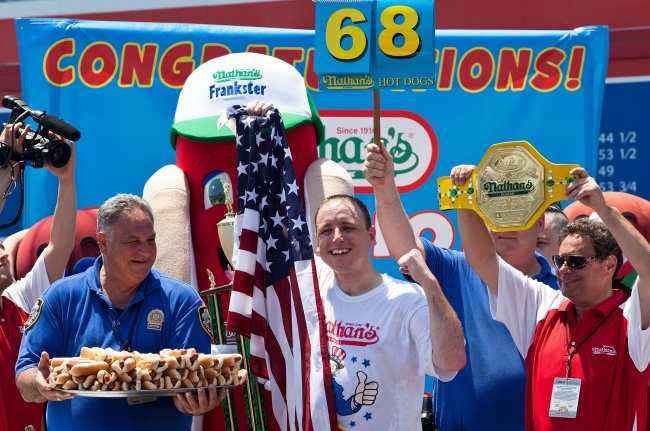 Andrew Burton/Getty Images
Ever since the International Federation of Competitive Eating sanctioned this event in 1997, competitive eaters must be under contract with the federation to participate.
Takeru Kobayashi is the man whose consecutive wins streak was matched by Chestnut last year, but the Japanese sensation has not partaken in the event since 2009. He refuses to sign on with the federation.
That last year Kobayashi was in the contest was also when Chestnut established his current record. In a memorable showdown, Kobayashi fell just short, eating 64 hot dogs and buns of his own.
The event begun in 1916 at Nathan's Famous Inc.'s flagship restaurant on the Coney Island boardwalk, and has been missed only twice since then due to political protests in 1941 and 1971.
It's only gotten bigger over the years, and now that it will be broadcast and streamed everywhere, ratings figure to be higher than ever. Chestnut has a great chance to break a tie with Kobayashi's six straight wins, so that should only add to the captivation.
The Road to Coney Island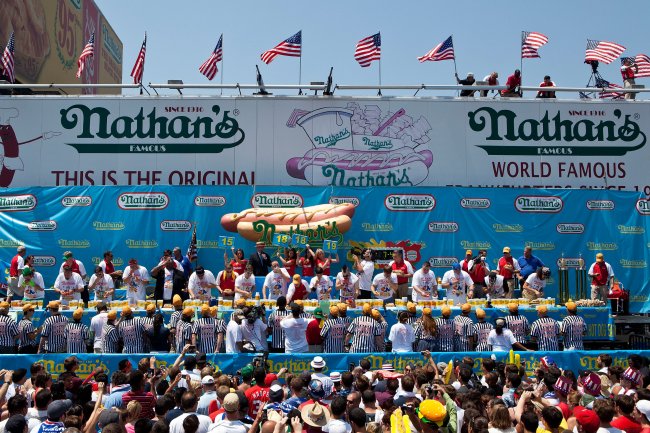 Andrew Burton/Getty Images
2013 was the first year that Nathan's Famous Inc. decided to hold the opening qualifying event on March 23 at its flagship restaurant on the Coney Island boardwalk preceding the national showcase on ESPN.
There were 12 cities in all that participated on the qualifying tour, and they were all treated to the authentic taste of a Coney Island hot dog in the process.
Recent estimates indicate that 40,000 fans turn out to watch competitors scarf down exorbitant amounts of food in a condensed time span. It's almost as if these eaters are going to duke it out, because each has to weigh in as part of the pre-contest ordeal.
Chestnut tipped the scales on Wednesday, as documented by WNBC-TV reporter Tracie Strahan:
Joey Chestnut weighs in w/other competitors ahead of the annual Nathan's Famous hot dog eating contest pic.twitter.com/XvssFhCPG6

— tracie strahan (@tstrahan4NY) July 3, 2013
One huge positive is that despite the damage done to the island's boardwalk from Hurricane Sandy this past year, the event will run as planned.
Predicted Winners: Joey Chestnut and Sonya Thomas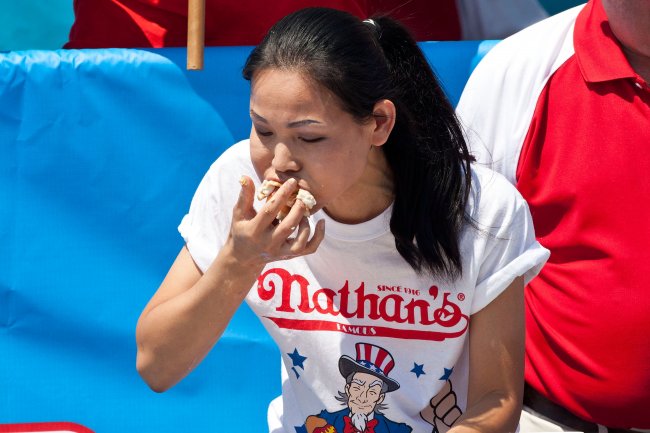 Andrew Burton/Getty Images
Go with the favorites yet again, because there's nothing to indicate that they won't emerge victorious with the champions' mustard yellow belt and pink belt respectively.
ESPN's Darren Rovell highlights just how significantly favored Chestnut is—to the point where betting on Chestnut to win would be like throwing money away given such favorable odds:
Not surprisingly, @joeyjaws is a 1/10 favorite to win the Nathan's Hot Dog contest from @BovadaLV. The over/under is 63 1/2.

— darren rovell (@darrenrovell) July 2, 2013
Which favorite is liklier to lose?
Matt Stonie was last year's runner-up, but he was 22 short of Chestnut's mark with 46 hot dogs and buns consumed. Even a massive letdown by Chestnut should still equate to a comfortable victory.
The 45-year-old Thomas is truly a model of sheer will and determination. At just 5'5" and 100 pounds, she may not look like a chomping champion, but she'll force down just about any type of food with the best of them.
Considering she's won the only previous two events, why not pick her again? After all, her biggest threat in Miki Sudo (No. 7 in the Major League Eating rankings) announced that she'd sit out on Twitter:
I'll be sitting out on Thurs, but all the best to everyone competing! Have a great 4th, and I'll catch you at the next one:)

— Miki Sudo (@OMGitsMIKI) July 1, 2013
Some sports are worth wagering on, but in this instance, just sit back and watch the prohibitive favorites do their masterful work in rapid food consumption.