2014 NBA Title Odds, Post-Dwight Howard Signing
Jayne Kamin-Oncea-USA TODAY Sports
Dwight Howard's decision shifts the title odds for next season, but does LeBron James remain king?
The chase for Dwight Howard has ended, and with the collapse of free agency's largest domino, the rest of the offseason can now move along.
According to a tweet from the big man himself, Howard has selected the Houston Rockets after an initial week of free agency that's jolted the title odds in the NBA. The fallout of the move certainly has some significance, but will it really matter?
The Rockets have added one of the league's elite centers to go along with James Harden, but does that place them above franchises like the Oklahoma City Thunder or San Antonio Spurs?
After less than a week of free agency and one whopping decision, the title odds continue to shift.
Read on to find out the current title odds for all 30 NBA teams in 2013-14, starting from the bottom.
Begin Slideshow

»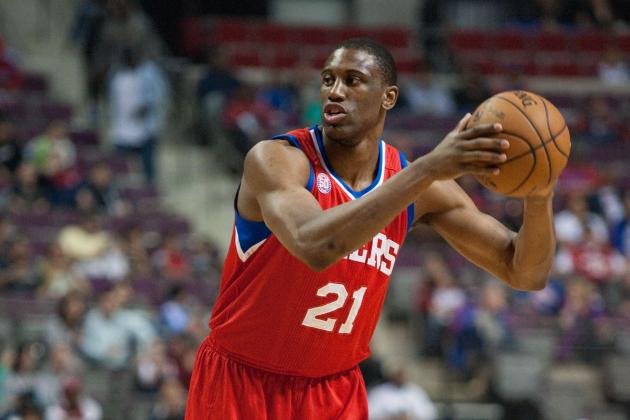 Tim Fuller-USA TODAY Sports

The Philadelphia 76ers are the furthest away from a title in 2013-14.
The 76ers still don't have a head coach, they traded away All-Star Jrue Holiday...and yet they actually seem committed to a better direction.
General manager Sam Hinkie appears geared toward building for contention rather than settling in mediocrity. Rookies Nerlens Noel of Kentucky, who was obtained in the Holiday trade, and Michael Carter-Williams out of Syracuse are a nice start.
The 76ers aren't just building young talent though, they're also saving cash for a potential big free agent splash, not this summer but next. A Kobe Bryant return to Philly, anyone? You never know.
Philadelphia also added an additional first-round pick for next season's deeper draft. Let the Andrew Wiggins sweepstakes begin.
The 76ers are gearing toward the future, but that also means they won't compete much next season.
Odds: 300-1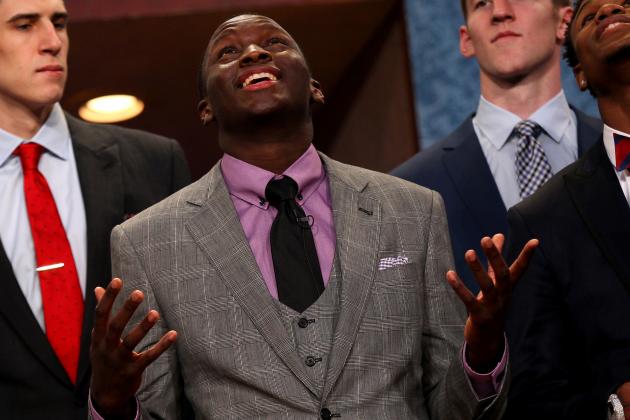 Mike Stobe/Getty Images

The Orlando Magic are at least getting closer to relevance in 2013-14.
The very worst team in the NBA last season collected another piece for its rebuilding efforts in drafting University of Indiana shooting guard Victor Oladipo with the No. 2 overall pick in this year's draft. He brings athleticism and elite defense to the franchise, and he appears to have the qualities of a future leader.
The Magic won't be ready to compete next season, but there is something building for Jacque Vaughn's squad.
General manager Rob Hennigan is on the right track. He's combining character with talent, adding to last year's pick of Andrew Nicholson and the trade that brought Moe Harkless. A core is building for Orlando that also includes last year's surprise contributors, Nikola Vucevic and Tobias Harris.
Arron Afflalo, the team's leading scorer, was rumored by ESPN.com in trade talks with the Los Angeles Clippers a few weeks ago, but that deal didn't happen. It remains to be seen whether or not he'll be traded this offseason.
Odds: 275-1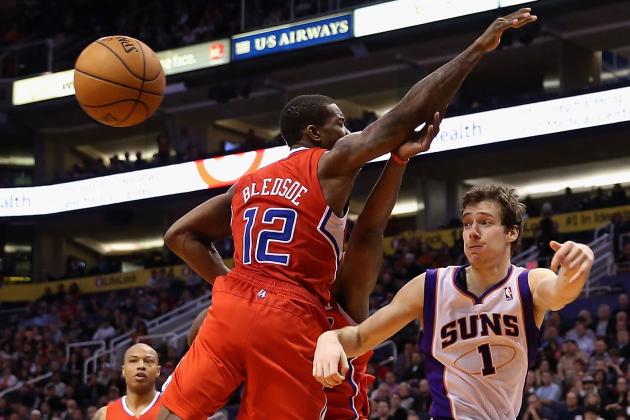 Christian Petersen/Getty Images

The Phoenix Suns are remodeling the house once again. But the floor plans of general manager Ryan McDonough are far different than those of the previous regime.
The offseason started with a splash, and the team received a tremendous upgrade by trading for Eric Bledsoe.
Bledsoe's excellent defense will help one of last season's worst defensive teams, and his offensive pace will enhance Phoenix's transition game. He may share the backcourt with Goran Dragic at times, or the Suns can further a different direction.
A few weeks ago, the Suns selected 7'1" Ukrainian center Alex Len with the No. 5 overall pick in the draft, despite already having a solid 29-year-old center in Marcin Gortat.
The rebuilding process, however, will keep the Suns out of contention again in 2013-14.
Odds: 275-1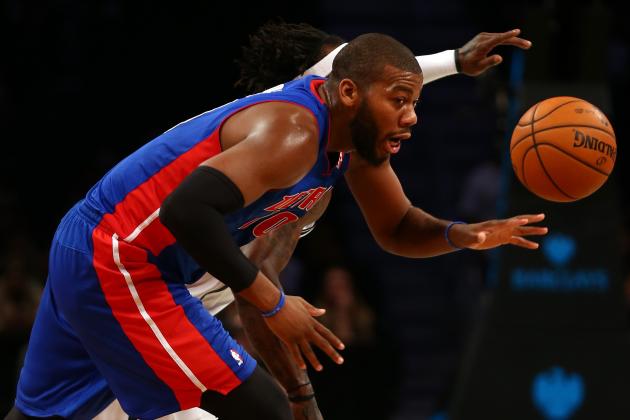 Elsa/Getty Images

The Detroit Pistons have a frontcourt of the future established in Greg Monroe and Andre Drummond, and now add to that a legit star power forward in Josh Smith. They also have nice young pieces in Brandon Knight and Kyle Singer.
That's where the current upside of personnel ends though.
Will Josh Smith be able to expedite the Pistons rebuild? Perhaps, but don't expect one gunner stretch 4 to get this team any closer to the playoffs with major holes left to fill at the point guard and wing positions.
Perhaps they'll look to flip one of their young front-court studs for a guy like Rajon Rondo. We'll see if Joe Dumars has something clever up his sleeve. Stay tuned.
Odds: 250-1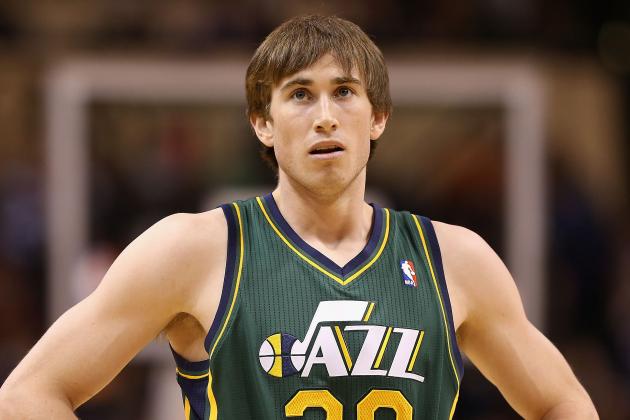 Christian Petersen/Getty Images

The Utah Jazz entered the offseason with plenty of options, but after the first week of free agency, they look like they are opting against taking the competitive route in 2013-14.
First, Al Jefferson agreed to a deal with the Charlotte Bobcats. Then, the Jazz took on the expiring contracts of Andris Biedrins ($11 million), Richard Jefferson ($9 million) and Brandon Rush ($4 million) in exchange for first-round picks in 2014 and 2017, per Adrian Wojnarowski of Yahoo! Sports. Furthermore, the team also lost out on the option to bring back Paul Millsap after he agreed to a deal with the Atlanta Hawks on Friday, as first reported by Ken Berger of CBS Sports.
The Jazz will develop Trey Burke, Derrick Favors, Gordon Hayward and Enes Kanter for now, and they have plenty of cash and great draft positioning for the summer of 2014.
Odds: 200-1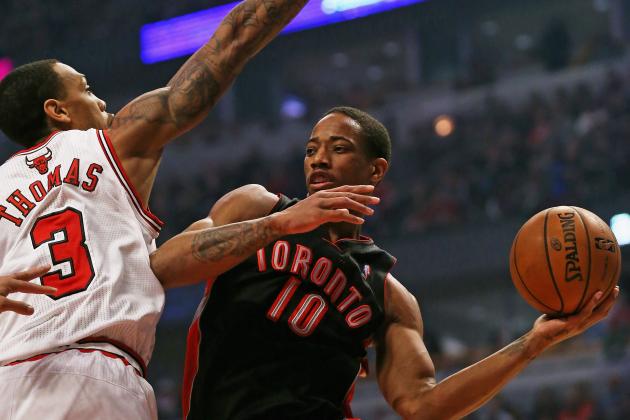 Jonathan Daniel/Getty Images

The Toronto Raptors are caught in the worst spot for a franchise: do you tear down and rebuild or move ahead in the hopes of mediocre competition?
Bringing in a new decision-maker in Masai Ujiri creates a new path at least.
Trading Andrea Bargnani to get rid his contract and gain draft picks was an initial sign that the Raptors are looking toward a revamp. But the current contracts of Rudy Gay, DeMar DeRozan and Amir Johnson would be tough to move without taking money back.
It's not that the contracts of Gay or DeRozan are bad ones, it's just that it creates a dangerous balance of paying to win now but trying to rebuild for later. The Raptors would be in a much better position under the cap next season, especially if Gay was moved, but attracting top-tier free agents to Toronto has never been easy.
Making the playoffs in the East is one thing, but becoming a title contender is far different.
Odds: 175-1
Bruce Bennett/Getty Images

The Milwaukee Bucks may base the direction of their franchise off of what Brandon Jennings decides to do in free agency.
If the team's restricted free agent guard decides to chase big money elsewhere and makes it clear that he won't stay long-term with the Bucks, then Milwaukee might look toward rebuilding.
The Bucks remain in a nice position, though, if Jennings returns, as they can amnesty the more than $13 million owed to Drew Gooden over the next two seasons and spend that money to structure long-term deals for both Jennings and Larry Sanders.
The team's underrated gem is Ersan Ilyasova, who is signed through 2015-16, with a team option for 2016-17. Also, Milwaukee will receive two second-round picks in the three-team trade that sent J.J. Redick and Jared Dudley to the Los Angeles Clippers this week.
The Bucks are in a good position, but they are vulnerable to dwelling in mediocrity. Keeping Jennings as a centerpiece with the young role players already in place could make for a larger splash in free agency in the future.
Odds: 150-1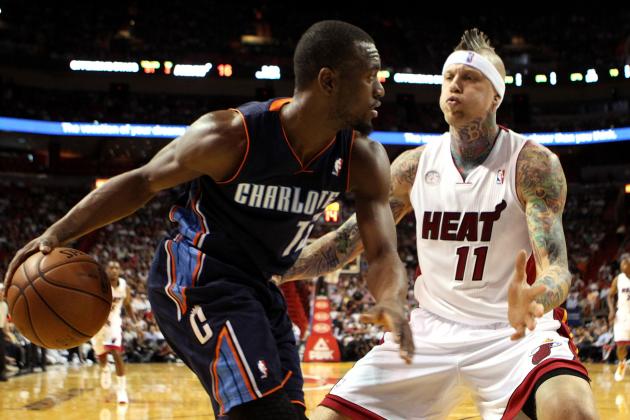 Marc Serota/Getty Images

The Charlotte Bobcats still have plenty of work to do under new coach Steve Clifford with a shaky roster that has less talent than a middle school play.
The Bobcats landed free agent power forward Al Jefferson earlier this week, though. He offers an immediate veteran presence and will act as an anchor in the middle. However, his three-year, $40.5 million contract may not be the best fit for a Bobcats team that is still a ways away from even sniffing title contention.
Ben Gordon remains the only other true veteran member of the team.
The team drafted Indiana's Cody Zeller at No. 4 overall in June, despite cries that either Nerlens Noel or Ben McLemore had a higher talent ceiling. Zeller is a fine addition, however, as he can stretch the floor and offers versatility as a seven-footer who can shoot.
The Bobcats improved a bit with Jefferson, but they're still a lottery team.
Odds: 150-1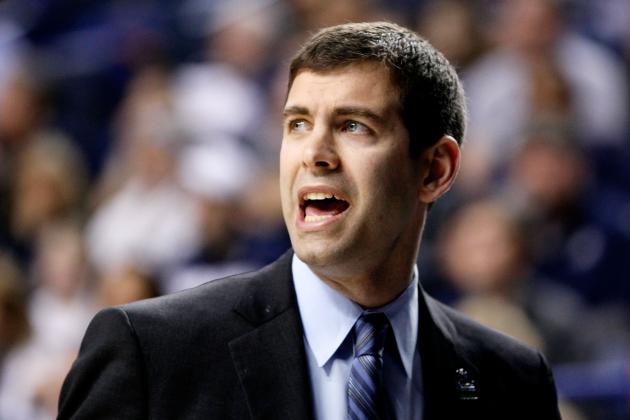 Kevin C. Cox/Getty Images

Much has certainly changed for the Boston Celtics.
New coach Brad Stevens will replace Doc Rivers, and he will be handed a roster that was stripped of Paul Pierce and Kevin Garnett. The Celtics currently belong solely to Rajon Rondo, with the help of Avery Bradley and Jeff Green.
The obvious statement: the Celtics have moved from being a contender in the East to a likely lottery team.
However, Stevens made his name—the one that earned him this Boston job—by always squeezing the most of his talent. While strategizing, recruiting and scheming for the college game is different than the landscape of the NBA, Stevens will still have the respect of his players for what he accomplished at Butler.
The Celtics aren't what they once were, but the surprising Stevens hire is perfect as the franchise transitions.
Odds: 150-1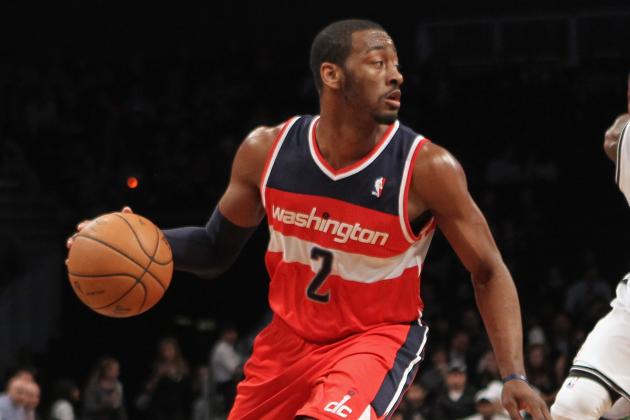 Bruce Bennett/Getty Images

The Washington Wizards are still piecing together a team around John Wall. Wall is a budding superstar, and last season, the Wizards played well when he was healthy.
The Wizards rewarded Martell Webster this summer for his play last season. Webster made himself indispensable in 2012-13, and the Wizards used their mid-level exception to sign him to a four-year, $22 million deal.
Washington also returned Garrett Temple while signing Eric Maynor to be the team's backup point guard.
The Wizards need frontcourt production from Emeka Okafor and Nene this season, but the health and success of Bradley Beal as a shooter is just as vital.
Otto Porter, the No. 3 overall pick in this year's draft, will begin to utilize more minutes at small forward as the season progresses.
The Wizards are still rebuilding, but they should take a step forward in 2013-14.
Odds: 125-1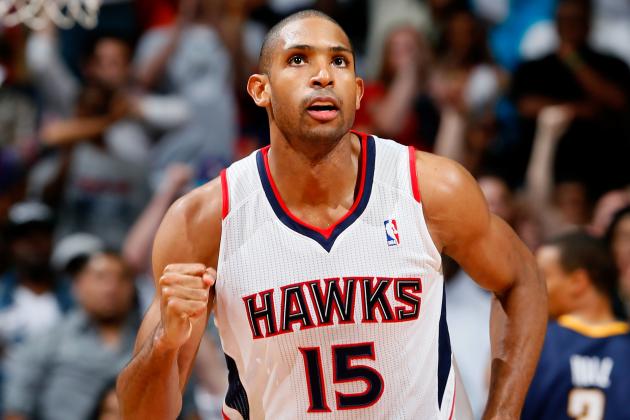 Kevin C. Cox/Getty Images

The team made a great move on Friday by signing former Utah Jazz power forward Paul Millsap to a two-year, $12 million deal. And even though Josh Smith is still mulling over his free agency possibilities, the team also brought back Kyle Korver for another four seasons.
Lou Williams is still recovering from ACL surgery, however, while Jeff Teague remains a restricted free agent. As the offseason goes along, though, the return of Teague seems more and more likely.
Right now, the Hawks are looking toward a level of mediocrity, but they have made a few nice moves this offseason with the option of still being able to bring Smith back as well.
Odds: 100-1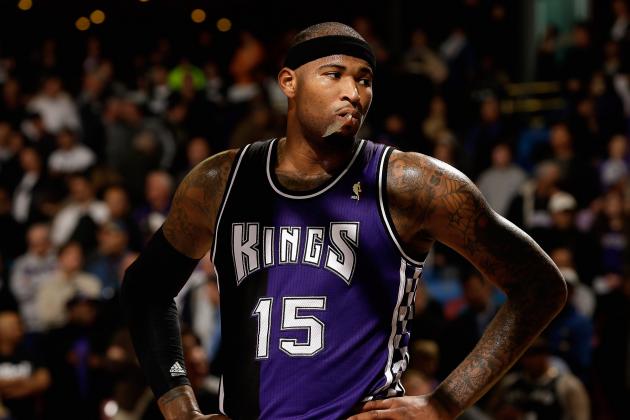 Ezra Shaw/Getty Images

The Sacramento Kings are progressing under new ownership.
There was an opportunity to overpay for Andre Iguodala, but the team stood its ground when they felt he was only using the Kings as leverage to sign elsewhere.
Sacramento didn't let Tyreke Evans walk without getting something in return, either, as a three-way sign-and-trade deal landed up-and-coming point guard Greivis Vasquez in Sacramento.
Sacramento is still in the midst of overhauling its roster, but it will not let go of center DeMarcus Cousins. Cousins is seeking a max deal or a trade to a team willing to give him a max deal, and it will be interesting to see how new ownership manages its top young piece.
The Kings will improve next season, but they still appear to be a non-playoff team.
Odds: 100-1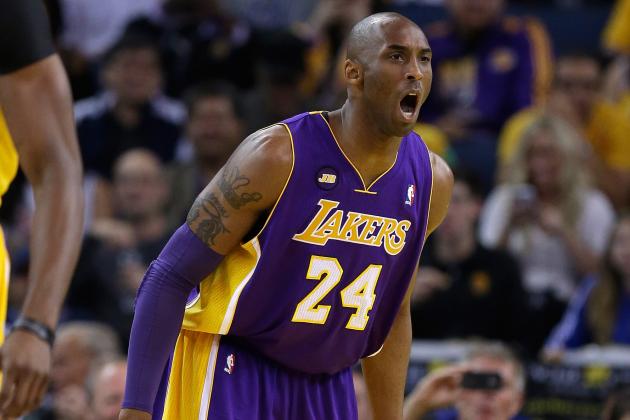 Ezra Shaw/Getty Images

The Los Angeles Lakers lost out on Dwight Howard, won't have a fully healthy Kobe Bryant for much of the season and are otherwise relying on Pau Gasol and Steve Nash to lead them in 2013-14.
In addition, the team is a financial mess (at least until the books clear after the upcoming season), and there's nary a competent role player to be seen.
Oh, and Mike D'Antoni never proved last year that he was the right coach for the current personnel on the roster.
Other than that, things are just great in L.A.
Odds: 75-1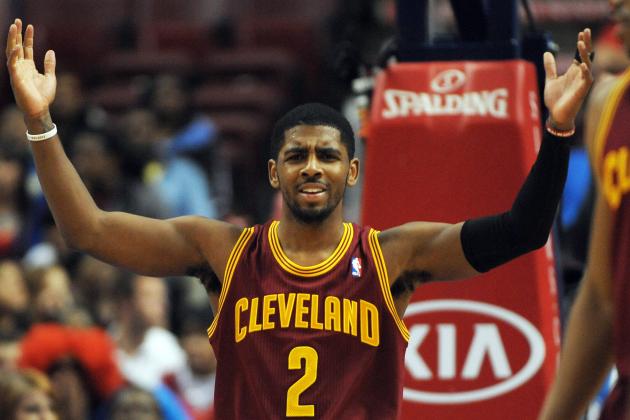 Eric Hartline-USA TODAY Sports

Armed with one of the league's brightest up-and-coming stars in Kyrie Irving, a handful of promising young players and this year's No. 1 overall pick in Anthony Bennett, the Cleveland Cavaliers appear poised to make a leap into legitimate playoff contention.
There are plenty of problems with Mike Brown's young roster, though.
Irving remains a poor defender, and it's unclear whether Tristan Thompson or Dion Waiters are prepared to function as above-average second options.
Nonetheless, a healthy season from Anderson Varejao and the continued development of Irving should help the Cavs play a few postseason games for the first time since LeBron James left town.
Don't expect much more than that, though.
Odds: 70-1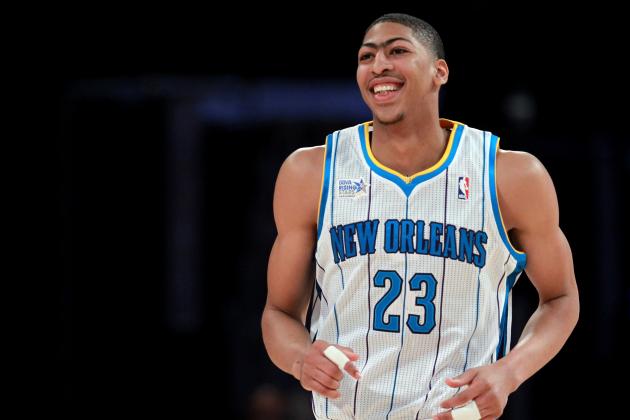 Ronald Martinez/Getty Images

It's fair to call the New Orleans Pelicans "promising," or even "dangerous." But it's also probably a bit early to call them contenders.
Anthony Davis remains one of the NBA's most tantalizing talents. His development means more to the franchise than anything else, but at least the front office has collected some talent with which to surround its centerpiece.
Jrue Holiday and Tyreke Evans should combine to form a capable three-guard rotation with Eric Gordon. And Ryan Anderson can help space the floor with his three-point stroke.
If things go right, the Pelicans could wind up being a perennial playoff threat in a couple of years. For now, though, think of them like the Western Conference's version of the Cavs—exciting and full of promise, but not quite ready for prime time yet.
Odds: 70-1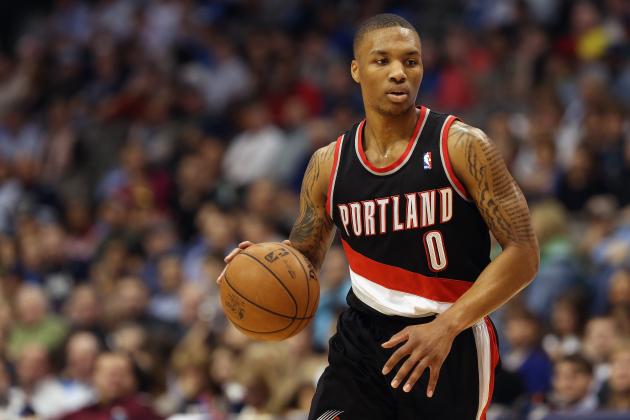 Ronald Martinez/Getty Images

The Portland Trail Blazers will go as far as Damian Lillard takes them, and the organization is hoping that last season's top rookie will blossom into a young leader capable of leading his team out of the middle of the pack.
Robin Lopez is on board this season via the three-team deal that notably sent Tyreke Evans to the Pelicans. And though the lesser Lopez twin might not seem like a big addition, his presence allows the Blazers' young bigs some time to develop in more limited roles.
Rookie C.J. McCollum will be looking to make Portland 2-for-2 in its mid-major draft selections, and LaMarcus Aldridge remains among the league's very best offensive big men.
Titles are a ways off, but the Blazers are headed in the right direction.
Odds: 70-1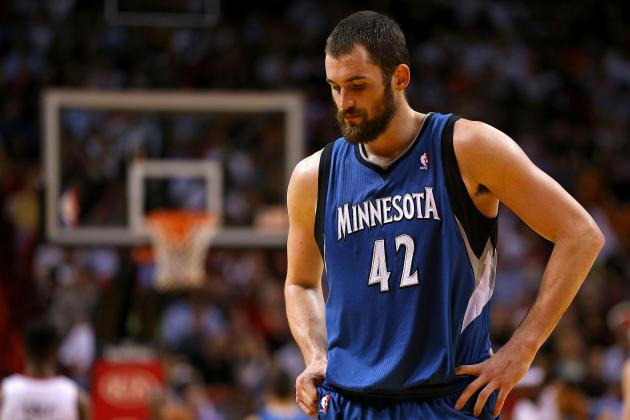 Mike Ehrmann/Getty Images

If Kevin Love is healthy and Ricky Rubio improves the further he gets from his torn ACL, the Minnesota Timberwolves are more than likely a playoff team in the crowded West.
Toss in the re-signed Chase Budinger and newly acquired Kevin Martin, and there's some real scoring punch in Rick Adelman's offense. Plus, rookies Shabazz Muhammad and Gorgui Dieng provide hope for even more development down the road.
Defense is going to be an issue, and the team's fate could largely hinge on what happens to restricted free agent Nikola Pekovic, but the Wolves are certainly more dangerous than they were a year ago.
Odds: 65-1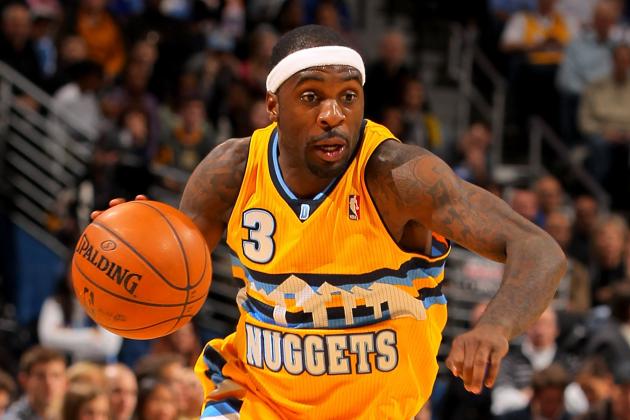 Doug Pensinger/Getty Images

Last year at this time, the Denver Nuggets were a preseason darling and a dark horse pick to win the West. Now, they're trying to recover from the loss of Andre Iguodala and just about the entire front office and coaching staff.
What a difference a year makes.
Not all is lost, though. Ty Lawson, Kenneth Faried and JaVale McGee are all young and in their prime. Plus, Danilo Gallinari will rejoin the squad sometime during the season after recovering from ACL surgery.
Denver is no longer a sneaky pick to win the West, and they're certainly not a real title threat, but they've still got better odds than most.
Odds: 50-1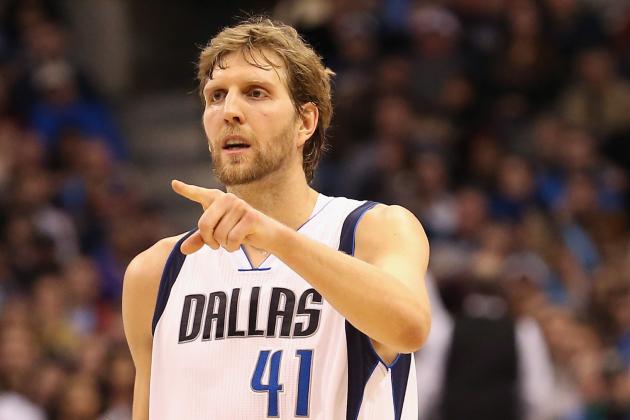 Ronald Martinez/Getty Images

Mark Cuban missed out on the big free-agent target for the second year in a row, leaving the Dallas Mavericks with Dirk Nowitzki and a handful of role players yet again.
Dallas still has a bunch of cash to spend on some consolation prizes this summer, but as Nowitzki continues to age, the team's title window is almost totally shut. Barring a massive, surprising free-agent haul, the Mavs are going to have to be satisfied with scrapping for a low seed in the West.
Odds: 50-1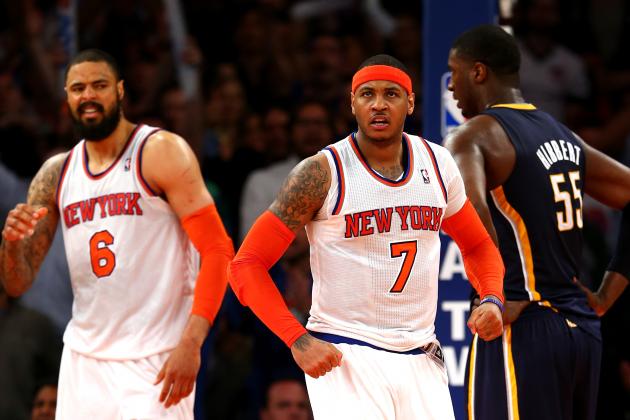 Elsa/Getty Images

The addition of Andrea Bargnani this week gives the New York Knicks a near total monopoly on low-efficiency offensive players who are allergic to defense, and the organization has clearly decided that more scoring is the answer to its playoff problems.
The Knicks are going to have a hard time stopping anyone, but there's no doubt that they'll light up scoreboards in much the same way they did a season ago.
Both J.R. Smith and Pablo Prigioni will be back next season, and the rest of the usual suspects (Carmelo Anthony, Raymond Felton, Tyson Chandler and Amar'e Stoudemire) are all ready for a deeper postseason run.
If Mike Woodson can find a way to get this group of gunners to stop anyone, a big playoff surge is possible.
Odds: 25-1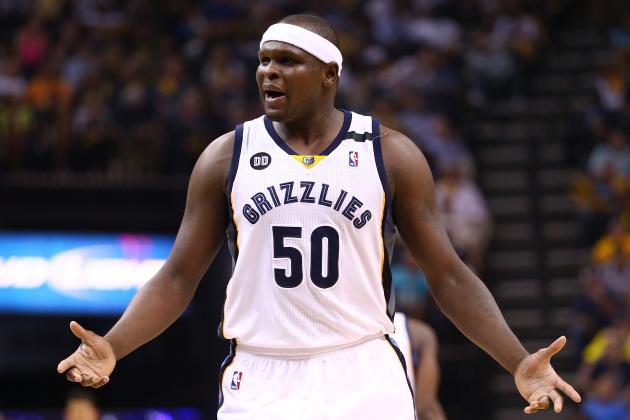 Ronald Martinez/Getty Images

The core of the Memphis Grizzlies will return for next season, even though last year's head coach Lionel Hollins will not.
The interior presence of Marc Gasol and Zach Randolph makes the Grizzlies a postseason threat again in 2013-14. Furthermore, Mike Conley has progressed into a top-level point guard to round out the team's top talent.
The inside, defensive style of the Grizzlies is strong in the regular season and powerful in the postseason.
New head coach and former assistant Dave Joerger can continue the same formula with a similar roster. Also, defensive stalwart and team spark plug Tony Allen re-signed with the team, and Jerryd Bayless also exercised his option to come back.
Memphis looks good heading into 2013-14.
Odds: 20-1
Jed Jacobsohn/Getty Images

The Golden State Warriors found a nice consolation to falling short in the chase for Dwight Howard.
The Warriors became more flexible in future spending when they added Andre Iguodala after shedding the salaries of Andris Biedrins ($11 million), Richard Jefferson ($9 million) and Brandon Rush ($4 million) in a trade to the Jazz that also sent first-rounders in 2014 and 2017 to Utah.
More importantly though, the Warriors now feature a starting lineup of Stephen Curry, Klay Thompon, Iguodala, David Lee and Andrew Bogut. Harrison Barnes and Draymond Green, following up on big rookie playoff runs, will add to the team's depth.
That squad can do damage.
With Iguodala and Thompson, the Warriors now have two elite perimeter defenders.
Of course, the Warriors might not be done. Even though a potential Howard trade fell through, the Warriors could still complete sign-and-trades for other names.
Jarrett Jack and Carl Landry, both renounced before the Utah trade, won't be re-signed by the Warriors now.
Odds: 16-1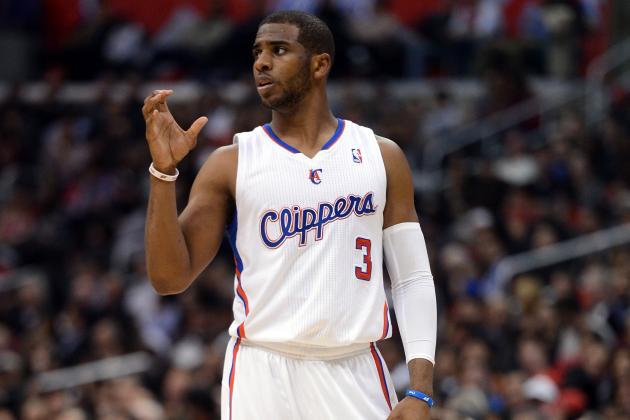 Harry How/Getty Images

The Los Angeles Clippers have done an incredible job so far this offseason.
Bringing back superstar point guard Chris Paul was priority No. 1, but bringing in a top-tier head coach in Doc Rivers may be just as monumental. Rivers has championship experience, something the L.A. Clippers franchise has never experienced. More importantly, he has a proven ability to work alongside superstars.
An adjusted roster will help, too. The Clippers' recent trade for J.J. Redick and Jared Dudley creates a formidable perimeter threat that will provide spacing for the team's offense.
Spreading the offense will help Paul's ability at point guard, and it will allow for Rivers to create further inside opportunities for Blake Griffin and DeAndre Jordan.
Jamal Crawford is the leader of the Clippers' bench, and there is no doubt that this team will be one of the top teams in the West, if not the entire league, this season.
Odds: 13-1
Elsa/Getty Images

Perhaps the Brooklyn Nets, more than any other team on this list, can make the case to be ranked higher.
The team did just bring in two of the league's most veteran superstars in Kevin Garnett and Paul Pierce, and now, the starting lineup is dangerously competitive with any team in the league.
Brook Lopez, Joe Johnson, Reggie Evans and new coach Jason Kidd will all look better next to the former Boston Celtics pair.
The biggest piece though is superstar point guard Deron Williams. Yes, don't forget he is still a superstar.
The Nets need to continue to be his team if they want to truly succeed. He will have plenty of reasons to defer to his teammates, but if he can standout as the true leader, the Nets will contend.
A higher ranking would come via the addition of more depth, which the team still lacks overall.
Odds: 13-1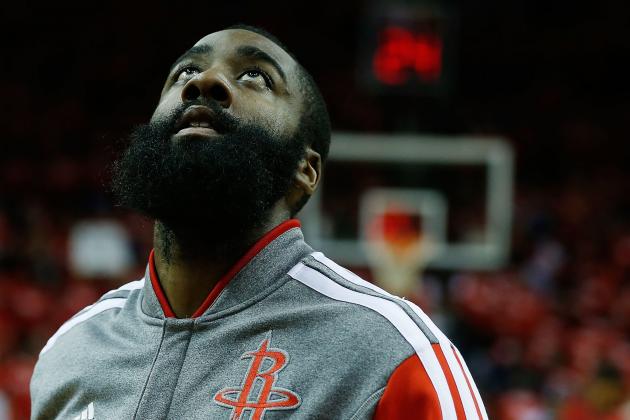 Scott Halleran/Getty Images

Dwight Howard is on board, James Harden is ready to build upon his breakout campaign and GM Daryl Morey can look down upon his creation with great satisfaction.
The league's most exciting offense figures to see a few tweaks with Howard in the mix, as the big man is probably going to demand a few more touches than Omer Asik in the lane. But rest assured, the threes will come at an absurd pace, and Houston will still employ one of the most uptempo attacks in the business.
The difference this year is that there'll be some defensive balance to the Rockets' formerly all-offensive approach.
Houston was a playoff team last year, and Howard figures to add a handful of wins to its record, but there are still a number of teams with better title odds.
Odds: 10-1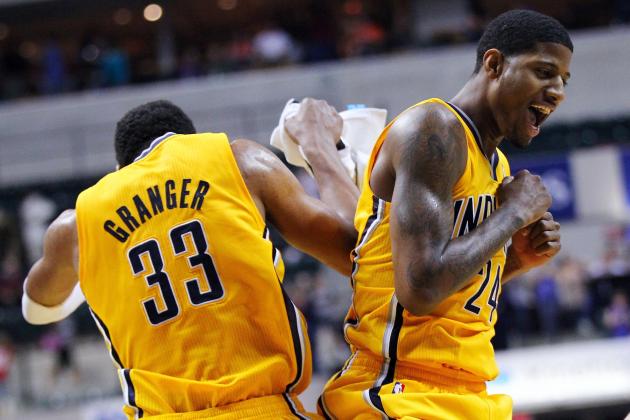 Michael Hickey-USA TODAY Sports

The Indiana Pacers had an incredible postseason run that brought them one win away from reaching the NBA Finals.
Paul George and Roy Hibbert were the face of that unforeseen push and they will only continue to improve in their NBA abilities. While the pair continues to improve, the re-signing of David West furthers the team's hope to return to the deep stages of the postseason.
The key to next season may rest on the return of Danny Granger and how returning such a potent offensive threat will help the defensive-minded Pacers.
The team recently shored up the point guard spot by signing Donald Sloan to back up George Hill and the newly-signed C.J. Watson.
Odds: 10-1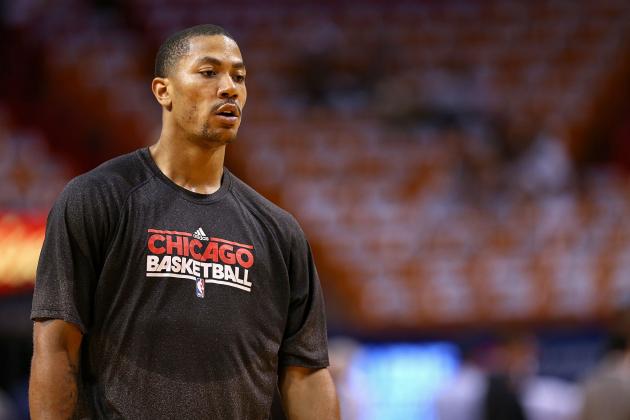 Mike Ehrmann/Getty Images

Derrick Rose will finally return to the court next season, and in doing so, he will lift the Chicago Bulls right back to elite status in the NBA.
At least that's how it should go.
The Chicago superstar, who missed all of last season, should return with full ability and, if he does, the Bulls are that much more dangerous.
According to Adrian Wojnarowski of Yahoo! Sports, Marco Belinelli has agreed to a two-year, $6 million with the Spurs, and that really hurts the Bull's depth. Also, free agent guard Nate Robinson may or may not return for next season, either.
What makes the Bulls a threat, however, is the length and interior play that Joakim Noah, Carlos Boozer, Luol Deng, Jimmy Butler and Taj Gibson provide. The other issue for the Bulls, though, is that these players, along with Rose, pretty much makes up their entire roster.
Other than Kirk Hinrich at guard and the young Marquis Teague, the Bulls' depth still needs to be sorted out. Rose's return certainly places the Bulls back among the top teams in the league, though.
Odds: 9-1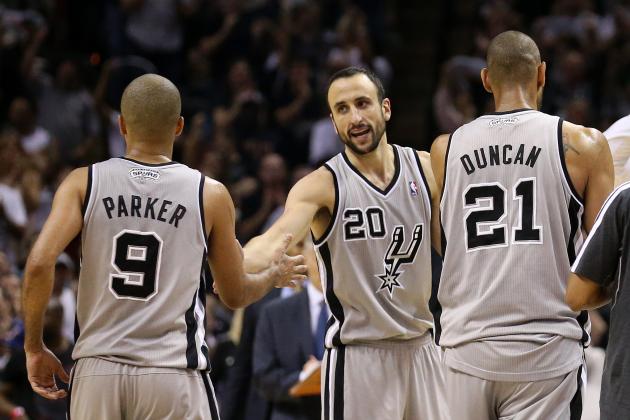 Stephen Dunn/Getty Images

The San Antonio Spurs will be back for another title run. The devastating loss in the finals—highlighted by their Game 6 collapse—won't be the final image of this Spurs core.
The team will return Manu Ginobili and Tiago Splitter to Gregg Popovich's annual winning formula. Tim Duncan and Tony Parker will remain focal points, but there may be a shift toward the Spurs' belonging more to Kawhi Leonard.
Last season, Leonard flashed his game-changing offensive prowess, one that features post play and three-point shooting, in addition to his smothering defense. The shooting of Danny Green should continue to increase as it did in the postseason as well.
Adding Marco Belinelli only makes the Spurs more dangerous.
Odds: 8-1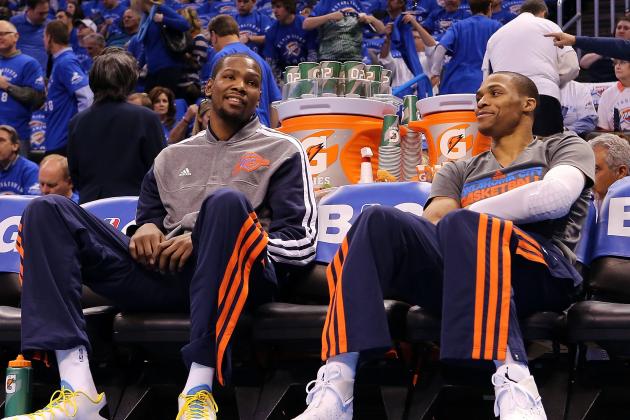 Christian Petersen/Getty Images

The postseason nightmare of Russell Westbrook's season-ending injury crushed the Oklahoma City Thunder.
There won't be much change to the team's roster this season, other than the return of their superstar point guard and the loss of swingman Kevin Martin.
Since the mega deals to Durant, Westbrook and Ibaka make up much of the Thunder's team salary—while also factoring in the $17.5 million owed to Kendrick Perkins over the next two seasons—there aren't many free agent options that can replace Martin. Oklahoma City will look to guys like Jeremy Lamb or Reggie Jackson to make up the difference next season.
The drafting of Steven Adams this June and the loss of Martin is what's left after the James Harden trade, but a glimpse of the Thunder's salary situation reveals why keeping Harden would have been a mistake.
Odds: 6-1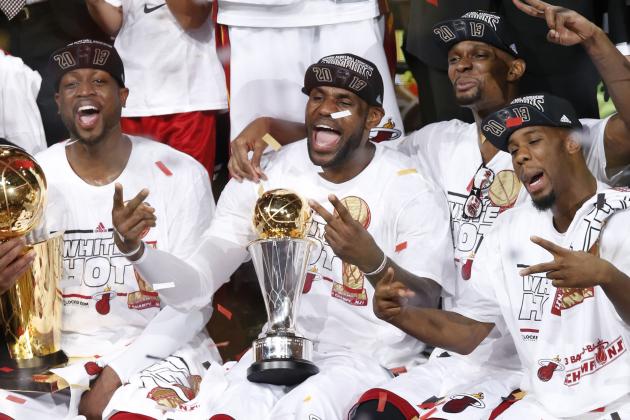 Derick E. Hingle-USA TODAY Sport

The two-time defending champions will return as favorites once again in 2013-14.
Led by the league's perennial Most Valuable Player in LeBron James, the Heat will once again be stacked with the most talent in the league. Other teams will try to match the superteam of the Heat, but like the Los Angeles Lakers learned this past season, that chemistry is not so easy.
Silence those cries that the Heat may move either Dwyane Wade or Chris Bosh, as neither will be going anywhere this offseason. Even if the Heat wanted to, the contracts of both players would be hard to move elsewhere.
Then again, why shift the trio?
They've been to three consecutive finals and have won the last two. The team's priority remains adding an interior presence this offseason, which is a role that Chris Andersen filled so well last year. With a similar bench returning, still starring that ageless shot of Ray Allen, the Heat will be back.
Odds: 2-1