Predicting the Next 6 MLB Hurlers to Throw Multiple No-Hitters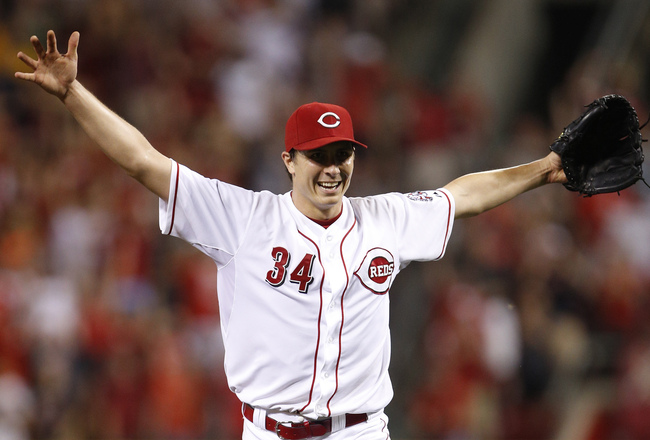 Joe Robbins/Getty Images
On Tuesday evening, Homer Bailey made history, thrusting himself into a select group of starting pitchers in baseball that have thrown multiple no-hitters.

Armed with a combination of great stuff, maturity and pinpoint control, Bailey has transformed himself from an enigmatic prospect into one of the best pitchers in the sport. At the conclusion of the 2011 season, Bailey had pitched to a 4.89 ERA over 78 career starts.

Since that moment, the Reds have unearthed an ace, capable of leading them deep into October. Dating back to the start of the 2012 season, Bailey has pitched to a 3.64 ERA, 3.52 FIP and 3.60 xFIP over 50 starts. His 5.5 WAR is tied with Zack Greinke for 21st among all starting pitchers in the sport during the time frame, besting R.A. Dickey, Madison Bumgarner, and Matt Cain.

While his path to no-hit stardom wasn't easy to predict, the writing may be on the wall for some of the other gifted arms in the sport.

Here are the next six pitchers destined to join Bailey in the illustrious multiple no-hitter club.
All advanced statistics via fangraphs.com unless otherwise noted.
1. Felix Hernandez, Seattle Mariners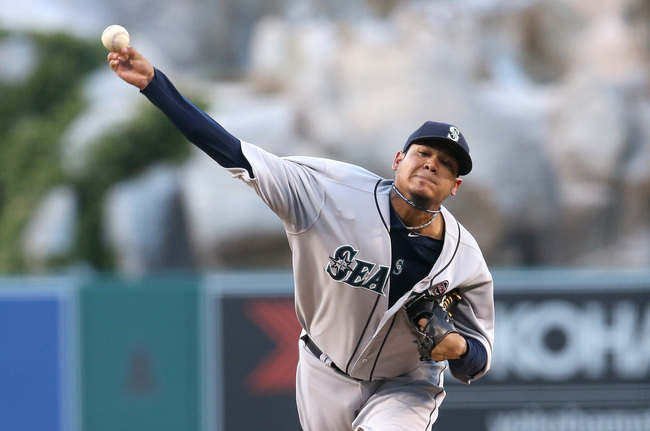 Stephen Dunn/Getty Images
Its took Felix Hernandez over 200 career starts to achieve perfection, but don't expect his advanced pitching acumen to be so kind to opposing batters during the second half of his outstanding career.

The perfect game in August of 2012 remains the shining moment in Hernandez's career due to the inability of the Mariners organization to surround him with the talent necessary to crash the October party, but regardless of the standings, Felix is a threat to dominate opposing hitters on a start-to-start basis.

Despite rising career inning totals, lingering rumors of elbow issues and dips in velocity from his early career stages, Hernandez has watched his FIP drop below 3.00 in consecutive seasons. If it's possible, the M's ace is getting better with age.

Predicting multiple perfect games is a bit much, even for the caliber of pitcher that Hernandez has become, but don't be surprised if Hernandez joins the multiple no-hitter club sooner rather than later.
2. Anibal Sanchez, Detroit Tigers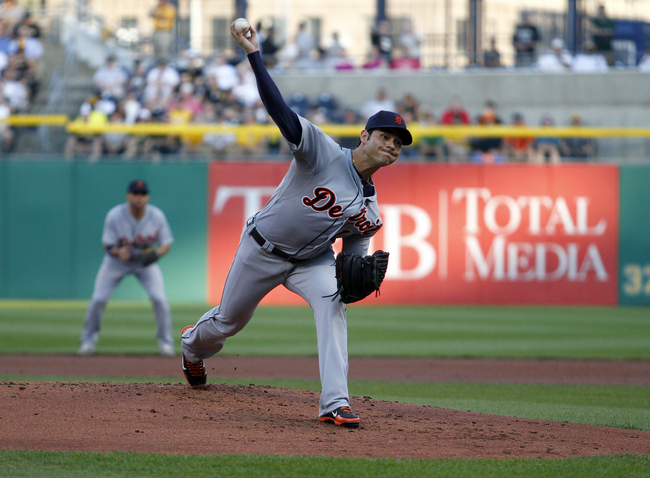 Justin K. Aller/Getty Images
Sanchez's first career no-hitter came so long ago (2006) and so early in his career (13th career start) that it's easy to forget it ever occurred.

As the years passed, Sanchez never ascended to become a true top-of-the-rotation arm in Florida, seemingly stuck in neutral, failing to crack the 200-inning plateau in any season, thus limiting his chances to dominate every five days.

After arriving in Detroit last summer, Sanchez, much like Homer Bailey, seems to have matured into a better pitcher than ever before.

Before going on the DL last month with a shoulder strain, his name belonged in the AL Cy Young discussion due to a ridiculous strikeout rate (11.13 K/9) and FIP (2.07) suggesting brilliance.

In late May, Sanchez was one out away from joining the club before Bailey could get the chance, taking a no-hitter into the ninth before Twins catcher Joe Mauer broke it up.

If he can stay healthy and pitch at the level he has since arriving in Detroit (3.23 ERA in 156.1 IP), American League opponents won't be be able to keep him from standing atop the no-hit mountain for long.
3. A.J. Burnett, Pittsburgh Pirates
David Banks/Getty Images
Much like Anibal Sanchez, the oldest member of this list achieved a no-hitter so long ago that it's easy for some younger baseball fans to forget it's occurrence.

For some, May 12, 2001 was an eternity ago, but Burnett's no-hitter against the San Diego Padres, although far from pretty, stands out among his career achievements.

Age and the possibility of retirement in the near future make this selection more dubious than others in the group, but if Burnett can return from a calf injury to display the dominance that Pirates fans have become accustomed to over the last two summers, a no-hitter could be in the works later this season.

Burnett has always been difficult to hit, but his stuff seems to have caught up with an understanding of pitching, health and comfort atop the rotation in Pittsburgh.

Over the last two seasons, Burnett has twice lost a no-hitter in the seventh inning or later, giving credence to his dominance in the Steel City.


4. Matt Harvey, New York Mets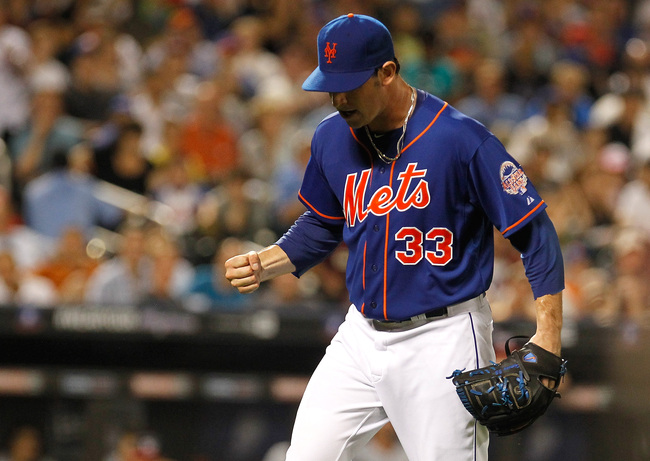 Mike Stobe/Getty Images
Considering the hype when #HarveyDay takes the mound in New York, it's almost hard to believe that he hasn't yet spun multiple no-hitters, let alone one, in his very, very young career.

Of course, that doesn't mean he hasn't gotten close on more than once occasion. If Mets fans try to make you believe that Harvey is a threat to throw a no-hitter every time he takes the mound, there's merit to those feelings. In other words, he's dominating to the level of making that claim seem less like hyperbole every single day.

Heading into Wednesday evening's start against the Arizona Diamondbacks, Harvey has taken a no-hitter through six innings in three of his first 27 starts. Amazingly, that doesn't include his performance last Friday at Citi Field in which he retired the first 14 Nationals to step into the batters box.

Right now, Harvey might be the best pitcher in the National League. Sooner than later, multiple no-hitters might be used to further sway the argument in his favor.
5. Max Scherzer, Detroit Tigers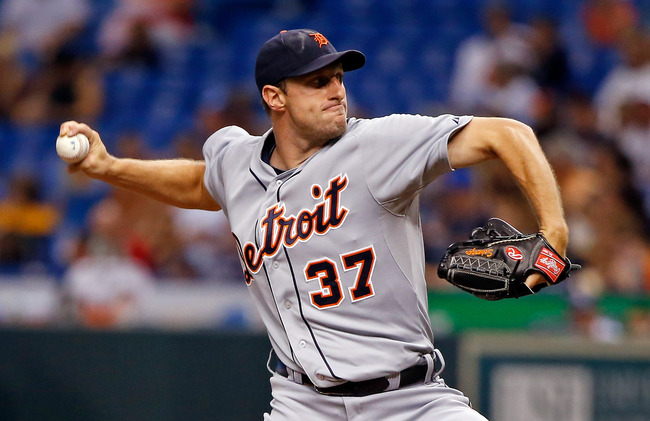 J. Meric/Getty Images
The 12-0 start to Scherzer's 2013 season has received the attention, but the dominance of the Tigers right-handed strikeout artist goes well, well beyond his personal win-loss record.

Over the last calender year, Scherzer has been the fourth-most valuable (6.3 WAR) pitcher in the sport, trailing only the likes of Felix Hernandez, Adam Wainwright and Clayton Kershaw.

His performance is virtually guaranteeing Detroit a win every single time he toes the rubber, but don't mistake him as a product of a hard-hitting Tigers lineup.

Opposing batters are hitting .190 this season and striking out five times for every walk off the 28-year-old.

In other words, Scherzer has been close to unhittable all season long. Over the next few months, possibly starting Wednesday night in Toronto, the undefeated streak will end.

The first of multiple career no-hitters may soon commence, though.
6. Yu Darvish, Texas Rangers
Tom Pennington/Getty Images
Honestly, it's hard to fathom how big league hitters ever achieve the distinction of a base hit off Darvish.

The Rangers right-handed pitcher enters every start with one of the most unique and diverse pitching arsenals in recent memory, the ability to change speed and complete trust in throwing all of his offerings in any count.

According to Fangraphs, Darvish throws five different pitches (fastball, slider, cutter, curveball, split-finger) at least five percent of the time, with a sixth pitch, change-up in nearly two percent of his offerings. Amazingly, considering the work put into pitch data by the folks at Baseball Info Solutions, 0.3 percent of his offerings are marked XX by the site. In other words, the pitches are unrecognizable by the computer or naked eye.

After nearly finishing the task in April against the inept Houston Astros, Darvish is poised to join the no-hitter club soon. From there, the chase to catch Homer Bailey and friends will begin for the Japanese sensation.


Who would be your pick to join the multiple no-hitter club?

Comment below, follow me on Twitter or "like" my Facebook page to talk all things baseball!


Keep Reading