Just when it looked like another Wimbledon shocker was about to rock the All England Club, Andy Murray stormed back to defeat Fernando Verdasco in five sets (4-6, 3-6, 6-1, 6-4, 7-5) to reach the semifinals.
#Murray serves it out to reach the #Wimbledon semifinals beating #Verdasco 4-6 3-6 6-1 6-4 7-5 pic.twitter.com/qWJ8gdjAlC

— Wimbledon (@Wimbledon) July 3, 2013
The tournament's No. 2 seed fell behind, not due to poor play, but rather continued signs of resurgence by Verdasco. He was unable to take advantage of the two-set lead, though, and allowed Murray, now one of the fittest players on tour, to fight back to survive in five sets.
Murray has now reached the semifinals in nine of the past 10 Grand Slam events he's played. The only exception is the 2012 French Open, when he was bounced in the quarterfinals. He missed this year's trip to Roland Garros due to injury, but hasn't shown any ill effects in the season's third major.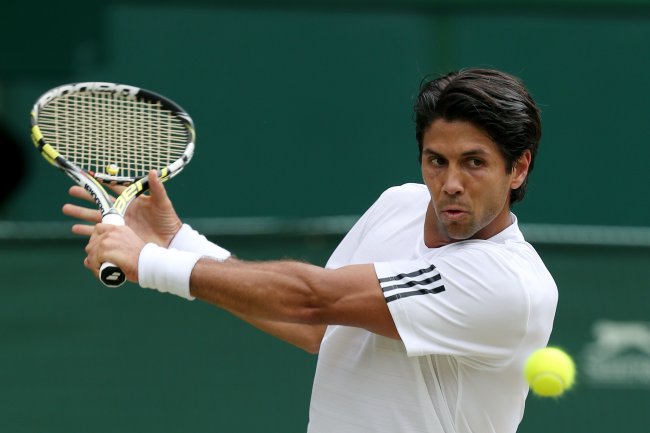 Clive Brunskill/Getty Images
The first two sets showcased why Verdasco, who's now 29, was so highly thought of in years past. He stood near the baseline and was crushing shot after shot. The power game left Murray, an elite defensive player, with very few answers.
In fact, it forced Murray to revert to his old approach of standing well beyond the baseline trying to play the role of a brick wall. He was able to get a lot of shots back, but Verdasco was unrelenting and kept striking winners.
Wow! Double fault from Murray and Verdasco has the 1st set 6-4 #Wimbledon pic.twitter.com/ckbCt4fFpu

— Wimbledon (@Wimbledon) July 3, 2013
Murray elevated his level of play with his back against the wall and the Spanish lefty struggled to respond. The Scottish star had more aces and winners en route to an easy third set triumph, quickly bringing the match back within reach.
Double break for #Murray to lead #Verdasco 5-1 third set. Dropped the first two 4-6 3-6 #Wimbledon #bANDYwagon pic.twitter.com/R1Hz4jTY1u

— Wimbledon (@Wimbledon) July 3, 2013
Verdasco didn't play terribly in the set. But, as has often been the case throughout his career, top players like Murray are a step ahead of him when they're at their best.
Who will advance to the Wimbledon final?
He deserves a boatload of credit for bouncing right back, though. He could have easily let the match get away from him at that point. Instead, he was able to fight back and forced Murray to work for every service hold.
When given the chance to break early in fourth set, however, Verdasco couldn't convert. He left the door open for Murray, who took full advantage.
The No. 2 seed broke at 3-3 and held out to level the match at two sets apiece. When the crowd erupted at the end of the set, it was clear the momentum had changed hands.
Love service game for #Murray and he takes the fourth set v #Verdasco 4-6 3-6-6-1 6-3 #wehaveaballgame #Wimbledon pic.twitter.com/BH1ysAV1ap

— Wimbledon (@Wimbledon) July 3, 2013
By the middle of the fifth set, that advantage was neutralized by Verdasco. Both players continued to come up big on their own serve while failing to capitalize on the few chances that did arise in the return game. Any opening was quickly erased.
That is until the 11th game of the set. A Verdasco double fault gave Murray the opportunity he was waiting for. He proceeded to win a couple grueling rallies and finally got a break to go up 6-5. With the crowd firmly behind him, he served out at love to win the match.
Following the hard-earned victory, Murray heads to the semifinals to face rising star Jerzy Janowicz.