The top two seeds in the men's draw booked their trips to the semifinals at the 2013 Wimbledon Championships on Wednesday in very different fashions.
Novak Djokovic cruised past Tomas Berdych on Court No. 1, while Andy Murray battled back from a huge hole to survive Fernando Verdasco's upset bid on Centre Court.
Juan Martin del Potro and Jerzy Janowicz were also Day 9 winners, each reaching the semifinals at Wimbledon for the first time.
Here, we'll get you up to speed on how Wednesday's men's singles action unfolded at the All England Club.
Day 9 Scores
Gentlemen's Singles Quarterfinals
Score
Novak Djokovic (1) defeats Tomas Berdych (7)
7-6 (7-5), 6-4, 6-3
Andy Murray (2)

defeats Fernando Verdasco

4-6, 3-6, 6-1, 6-4, 7-5
Juan Martin del Potro (8) defeats David Ferrer (4)
6-2, 6-4, 7-6 (7-5)
Jerzy Janowicz (24) defeats Lukasz Kubot
7-5, 6-4, 6-4
*Day 9 scores courtesy of Wimbledon.com. Click here to view complete results.
Andy Murray Makes Incredible Comeback on Centre Court
Murray found himself in trouble early against unseeded challenger Verdasco on Centre Court Wednesday, dropping the first two sets to the Spaniard, via Wimbledon's Twitter feed:
#Verdasco saves three break points and holds to take the set and lead #Murray 6-4 6-3. #FeVer #Wimbledon pic.twitter.com/UGsA57MRAr

— Wimbledon (@Wimbledon) July 3, 2013
But Murray wasn't fazed and came out determined from the start in the third set, breaking Verdasco in two out of three service games to force a fourth set.
Verdasco would have his chances to push Murray to the brink in the fourth set but missed on all four of his break point chances. Meanwhile, the favorite capitalized, winning his only break point chance to win the set 6-4, forcing a fifth and final frame while throwing all the pressure back on the Spaniard.
Love service game for #Murray and he takes the fourth set v #Verdasco 4-6 3-6-6-1 6-3 #wehaveaballgame #Wimbledon pic.twitter.com/BH1ysAV1ap

— Wimbledon (@Wimbledon) July 3, 2013
Both players held serve through much of the final set before Murray got a huge break late to take a 6-5 lead with an opportunity to serve out the match. He wouldn't miss his chance, closing out the final set 7-5 to reach the semifinals at Wimbledon for the fifth straight year, via the tournament's feed:
#Murray serves it out to reach the #Wimbledon semifinals beating #Verdasco 4-6 3-6 6-1 6-4 7-5 pic.twitter.com/qWJ8gdjAlC

— Wimbledon (@Wimbledon) July 3, 2013
Up next for Murray will be Janowicz, who will be making his first-ever Grand Slam semifinal appearance Friday.
Novak Djokovic Reaches Fourth Straight Wimbledon Semifinal
Overall men's top seed Djokovic successfully avenged his loss to Berdych in Rome earlier this season, beating the Czech in straight sets Wednesday to book his fourth straight trip to the Wimbledon semifinals. In the process, he extended two impressive streaks, via ESPN Stats & Info:
Novak Djokovic has yet to drop a set in reaching his 13th straight Grand Slam semifinal

— ESPN Stats & Info (@ESPNStatsInfo) July 3, 2013
The first set was a back-and-forth battle that required a tiebreak. Djokovic took control early, though, and never looked back, winning the tiebreak 7-5 to take an early one-set-to-love lead, which wouldn't bode well for Berdych based on this stat from ESPN Tennis:
Djokovic takes 1st set v Berdych. He's 210-6 since 2010 when he wins opening set. #ESPNWimbledon pic.twitter.com/V31hB4JCup

— ESPNTennis (@ESPNTennis) July 3, 2013
Things came much easier for the world No. 1 late in the second set, as he battled back from a break down to win 6-4.
Netted short forehand by #Berdych and #Djokovic leads 7-6 6-4. #Berdych was up a break in that set! pic.twitter.com/fpGaC7xt78

— Wimbledon (@Wimbledon) July 3, 2013
Djokovic was 3-of-5 on break point chances in the second set.
The third and final set was smooth sailing for the Serb, who needed just more than half an hour to close out Berdych.
The 2011 Wimbledon champion will have a day off now to prepare for del Potro.
Juan Martin del Potro Overcomes Early Injury, Advances
Despite never having reached the quarterfinals at Wimbledon before this summer, del Potro is into the semifinals at the All England Club after defeating world No. 4 Ferrer in straight sets.
#DelPotro through to the #Wimbledon semis 6-2 6-4 7-6. Less than 10 seconds later #Djokovic bts #Berdych 7-6 6-4 6-3 pic.twitter.com/fVppQ4vuUK

— Wimbledon (@Wimbledon) July 3, 2013
Things didn't look so promising for Delpo early on, though, as he injured his already taped left knee, falling to the ground and heading to the sideline to receive a visit from the trainer, via the tournament's official feed:
#Ferrer holds for 1-0 v #DelPotro. Here's a recap of Delpo's fall. #Wimbledon pic.twitter.com/obq1XI4OcU

— Wimbledon (@Wimbledon) July 3, 2013
The 24-year-old Argentine wouldn't let the mishap faze him, however. He broke Ferrer twice in the opening set to take an early lead. In the second set, Delpo's serve was simply unbeatable, as he won 20-of-22 service points in the set to push Ferrer to the brink.
ESPN tennis analyst Brad Gilbert was quick to point out Delpo's success:
Delpo looking great and really taking it to little Beast Ferrrerrr amazing stat the big Argie winning 31-35 points 89% win making 1st serv

— Brad Gilbert (@bgtennisnation) July 3, 2013
Ferrer would fight for his tournament life in the third set, pushing it to a tiebreak, but Delpo never let the Spaniard seize momentum, fending off Ferrer with a flurry of powerful forehands.
The final winner of the match was Delpo's 42nd on the day, and he was very pleased with it, via Wimbledon Twitter feed:
#DelPotro I think I played my best tennis in that match. I hit my best forehand ever at the end.

— Wimbledon (@Wimbledon) July 3, 2013
Del Potro will take on Djokovic on Friday. Although Delpo won their most recent meeting at Indian Wells back in March, Djokovic leads the head-to-head 8-3 all time.
Jerzy Janowicz Makes History in Win Over Lukasz Kubot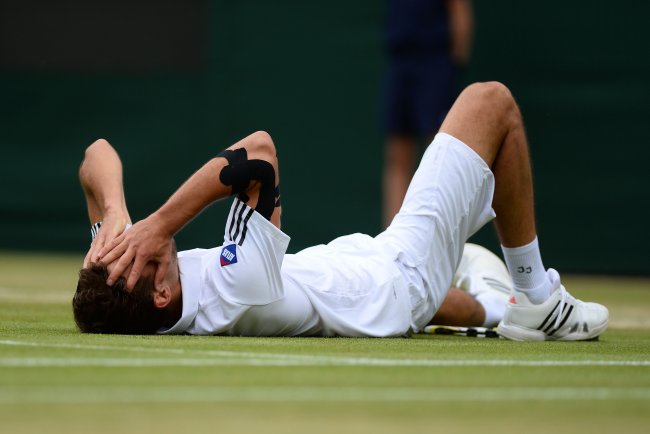 Mike Hewitt/Getty Images
Janowicz, a 22-year-old Pole, made history Wednesday, beating compatriot Kubot to become the first Polish semifinalist at Wimbledon and the youngest semifinalist since Andy Murray four years ago, via Wimbledon Twitter feed:
#Janowicz becomes first Polish Grand Slam semifinalist beating #Kubot 7-5 6-4 6-4. Players embrace, then swap shirts. pic.twitter.com/M6W1AWEuCt

— Wimbledon (@Wimbledon) July 3, 2013
Aged 22yrs, 236 days, #Janowicz is youngest man to reach #Wimbledon semis since #Murray (at 22yrs, 51days in 2009) pic.twitter.com/kr8BzjSGfl

— Wimbledon (@Wimbledon) July 3, 2013
Janowicz was emotional following the win, and understandably so, via the tournament's feed:
#Janowicz still on No.1, sitting courtside in tears. #Kubot waiting for him to compose himself before they walk off court. #Wimbledon

— Wimbledon (@Wimbledon) July 3, 2013
The two players even swapped shirts following the historic Pole vs. Pole clash, via Wimbledon Twitter feed:
A sight rarely (if ever) seen at #Wimbledon: Kubot & Janowicz exchange shirts after history-making #Wimbledon QF pic.twitter.com/QEBLhZPB4z

— Wimbledon (@Wimbledon) July 3, 2013
The No. 24 seed, Janowicz was a qualifier here a year ago but is now just two wins away from becoming a Wimbledon champion.
As far as Janowicz's win over Kubot goes, the story of the straight-sets victory was Janowicz's serve. The youngster recorded 30 aces to Kubot's nine and won 63-of-70 first-serve points for the match. Janowicz would finish the match with 58 winners to just 14 unforced errors.
Although he's headed further into uncharted territory at the All England Club, he'll be a tough out for Murray in the semifinals Friday if he can continue to serve like he has for much of the tournament.
Follow Bleacher Report Featured Columnist Patrick Clarke on Twitter.