5 Bold Predictions for the Los Angeles Dodgers in the Second Half of the Season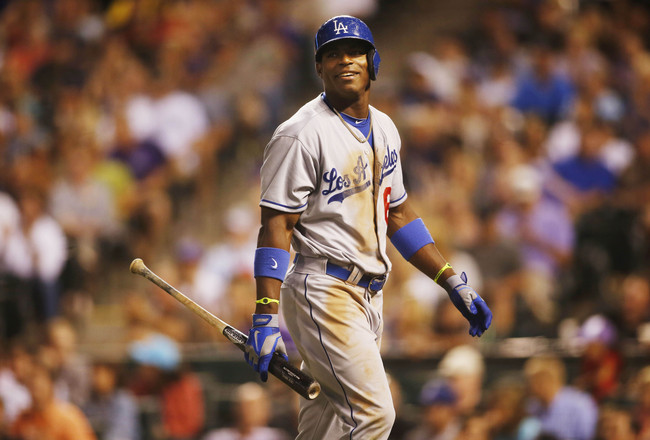 Yasiel Puig has been nothing short of incredible in his first month in the majors, but how will he perform the rest of the season?
Chris Humphreys-USA TODAY Sports
The Dodgers are surging. In its last 14 games, the team has pulled out 10 victories and seems to have shaken all of its early-season troubles.
Recent victories and the continued fascinating performance of rookie Cuban outfielder Yasiel Puig have elevated the Dodgers and finally lifted them out of last place, where they had been pitted for nearly two months.
And yet with all the exuberance and prosperity, there is something intangible about this team that still concerns even the most loyal fan.
The underperforming Matt Kemp. The struggling bullpen. The still-peculiar chemistry of an All-Star lineup. These are just a few of the fishy-smelling components of the Dodgers' recent surge.
And yet, they are winning.
As the Dodgers wrap up the first half of the season, here are some predictions for what to expect in the second half.
Dodgers Will Top the NL West in August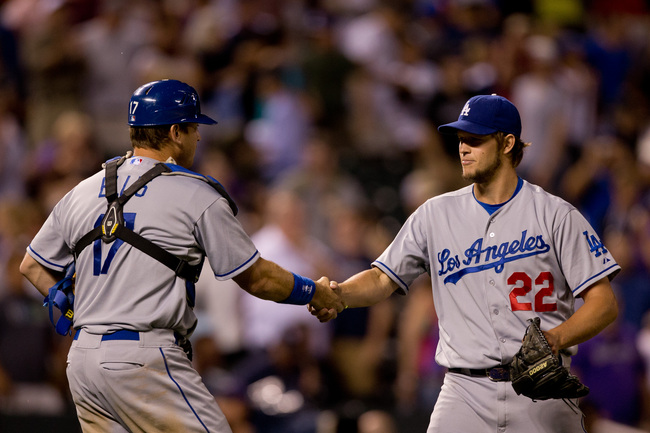 Justin Edmonds/Getty Images
The Dodgers have struggled to reap any momentum this season, rarely registering significant winning streaks, but they picked an ideal time to begin building momentum: right before the All-Star break.
While the team had only garnered a maximum winning streak of three games prior to June, the Blue Crew finally got rolling with a six-game winning streak at the end of June, sweeping its intraleague rivals, the San Francisco Giants, in the process.
With the bulk of their star players back healthy and thriving—barring Matt Kemp, who still hasn't found his swing in the 2013 season—the Dodgers will keep that momentum going into the All-Star break and beyond.
Although the team has had a treacherous season to this point and is still low in the National League West standings, it nevertheless sits 2.5 games out of first place.
Better yet, the Dodgers will exclusively play intraleague rivals (at Colorado, at San Francisco, at Arizona, Colorado) in their concluding 12 games heading into the All-Star break, which presents them with a prime opportunity to gain ground in the divisional standings.
If the Blue Crew can't manage to capitalize on that opportunity in July, it will then be dealt another golden chance in August, when it faces the Cubs, Marlins, Rays, Mets, Phillies, and Padres for a total of 22 games.
Kemp Will Surge After All-Star Break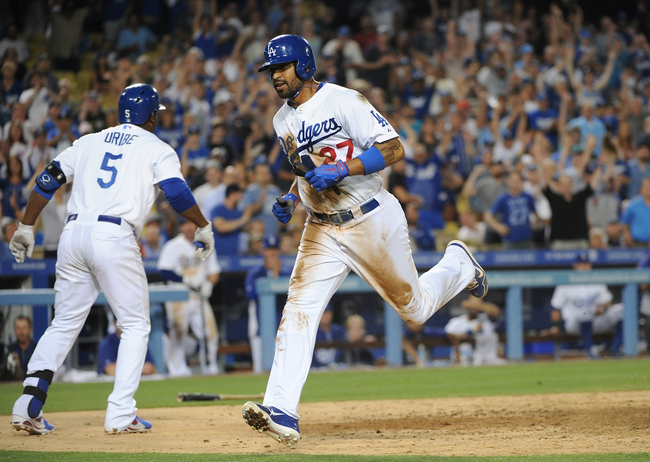 Lisa Blumenfeld/Getty Images
One of the underlying storylines to the Dodgers dramatic 2013 season has been the substandard performance of superstar outfielder Matt Kemp.
Kemp simply has not been the same this season, not only evidenced by his paltry power numbers (2 HR 18 RBI) but also by his approach at the plate, characterized by a lack of confidence and subpar plate discipline.
Although the dynamics of Kemp's situation have been altered by the shoulder surgery he had in the offseason, there is a promising pattern in his career that suggests that he will be streaking again very soon.
In his six full seasons in the major leagues, Kemp's best months, in terms of batting average and on-base percentage, are April and July.
Even in an abridged season due to injury in 2012, Kemp's best months were April and July and he posted one of the best Julys of his career with a .355 batting average and .380 on-base percentage.
With a hamstring injury and potential lingering effects of his shoulder surgery rehabilitation hampering his success this season, Kemp hasn't had any good months to speak of this season, but that will change.
As July continues and he has a few days off over the All-Star break, the 28-year-old centerfielder will have a chance to further rehab his hamstring and also get to catch up on the weightlifting he had to forego because of his recovering shoulder.
Nearly back to full strength by the All-Star break, Kemp will start streaking in July and will be back to his superior form after the break.
Puig Will Slow Down in July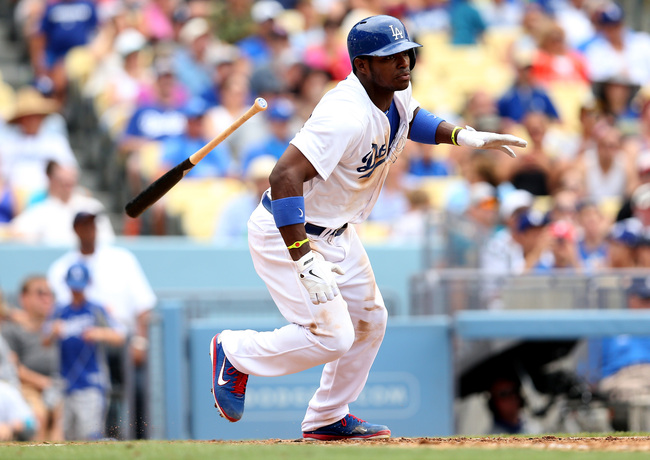 Stephen Dunn/Getty Images
Rookie outfielder Yasiel Puig is the most exciting thing to happen to the Dodgers in years, but even he will have his share of dull moments.
The 22-year-old Cuban sensation has spawned an infectious energy to his teammates and singlehandedly won games for the Blue Crew in a mere month of major-league play and has much promise for the future.
Nevertheless, the near future presents Puig with an obstacle that may temporarily hinder his success.
As the scouting reports continue to amass on the 6'3", 245-pound phenom, opposing teams will begin enacting intricate strategies for pitching to Puig, especially teams that have already faced him.
The impending obstacle that Puig is set to face was demonstrated the first time he faced a team (the Padres) in a second series. In the follow-up series, the Padres discovered Puig's weakness, a low-and-outside slider that breaks out of the strike zone, and he subsequently had the worst series in his limited career.
The Dodgers' remaining opponents in July (Rockies, Giants, Diamondbacks) have all faced Puig in previous series and will be much wiser in facing Puig now that they've witnessed that he's the real deal.
While he has the security of Adrian Gonzalez hitting behind him to avoid the prospect of getting intentionally walked or pitched around, opposing pitchers will know how to pitch to Puig, which diminishes the advantage of his novelty in the league.
Puig's mini-slump may not be appalling—after all, this is the guy who went 1-for-5 with three strikeouts and still managed to hit a home run—but it won't be the incredible performance he's used to having.
Utley Won't Be on the Roster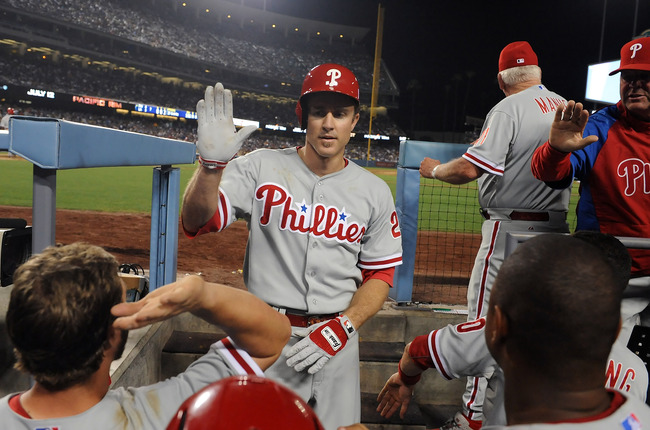 Lisa Blumenfeld/Getty Images
A buzz has been brewing that the Dodgers have their sights on Phillies' infielder Chase Utley, but nothing will likely ever come to fruition from the rumors.
There are two main reasons a deal won't be struck: 1) The Dodgers don't have much too offer that they are willing to relinquish, unless they put Andre Ethier on the block, and 2) the Phillies will likely refuse any offers for their franchise second baseman.
While Utley, who recent impressed the Dodgers by destroying their pitching staff in a four-game series in which he knocked three home runs and two doubles, is a tremendous player, the Dodgers will likely focus their attention—and payroll—on a backend starting pitcher or middle reliever if they are to make a move before the trade deadline.
Playoff Race Won't Be a Cinch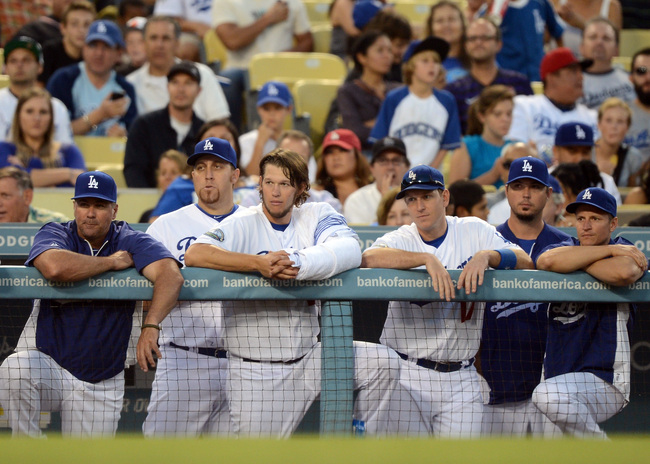 Harry How/Getty Images
All the momentum and odds seem to be in the Dodgers' favor right now. The once-struggling team has won 10 of its last 14 games and has endless energy emanating from rookie sensation Yasiel Puig.
While it seems as though the Blue Crew have permanently shed their early-season blues that had them stalled in last place in the National League West for nearly two months, they still have plenty of season to play.
As we've come to learn in the City of Angels, where movie stars sit in the dugout club, the Dodgers have a propensity for drama.
Although the Dodgers passed their rival San Francisco Giants in the divisional standings with Tuesday's win over Colorado, the Giants can't be counted out in the division race and will likely surge in the second half as they did last year on their run to their second World Series title in three years.
After all, the Giants had nearly the same record as the Dodgers did at the All-Star break (Giants: 46-40, Dodgers: 47-40) and finished the season with eight more wins than them (Giants: 94-68, Dodgers 86-76).
Of course, the variables have shifted this season, but the caution still remains. Merely because the Dodgers are getting hot doesn't entail that they'll easily trample their intradivisional opponents and cruise into the playoffs.
It wouldn't be appalling, nor out of character, if the Dodgers had to scratch and claw to land a wildcard spot in dramatic fashion as they did last year.
Keep Reading

Los Angeles Dodgers: Like this team?