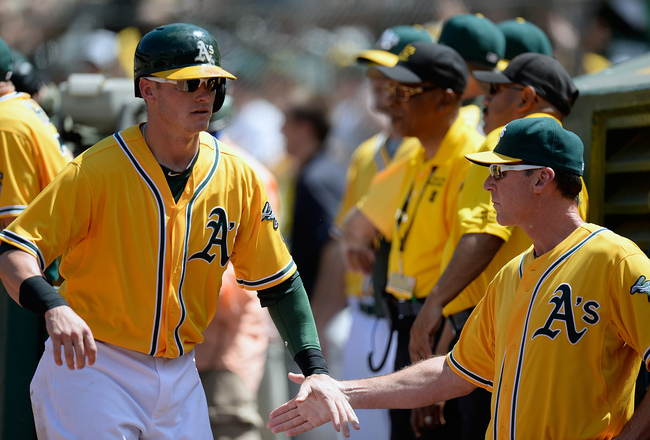 Manager Bob Melvin (right) has watched Josh Donaldson emerge in 2013
Thearon W. Henderson/Getty Images
Standing at 49-35 and in first place in the AL West as of Wednesday, July 3, the Oakland A's have received contributions from many sources so far in 2013.
Some have surprised while others have been as expected.
That said, the A's are also winning in spite of a couple of players who have not performed up to their standards or early expectations. As such, it is time to recognize the best and the worst of the A's over the first half of the 2013 season.
Here are the first-half awards for offense and pitching for the A's.
Least Valuable Pitcher: Brett Anderson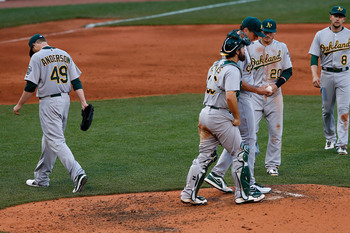 Anderson hasn't had much to be upbeat about in 2013
Jared Wickerham/Getty Images
2013 stats: 1-4, 6.21 ERA, 1.621 WHIP
I am not sure what to call the least valuable pitcher for a team. Cy Old? Nah. Breaking Bad? Eh, let's not.
Silly nicknames aside, there is an apt description for Brett Anderson's performance so far in 2013: Disappointing.
People like myself thought that Anderson would be a key cog in the A's 2013 machine. The key, as it has been in his early career, was health, but the injury bug has bitten the Texan lefty again.
As it stands, the A's only have five mostly bad starts and, ironically, a very positive relief appearance to work with from Anderson in 2013.
With Anderson out until early August, at the earliest, it appears as though his potential will once against outweigh his performance. The silver lining—if there is one—is that he will have the chance to provide a boost to the rotation late in the season, just as he did in 2012.
Until then, the A's push on and questions about Anderson's durability only get louder in volume and larger in scope.
Least Valuable Player: Hiroyuki Nakajima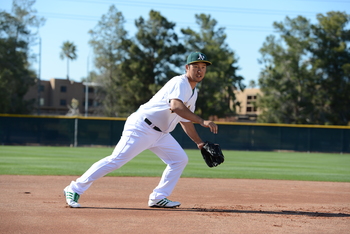 This is the closest we have come to seeing Nakajima in A's green, white, and gold
Robert Binder/Getty Images
2013 stats: .272, 4 HR, 13 RBI, .723 OPS (all at Triple-A Sacramento)
The A's first-half LVP is Hiroyuki Nakajima.
It's a bit of a curveball, I admit, but here is the bottom line: If you don't play for a club, you can't provide any value.
That is precisely why Nakajima merits this dubious award. He was one of Billy Beane's three biggest moves in the offseason and seemed to be the team's utility player, at least.
Instead, struggles with his fielding and adjusting to a higher quality of pitching set Nakajima back. A hamstring injury cemented his place in the minor leagues. Altough he has not exactly been awful in Sacramento, there doesn't seem to be a huge rush to bring the former Japanese star to the East Bay.
While Josh Reddick has been a first half disappointment, he has had enough contributions to at least stave off this distinction.
The hope is that Nakajima can still make an impact in 2013, but realistically, he might have to wait until 2014.
A's Cy Young: Bartolo Colon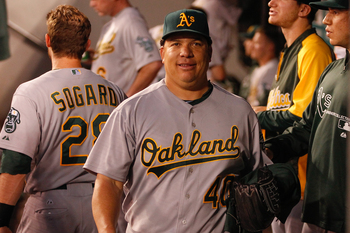 It has been quite the renaissance for Bartolo Colon in 2013
Victor Decolongon/Getty Images
2013 stats: 11-2, 2.79 ERA, 1.082 WHIP, 13 walks in 106.1 innings
This was the closest call of my four first-half awards for the 2013 A's, but it was not really that close. Oakland's first-half Cy Young Award-winner has been Bartolo Colon.
After being re-signed on a one year deal, it was clear the team had accepted Colon. The question was whether he could still be effective while turning 40 years old during the season.
The simple answer is an emphatic one.
Yes.
Colon has been brilliant, arguably even better than AL Cy Young Award front runner Max Scherzer. There is no question he deserves merit not just for this team award, but also on the AL All Star team.
The suspicions of Colon's success goes back to his 50-game suspension for performance enhancing drugs in 2012. As long as that black cloud exists, this magical year will be tainted in the eyes of many.
However, until he is suspended again, Colon deserves the benefit of the doubt. Not because he is, ahem, burlier than he was in 2012, but because the big Dominican has been mostly successful due to his control and willingness to challenge hitters.
Guile, not gas, has been the recipe for this first-half job by Colon. With apologies to Grant Balfour, who is probably the best closer of the first half in the American League, the job by Colon has trumped his first half.
Most Valuable Player: Josh Donaldson
Donaldson has been a revelation in 2013
Thearon W. Henderson/Getty Images
2013 stats: .318, 22 doubles, 14 HR, 55 RBI, .920 OPS
This is a slam dunk. Josh Donaldson easily is the A's MVP in the first half of 2013.
He has done everything.
Donaldson leads Oakland in hits, doubles, RBI, batting average, on-base and slugging percentage. Add to that, he has played a legitimate Gold Glove-caliber third base and is making reservations to New York for the All-Star Game.
Right? Well, maybe not.
The cruel irony is that the A's best player plays in what is easily the most loaded position in the American League. There are five worthy candidates at third base and Miguel Cabrera is the starter. So there is a real possibility that Donaldson, the player most deserving of a spot, could be left out entirely.
All that said, this is not a place to argue Donaldson's merits for the Midsummer Classic. This is about the amazing year he has had for an Oakland team that is a true contender.
If the A's have needed a clutch hit, Donaldson has delivered. A little defense? Has not been a problem.
The bottom line is this: If Donaldson has a second half to match his great first half, he will not only get votes for A's MVP, but will garner support for American League MVP as well.
Summation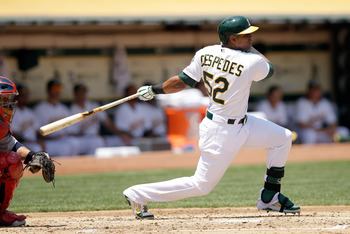 The A's will need Cespedes to lift off in the second half
Ezra Shaw/Getty Images
So there you have it.
The best and the worst of what has been an eventful first half of the season in Oakland. The A's are proving to be a team that should be in contention into the fall months in no small part to their depth.
But when it gets down to it, they have had a pair of catalysts, both on the mound and at the plate. Bartolo Colon and Josh Donaldson have enabled the A's to win and win consistently.
Now the club needs greater contributions for a trio of key players: Reddick, Yoenis Cespedes, and Jarrod Parker.
If those three players get their individual games together, the A's become not just a nice story, but an elite team capable of bringing the third World Series title in four years to the Bay area.
Until then, enjoy the games and let's hope the second half is as entertaining has the first has been.
Keep Reading

Oakland Athletics: Like this team?
Load More Stories