Indiana Basketball: Predicting Hoosiers' Top 5 Scorers for 2013-14
Andy Lyons/Getty Images

The biggest concern for Indiana basketball going into the 2013-14 season is its offense. The Hoosiers lost the majority of their firepower.
Indiana said goodbye to its top four scorers from last year's team. Cody Zeller, Victor Oladipo, Christian Watford and Jordan Hulls combined to average 52.1 points per game.
Now that those four are out of the picture, a new crop of Hoosiers must take over the scoring responsibilities. With only one proven scorer returning (Will Sheehey, 9.5 points per game), it's up in the air who will rise to the occasion. There are number of options, but only a few will get the job done.
This slideshow will predict IU's top five scorers for next season.
Begin Slideshow

»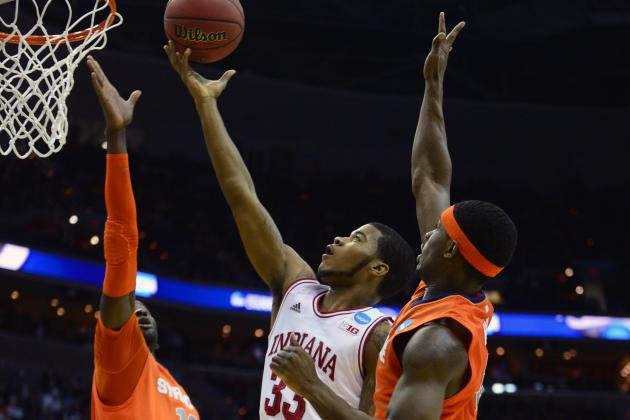 Bob Donnan-USA TODAY Sports

Jeremy Hollowell should have a much better sophomore campaign than his freshman one. He only averaged 2.8 points per game, but in his defense, he didn't play very often, only 9.7 minutes a game. He was needed more for his size and rebounding. Scoring was an afterthought.
Despite a poor offensive season, Hollowell's ability to put up points can't be forgotten. As a high school senior, he consistently lit up the scoreboard (23.9 points per game).
Hollowell's biggest problem last year was his lack of confidence. With increased playing time and experience, he will regain the confidence he had in high school and find his scoring touch.
He won't lead the Hoosiers offensively by any means but will be a consistent contributor.
Prediction: 6.0 PPG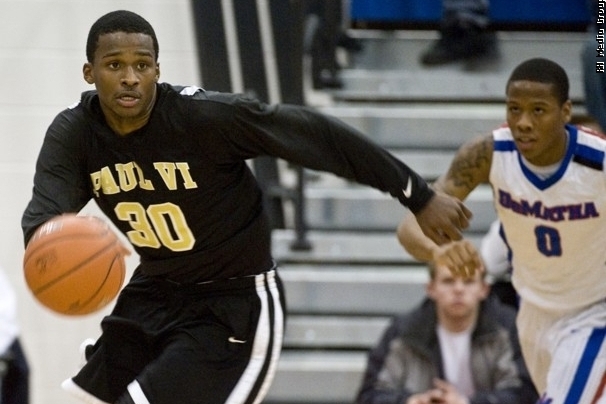 Freshman Stanford Robinson is a complete offensive player. He can get in the lane and score or pass. He is able to create his own shots and can knock down three-pointers too.
Robinson's offensive abilities should earn him plenty of playing time. It's still unknown whether he will be a point guard or shooting guard, but regardless, he is likely the sixth man of next year's team.
While he is inexperienced when compared to his competition, Evan Gordon, Robinson is three inches taller (6'4") and more explosive. He is natural scorer, the type of player Tom Crean needs coming off the bench.
Next season, he will be the player Will Sheehey has been throughout his career.
Prediction: 7.3 PPG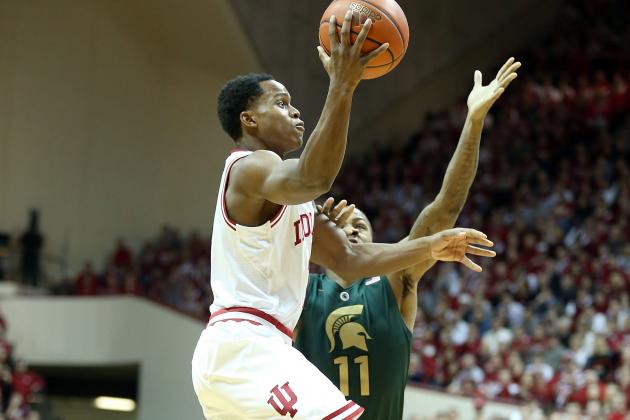 Andy Lyons/Getty Images

Expect Yogi Ferrell to be a much better offensive player in his sophomore season. His jump shot was unreliable, as he only made 26 percent of his two-point jump shots, according to hoop-math.com. His field goal percentage as a whole was only 40.3, and he shot just 30.3 percent from the three-point line.
Assuming he uses the offseason to improve his shot, Ferrell will average more than he did as a freshman (7.6 points per game).
The experience he gained from last season will help him as well. He is now accustomed to the college game and its harsh road environments. He will definitely be more confident, which bodes well for his scoring.
Don't expect a major jump, but there will be an increase in Ferrell's production.
Prediction: 9.2 PPG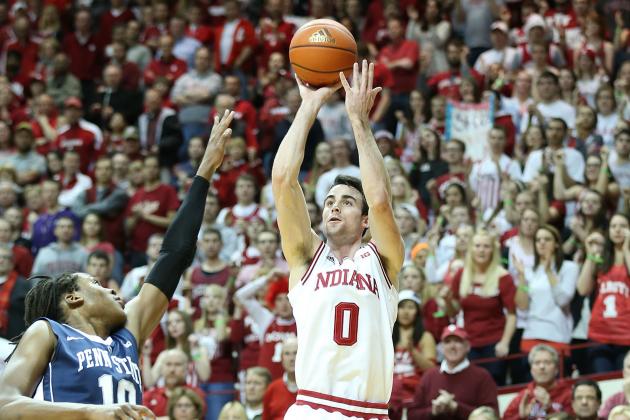 Andy Lyons/Getty Images

The time for Will Sheehey to show what he's truly capable of has arrived. After being a complementary piece of the offense his entire career, he is now in a leading role.
During his career, he's been primarily used as Indiana's sixth man. Now, he should be a starter. He will get more minutes, thus more opportunities to score. He is the roster's most experienced player, so expect Tom Crean to get the ball in his hands early and often.
Despite being a secondary option on last year's team which featured two top-five NBA draft picks, Sheehey still scored 9.5 points per game. Now that he's a focal point of the offense, his scoring will increase.
Prediction: 12.7 PPG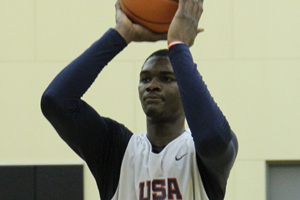 Credit: usabasketball.com
Seeing how Noah Vonleh is arguably Indiana's most talented player, he will frequently have the basketball in his hands. It bodes well for IU that he knows what to do with the ball when he has it. Vonleh possesses all the tools to be Indiana's leading scorer.
Because of his superb dribbling skills, he gets in the lane with ease and then finishes with authority. His jump shot is solid. Vonleh isn't a deadly three-point shooter but can score from that range. His ability to rebound should afford him putback opportunities as well.
With his defense, Vonleh can create instant offense. His ability to manufacture turnovers should provide him plenty of easy buckets.
If Vonleh adjusts well to the college game, there is no reason why he shouldn't be Indiana's leading scorer. In recent Hoosier history, two freshmen have led the team in scoring (Cody Zeller in 2011-12, Eric Gordon in 2007-08). Vonleh should accomplish the same feat.
Prediction: 15.1 PPG