UFC 162 Fight Card: Three Fights You Don't Want to Miss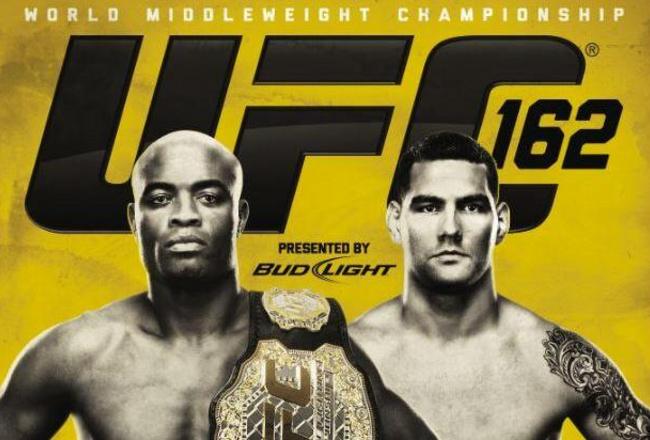 Official UFC 162 Poster (Courtesy of UFC Twitter Account)

Within the last week, promotion for UFC 162 has surged full steam ahead, with all emphasis placed on the climactic main event between Anderson Silva and Chris Weidman.
Yes, Silva is defending his belt for the 11th time. Yes, Weidman fits the bill as a possible archetype to finally defeat the middleweight titan. Yes, that possibility is a bit higher than Silva's perfect UFC record might lead one to presume.
But you should trust me when I say that July 6 has far more in store than just Weidman's attempt to end Silva's unbeaten streak.
There are plenty of edge-of-your-seat fights dispersed neatly throughout Saturday night's fight card. UFC matchmaker extraordinaire, Joe Silva, has made a concerted effort to gradually build the energy inside the MGM Grand Garden Arena until it eventually culminates in the co-main and main events.
Let's put aside, if only for a moment, Weidman's chances at accomplishing the near impossible. Let's also presume that Edgar won't fail to deliver another fast-paced boxing clinic.
Here are the three fights to look out for before either "The Spider" or "The Answer" step inside the Octagon.
Edson Barboza vs Rafaello Oliveira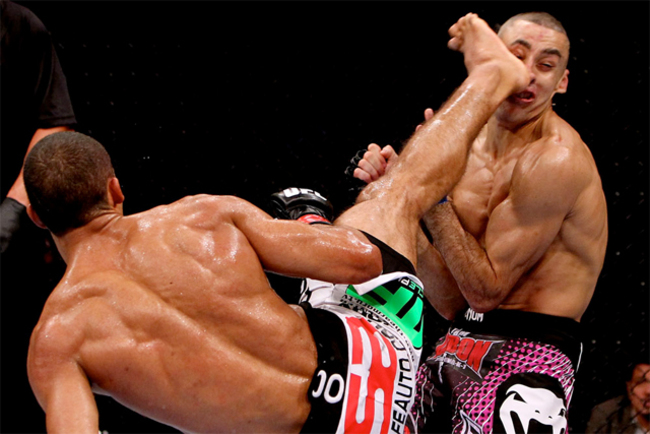 Edson Barboza's spinning wheel kick knocks out Terry Etim (Image courtesy of Josh Hedges/UFC)

Weight class: Lightweight
Where to see it: FX Prelims
Edson Barboza (11-1-0) throws kicks with a very specific style and panache—it's not unusual for them to be deemed award worthy.
In fact, his overall standup has proven to be so effective that it's safe to call him one of the top 10 most dangerous strikers currently competing for the UFC. That kind of efficacy of hands and feet is exactly what you'd expect given the 22 professional Muay Thai knockouts that preceded his MMA run.
At UFC 162, Rafaello Oliveira (15-5-0) will look to capitalize on his submission grappling prowess by taking Barboza down to the canvas—rendering all the flashy kicks null and void.
Don't bet on that happening though—the scales are heavily tipped in Barboza's favor.
If he lets his hands and legs go, fans might bear witness to yet another spectacular knockout.
Cub Swanson vs Dennis Siver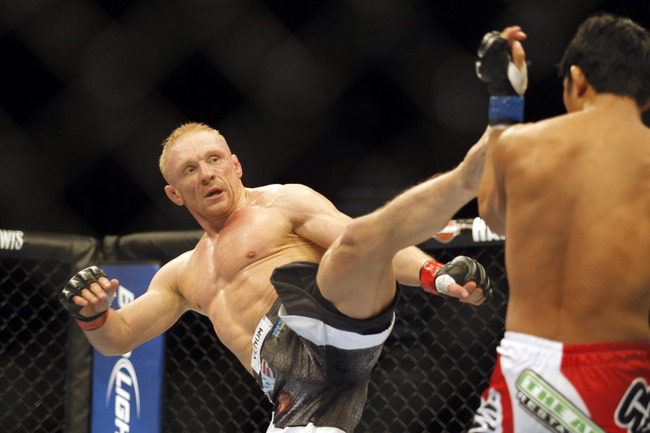 Dennis Siver throws a high kick
Joe Nicholson-USA TODAY Sports
Weight class: Featherweight
Where to see it: PPV
A former kickboxing champion, Dennis Siver (21-8-0) is the only other UFC 162 fighter to rival Edson Barboza's use of the lower body.
Famous for his cringe-inducing spinning back kick knockout of Nate Mohr, Siver has recently made the transition to featherweight in hopes of making a run for the title. After two consecutive victories at 145, the Russian-born German may be well on his way to turning that goal into a reality.
But there's a featherweight fighter on a streak who plans on putting a stop to Siver's plans at UFC 162.
Cub Swanson (19-5-0) has been on an absolute tear as of late—four straight victories that started with a brutal knockout of George Roop and culminated in an impressive decision victory over Dustin Poirier in February. His confidence will also be bolstered by training partner Donald Cerrone, who managed to submit Siver in 2011 and accordingly sent him packing towards featherweight.
Both men are adept strikers with enough cage savvy and experience to deliver an exciting fight regardless of where it winds up. With 16 total submissions shared between them, either fighter is capable of holding his own if grappling comes into play.
Title contention is on the line for this featherweight bout—don't miss it.
Tim Kennedy vs Roger Gracie
Tim Kennedy kicks Luke Rockhold
Scott Olmos-USA TODAY Sports
Weight class: Middleweight
Where to see it: PPV
In a recent interview with UFC.com, Tim Kennedy (15-4-0) provided a very candid assessment of his UFC 162 opponent:
He's tall, long, has a decent jab, and I hear he's good at jiu-jitsu. I'm going to try to neutralize those aspects of his fight game...This isn't a jiu-jitsu fight. This isn't about us showing how great our boxing is. It's a scrap. It's an MMA fight.
"Good at jiu-jitsu" is a glaring understatement when discussing Roger Gracie (6-1-0)—a man widely regarded as one of the greatest pound-for-pound submission grapplers on the planet. If past is prologue, Gracie will look to take Kennedy down at the sound of the opening buzzer and work relentlessly for the tap.
Kennedy is certainly no slouch, though.
With eight of his career victories earned via submission, he isn't necessarily scared of the Brazilian's grappling pedigree. With over 12 years of professional fight experience, he's bound to make good on his promise of turning this into a genuine MMA scrap.
With their UFC debuts on the line, both men will look to move into the organization with best foot forward; Gracie will likely aim to take advantage of his unsurpassed ground game, whereas Kennedy will try and take him out of his comfort zone by keeping the fight standing.
Regardless of who emerges the victor, both of these skilled middleweights are all but certain to deliver fireworks on Saturday night.
Keep Reading