Power Ranking the Top 10 WWE United States Champions of the Modern Era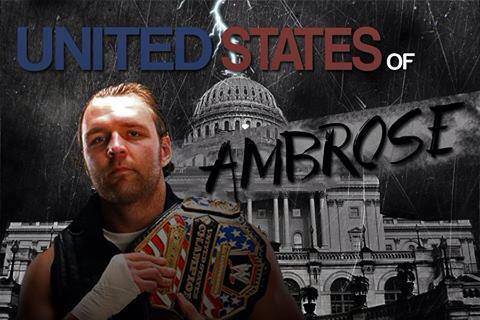 United States Champion Dean Ambrose (Courtesy of WWE.com)
On this day in 1776, the Declaration of Independence was signed, and the United States of America was born. Unlike the Founding Fathers, however, the Superstars of the WWE settle their disputes inside the squared circle.
Ten years ago this month, the WWE's version of the United States Championship was reactivated after being unified with the Intercontinental Championship in late 2001. Since then, a total of 26 esteemed wrestlers have had the honor of holding the star-spangled prize.
Of those individuals, only an elite few brought true prestige back to the belt and were considered some of the greatest patriots in the history of the company.
In light of the Fourth of July, I will list the top 10 Superstars who have held the WWE United States Championship in the last decade. Please note that the following list is purely based off my personal opinion, so please be sure to keep an open mind while reading.
Begin Slideshow

»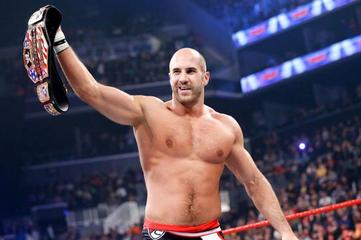 Antonio Cesaro, still your United States Champion. (Courtesy of WWE.com)
After the massive reaction he received when he came close to winning the World Heavyweight Championship at 2012's Elimination Chamber event, it only made sense for WWE to give Santino Marella the United States Championship shortly thereafter.
The only issue? Marella quickly made a mockery of the title and devalued it drastically during the time that he held it.
Following his successful title defense against Jack Swagger on the June 25 edition of Raw, Marella didn't put the gold up for grabs until SummerSlam. This was where his 167 day reign as U.S. Champion came to an end at the hands of Antonio Cesaro.
Sure, Cesaro is no American (although he now claims to be), but he made the title relevant during the first few months of his reign. He sported red, white and blue trunks at one point and even brought an American flag to ringside with him during his matches.
He defended the strap against the likes of Zack Ryder, R-Truth and Justin Gabriel for the remainder of the year before becoming an enhancement talent in 2013. Not only was his feud with The Miz mediocre, but he lost to the likes of Randy Orton, Sheamus and Alberto Del Rio on a number of occasions.
Although he managed to maintain possession of the strap for a whopping 239 days, his reign fell flat in the new year. Kofi Kingston beat him for the belt to very little fanfare on the April 15 edition of Raw.
If Cesaro dropped the title to Kingston but no one was there to see it, did it really happen? If not, then consider the Swiss Superman still your reigning, defending United States Champion.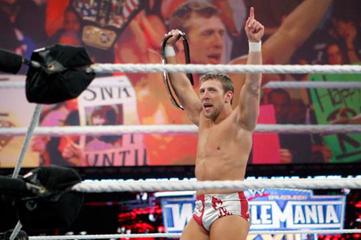 Daniel Bryan emerges victorious while United States Champion on Raw. (Courtesy of WWE.com)
Mere days after taking part in the controversial Nexus angle that occurred on the June 7, 2010, news broke that Daniel Bryan had been released from WWE. It was revealed his departure was due to the aggressive antics he displayed that night on Raw and that they were not suitable for a PG audience.
The Internet practically imploded after hearing this and started petitions to get Bryan back in WWE. Sure enough, Vince McMahon re-signed Bryan to a contract, allowing The American Dragon to make his shocking return to the company at its SummerSlam pay-per-view.
After his former NXT Pro The Miz cost him the matchup, Bryan set his sights on The Awesome One's United States Championship. The two were on a collision course going into Night of Champions, where Bryan forced Miz to tap out to the LaBelle Lock to score his first U.S. title.
For the remainder of the year, Bryan had fantastic matches with the likes of John Morrison, Dolph Ziggler, Ted DiBiase and others. Although he didn't defend the belt as much in 2011, he was always the go-to guy for entertaining matches on a weekly basis.
He maintained possession of the star-spangled prize for six long months before dropping the strap to Sheamus on the March 14 edition of Raw. The title helped elevate Bryan, who has since become a Money in the Bank winner and former World Heavyweight Champion.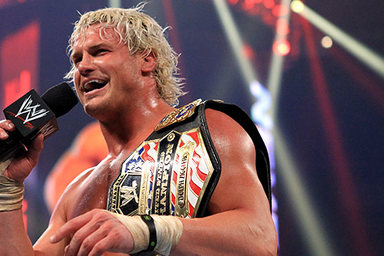 Dolph Ziggler boasts about his successful U.S. Championship defense. (Courtesy of WWE.com)
Dolph Ziggler finally achieved his long awaited dream in February 2011 when he was awarded his first World Heavyweight Championship, albeit for only 15 minutes. Following his banishment from SmackDown, he jumped ship to Raw and rekindled his feud with then-United States Champion Kofi Kingston.
The two familiar foes faced off at the inaugural (and only) Capitol Punishment pay-per-view, where Ziggler captured his first U.S. title. With Vickie Guerrero in his corner, there was no stopping Ziggler on the flagship show now that he once again had gold around his waist.
Some may have seen it as a demotion for the bleached blonde Superstar, but I thought it was a great way for him to regain momentum after losing it all to Edge earlier in the year. From surviving a Fatal 4-Way to scoring an upset victory over Randy Orton, it got to the point where the star-spangled prize was holding Ziggler back.
Fans looked at his match with then-WWE Champion CM Punk on the November 21 edition of Raw as a sign that Ziggler was ready to main event. After reigning as U.S. champ for six long months, The Show-Off dropped the strap to Zack Ryder at WWE TLC in December.
From there, Ziggler entered a WWE Championship program with Punk before winning the SmackDown Money in the Bank Ladder match in July 2012. He is currently chasing Alberto Del Rio for the World Heavyweight Championship.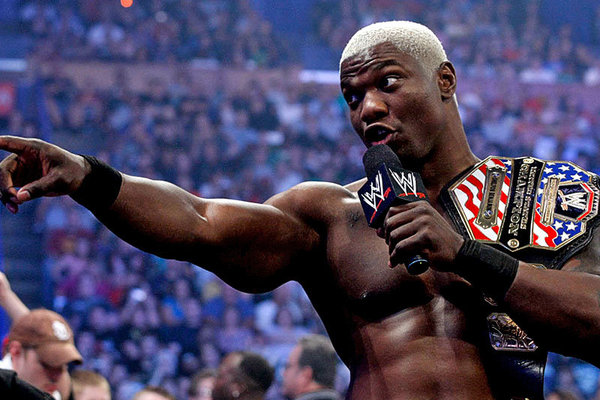 Shelton Benjamin proudly represents his nation as United States Champion. (Courtesy of WWE.com)
As The Gold Standard, Shelton Benjamin took ECW by storm and delivered five-star matches every time he stepped into the squared circle. It wasn't long before he became SmackDown property in the 2008 WWE Draft and started chasing Matt Hardy for the United States Championship.
On the July 11 edition of SmackDown, Benjamin defeated Hardy in a non-title match, earning himself a shot at the title at The Great American Bash pay-per-view. At the event, Benjamin scored the three count on the master of the Twist of Fate to pick up his first U.S. title.
Benjamin wore the star-spangled prize proudly around his waist for 240 consecutive days, the second longest reign since the title's reactivation a decade ago. He took on all comers, including the likes of Jeff Hardy, R-Truth and Hurricane Helms.
The belt might not have led him to a world championship, but it did give him one last hurrah before leaving the company in 2010.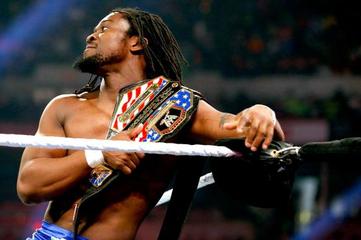 Kofi Kingston captures his third United States Championship on Raw. (Courtesy of WWE.com)
Throughout his five year tenure in WWE, Kofi Kingston has garnered quite a bit of championship gold. Of those titles, Kingston has three reigns as United States Champion to his credit.
He first captured the U.S. title on the June 1, 2009 edition of Raw, defeating MVP in what was a very entertaining contest. Kingston defended the gold almost every week for four straight months and had one of the best U.S. title reigns in recent memory.
Upon his return to Raw in early 2011, Kingston defeated Sheamus in an impromptu Tables match at Extreme Rules to embark on his second reign as U.S. champ. He would also put an end to Antonio Cesaro's lengthy reign as champion on the April 15, 2013 edition of Raw.
However, the Ghana native's time with the title was brief this time around, as he was later defeated by Dean Ambrose for the strap at May's Extreme Rules event.
Personally, I found his first reign as United States Champion to be the best, as his subsequent reigns were simply icing on the cake.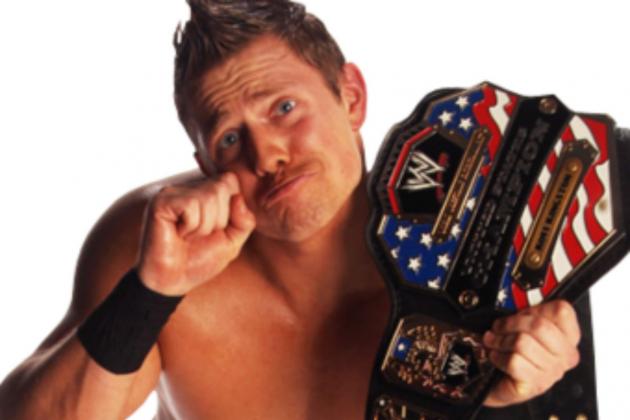 The Miz pretends to weep while holding the U.S. title belt. (Courtesy of WWE.com)
After The Dirt Sheet Duo split in April 2009, many thought John Morrision would be the first one to get a singles push over The Miz. While Morrison was pushed eventually, Miz was immediately inserted into a program with John Cena upon his arrival on Raw.
Although he wasn't on the winning end of that feud, Miz began chasing Kofi Kingston for the United States Championship that summer. He came up short of winning the gold on numerous occasions, but was finally successful on the October 5 edition of Raw.
From there, Miz embarked on a lengthy reign as U.S. Champion and defended the gold almost every month until he dropped it. Of course, he wasn't fully focused on the star-spangled prize while he reigned as Unified Tag Team Champion from February to April 2010, but it was still a feather in his cap.
Following successful title defenses against the likes of MVP and Mark Henry, Miz finally dropped the strap to Bret Hart on the May 15 Raw, ending his reign at an impressive 224 days.
He regained the gold a mere month later and had one successful title defense against R-Truth at Fatal 4-Way. Aside from that, The Awesome One didn't defend the U.S. title for the three months he held it before losing it to Daniel Bryan at Night of Champions.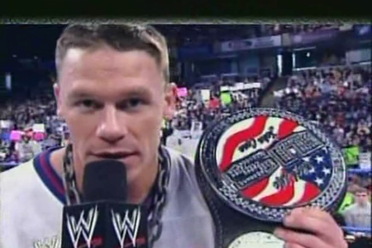 John Cena shows off his customized United States Championship belt. (Courtesy of tumblr.com)
Long before he was holding the WWE Championship and preaching people to rise above hate, John Cena was nothing more than a rising rookie on SmackDown. In 2003, he dubbed himself "The Doctor of Thuganomics" and adopted a rapping gimmick that was very similar to who he was in real life.
Whether his raps were actually entertaining is up for debate, but there's no questioning that he was quite impressive in the ring against the likes of Kurt Angle, Undertaker and established stars. At WrestleMania 20, he defeated Big Show to win his first United States Championship in what was his initial appearance on The Grandest Stage of Them All.
In the year that followed, Cena held the title a total of three times and had a great series of matches with Booker T that fall. He is also known as the only man to have customized the U.S. title belt since its activation a decade ago.
Many people may argue that this was the best run of Cena's career. His third reign lasted nearly four months before coming to an end at the hands of Orlando Jordan in March 2005.
The star-spangled prize was a key factor in Cena's rise to the top of the WWE that year. He went on to challenge JBL for the WWE Championship at WrestleMania 21 and the rest is history.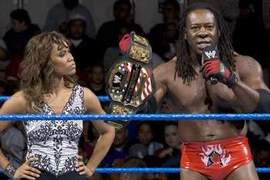 Booker T held the United States Championship with honor and dignity. (Courtesy of bleacherreport.com)
At the time Booker T captured his first United States Championship in 2001, World Wrestling Entertainment had just bought World Championship Wrestling. It wouldn't be until the title's reactivation a few years later that Booker T would finally win the star-spangled prize back in an eight-man elimination match in mid-2004.
He was John Cena's first true test when the two competed in Best of Five series over the title for the remainder of the year. Although Cena eventually beat him for the belt, Booker T regained the gold a year later in October 2005.
This jump-started an unforgettable feud with Chris Benoit, where the two exchanged victories for close to three months. After an extraordinary Best of Seven series, Booker captured the U.S. title for a fourth time.
The former five-time WCW Champion was a staple in the SmackDown mid-card for a number of years before winning the King of the Ring tournament and World Heavyweight Championship in 2007.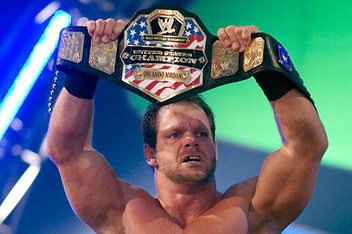 Chris Benoit successfully retains his United States Championship. (Courtesy of jpwg.tripod.com)
Similar to Booker T, Chris Benoit had already held the United States Championship on two separate occasions while in WCW. Once he was sent packing to SmackDown in the 2005 WWE Draft, Benoit immediately set his sights on Orlando Jordan's star-spangled prize.
The two met in a match with the title on the line at The Great American Bash, where Benoit was unsuccessful in capturing the gold. Regardless, Benoit defeated Jordan in a record-setting 25 seconds to win his third United States Championship.
He reigned as champion for two months before dropping the strap to Booker T on SmackDown. Although Benoit failed to emerge victorious in his Best of 7 series with Booker, he soundly defeated the former five-time WCW Champion at No Way Out the following February.
Benoit's fourth reign as U.S. champ lasted a mere 42 days before it came to an end at the hands of JBL at WrestleMania 22. It was six months later on the October 13 edition of SmackDown that the Rabid Wolverine gave Mr. Kennedy his first submission loss in WWE and captured his record-setting fifth U.S. title.
For seven straight months, Benoit successfully defended the gold on a regular basis, which included a victory over MVP at WrestleMania 23. MVP eventually defeated Benoit for the belt in a two-out-of-three falls match at 2007's Judgement Day event, ending the former World Heavyweight Champion's reign at 222 days.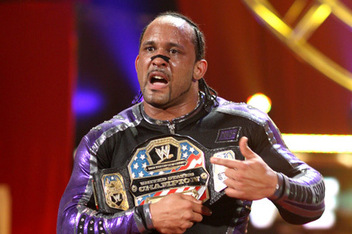 MVP maintains possession of the star-spangled prize. (Courtesy of WWE.com)
In August 2006, Montel Vontavious Porter (MVP for short) made his WWE debut on SmackDown. It was a well-known fact that he was (in storyline) the highest paid Superstar on the blue brand, going undefeated in singles action for the remainder of the year.
With momentum on his side, MVP challenged Chris Benoit for the United States Championship at WrestleMania 23, but to no avail. MVP suffered another loss to Benoit at Backlash before finally capturing the star-spangled prize in an excellent two-of-three falls match at Judgement Day.
From that point forward, MVP embarked on what is still to this day the longest United States Championship reign in WWE history. During his tenure with the title, MVP had a long running rivalry with Matt Hardy, challenging him to all sorts of contests for the remainder of the year.
He and Hardy put their differences aside that fall to win the WWE Tag Team Championships together. They maintained possession of the straps for two months before dropping the gold to John Morrison and The Miz in November.
Their feud resumed the following April upon Hardy's return to the ring. MVP came up short of reaching the year mark as champion, as he lost the title to Hardy at the Backlash pay-per-view.
One year later, MVP defeated Shelton Benjamin on the March 20 edition of SmackDown to regain the gold. He reigned as champ for 76 days before dropping the strap to Kofi Kingston that June.
Although the U.S. title never elevated MVP to main event status, he was involved in top-tier feuds with Randy Orton, Chris Jericho, Big Show and others on Raw and SmackDown, respectively. Furthermore, his record-setting reign and entertaining programs with the likes of Hardy and Benjamin made him the greatest U.S. Champion in WWE history.
Visit my website at Next Era Wrestling and listen to my wrestling radio talk show SAVE US GSM every Wednesday night at 10 p.m. ET.