The Kansas Jayhawks will be looking sharp heading into the 2013 season.
This week, head coach Charlie Weiss posted a Vine video, per Michael Shamburger of Big Lead Sports, that should have fans beaming with pride, offering only the slightest bout of motion sickness.
While the video might be a tad discombobulating for some, it certainly gives you a real sense of what we are dealing with from a fashion point of view.
As Shamburger notes, the new duds seem to "range from the normal Jayhawks unis to matte black and matte baby-blue."
If we are grading, I have to throw an "A" on the baby blues, a color that when done right can be extremely pleasing on the eyes.
While we await far more photos and footage of the uniforms, we enjoy the sweet sartorial game the Jayhawks are bringing to the matte black and blues, as well as the featured role for the school's mascot.
For a more static view of the helmets, the Kansas Jayhawks' Twitter account helps us out with this tweet:
Five updated helmet designs debuted by @KU_Football for the 2013 season! #rockchalk pic.twitter.com/BRtvLEKz3r

— Kansas Jayhawks (@KUAthletics) July 1, 2013
Here is a brief glimpse of some of the attire worn by Kansas in 2012: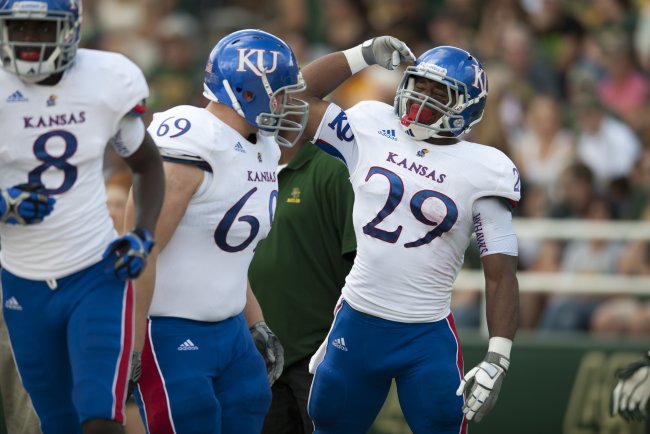 Cooper Neill/Getty Images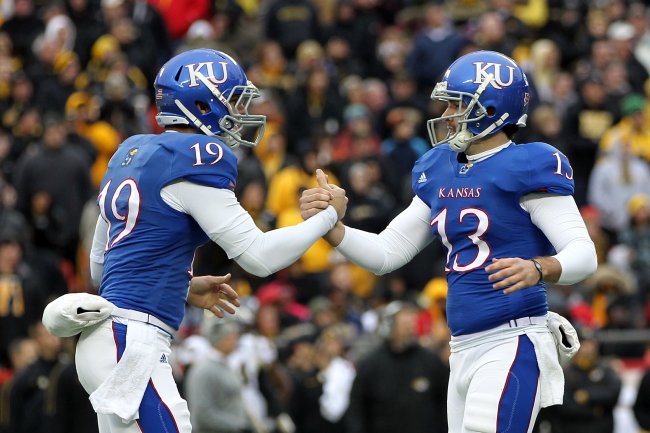 Jamie Squire/Getty Images
Now, Kansas isn't the only collegiate program to flip the fashion switch, because Appalachian State unveiled its own slick uniforms recently, dropping the lines across the front of its jerseys, opting for a far more streamlined uniform.
As for Kansas, the only remaining question relates to the bottoms and whether those pants will bring back the wide stripe running down the legs.
Whatever they decide, it's clear Kansas will look a little different in 2013, and I have no complaints about that.
Hit me up on Twitter: Follow @gabezal