Ranking MLB's 10 Sweetest Swings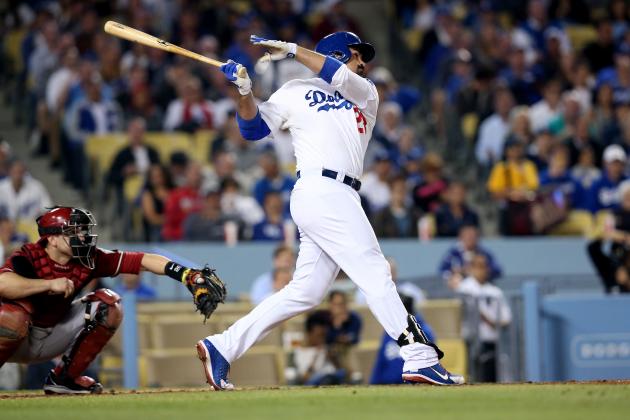 Stephen Dunn/Getty Images

Believe it or not, it is July, and we're already at the halfway point of the MLB season. As we approach the All-Star Game, it's a great time to recognize some of the best individual efforts. Even though we've perpetually been stuck in the "Year of the Pitcher" since the end of the steroid era, I think it's a great time to rank baseball's 10 sweetest swings.
Though there is a degree of subjectivity in deciding what makes a sweet swing, I will take a few things into consideration.
First and foremost, there is the eye test. The nicest swings look easy and beautiful. If there was ever an example of this, it would be Ken Griffey Jr.
Secondly, there are mechanics. Some players get great results out of their swing but don't necessarily do it in the most technically sound way. Vladimir Guerrero was a prolific hitter, but no one would ever put him on this list.
Finally, there are results. Statistics don't mean everything, but a pretty swing accompanied by a .220 batting average is not that impressive. While this won't be a ranking based on batting averages, don't be surprised to see some familiar names like Adrian Gonzalez or Robinson Cano making the list.
Let's get to it.
Begin Slideshow

»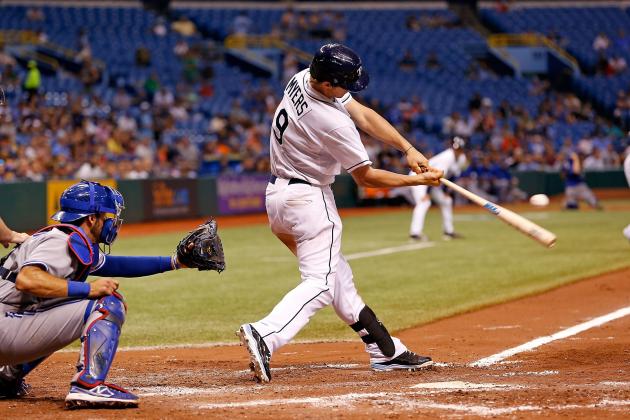 J. Meric/Getty Images
Wil Myers just made the jump to the majors, but still has one of the sweetest swings in the MLB
There are so many great swings, and it's such a close call between some of the players that I would be remiss in not dishing out a few honorable mentions.
Wil Myers
Yes, the kid is young and the sample is small. Still, Myers is batting .293 and has at least one hit in nine of his last 10 games. His swing is quick, powerful, easy and level, which is truly a sight to see.
Watch here as he belts his first career home run to opposite field in Yankee Stadium. He keeps his head down, has a slight uppercut and puts it into the seats.
Joey Votto
The former National League MVP is one of the few true first basemen left in the game. Creating a ton of power from a beautiful left-handed swing, Votto is a joy to watch.
He is a model of consistency, both in performance and mechanics. Carrying a .317 career batting average, Votto always hits 25-plus home runs and a bunch of extra-base hits. Check out this video to see my point.
Andrew McCutchen
Standing at 5'10" and 185 pounds, the Pirates center fielder is one of the great young players in the game. He also has an explosive, powerful swing that has been hitting bombs in PNC Park for years.
McCutchen's swing is slightly eccentric in the way that he sometimes whips his back foot around, but that is more to generate power from a slender frame than anything. Still, it's a sight to see when this kid gets a hold of the ball, as you can see in this home run montage from 2012.
Manny Machado has taken the baseball world by storm since his debut last fall, and there are a number of reasons for that. One of them is his hitting ability, which is evidenced by his .321 batting average and 38 doubles this season.
Machado's swing is characterized by a level, quick bat that stays in the zone and covers the outside of the plate like a veteran. He uses a bit of a leg kick as his timing device just like many others, but Machado is the real deal.
With his ability to hit singles, doubles, triples and home runs, he is already a star. The fact that he hits so many doubles at this young age means that with some added muscle, he will be hitting the ball over the fence on a regular basis. That's a scary thought when you remember that he's on the same team as Chris Davis.
Buster Posey is Mr. Everything for the San Francisco Giants. The 2012 NL MVP is batting .319 and is on pace for a career high in homers. The reason why? Look no further than this sweet swing.
Combined with a great approach at the plate, Posey has a fast bat and a strong lower body, which he uses to launch baseballs deep into outfields and bleachers. He also uses a big leg kick to time his swing and has great balance when transferring power from one leg to the other. In the video above, you can see it all in action as he hits a grand slam in last year's NLDS.
For me, Posey and Machado get equal marks, but I give the slight nod to the veteran with the polished resume.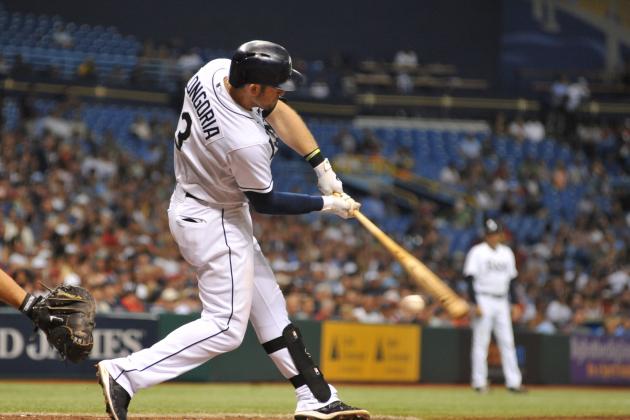 Al Messerschmidt/Getty Images
Longoria is only getting better with age
Evan Longoria is having a career year in 2013 in terms of hitting, with a .298 batting average and 17 home runs to this point. His big bat in the middle of the Tampa Bay order has been one stable thing on a constantly changing roster.
Though he's always been viewed as an elite hitter, I think Longoria has made a lot of strides recently in his approach. For a guy who was once a dead pull hitter, he now shows the ability to hit to the opposite field, and with power at that.
With his immense power and the amount of time that his bat spends in the zone, Longoria's swing is a sight to see. It's actually a lot like the swing of Wil Myers, but check out this GIF and subsequent analysis to see why Longoria makes the grade.
I'll start this slide by admitting that Mike Trout doesn't have the prettiest swing of all, but like I said, I'm taking multiple factors into account. On the eye test alone, he doesn't make the cut. What Trout lacks in beauty, though he more than makes up for with mechanics and production.
In terms of mechanics, he uses a big leg kick similar to Jose Bautista to load up and time the ball. Despite this, he keeps his hands back, explodes his hips around the pivot point and keeps his bat in the zone. This combination allows him to really drive the ball to whichever field he desires, which you can see in his 4-for-5 performance in the video above.
Last season, as a rookie, he recorded the 21st-ranked wins above replacement (WAR) of all time. To put that into perspective, everyone ranked higher is a Hall of Fame member (or Barry Bonds), and he tied Ted Williams's best mark.
Trout certainly has a nice swing, but it's his excellent mechanics and numbers to back it up that place him above guys like Longoria.
If you're surprised to see Howie Kendrick make an appearance on this list, then maybe you should watch this guy a little more. I still remember reading about his hitting prowess in Sports Illustrated in 2008, and here he is today, having a career year for the Angels. Kendrick came into the majors being touted for his ability to hit for average, and we're finally seeing it.
In the video above, you can see the best of his mechanics at work. Kendrick lets the ball travel into the zone, quickly gets his bat around and drives the ball the opposite way. This short, no nonsense approach is very easy on the eyes.
By now, you've probably noticed my appreciation for hitting the ball to opposite fields. I think it's a great indicator of proper mechanics and approach at the plate, and you don't see too many dead pull hitters with high batting averages.
With the production to match a beautiful and sound swing, Kendrick outranks his teammate and checks in at No. 6 on our list.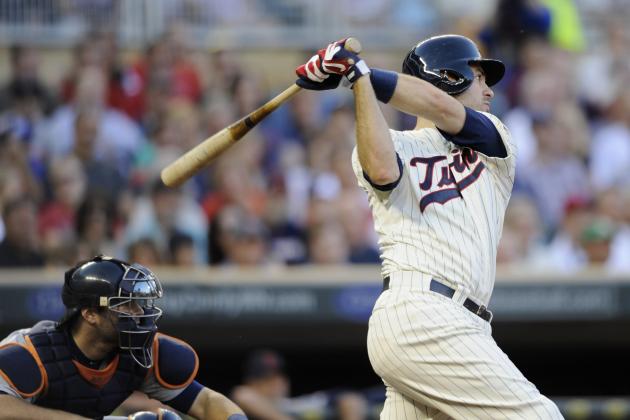 Hannah Foslien/Getty Images
Joe Mauer's swing is picture perfect
Surprisingly, we have our second catcher on this list at No. 5. To those who watch baseball, though, Joe Mauer's appearance is no surprise. The left-hander has been a hitting machine since he arrived in the bigs, batting .323 and collecting one MVP and five All-Star appearances.
The big Minnesotan could easily have become a dominant power hitter with his 6'5", 230-pound frame. Instead, he is one of the most patient hitters with a short, quick, compact swing. The Mauer family attributes that to their "Quickswing" hitting tool, which you can see in this video.
Having a long track record of success, Mauer's sweet swing gives him the edge over Howie Kendrick on our list.
This may seem like a "what have you done for me lately" kind of pick, but Chris Davis undeniably has a gorgeous swing. Batting .329 with 31 homers, he is on pace for a ridiculous season for the Orioles. Combining Davis with Machado, Nick Markakis and Adam Jones in the middle of the order makes for one of the most formidable lineups in baseball.
Davis is all about his home runs, but as the montage above shows you, they come in all forms. His swing looks ridiculously easy, and he absolutely crushes it to all fields. Using the massive 6'3", 230-pound frame of his, Davis unleashes power from both halves of his body.
A career .270 hitter, Davis is exploding onto the scene in 2013. His smooth, relaxed swing is very easy on the eyes. We can only hope that he keeps it up in the second half.
Miguel Cabrera checks in at No. 3 on this list and No. 1 on the list of best hitters in baseball. At this point, anything to say about Cabrera has already been said, so I'll try to refrain from gushing about how flat-out absurd his career numbers are.
One impressive thing about Cabrera's swing is how he always appears to hit for contact, as opposed to teammate Prince Fielder, who looks like he's trying to chop down a tree (no slight intended as Fielder does a pretty good job with it). Even more impressive is his plate coverage, which can be seen in great detail by checking out this series of GIFs.
As you can see by watching the video above, Cabrera has the ability to crush any pitch in any count and make it look easy. There's no one better at that in the MLB. Still, two sweet-swinging lefties have his number in this slideshow.
Adrian Gonzalez may be experiencing a decline in his power over recent years, but I don't see that as an indictment of his swing. Shoulder surgery has forced him to hit more line drives, but he's still as effective as ever with a .298 batting average and 50 RBI thus far.
On the eye test alone, Gonzalez's swing is simple and sweet. The effortless way that he connects with the ball is truly a sight. With his leg kick to time the ball and a balanced approach, he has the ability to put the ball anywhere on the field.
He may be slightly less mechanical than Cabrera, but Gonzalez more than makes up for it with the elegant swing that you can see in the video above.
Robinson Cano is the best second baseman in the game and could go down as one of the best ever at his position. He's an excellent fielder with great range, but we're here to talk about him at the plate. Cano is a career .308 hitter and one of the most consistent performers in the bigs.
What makes his swing so sweet? As Steve Silverman of CBS New York says in this column from 2012, "It is smooth. It is fast. It is efficient. It is powerful." Every time Cano makes contact, it is an absolute rip. His bat speed is incredible, and his power is only improving over time.
What separates him from the rest of these guys? He's the whole package in terms of mechanics, statistics and the eye test, which you can see in the three-run blast shown above. The Yankees and their fans can only hope that he remains in the Bronx for years to come.