Brazil's 3-0 triumph over vaunted Spain in the Confederations Cup final will certainly leave a lasting impression. Moments like David Luiz's clearance from his own goal line will go down in soccer lore for years to come.
Other moments, like Sergio Ramos' missed penalty kick, are ones that the players would love to forget. But, thanks to Twitter, they still live on days after the match.
In that spirit, let's take a look a closer look at some of the worst performances of the match with a little help from the Twitterverse.
Sergio Ramos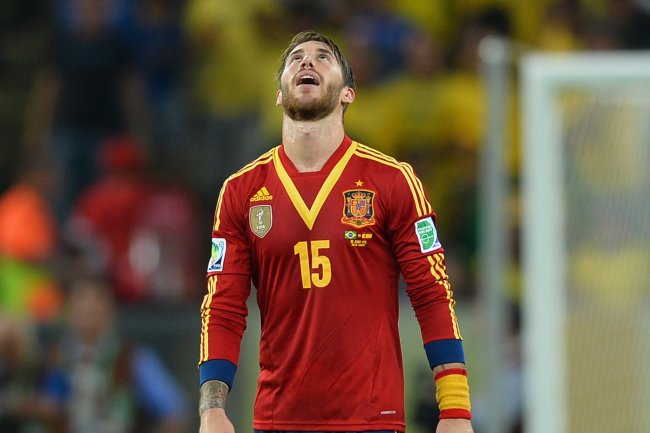 Laurence Griffiths/Getty Images
No one from Spain is taking as much heat as Sergio Ramos, whose missed penalty kick in the 67th minute became symbolic of his team's failures.
Every Sunday League team has a centre-back like Sergio Ramos who thinks he can take penalties like Ruud van Nistelrooy or Alan Shearer.

— Sunday League Footy (@SundayChants) June 30, 2013
FACT: Vincent Del Bosque is a better penalty taker than Sergio Ramos.

— Footy Humour (@FootyHumour) June 30, 2013
Given the choice of any of the 11 men on the field for Spain, one has to wonder why Vicente del Bosque chose Ramos to take the shot given Ramos' recent history. It was just over a year ago that he missed a penalty kick during the Champions League semifinal.
With offensive talents like Xavi, Pedro and Juan Mata on the pitch, the use of Ramos in that spot is a head-scratcher.
As @FootyHumour noticed, even Xavi knew it was a bad idea: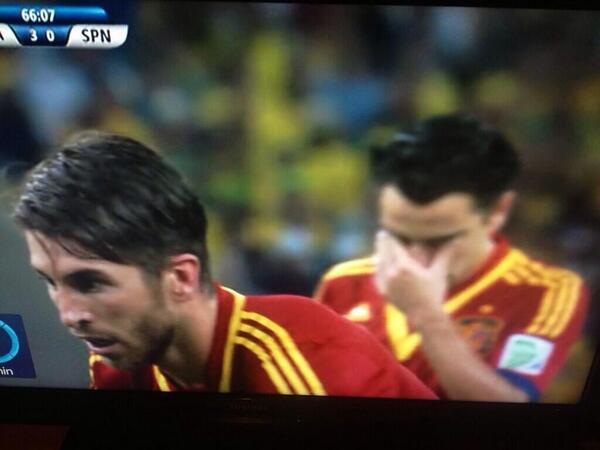 In a game dominated by Brazil, the missed penalty kick made little difference. Even if Ramos had knocked it home, Brazil would still have held a 3-1 lead over a Spanish side that was thoroughly outplayed throughout the match.
That said, Sergio Ramos has to at least put the shot on net. Force the goalie to make the save instead of giving him a freebie.
He has now missed twice in high-profile situations, and that's a reputation that will haunt him for the rest of his career.
Gerard Pique and Shakira
No moment was as buzzworthy as Gerard Pique's red card. Pique was sent off after a hard tackle to Neymar shortly after Ramos missed on the penalty kick.
But instead of debating whether it should have been a red card or not, all the reaction on Twitter has revolved around Shakira and her reaction to her boyfriend's early exit.
neymar may be man of the match, but i think we can all agree @shakira was the real star of the show! http://t.co/p9LI2MKK9T #confedsfinal

— Fergal Gribben (@fergalgribben) July 1, 2013
Oh baby when you tackle like that, you make a ref go mad. Hahahaha #pique #shakira

— Francesco Campoy (@FrancescoCampoy) June 30, 2013
This is the equivalent of Pique going to a Shakira concert and watching her getting booed off stage

— Darien Or. Gee (@DarienGee30) June 30, 2013
It was a poor effort from Pique, but it was an effort nonetheless. When your team is down three goals in the 68th minute and your star defender just missed a penalty kick, it's easy to throw in the towel. Credit Pique for at least trying to slow down the Brazilian attack.
A red card was probably a bit too harsh in that situation, but at least it took everyone's minds off of Sergio Ramos for a while.

Diving
While watching the match, it was hard not to notice how much time both teams spent on the ground.
Great diving competition going on during brasil/Spain match.

— Judah Friedlander (@JudahWorldChamp) June 30, 2013
In other news, Neymar has been chosen to be part of the Brazilian Olympic diving team. He is expected to take the gold at the next Olympics.

— Raul San Miguel (@RSMPtheSpaniard) June 30, 2013
For the two best teams in the world, diving has become an art form, and their work was on full display during Sunday's match.
Surprisingly, according to databaseOlympics.com, neither Brazil nor Spain has ever won an Olympic medal in diving. If the Confederations Cup was any indication, that could change in 2016.
The diving in the final went beyond gamesmanship; it was downright embarrassing at times. Neymar, the Brazilian midfielder who has become known for his diving, was again the worst offender.
At least he has talent beyond diving, though. His goal in the 44th minute was a thing of beauty. However, if he is ever going to be talked about as one of the world's best, Neymar has to stay off his backside and play the game upright.
What did you think was the worst performance of the match? What moments are you still talking about in the days after the match? Leave a comment below or keep the conversation going on Twitter.
Follow me on Twitter @SundayDriver7