Predicting Top NBA Rookies in Every Major Statistical Category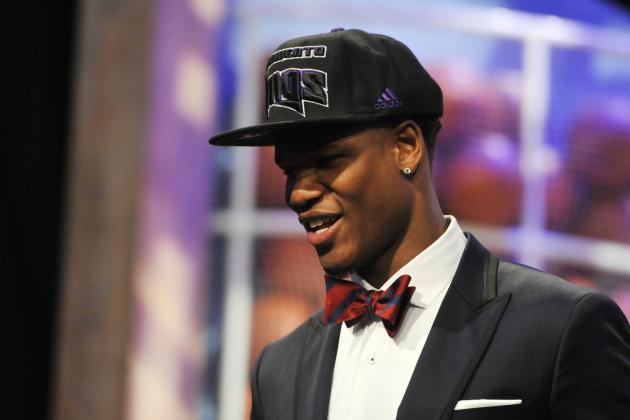 Joe Camporeale-USA TODAY Sports
Ben McLemore has an opportunity to lead NBA rookies in a number of categories this year.
It's rather common for rookies in the NBA to struggle throughout their first year in the league. They're still getting used to playing elite competition and likely won't be the best player on their team or in their conference like they were in college.
However, there are a handful of rookies from the 2013 draft class who should be able to contribute in a big way. Today we're going to predict the top rookies in every major statistical category for the 2013 season.
Begin Slideshow

»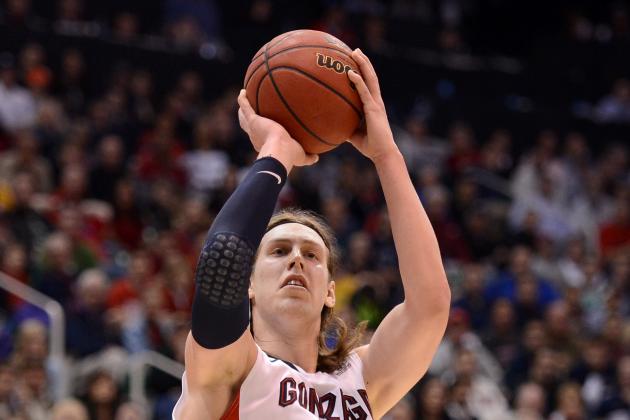 Harry How/Getty Images

Center Kelly Olynyk enters an ideal situation with the Boston Celtics. They are in full rebuilding mode after shipping out forwards Kevin Garnett and Paul Pierce to the Brooklyn Nets.
However, what really makes Olynyk the favorite to lead the NBA in field goal percentage is the fact that he'll be receiving passes from point guard Rajon Rondo. Even if Rondo isn't ready for opening night, he should be back soon enough to provide Olynyk with an elite distributing point guard.
Olynyk's smooth interior game and quality jumper should instantly get him minutes in Boston, where he'll likely be a key part to the rebuilding project.
Honorable Mention: Anthony Bennett, Cleveland Cavaliers; Cody Zeller, Charlotte Bobcats
Both Bennett and Zeller should be key parts of their respective offenses as rookies. They should also get plenty of looks close to the room due to playmaking point guards who can easily get to the rim.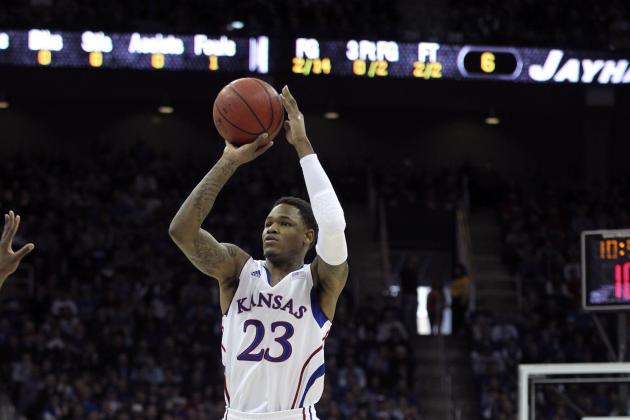 Ed Zurga/Getty Images

When you consistently get compared to shooting guard Ray Allen as a prospect, leading the NBA in three-point percentage is almost a foregone conclusion.
Shooting guard Ben McLemore has one of the sweetest strokes to come out of college in a long time. His quick release and NBA-ready range makes him a prospect ready to contribute from day one for the Sacramento Kings.
The only thing that could potentially keep McLemore back is if he's forced to play alongside a player like shooting guard Tyreke Evans. While it's possible that Evans will leave to join the New Orleans Pelicans (even though the Kings are thinking about matching his offer sheet), if he doesn't, it could be hard for McLemore to get the ball in his hands.
However, McLemore's talents are too good for him to not be one of the better rookies in the league and have a legitimate chance at winning NBA Rookie of the Year.
Honorable Mention: Reggie Bullock, Los Angeles Clippers; Tony Snell, Chicago Bulls
With Bullock and Snell, the Clippers and Bulls have legitimate specialists in the long game. There might not be very much either can offer to either team other than three-pointers, but that skill alone should get them good playing time during their rookie seasons.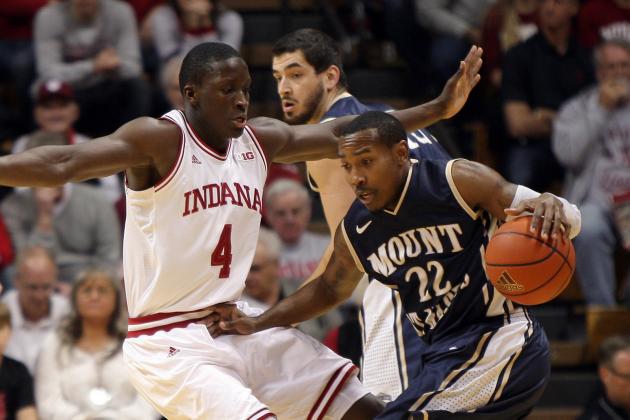 USA TODAY Sports

No player in the 2013 NBA draft class has the defensive skills of guard Victor Oladipo. He's a legitimate shutdown defender who'll cover the best guard for the opposing team for the Orlando Magic.
What makes Oladipo such a talented defender is the quickness of his hands and his athleticism. He has no trouble sticking with quicker guards and is physical enough for bigger guards.
Don't be surprised if Oladipo doesn't just lead rookies in steals per game, but is also one of the leaders in the entire NBA. He's simply that good of a defender.
Honorable Mention: Otto Porter, Washington Wizards; Michael Carter-Williams, Philadelphia 76ers
Why Carter-Williams will excel on the defensive side of the ball is because of his height. At 6'6", Williams' height will cause numerous problems for point guards.
As for Porter, he's simply one of the best all-around rookies and should be a key piece to a surprisingly talented Washington Wizards team.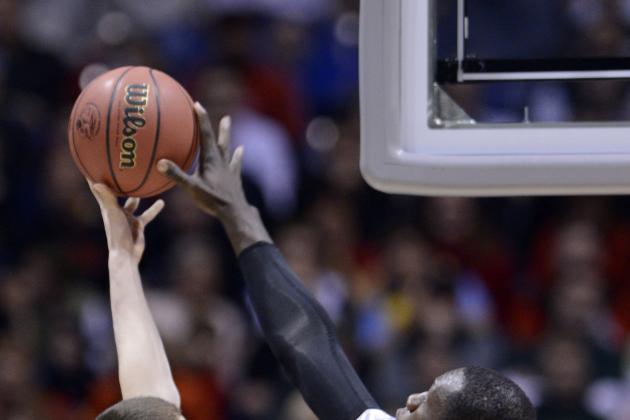 Jamie Rhodes-USA TODAY Sports

While center Gorgui Dieng will likely be behind center Nikola Pekovic, he should still see enough minutes to lead all rookies in blocked shots. Dieng is an extremely advanced defensive rookie who'll be able to impact that side of the floor instantly for the Minnesota Timberwolves.
With a 7'3.5" wingspan and good athleticism, Dieng has the ability to block shots even when he doesn't have ideal positioning. While Dieng has been labeled as more of a project-player offensively, he's actually got a refined mid-range game that will also help Minnesota.
Overall, Dieng could be one of the biggest surprise rookies in the NBA.
Honorable Mention: Jeff Withey, Portland Trail Blazers; Nerlens Noel, New Orleans Pelicans
Noel probably won't play until late this year or early next year, but he'll make an instant impact on the defensive side of the ball once he does.
The Trail Blazers got a major steal in the second round with Withey. He's an NBA-ready center on defense and should be a great compliment player to forward LaMarcus Aldridge on both sides of the floor.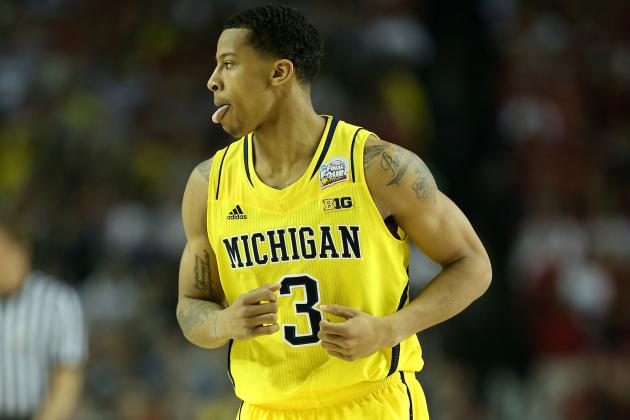 Andy Lyons/Getty Images

The only other true point guards drafted in the first round of this year's draft other than Trey Burke were Carter-Williams, Dennis Schroeder, Shane Larkin and Nemanja Nedovic. Only Burke and Carter-Williams are expected to start.
Between Burke and Carter-Williams, no one would argue that Burke is the more polished player who'll make a bigger impact right away. While he doesn't have the pass-first mentality of the former Syracuse Orange point guard, he'll have more opportunities playing with the Utah Jazz.
With players like Derrick Favors, Gordon Hayward and the possibility of Al Jefferson and Paul Millsap, Burke has a handful of scorers that he can get the ball to. He won't have the pressure of being a go-to scorer which should help his overall assist total.
Look for Burke to contend for Rookie of the Year honors and make the Jazz a much better overall team.
Honorable Mention: Michael Carter-Williams, Philadelphia 76ers; Otto Porter, Washington Wizards
We've already discussed Carter-Williams, but a sneaky candidate here is Porter. He's got a great all-around game and plays alongside two legitimate scorers in guards John Wall and Bradley Beal.
He could end up being quite the facilitator to those two players during his rookie season.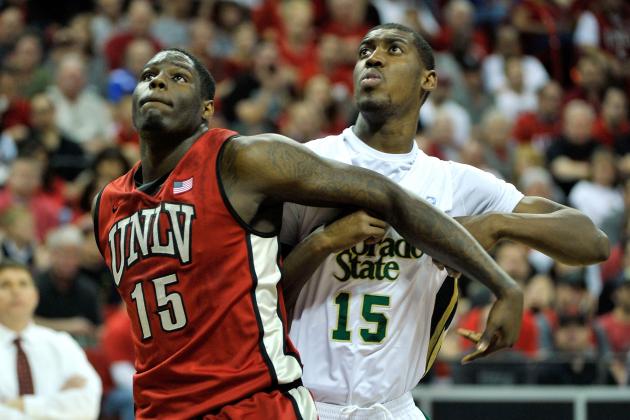 Jeff Bottari/Getty Images

Of all the categories to predict rookie leaders in, rebounds per game was the most difficult. The reason for this is that there weren't a great number of big men in this year's draft who'll contribute right away.
Enter the No. 1 overall pick in forward Anthony Bennett who should see a good amount of minutes for the Cleveland Cavaliers in year one. Bennett averaged 8.1 rebounds in his lone season for UNLV, so you know he's a capable player on the boards.
Bennett could end up being rather underwhelming as a rookie on the offensive side of the ball, but that shouldn't stop him from grabbing a good chunk of rebounds nearly every night.
Honorable Mention: Jamaal Franklin, Memphis Grizzlies; Alex Len, Phoenix Suns
If Franklin sees enough playing time for the Grizzlies, he could end up leading all rookies in rebounds. He averaged a whopping 9.5 during his last year at UNLV and is fundamentally sound in this area of his game.
While Len has his struggles defensively, he is still a 7'1" center with good athleticism and leaping skills. Much like Franklin, Len will be held back by a limited amount of playing time with the Suns.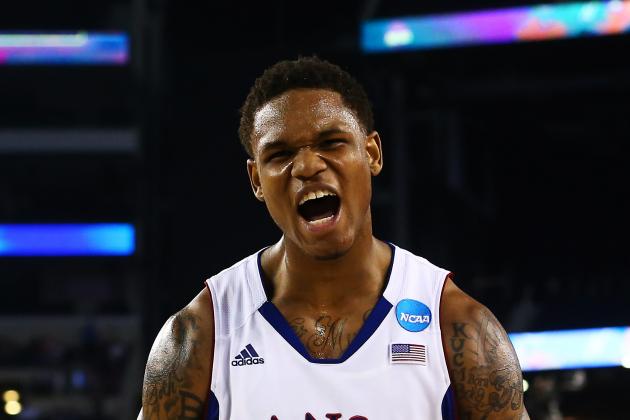 Ronald Martinez/Getty Images

The only other rookie who has the potential to score like shooting guard Ben McLemore is point guard Trey Burke. However, the Sacramento Kings will likely rely on McLemore's scoring more than the Utah Jazz will rely on Burke.
Where McLemore needs to improve is in his urgency with the ball in his hands. Too often will he be content with passing up an opportunity to score in hopes of a better opportunity later. The problem with that is that in the NBA once the ball leaves your hands there is a good chance you won't be getting it back.
That is especially true when playing with the likes of Tyreke Evans, Isaiah Thomas and DeMarcus Cousins. McLemore has the potential to become an elite scorer in the NBA, but he's going to need to develop the ability to completely take over games offensively.
If he can do that, he could end up being one of the better players in the league at his position.
Honorable Mention: Trey Burke, Utah Jazz; Kentavious Caldwell-Pope, Detroit Pistons
Burke is an elite playmaker who can penetrate as well as hit three-pointers, so he should be able to score in bunches.
As for Caldwell-Pope, he proved at the University of Georgia that he has the ability to score by averaging 18.5 points per game as a sophomore. He'll need Brandon Knight to develop into a competent point guard, but he's got a great all-around game offensively and should develop into an offensive weapon for the Pistons.