Toronto Blue Jays: Predictions for the 2nd Half of 2013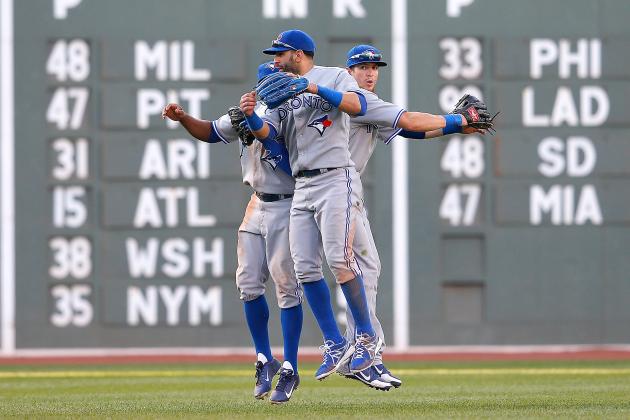 Jim Rogash/Getty Images

The 2013 Toronto Blue Jays have kept everyone on their toes.
It's become more and more difficult to decide whether on not this team is talented but under-performing or simply not as good as everyone thought.
As a result, it's quite difficult to decide what to expect of the 2013 Jays.
After general manager Alex Anthopoulos traded for Jose Reyes, Josh Johnson, Mark Buehrle, Emilio Bonifacio and John Buck from the Miami Marlins, the Jays were expected to contend.
Then Anthopoulos added reigning National League Cy Young Award winner R.A. Dickey and all of a sudden the team was expected to win the American League East.
Then the actual baseball games began. Jose Reyes went down with an ankle injury, Dickey struggled out of the gate and the Jays were again "that other team" in the AL East.
However, an 11-game win streak in June changed all that, and after the Jays scratched and clawed their way back to .500, the playoffs seem like an unlikely but possible scenario for Toronto.
With expectations changing on a daily basis, here's a glance at what to look for in the second half of 2013.
Begin Slideshow

»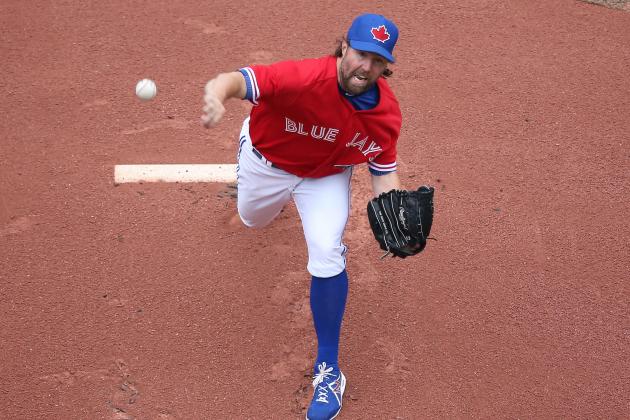 Tom Szczerbowski/Getty Images

It may have taken half a season, but the R.A. Dickey Jays fans were waiting for has finally arrived.
Over his last two starts against the Rays (5th in AL hitting) and the Tigers (1st in AL hitting), Dickey is 2-0 with a 1.13 ERA, giving up only two walks while striking out 10 over 16 innings.
After throwing one of the best games in recent memory against the Rays, Dickey added to the theory that his injury issues were holding him back by shutting down the Tigers on July 1.
There have been two major shifts in Dickey's pitching since he shut out the Rays: he's throwing his knuckleball harder and throwing it for strikes.
In 2013, Dickey has already walked 42 batters. In 2011 and 2012, he walked only 54.
It is clear that Dickey's problems this year have stemmed from his inability to throw his best pitch for strikes. Batters are simply waiting him out, forcing him to slow down his pitches, reducing movement and hitting them hard.
However, that has not happened in his last two starts.
In those two games, Dickey threw 73 percent of his pitches for strikes. In his other 16 starts this year, he's thrown approximately 63 percent of his pitches for strikes.
The question then becomes whether or not Dickey can continue to pitch the way he has recently.
It depends heavily on the 38-year-old's health. If Dickey's back is feeling strong and he's comfortable throwing 100 knuckleballs every five days, there's plenty of evidence to suggest that he can anchor the Jays staff going into July, August and September.
Brad Penner-USA TODAY Sports

Yesterday, the Jays designated Chien-Ming Wang for assignment, later calling up Todd Redmond from Triple-A.
The Wang experiment seemed to be working wonderfully until the 33-year-old gave up six runs in just 1.2 innings against the Tigers on July 2. Unfortunately for both Wang and the Jays, the team is now in need of another proper starter.
The plan was for Redmond to start in Wang's spot on July 7 against the Twins, but after throwing three innings in relief of Josh Johnson on Wednesday, that may have changed.
Currently, the Jays' 25-man roster offers up few other options to start in place of Wang.
Reclamation project Dustin McGowan has been solid in seven appearances but he's nowhere near being ready to start a game.
Neil Wagner has never started a game as a professional and Juan Perez hasn't made a start since 2001.
With the All-Star Game approaching, there is the possibility that John Gibbons rolls with a four-man rotation for the next week and a half. Another idea is giving Brett Cecil a start. He's been the team's most impressive pitcher all season, has experience in the role and would give the team a much better chance of winning than other options.
With that said, the team needs another starter.
According to John Lott of the National Post, both Brandon Morrow and J.A. Happ are not expected to be ready until August, leaving a fairly massive hole in the Jays rotation.
Ricky Romero is a possibility, but Alex Anthopolous is known for savvy depth moves around the trade deadline. He did it with Yunel Escobar in 2010 and with the Colby Rasmus trades in 2011.
There are plenty of average starting pitchers who can help the Jays at a time like this. With the team so clearly in need of another depth arm, expect Anthopoulos to add another decent starter without making too large of a splash.
Remember, if you read any rumours about Anthopoulos before trades happen, it's probably wrong.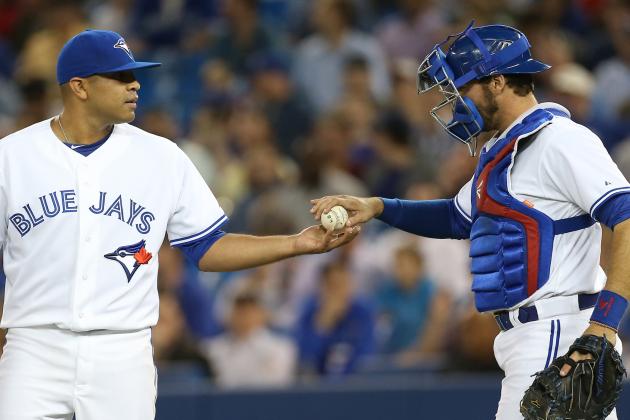 Tom Szczerbowski/Getty Images

While we're on the subject of the Jays' starting pitching problems, let's discuss Ricky Romero.
The former No. 1 of the Toronto staff has endured a rough season and a half of baseball. He's descended from potential Cy Young candidate to a mediocre Triple-A arm. The good news for Romero is that the Jays just called up Todd Redmond, who is by all means a mediocre Triple-A arm.
The team is going to need Romero at some point and his recent starts have been fairly solid. Over his last four games, Romero has allowed eight runs and has a strikeout to walk ratio of 1.5.
Yes, the numbers are not overwhelmingly positive and he did go only 3.1 innings against Durham on June 24, but Romero is gradually solving the main problem that's plaguing him: throwing strikes.
In his first three starts with Buffalo, Romero allowed 17 walks 12.1 innings. If he can continue to post lines like the one he threw up against Charlotte, when he allowed only one walk while striking out seven, he will get his chance with the Jays.
Not only will the Jays need Romero and not only does Romero look as though he's improving ever so slightly, the team will also need to make a decision on him at some point.
The organization will want to know definitively if they ought to give up on Romero or keep him in the system. Another start at the major league level is necessary for the club to do make that decision.
Either way, a start is coming.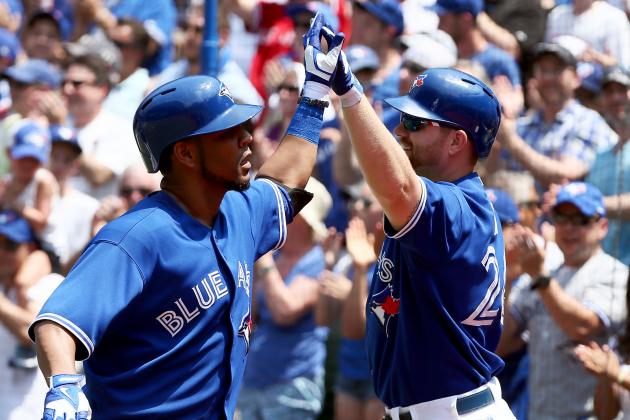 Abelimages/Getty Images

Adam Lind was easily one of the best stories of this first half for the Blue Jays.
After being placed on waivers just a season ago, Lind has been the team's best hitter when he has played, hitting .322 with a .918 OPS. He came into 2013 with a track record of chasing pitches, low career on-base percentage and a history of injuries.
Injuries like the chronic back strain that has bothered him since 2011.
That back strain returned during the Jays loss to the Red Sox on June 30. The team is hoping that being proactive about the injury, giving Lind a few days off rather than having him play through pain, will avoid any time on the disabled list.
Given the fact that Lind has typically struggled coming off of his back spasms, it seems likely that his production will tail off in the coming months.
While Lind's more disciplined plate approach is independent of the injury and the main reason for his improvement, his momentum has been halted. In 2011, Lind was hitting .313 on May 7, was placed on the disabled list until June 4 and finished the year hitting .251.
That is not to say that Lind will completely drop off the map as a result of his injury. He's simply not a .320/.380/.540 player.
Lind will continue to produce, but not nearly at the same level as he did in May and June, dipping off to an average in the high .280 region.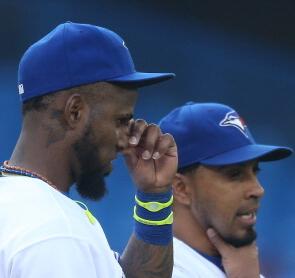 Tom Szczerbowski/Getty Images

It's something Blue Jays fans are used to.
Unfortunately, it looks as though the 2013 edition of the team will follow in the footsteps of many of their predecessors and come up just short of a playoff berth.
At the time of writing, the team is two games under .500 and sit six games back of an American League Wild Card spot. The benchmark for a playoff team in the American League looks to be around the 90-win mark.
Of the Jays next 78 games, they would need to win 49 in order to reach 90 wins. That's about .628 baseball for those keeping track.
The Pittsburgh Pirates, currently the best team in baseball, holds a .619 winning percentage. Therefore, the Jays will essentially have to be the best team in the majors over the second half of 2013 in order to maybe make the playoffs.
That does not mean they cannot accomplish that feat.
They still have several players playing well below what they are capable of. Josh Johnson and J.P. Arencibia come to mind.
Ultimately, it seems as though the 2013 Blue Jays are capable of digging themselves out of a hole but unable to stay out of it. With long-term injuries to Morrow and Happ, the starting rotation is looking more and more like the revolving door of 2012, and without stability among the starters, the Jays will struggle to play .620 baseball.
The Jays will make it entertaining, but it looks like more of the same in Toronto.