There is a lot of buzz surrounding the upcoming NBA free agency period and Dwight Howard, because the balance of power in the NBA lies in the hands of Superman.
All eyes will be on Howard come July 10.
It has become clear from reports that the 6'11'' center is more than open to testing the free agent waters, and as each day goes on seems more unlikely to return to Los Angeles.
Sources: Dwight Howard unlikely to re-sign with the Lakers. Dallas and Houston the favorites. Main issue w/Lakers is Mike D'Antoni's system

— Chris Broussard (@Chris_Broussard) June 27, 2013
It appears the Houston Rockets are the front-runners in the Dwight Howard sweepstakes, and this has caused the Los Angeles Lakers to stoop to new lows in trying to woo Howard to stay.
The Lakers have launched a massive media campaign with the slogan #STAYD12.
#STAYD12 pic.twitter.com/KvlGXZZzlb

— Los Angeles Lakers (@Lakers) June 30, 2013
While this may appear like a cheeky way to get the star center's attention, it seems like something a storied franchise should be above.
Players should want to go and put on the Lakers jersey and be a part of that organization. They shouldn't be begging for players to stay in it. It diminishes the brand.
As the Lakers attempt to keep Howard, the Rockets got some help in their efforts from Houston-based rapper Slim Thug.
A bottle of rosé in a Houston club is $250 max in LA $1000 befo taxes and gratuity @DwightHoward

— slim thug (@slimthugga) July 1, 2013
Yooo @DwightHoward what uppp gone come down to Houston G we got ya u already know Kobe gone act like a girl and blame u all season

— slim thug (@slimthugga) July 1, 2013
And @DwightHoward we got the Texans so not too much pressure on winning a ring this year we got time to grow u kno LA gone hate tho

— slim thug (@slimthugga) July 1, 2013
While these tweets are entertaining it seems unlikely that they will actually sway Howard. It is interesting, however, to see how social media is playing into this.
Lakers' point guard Steve Nash also took to Twitter recently in his own attempt to keep Howard in Los Angeles.
Flying from NYC to LA. @DwightHoward we're coming for you. You're going to love the statue we build for you outside Staples in 20yrs!

— Steve Nash (@SteveNash) July 1, 2013
According to ESPN though Nash might be a little too late.
ESPN's J.A. Adande says the Rockets are easily the best destination for Howard.
A chance to play with an ascending star in James Harden and learn low-post moves from Kevin McHale, with no state taxes to soften the financial blow from leaving the Lakers? Add in the Asian marketing inroads from Yao Ming's legacy and the presence of Jeremy Lin and Houston looks like the most appealing destination for Dwight.
It's hard not to agree with Adande.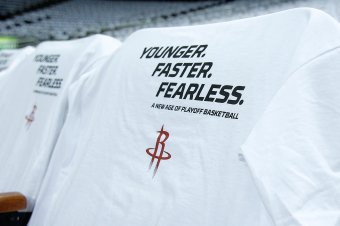 Scott Halleran/Getty Images
All the stars seem to be aligning for the Rockets to land this offseason's biggest prize.
If Houston does end up signing Howard, it would make them one of, if not the favorites in the Western Conference. The Rockets were a playoff team last year, and adding the best center in the game could take them to the top.
Howard heading to Houston would not only propel them to the next level but would send the Lakers in a Celtic-like downward spiral.
The Lakers already have an old roster and a banged-up superstar in Kobe Bryant. Losing Howard would mean their playoff chances go from okay to minimal.
Just one year ago, the NBA went into a frenzy pronouncing the Lakers as the team to match the Miami Heat. Now that team may be the Rockets.