7 Players Who Might Find Themselves on the Packers' Practice Squad in 2013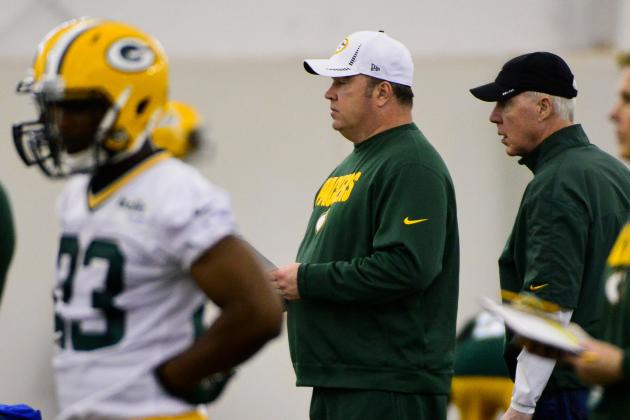 Benny Sieu-USA TODAY Sports

The 2013 training camp doesn't start for a little over three weeks, but I'm going to try to name seven players who have a reasonable chance to make the practice squad of the Green Bay Packers, if not the 53-man roster.
Some of the players I am naming have a decent shot of making the team, depending on certain criteria. The best thing that these players and others who are in a similar situation can do is have a great training camp and perform well in preseason games.
Some are already off to a good start at the minicamps and the OTAs. But those are not real proving grounds. Gaining a roster spot is won or lost during training camp for players of the ilk I'm naming.
So, without further ado, let's look at the seven players who I think have a decent chance of making at least the practice squad.
Begin Slideshow

»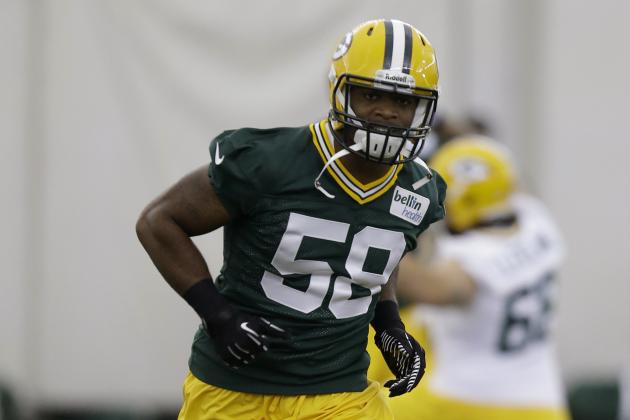 Mike McGinnis/Getty Images

After his high school football career, Sam Barrington had a chance to play for the University of Miami (FL). A number of great NFL linebackers played their college football there. Instead, Barrington choose the University of South Florida in Tampa, where he had a nice career.
Barrington played for four years at USF, and he finished his senior year with 80 tackles, 6.5 tackles for a loss, 3.5 sacks and two forced fumbles.
Barrington can play both inside or outside in the 3-4 defensive scheme, but he's better suited for inside linebacker. The Packers released veteran inside linebacker Desmond Bishop recently, so Barrington has a chance to make some noise at that position in training camp.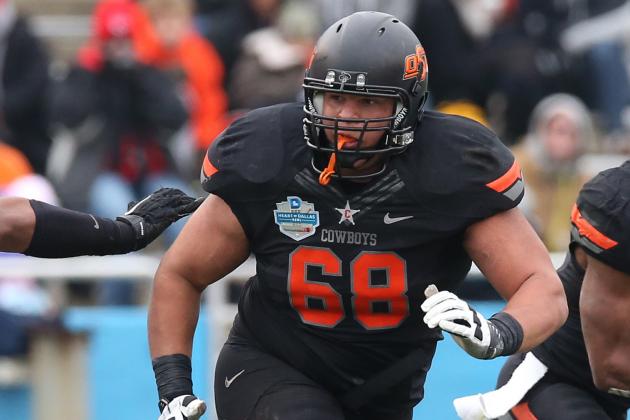 USA TODAY Sports

The Packers obviously thought very highly of guard Lane Taylor of Oklahoma State, after the team gave Taylor a $7,000 signing bonus. That was the top amount the team offered to any of their undrafted rookies.
Taylor started 47 games for the Cowboys and was named All-Big 12 in 2012 by both the coaches and media.
Taylor started 24 straight games at right guard his last two seasons at OSU and did not allow a sack.
The broken ankle suffered by fourth-round draft offensive lineman J.C. Tretter at an OTA also helps to increase the odds of Taylor sticking with the club, at least on the practice squad.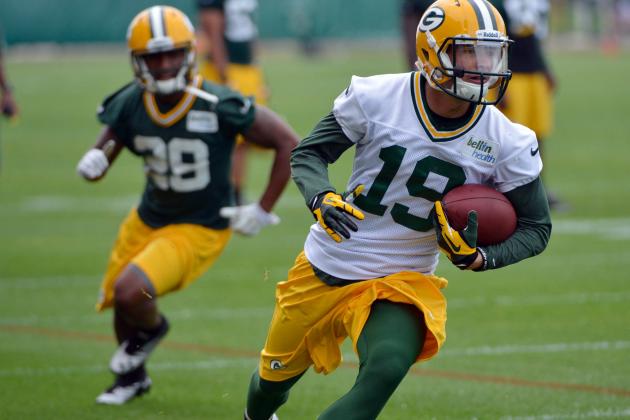 Benny Sieu-USA TODAY Sports

When scouts looked at the wide receiver talent at Louisiana Tech in 2012, they saw two playmakers.
One was Quinton Patton, who caught 104 passes and had 13 touchdowns. But there was also a fellow named Myles White, who had 56 receptions and also scored six touchdowns in 2012 for the Bulldogs.
White also earned second-team All-Western Athletic Conference honors in 2012.
White stands at 6'0" and is 182 pounds. White is also quick, as he ran 4.42 40-yard dash on his pro day.
The Packers drafted two wide receivers (Charles Johnson and Kevin Dorsey) in the seventh round of the 2013 NFL draft, but White has as good of a chance to make a name for himself at wide receiver in training camp as anyone.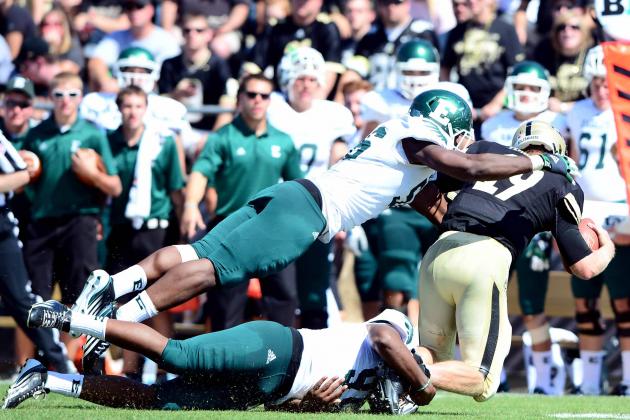 Andrew Weber-USA TODAY Sports

Andy Mulumba played defensive end at Eastern Michigan, but he will now play outside linebacker in the 3-4 defensive scheme used by the Packers. Mulumba knows how to make plays, as he had 124 tackles, 14.5 tackles for a loss, 4.5 sacks and three forced fumbles the last two years for the Eagles.
The Packers are not really deep at the outside linebacker position, so this will give players like Mulumba a real opportunity to make the club, one way or the other.
The Packers also drafted defensive end Nate Palmer in the sixth round of the 2013 NFL draft. Like Mulumba, Palmer will play outside linebacker.
Both Palmer and Mulumba will be given plenty of opportunities to make the team this training camp, much like Dezman Moses was able to do last summer.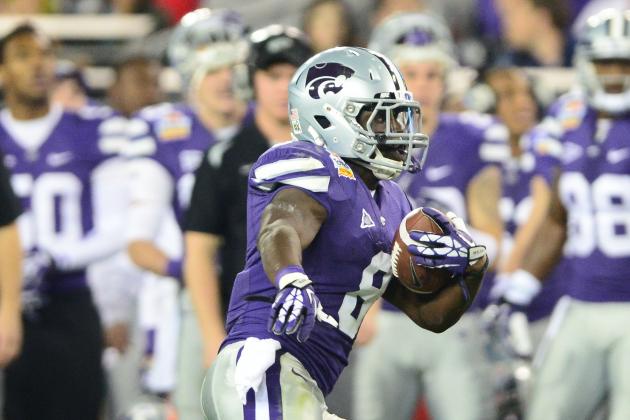 Mark J. Rebilas-USA TODAY Sports

One player who really made a name for himself at the rookie minicamp held by the Packers was running back Angelo Pease.
Head coach Mike McCarthy definitely noticed, as he relayed his thoughts about Pease via one of his press conferences on Packers.com.
He jumped out early in the run. That's a big-time cut. Frankly, I thought it was Eddie Lacy, the way he dropped his weight and hit the hole. Those are things we're looking for.
It will be very difficult for Pease to make the 53-man roster, as the Packers drafted both Lacy and Johnathan Franklin to go along with veteran holdovers DuJuan Harris, Alex Green and James Starks.
Still, if Pease continues to impress in training camp, he certainly has a shot to make the practice squad.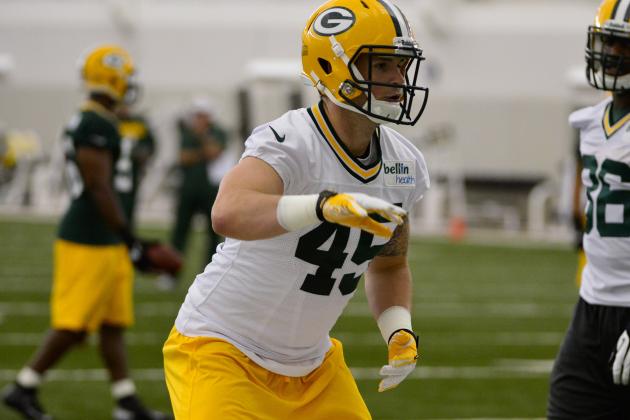 Benny Sieu-USA TODAY Sports

The Packers added two more tight ends to their roster in 2013. First they signed unrestricted free agent Matthew Mulligan, formerly of the St. Louis Rams. Then they signed undrafted rookie Jake Stoneburner of Ohio State.
Those two now join an already large class of tight ends on the team, which includes Jermichael Finley, Andrew Quarless, Ryan Taylor, D.J. Williams and Brandon Bostick.
Stoneburner has excellent receiving skills, as he hauled in 53 passes as a Buckeye, which included 13 touchdown receptions.
Making the club could be tough for Stoneburner, but depending on how he does during training camp, the practice squad is a definite possibility.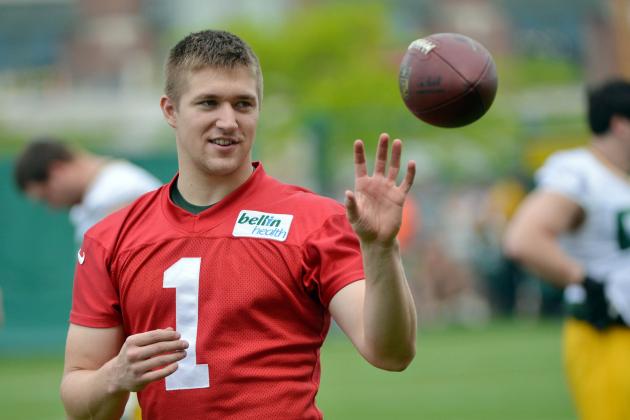 Benny Sieu-USA TODAY Sports

The Packers didn't select a quarterback in the 2013 NFL draft, but they did ink Matt Brown to a $5,000 signing bonus. Brown had a fabulous career at Illinois State, where he put up a great stat sheet.
In four years as a starter for the Redbirds, Brown threw 76 touchdown passes versus just 36 interceptions for 10,591 yards.
Brown probably doesn't have a good chance to make the 53-man squad with the Packers, as Graham Harrell and second-year quarterback B.J. Coleman will battle this preseason to become the main backup to Aaron Rodgers.
But if Brown impresses enough in training camp, he has a realistic chance of being put on the practice squad, much like Coleman was last year.