While teams continue to negotiate contracts with free agents, they're also attempting to complete straight up trades as well as sign-and-trades with other organizations in order to improve for the upcoming season.
There have already been a few trades including some stars, but those won't become official until the NBA moratorium concludes on July 11. Will there be another Paul Pierce switching teams or perhaps someone like Andre Bargnani?
Players such as Rajon Rondo, O.J. Mayo and Robin Lopez have all had their names fly across the rumor mill over the last week or so, and it's time to figure out what's going to happen with them. Are they going to be staying with their current teams or going elsewhere?
Here are the latest updates on some of the biggest names who could get dealt before the summer comes to an end, with a breakdown for each star and the teams pursuing them, if any.
Rondo Wants To Stay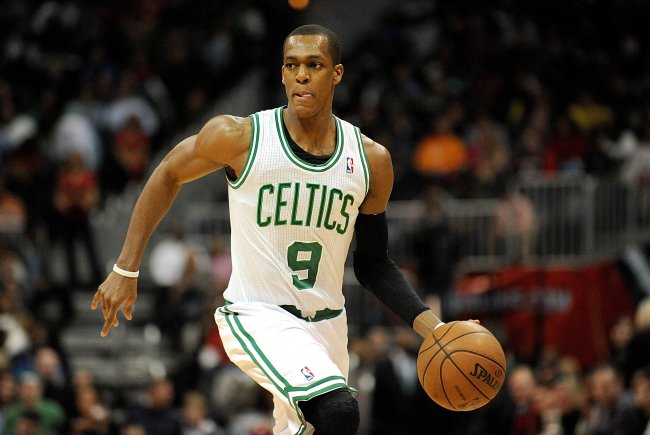 Kevin Liles-USA TODAY Sports
This offseason has already been a crazy one for the Boston Celtics, with the trades of head coach Doc Rivers and icons Paul Pierce and Kevin Garnett. But while many may assume that Rajon Rondo is the next to leave Boston, think again. The Celtics point guard is nearly a lock to be on the roster to start next season.
Will Boston make the playoffs in 2013-14?
Rondo hasn't demanded a trade and will not demand a trade, according to Sean Deveney of the Sporting News. Deveney writes that Rondo wants to stay in Boston and be the primary leader on the team, even if the roster isn't as eye-appealing as it was a few months ago. The same goes for president Danny Ainge.
Deveney reports that Ainge regularly gets calls about Rondo, but isn't going to trade him, as he wants to see what the point guard is capable of without his two former teammates on the floor. That being said, don't expect to see Rondo with any other organization by the end of the summer. He's a Celtic and is going to stay one.
Mayo in High Demand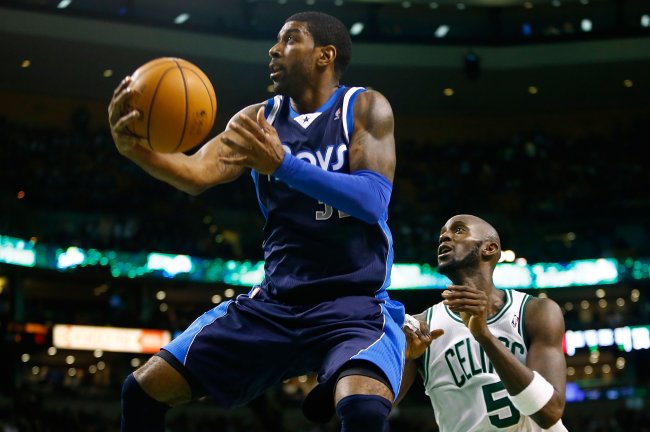 Jared Wickerham/Getty Images
O.J. Mayo is an unrestricted free agent, but it appears that many teams are interested in bringing him to their organization via a sign-and-trade. Darren Wolfson of ESPN 1500 reports that the Timberwolves are one of the teams trying to work out a deal with the Mavericks for Mayo:
Latest on #Twolves: have had sign-and-trade talks with Dallas for Mayo, source says. Ridnour or Barea would go to Dallas. Not imminent yet.

— Darren Wolfson (@DarrenWolfson) July 1, 2013
By adding Mayo, the Timberwolves may have enough talent in the starting lineup to make a push for the playoffs. Minnesota would have Luke Ridnour or Ricky Rubio at the point, Mayo at shooting guard, Shabazz Muhammad at small forward and then potentially Derrick Williams and Kevin Love on the low block. That's far from horrible.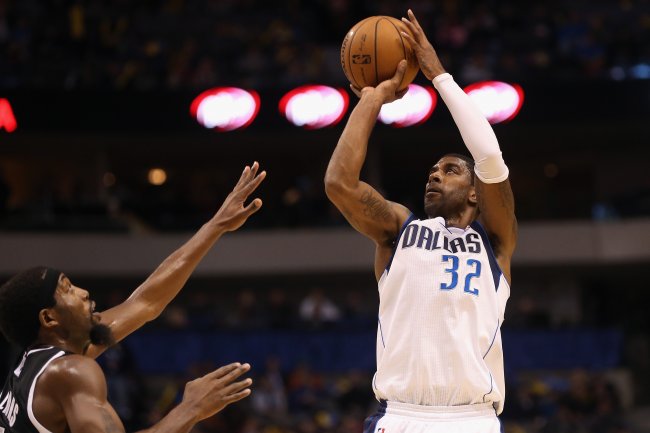 Ronald Martinez/Getty Images
But Minnesota will have some competition, as the Clippers are another team with similar intentions. Marc Stein of ESPN reports that Dallas and Los Angeles are discussing a sign-and-trade that would involve Mayo and backup point guard Eric Bledsoe—who would be a starter on plenty of teams:
Add a new suitor to Eric Bledsoe sign-and-trade derby: Clips and Mavs discussing Bledsoe-for-OJ Mayo in live S-and-T scenarios

— Marc Stein (@ESPNSteinLine) July 1, 2013
Los Angeles can sell high on Bledsoe and by doing so, get itself a strong shooting guard for the next few seasons. Joining Chris Paul in the backcourt and Blake Griffin, Caron Butler and DeAndre Jordan in the starting lineup, Mayo would be on a contending team for the foreseeable future. He can't ask for more than that.
Pelicans To Shop Lopez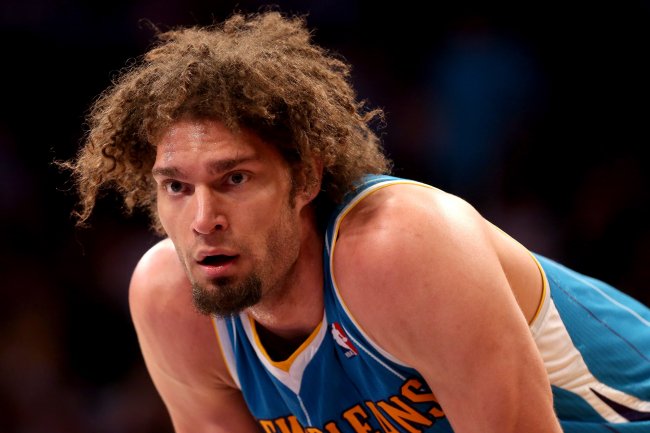 Stephen Dunn/Getty Images
One of the goals for the Pelicans this summer is to bring in a shooting guard who's more talented than Eric Gordon, who led the team in scoring in 2012-13. New Orleans will already have a top point guard in Jrue Holiday, and acquiring someone like Tyreke Evans would give the team a strong backcourt.
Adrian Wojnarowski of Yahoo! Sports reports that in order to land Evans in a sign-and-trade, the Pelicans will need to clear some cap room, and thus, are expected to dangle Robin Lopez. Lopez started all 82 games for New Orleans last season, averaging 11.3 points and 5.6 rebounds per night.
To clear salary for Tyreke Evans or sign-and-trade w/ Kings, Pelicans expected to try and unload Robin Lopez, league source tells Y!

— Adrian Wojnarowski (@WojYahooNBA) July 1, 2013
By dealing Lopez, the Pelicans could start either Ryan Anderson or Anthony Davis at center—even though they'd be undersized—and the other at power forward. A starting lineup with those two, Evans, Holiday and potentially Al-Farouq Aminu should be able to run with some of the better teams in the Western Conference.