Marion Bartoli wins her Quarterfinal Match over Sloane Stephens!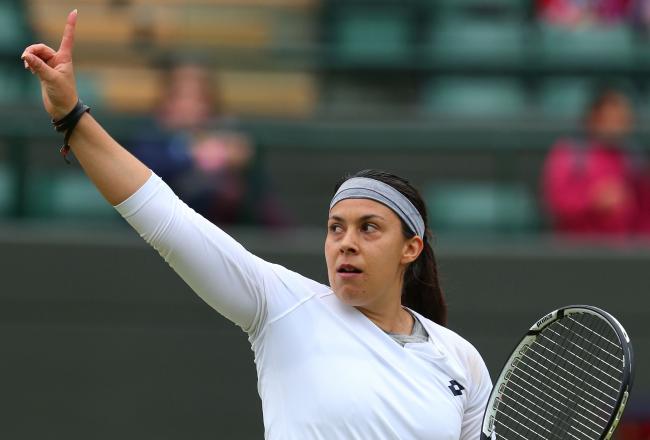 Julian Finney/Getty Images
Final Score 6-4, 7-5
Marion Bartoli wins her quarterfinal encounter with Sloane Stephens on Court No. 1 after a 2 1/2 rain delay! The score 6-4,7-5!
The second set was a series of breaks of serve until Sloane Stephens leveled the match at 5-5. Then Bartoli held to go up 6-5. Stephens needed to hold her serve to send the set to a tiebreak. But she could not do it. Baroli broke her in the 12th game of the match to win the second serve 7-5!
Marion Bartoli has competed in 11 consecutive Wimbledon Championships, beginning in 2003. This is her third time reaching as far as the quarterfinals (2007, 2011, 2013). She owned a 71.4 winning percentage at the All England Club prior to this match today.
After reaching the finals in 2007, Bartoli often expressed her great love of the grass which she claims frees her to play her game. The year she reached the finals she lost the 2007 championship match to Venus Williams. She did reach the quarterfinals again in 2011 losing to Serena Williams, but she's never advanced further at Wimbledon since 2007 until this year.
She will be looking for a chance to advance once again to the finals at the All-England Club!
6-4, 7-5 Final Score
Marion Bartoli made the best of a bad second set by breaking Sloane Stephens in all of her service games except one as the two closed it out.
Bartoli won in straight sets with a 2 1/2 hour rain delay in the middle of the match.
The men's semifinal will be held tomorrow, hopefully without rain.
6-5
Bartoli holds her serve finally to go up 6-5. Now she needs to break Stephens or head to a second set tiebreak.
5-5
Set level at 5-5 as Stephens finally holds serve!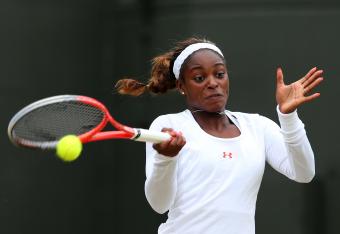 5-4
Stephens breaks again! Can she hold on to win?
5-3
Another service break for Bartoli. This is dismal. Stephens cannot find her serve but then neither can Bartoli. We shall see who finally does win this set!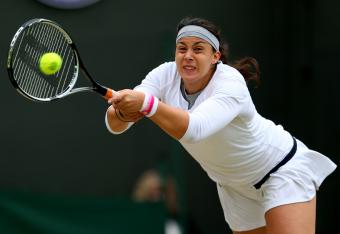 4-3
Bartoli's service rhythm is way off in this set. She cannot find her timing. In fact neither player is serving well in this second set.
Another service break!
4-2
Bartoli breaks for the fifth break of Stephen's serve. Can Bartoli hold her own serve this time? She must!
3-2
No one can hold serve as the two players trade breaks. Back on serve again with Stephens trying to even the second set 3-3.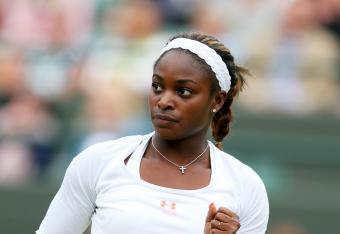 3-1
Bartoli repays by breaking to go up again, leading 3-1. A spate of breaks of serve as the match resumed after the long rain delay.
2-1
Sloane Stephens breaks back! The two players on Court 1 sre back on serve.
Bartoli's unorthodox style of play continues to amaze as you watch her tics on court.
2-0
Bartoli breaks serve to open the second set and leads 2-0 in set No. 2. Stephens definitely feeling the tension now.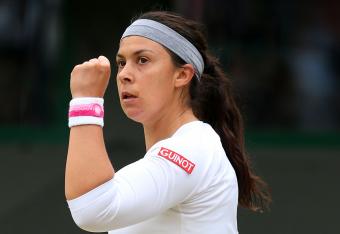 Bartoli takes the first set 6-4 as play resumed on Court No. 1.
Now the question is can Stephens come back? Wait and see!
Play resuming
Players warming up now. Chilly but the action is ready to resume in a few minutes.
Kvitova takes the first set 6-4 in a very lengthy final game.
Meanwhile the rain seems to be moving away and talk of play resumption flitters through the All England Club as players prepare to take the court again.
On Centre Court Kvitova serving for the first set at 5-4. Her play remains up and down.
Rain still delaying resumption of our match on Court 1—almost 2 hours now.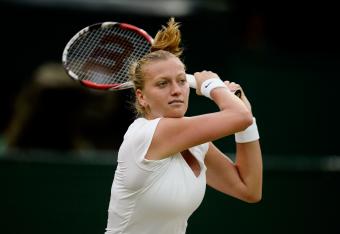 Another break of serve. Now Kvitova leads 4-3, serving to go up 5-3. Will somebody hold serve soon?
Flipkens broke back to level her match with Kvitova at 3-3. She is not going away!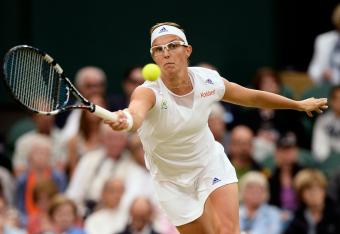 On Centre Court, Petra Kvitova has just broken Kisten Flipkens, serving at 3-2. Kvitova has been able to impose her power in the fourth game. Now we'll see if she can hold to go up 4-2.
Meanwhile, Court 1 remains shrouded, waiting for the rain to stop. It is hard to guess who the rain delay benefits more. Both Bartoli and Stephens must be anxious to get back on court to finish this match.
With the top seeds out of the running you have to expect Kvitova to reach another final along with Sabine Lisicki at this point.
Lisicki will face Agnieszka Radwanska in the next round. She has the game to beat the wily Pole Radwanska.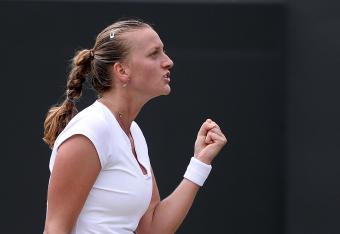 On Centre Court No 8 Petra Kvitova gets ready to do battle with No. 20 Kirsten Flipkens of Belgium.
Kvitova is expected to win this match and advance to the semifinals. There the Czech would face the Stephens vs. Bartoli winner.
While the delay continues on Court 1, both Agnieszka Radwanska, the No. 4 seed and Sabine Lisicki seeded No. 23 have advanced.
They have closed the roof on Centre Court.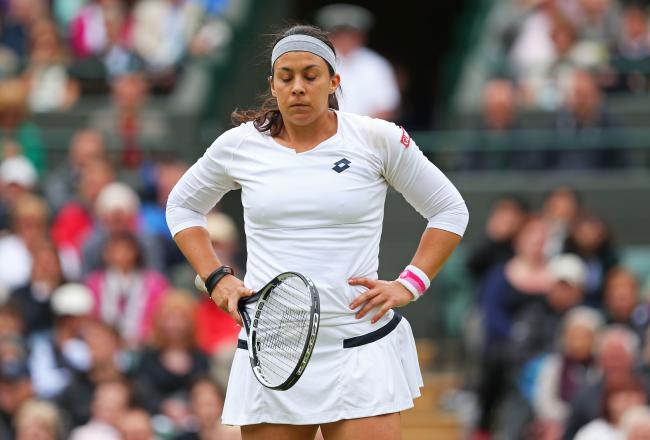 Rain Delay
Unfortunately, play has ceased for the moment as the courts are covered for the rain delay of unknown duration.
Stephens has more first serve winners as well as more aces but Bartoli is winning more second serve points and has the edge in total points.
Both players are holding their own, winning when they must. But no one is taking charge of this match.
It becomes more important for Bartoli to win this first set because she has the weaker physical attributes.
Hopefully play will resume shortly. Stay tuned!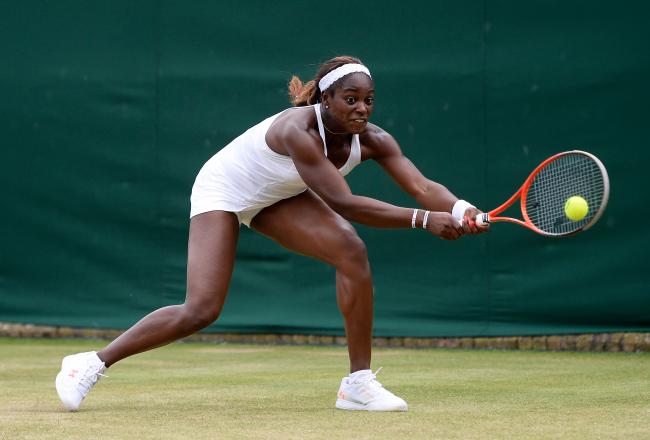 Still 5-4
As the match heads toward the concluding games, Stephens serves to equal the set at 5-5. Bartoli hits the flatter ball with less margin for error than the Frenchwoman who is making Stephens work hard in this game. Rain begins to fall. Bartoli complains strenuously about court conditions. They sit down at deuce.
This article is
What is the duplicate article?
Why is this article offensive?
Where is this article plagiarized from?
Why is this article poorly edited?