NFL Players Who Must Make the Most of Contract Years in 2013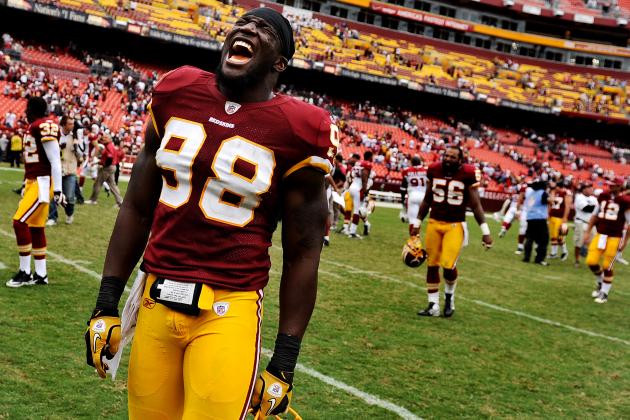 Patrick Smith/Getty Images

Every year, there are between eight and 10 big-name free agents who hit the open market in the National Football League.
Some hit the open market because of their age while others become free agents due to outrageous salary demands. Whatever the reason, these players are signed to help organizations win in the NFL.
Most of the time, top-dollar free agents experience a performance drop-off after their contract year. So it becomes all the more important that they play their best in their contract year to set themselves up for a massive contract.
Let's take a look at eight players who must make the most of their contract year in 2013 for them to hit the jackpot in 2014.
Begin Slideshow

»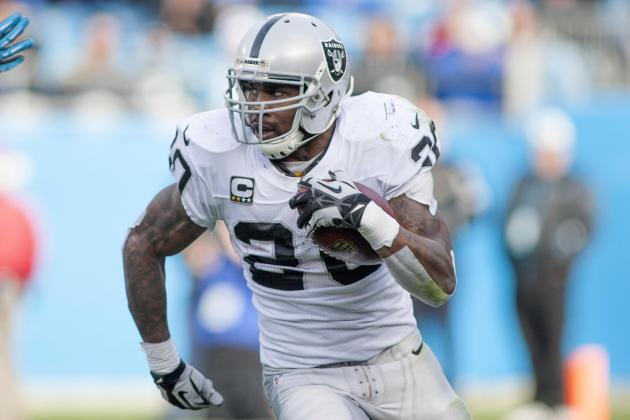 USA TODAY Sports

Aside from a nasty ankle injury, there wasn't anything more detrimental to Darren McFadden's 2012 season than offensive coordinator Greg Knapp's zone-blocking scheme in Oakland. The ineffective run scheme limited McFadden to 707 yards on 216 carries.
The first-round pick out of Arkansas posted a career-low rushing average of 3.3 yards per carry. However, the Raiders and McFadden are expecting big things out of one another in 2013.
Oakland's offense under offensive coordinator Greg Olson will scheme to the strengths of McFadden. That ultimately can only mean one thing: McFadden will be the focal point of Olson's offense.
Leaning on McFadden is wise for a couple of reasons. Oakland's quarterback situation is average, at best, right now with Matt Flynn, Tyler Wilson and Terrelle Pryor under center. Additionally, the offensive line's run-blocking skills improved down the stretch last year.
The 25-year-old McFadden should expect a fat check during the 2014 offseason. A very good season may inflate his stock, but a young running back entering his prime is often hard to find in free agency.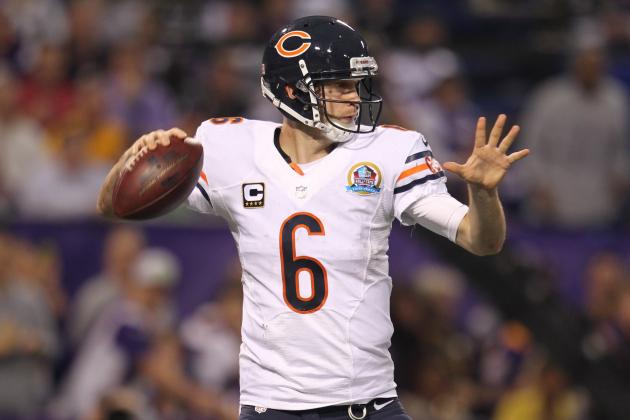 Brace Hemmelgarn-USA TODAY Sports

When the Chicago Bears went all in on Jay Cutler in 2009, they envisioned that he would be the team's starting quarterback for the next 10 years.
Unfortunately, things don't always work out the way they are supposed to.
Even though Cutler hasn't underachieved during his tenure in Chicago, he hasn't exactly been the saving grace the Bears had hoped he would be. The eight-year passer out of Vanderbilt has only managed to lead the Bears to one playoff appearance in four years.
Cutler turned 30 In April, so it's safe to say he still has plenty of gas left in the tank. Based on the fact that the NFL is a quarterback-driven league, there are plenty of teams in need of quarterbacks that could use his skill set if he hits the open market.
According to Spotrac.com, the Bears are paying Cutler a base salary of $8.47 million in 2013. Expect that number to increase in 2014 if Cutler has a solid season.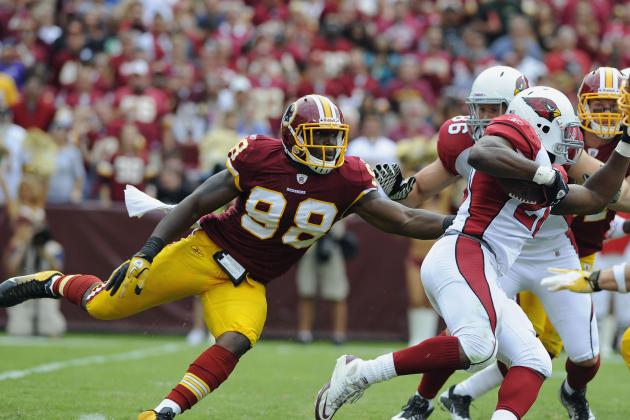 Brad Mills-USA TODAY Sports

Robert Griffin III's recovery from a serious knee injury is hoarding all the headlines in Washington, but outside linebacker Brian Orakpo's recovery from a torn pectoral muscle should be garnering just as many.
Prior to his injury shortened season in 2012, Orakpo graded out as Pro Football Focus' seventh-best outside linebacker with 59 total quarterback pressures in 2011 (subscription required). According to Jim Corbett of USA Today, the fifth-year player out of Texas is gunning for NFL Defensive Player of the Year.
Winning NFL Defensive Player of the Year would surely net him a hefty contract in 2014. He is scheduled to have a $5,109,000 cap hit in 2013, according to Spotrac.com. That number would likely double if he lived up to his own expectations this season.
At the start of the 2014 season, Orakpo will be 28 years young. Interest in his services will definitely be high and the Redskins will have some serious competition on their hands for his superior pass-rushing ability.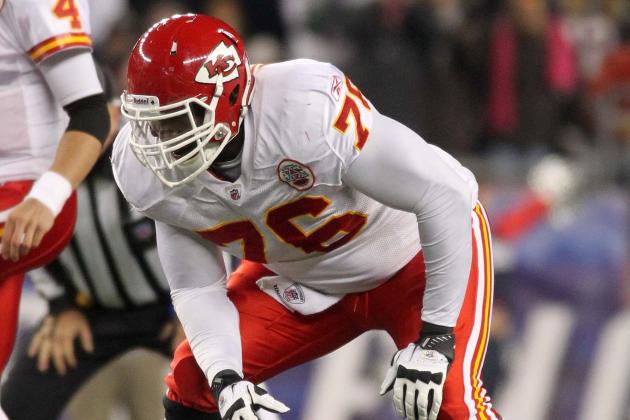 Stew Milne-USA TODAY Sports

Ever since head coach Andy Reid took over in Kansas City, left tackle Branden Albert has felt alienated.
First there were rumors of a trade, and then there were rumors of a position switch after the organization drafted offensive tackle Eric Fisher out of Central Michigan with the No. 1 overall pick.
Albert couldn't catch a break to save his life. Yet, that hasn't stopped him from going out and doing his job.
During the offseason, the Chiefs franchised their star-studded left tackle. General manager John Dorsey would love to get an extension done, but nothing appears imminent.
That could mean the writing is on the wall for Albert in Kansas City. If Fisher performs well in 2013, Kansas City's front office could move Fisher to left tackle in 2014 and show Albert the door. The first-round pick out of Virginia would command big money in free agency, but there's no way he would net the $9.828 million he is scheduled to make this season.
To make that kind of money, Albert would have to take his game to a whole new level. He will have to garner his first All-Pro and Pro Bowl selection to be mentioned among the league's elite.
Nevertheless, Albert will have a strong market in 2014.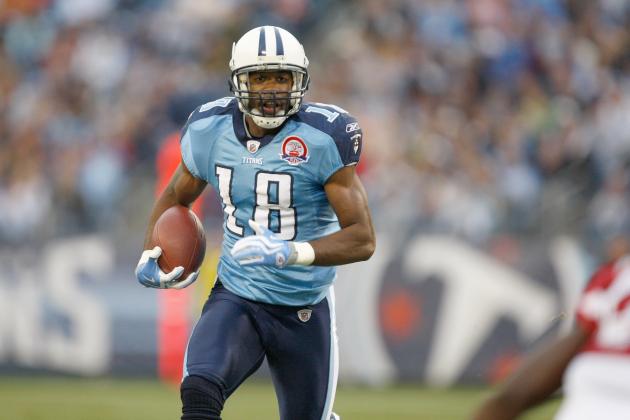 Streeter Lecka/Getty Images

The Titans' Kenny Britt has had an up-and-down career since he entered the league in 2009.
After combining for 84 catches and 1,476 yards receiving in his first two seasons, Britt has had trouble staying healthy the past two years.
His ACL and MCL tear in 2011 forced Britt to miss 15 games over the last two seasons. A clean bill of health in 2013 could help jump-start a once-promising career. At 24 years of age, the fifth-year pro should have no problem finding a new suitor in 2014.
Even if Britt's production skyrockets this year, it appears as if 2013 will be his final season in Tennessee. In January, Pro Football Weekly reported that this will be Britt's final season with the Titans.
The organization added University of Tennessee wide receiver Justin Hunter in this year's NFL draft and added Baylor wide receiver Kendall Wright last year. Britt has a cap number of $2,556,252 in 2013.
To see a bump in pay, he will need to have a breakout season.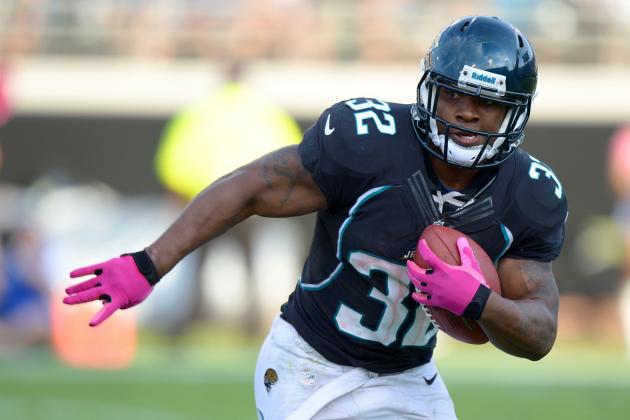 Jake Roth-USA TODAY Sports

After three consecutive 1,000-yard seasons, Maurice Jones-Drew's 2012 campaign was a nightmare in Jacksonville.
He finished the season with 86 carries for 414 yards rushing as a bothersome foot injury forced him to miss 10 regular-season games.
Prior to the 2012 season, he was adamant about signing a contract extension with the Jaguars. Unfortunately for him, former general manager Gene Smith was reluctant to spend on an aging running back. Newly appointed general manager David Caldwell appears to be just as reluctant as Smith was in accommodating Jones-Drew's contract demands.
That means Jones-Drew needs to have a monster year in 2013. Playing a full 16-game slate would be a good starting point and another 1,000-yard season would be icing on the cake. A bounce-back year could make Jones-Drew a hot commodity on the open market or make Jacksonville want to lock him up to an extension .
The three-time All-Pro running back is 28 years old and carries a cap number of $6.8 million in 2013.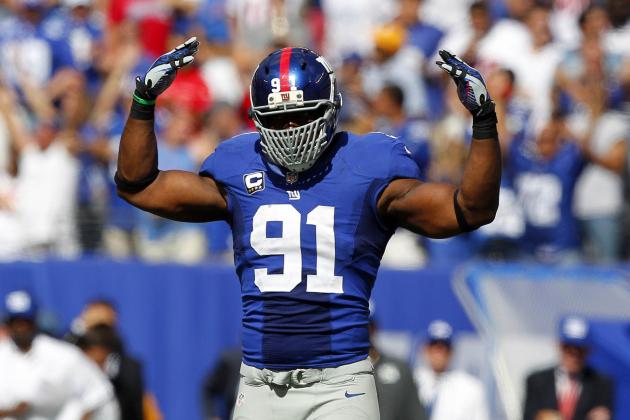 Jim O'Connor-USA TODAY Sports

General manager Jerry Reese rarely holds onto a player too long. Every year, it seems like he dumps an aging veteran with a declining skill set.
This year, it was defensive end Osi Umenyiora. Next year, it could be defensive end Justin Tuck.
In 2012, Tuck's production hit a career low with four sacks, eight quarterback hits and 20 quarterback hurries. The New York Giants Super Bowl-winning defensive line started to show its age.
Nonetheless, Tuck still has an opportunity to play for his future in 2013. An uptick in production could help him land his third and final NFL contract. The quarterback position is widely viewed as the most important position in the league, but defensive end might lead the charge for second.
Defensive coordinators around the league love to apply pressure with a four-man front. With a bounce-back year, Tuck will be one of the most sought-after pass-rushers in 2014.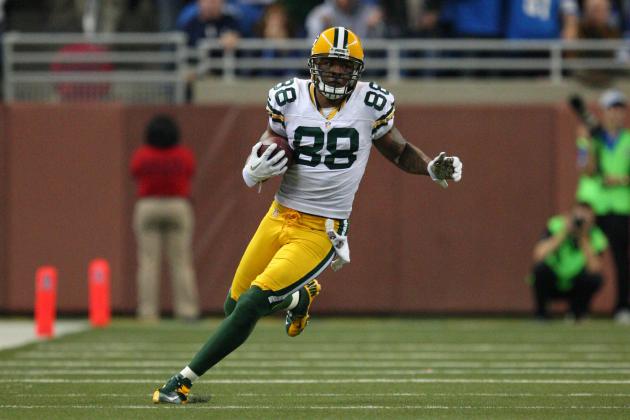 USA TODAY Sports

We can all agree that Jermichael Finley is one of the most physically gifted tight ends in the NFL.
However, physical gifts don't always help a player reach his full potential. The mental aspect of the game and the time a player puts in to hone his craft are equally important.
Based on his production alone, Finley has been a slightly above-average pass-catching tight end his whole career. He has never been selected to the Pro Bowl, nor been an All-Pro and has never gained more than 767 yards receiving in a season.
Yet, that doesn't mean he can't be a Pro Bowl-caliber player. In a more tight end friendly offense, Finley could finally live up to his potential. More often than not, the six-year pro seemingly gets lost in the shuffle because the Packers have one of the most talented wide receiving corps in the NFL.
When free agency begins next year, Finley will be 27 years old. Pass-catching tight ends obviously have a longer shelf life than blocking tight ends, so Finley should have plenty of teams vying for his services in 2014.