2013 Confederations Cup Final: Spain Loss Signals a Long Road Ahead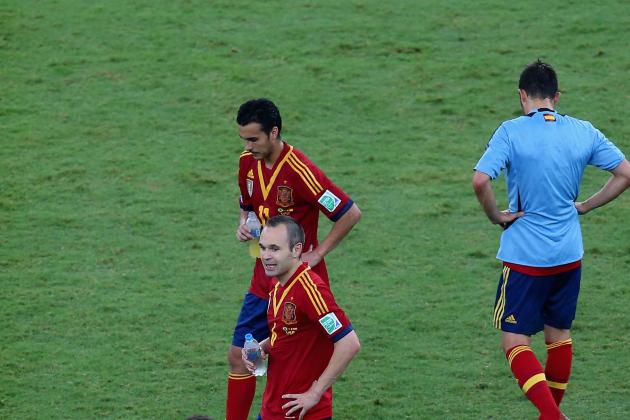 Ronald Martinez/Getty Images
Spanish players dejected following their humbling against Brazil
It may just be a tad premature to boldly state that Spain's unequivocal era of dominance of World Football is all but over. However, when the recent rises of German and Italian football are taken into account, then that may well be the case. And finally, Spain will have it's fair share of critics.
Spain entered the Confederations Cup tournament as undoubted favourites, and as previously predicted, they reached the final in a comfortable fashion. However, when matched up against a younger, more youthful Selecao set-up, La Roja were seemingly outplayed.
The Spanish lacked attacking intensity and defensive stability. Brazil's pressing game denied the usually creative forces in Xavi and Iniesta both space and time to weave their magic. The defenders were ill-disciplined. Pique and Arbeloa failed to handle hot prospect Neymar, as they both picked up bookings in the process, and there was an evident lack in a Puyol-like player, someone who had the ability to lead the defence. Attackers Fernando Torres, Pedro and Juan Mata lacked inspiration. Torres failed to register a shot on goal and remained largely anonymous throughout the match, whilst Pedro failed to convert any of the great chances he had on goal and Mata looked all over the place, a stark contrast to the abilities he showed during his match winning displays for Chelsea.
La Roja thoroughly deserved such a humiliation at the hands of Brazil, fittingly in front of a passionate Maracana crowd.
From the outset, the future of Spanish football looks dire, however, with the commencement of the World Cup a year away, Spain still have a chance.
Begin Slideshow

»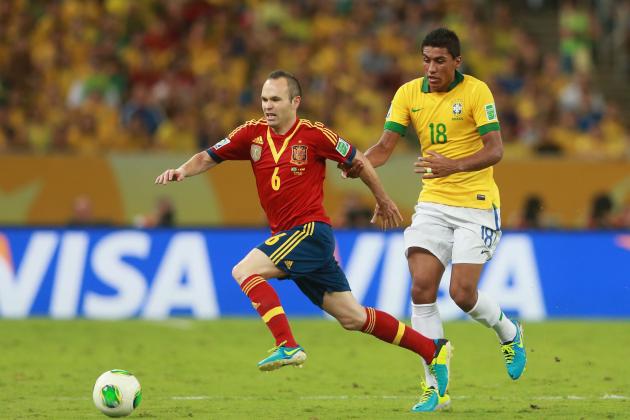 Scott Heavey/Getty Images
Iniesta in possession with Paulinho on his back during the Confederations Cup Final vs Brazil
Brazil's domination of Spain en-route to a 3-0 win raised many questions regarding Spain's capabilities in dealing with a defensive minded opposition. And although Brazil do not necessarily play a defensive style of football, their chronic pressing play was enough to put off a side which sees monopolising possession as a formality.
In fact, it was like Barca-Bayern all over again. In recent times, the tiki-taka style of football that has been executed has become ineffective. Against more defensive sides, both Barcelona and Spain have failed to break down stubborn defences, and as a result, have limited their opportunities to attack the goal.
Also, a key feature of Spain's tactics in recent years has been their ability to apply pressure on attacking sides through the use of a pressing style of play similar to that of which Brazil executed. However Spain were seemingly stunned by Brazil's high-tempo game.
Xabi Alonso's injury prior to the tournament proved to be a massive blow for the World Champions. As a result, Vicente del Bosque scrapped their previous tactic involving the use of a 'double pivot' in favour of a Barcelona 4-3-3 system, a move which was applauded by numerous sections in the media.
However, the double pivot provided an all-round attacking and defensive balance. Sergio Busquets and Xabi Alonso have proved that they quality ball distributors and helpful in reinforcing a crumbling defences. Therefore, it is a necessity that not only does Xabi Alonso make a return to the side, but the 'double pivot' also makes a return alongside the player that has seemingly mastered the postion.
With this in mind, it is only logical to come to a conclusion that a 'plan B' is needed against other quality oppositions. Spain and Barca have failed to proactively address this issue, and it may prove detrimental. The tactical arrogance which has been instilled must go if La Roja are to continue dominating the world's biggest footballing stage.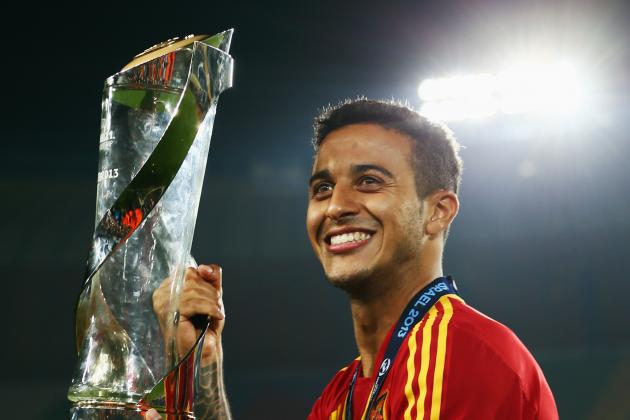 Alex Grimm/Getty Images
Younger players need to be integrated... properly
There is no doubting that Spain have a brilliant future ahead of them. Earlier this summer, La Rojita returned victorious in their pursuit of back-to-back European Championships. And it seems that a handful of them are ready to make the giant leap into the national side.
Xavi was well below his best, perhaps a signal that age is finally catching up to him. Alvaro Arbeloa was hopeless when positioned against Neymar. Their lacklustre performances have called for the integration of younger and more rejuvenated players into the national set-up, in particular players such as Thiago, Isco, Carvajal and Montoya have been sounded as potential replacements for their aging compatriots. Their heroics throughout this summer's Euro U21 Championships have proved that these players are able to play to a similar quality with the additional flair, which was evidently lacking during Spain's trip to Brazil.
History has shown that the best teams are the those with a mixture of youthfulness and experience. And if Spain are to continue dominating in such vain, a proactive approach in integrating younger players in needed.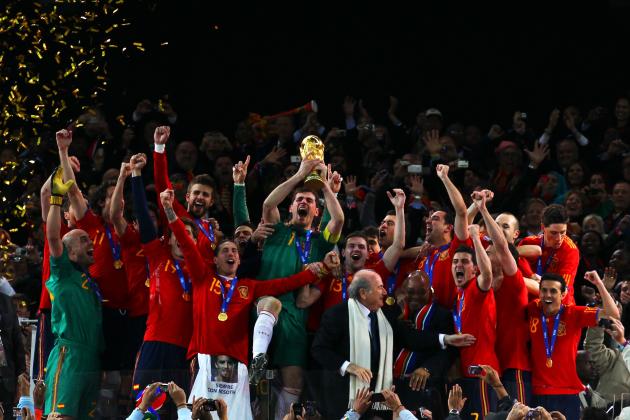 Lars Baron/Getty Images
All too familiar scenes. Spain celebrate winning the 2010 FIFA World Cup
Volveremos, we will be back- the headline read on Madrid's Marca newspaper. And it may well prove right. As for now, Brazil will head into next year's World Cup as favourites. As for Spain, this was the wake up call they needed. There are certainly many aspects in desperate need of refining. Spain have yet to qualify for the World Cup, and their humbling on Sunday should prove as a reminder that Spain are no longer the formidable force they once were. As for now, the job is far from complete, Spain have a long road ahead of them.
"We had to lose one day—we are not machines. Our conscience is clear because we gave everything" - Sergio Ramos