13 Carolina Panthers Jerseys You Likely Rocked During Your Childhood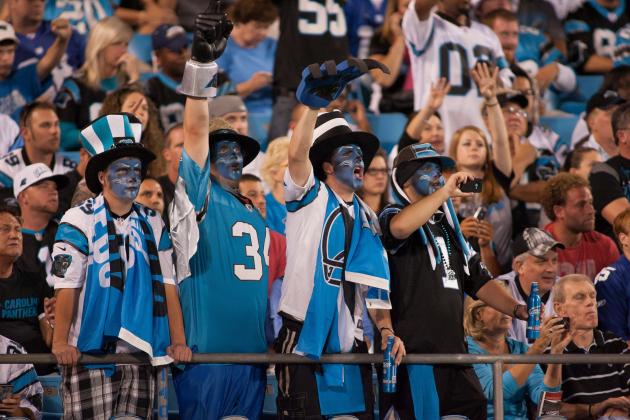 Jeremy Brevard-USA TODAY Sports
We all had our favorite players growing up; who was yours?
The one thing that has remained a constant as a Carolina Panthers fan has been the show of support for the team by wearing the jersey. The Carolina jersey has been identified by the black, blue and silver and has been adorned by some of the most beloved players in team history.
Those players have not only played their way into the hearts and minds of the fan base but earned the privilege of having their name represent a fan's personal jersey. Some of Carolina's current players are among the fan favorites when it comes to wearing jerseys, but who were some of the players of yesteryear that graced fans' jerseys?
By taking a stroll down memory lane, we'll highlight the players that graced our jerseys as kids as we cheered the Carolina Panthers to victory.
Since the Panthers were established in 1995, the players represented here played with the team between Carolina's inaugural season and the 2005 season. This period best suits those who were young enough to remember the old days when the fans wore jerseys supporting Kerry Collins all the way to Steve Smith.
Who had their jersey represented in the stands on game day? Read on to find out.
Begin Slideshow

»
John Kasay will go down as one of the fans' favorite players. There is a lot of love for the last original Carolina Panther who was released in 2010, and after two seasons playing for the New Orleans Saints, he returned to Carolina to sign a one-day contract to retire as a member of the Panthers.
He had many clutch kicks during his time in Carolina, and while he had a knack for being reliable, he will be forever remembered for his botched kickoff in Super Bowl XXXVIII.
Kasay's value was immeasurable as Carolina has failed to find a suitable replacement following his departure, employing three kickers in as many seasons. Carolina had both a quality kicker and a quality person in Kasay who made sure the fans knew how much he appreciated their support during his time with the Panthers.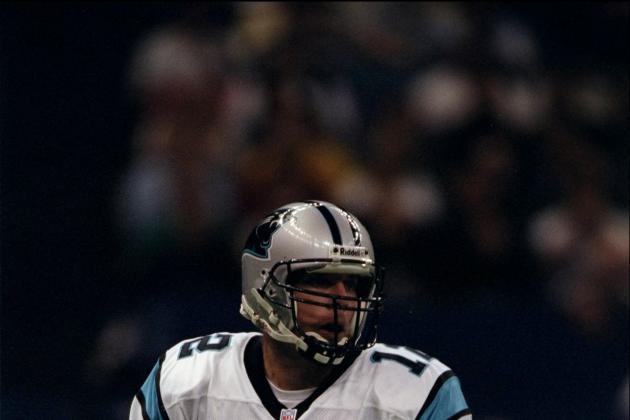 Todd Warshaw/Getty Images

Kerry Collins was suppose to be the franchise's quarterback for several years when he was selected fifth overall in the 1995 NFL draft. His career started off promising as he compiled a 16-9 record over his first two seasons and helped guide the Panthers to a deep playoff run in their second season in the league.
His accolades won over the fan base who began wearing No. 12 on their back on game day to support the team's rising star. For Carolina fans and the young Penn State quarterback, the sky was the limit.
However, the sky came falling down on Collins not too long after the success of the 1996 season. Problems with alcoholism and his racially charged comments concerning a couple of teammates sent a rift through the organization. Collins play was dramatically affected as he never put together a winning season with Panthers again.
Many have speculated on what might have been for Collins if he had kept himself together. There was no doubt he had the talent to do great things, but it was never meant to be. Things have a funny way of working themselves out though, as his departure would eventually pave the way for the next player on the list.
Jake Delhomme quietly came to the team as a backup quarterback to Rodney Peete but would take the NFL by storm when he was called upon in 2003. The Carolina Panthers were being overmatched by fellow 1995 expansion team Jacksonville in Week 1 of that season. Delhomme replaced the struggling Peete and engineered a comeback that has continued to live in Panther lore to this day.
Delhomme not only won the game for the Panthers, he helped them reach the Super Bowl and endeared himself to many throughout the fan base. During his career in Carolina, Delhomme had a record of 53-37.
When he was released following the 2010 season, it was difficult seeing anyone else wear his No. 17, but the number was issued out. Until a breakout player wears that number as a member of the Carolina Panthers, it will be forever synonymous with Jake Delhomme.
Tim Biakabutuka came to the Panthers with high expectations when he was drafted in 1996 out of Michigan. While he showed flashes of brilliance, he never really panned out to be the superstar running back he was projected to be. That didn't stop some fans from rocking out their No. 21 jerseys.
His best season was 1999 when he rushed for 718 yards on 138 carries. That was 5.2 yards per carry. He could have had a better season if he had played in all 16 games instead of the 11 he appeared in that year.
Biakabutuka played his entire career with the Panthers and played his last down in the NFL during the 2001 season.
While his career may have been underwhelming, he still had his supporters in the stands who were just grateful to have a professional football team to call their own.
Given the nature of the Carolina secondary these days, it shouldn't surprise anyone that many fans talk fondly about former defensive back Mike Minter. He highlighted some good Carolina defenses and asserted himself as a leader in the secondary.
Minter was both talented and durable having missed considerable playing time only once during his career when he appeared in six games of the 1998 season. He was a good tackler and had a nose for the football by picking off 17 passes during his career. He returned four of them for touchdowns.
He spent his entire career with the Panthers and played in some very big games. Fans embraced him as a solid fixture on the defense and knew he had things locked down on the back end of the defense.
Minter continues to be a fan favorite and is still a fixture in the Charlotte area today.
Stephen Davis only played three years with the Carolina Panthers, but his rushing ability was one of the reasons for the team's Super Bowl run during the 2003 season. While the passing game was defined by Jake Delhomme, Steve Smith and Muhsin Muhammad, Davis anchored the Carolina rushing attack.
That year he had a Pro Bowl season rushing for 1,444 yards and eight touchdowns. If fans weren't wearing his jersey early in the year, they were by the end of that magical season.
Davis may have had short-lived tenure with the Panthers, but he made a big impact in his debut season with the team. If he were able to stay healthy, he might have helped Carolina to better records in subsequent seasons.
There isn't anything that can be said about Sam Mills that Carolina fans don't already know. He only played three of his 12 professional years with the Panthers, but he did enough during that time to cement his place as one of the best players in Carolina Panthers history.
He didn't stop there as he worked as a coach for the team and became an inspiration to not only the team, but to an entire fan base as well. Fans who wore No. 51 knew it meant more than just a player; it was an attitude, a symbol of leadership and a sign of commitment.
Sam Mills has the distinction of being the only member of the Carolina Panthers to have his number retired.
While his number will never again grace a Panthers jersey, his words, "Keep Pounding," will be present for each and every game.
Dan Morgan should have had a more productive career. He was an outstanding linebacker and a fan favorite on defense. However, he was constantly sidelined by injuries throughout his career. Unfortunately, much of that was attributed to concussions he sustained during games.
Morgan never played a full season, with 2005 being his best (and healthiest) year as he started 13 games. His numbers left a little to be desired as he only recorded 77 tackles. However, he did record a career-high three sacks.
While Morgan didn't enjoy a long career with the Panthers, he opened the door for Jon Beason after he was injured in 2007 and encouraged him to be the leader the defense needed.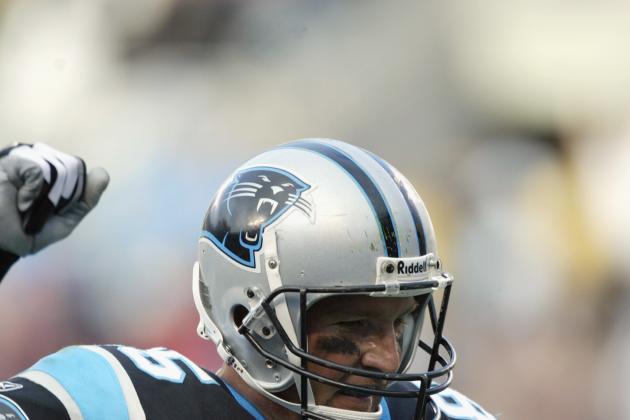 Craig Jones/Getty Images

Before there was Greg Olsen, there was Wesley Walls. The veteran tight end put up his best numbers with the Panthers and was the first real receiving tight end in Carolina history. Many fans embraced him as a favorite. He was a five-time Pro Bowler with the Panthers and had two seasons with them where he caught at least 10 touchdowns.
He was a popular and reliable target for both Kerry Collins and Steve Beuerlein during his time in Carolina and provided for big plays when nothing was available down the field.
To fully appreciate what Walls meant to the Panthers, the team didn't have a reliable receiving option at tight end until they traded for Olsen prior to the 2011 season and signed veteran Jeremy Shockey as a free agent.
Nobody has quite represented No. 85 the way Walls did in the years since he left the team.
Muhsin Muhammad is regarded as the second best wide receiver in Carolina history after Steve Smith. That makes sense because the Panthers have struggled with possessing an effective one-two punch in their receiving corps since Muhammad retired in 2009 following his second stint with the Panthers.
Muhammad will be forever remembered for his touchdown catch in Super Bowl XXXVIII. The 85-yard reception remains a Super Bowl record to this day.
It's a fair assumption to say the Panthers were spoiled a bit with the presence of both Muhammad and Smith in their offense. In retrospect, those teams probably should have been better.
The fans loved Muhammad and to this day continue to discuss how much of an impact he made to the team. They still continue to show him some love by wearing his jersey during games.
Steve Smith has the honor of being the only current player who is on this list. He is the longest-tenured Panther and started gaining favor with the fans early in his career with his ability to play special teams.
He broke out in 2003 with 88 catches, 1,110 yards receiving and seven touchdowns. Unfortunately, he was lost for the last 15 games of the 2004 season after being injured in Week 1. However, he rebounded from it and led the league in catches, receiving yards and touchdowns the next season.
Fans have grown to respect the fiery receiver and have become fond of his end zone celebrations following a score. Well, that is until the NFL began levying fines for excessive celebration. His jersey is one of the most popular among the fan base and has been a favorite since the 2003 season.
Smith will go down as the team leader in catches, receiving yards and touchdowns. He may not be a shoo-in for Canton, but he is making a strong case for the Panthers' Hall of Honor. It wouldn't be surprising to see his number retired one day.
While Julius Peppers may have fallen out of favor with the fans in recent years, there was a time when his jersey adorned many fans on game day. He was (and still is) a gifted athlete who possessed a freakish ability for a man of his size.
Peppers is arguably the franchise's first legitimate superstar, and his jersey was among the top sellers during his time with the Panthers.
A lot of the fans wish Peppers had stayed in Carolina, but in the era of free agency, commitment to one team is a rare thing. He will always be regarded as one of the best defensive players to ever suit up for the Panthers, but one cannot help wonder what kind of impact he would have made had he chose to remain with the team.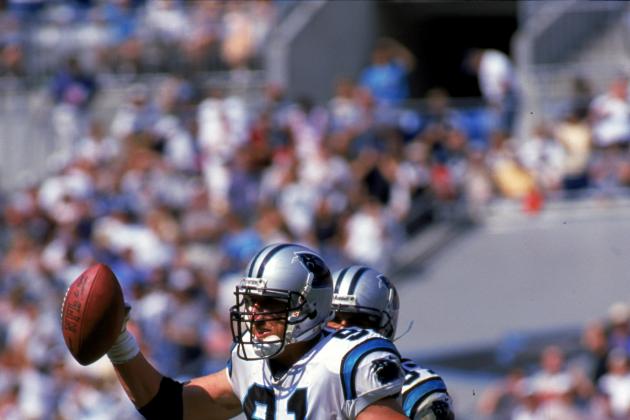 Craig Jones/Getty Images

Kevin Greene was one of the first exciting players to wear a Panthers uniform. He had a larger than life personality and charisma that was unrivaled by anyone on the Carolina roster. What is most amazing about Greene's time with the Panthers is what he accomplished in such a short time.
Over three seasons, Greene recorded 41.5 sacks. That was six more than he had in the same amount of time with the Pittsburgh Steelers.
Greene became a hit with the Carolina fans and became even more beloved with his participation in the WCW. While his wrestling career paled in comparison to his football career, he did his part to become one of the most recognizable players in team history.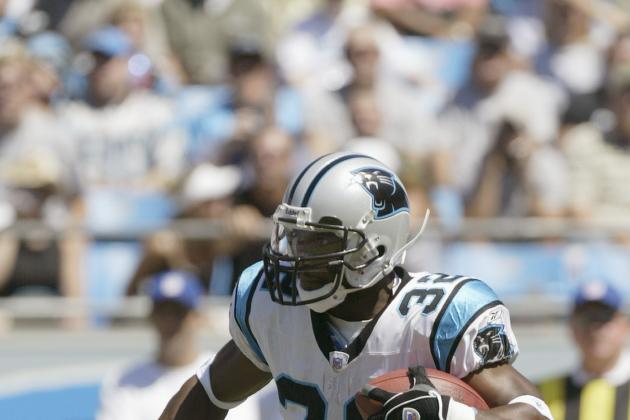 Craig Jones/Getty Images

Rod Smart only played four seasons as a member of the Carolina Panthers and was utilized primarily as a return man. While his stats were underwhelming during his short career, there were plenty of fans who took customizing jerseys to a new level while Smart was a Panther.
Smart was known as "He Hate Me" in the now-defunct XFL and was one of the most recognizable players from that league. Most fans were unfamiliar with the return specialist until it was revealed that he was the guy in the wresting football league with the unique name on the jersey.
He was not one of the popular players, but there were no doubt plenty of fans who tried to put "He Hate Me" on the back of their own jersey.