Miami Marlins Report Card at the Halfway Point of the MLB Season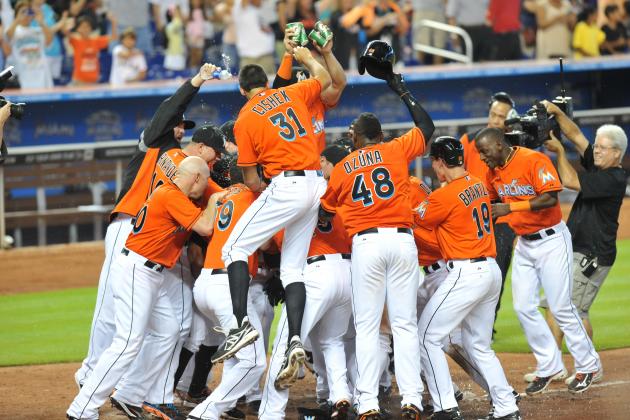 Steve Mitchell/Getty Images
The Miami Marlins celebrate Jeff Mathis' walk-off grand slam on Sunday.
The Miami Marlins' 2013 season has been, as most people expected, not particularly good. A solid June has bumped up their record to 30-51, with a winning percentage slightly better than the equally poor Houston Astros.
The last month has seen the record inch ever closer to respectability. But they're still on pace to bust this writer's preseason prediction of less than 100 losses. With half the season gone, it becomes time to assess the ups and downs—mostly downs—of this campaign.
Read on for a breakdown of grades across the board for the Marlins. It'll be divided by position groups: infield, outfield, catchers, starting and relief pitching, as well as coaching.
All stats in this article are through July 1's game and from the Marlins' official site unless otherwise linked.
Begin Slideshow

»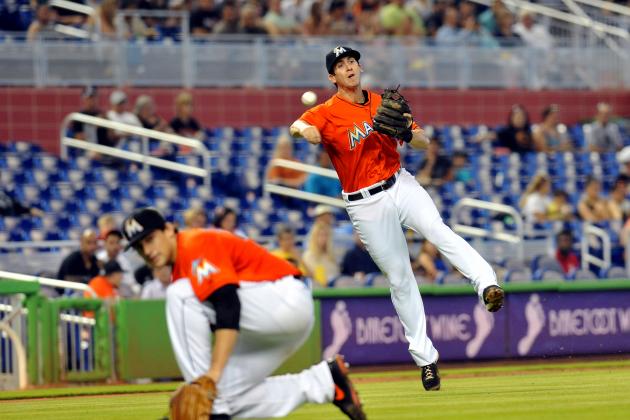 Steve Mitchell/Getty Images
Ed Lucas has been a great story for the Marlins in recent weeks.
The Marlins infield has been a mixed bag. First baseman Logan Morrison was out until June due to injury, while second baseman Donovan Solano is being recalled after an injury of his own, per the Sun-Sentinel's Juan C. Rodriguez.
Morrison has been strong since his season debut, currently boasting a .308 batting average and six of his 16 hits being for extra bases—including two triples and a home run. Solano was also having a good season before he went down, hitting .278 in 30 games.
The guys who have filled in on that side of the infield have had mixed results. Greg Dobbs is not really an everyday player at this point in his career, as his .226 average holding Morrison's spot might indicate. He is still a valuable asset off the bench, as he has been his entire career.
At second base has been Derek Dietrich, and the Georgia Tech product has produced fairly well. He's shown good pop at the plate, with seven home runs ranking him third on the team. But a .213 average and nearly a strikeout per game leave something to be desired.
Dietrich's double play partner has been a mainstay in the Marlins' lineup: Adeiny Hechavarria. The young shortstop, like Dietrich, holds a pretty low batting average at just .208. However, he's shown signs of brilliance defensively and can provide a spark near the bottom of the order.
Third baseman Placido Polanco has shown signs that age is catching up to him, as he's no longer racking up hits like he used to. His playing time has dropped off significantly in recent weeks, largely due to the emergence of Ed Lucas.
Lucas' story is a great one. After more nearly a decade in the minors, he finally made it to "The Show." And since his arrival, he's been a valuable asset in the lineup, with his .366 on-base percentage trailing only Morrison.
Other notable contributions have come from the likes of Chris Valaika and Nick Green. Valaika's injury cleared a path for Dietrich, while Green was designated for assignment and is now with Triple-A New Orleans.
Overall, the unit as a whole has had a couple of bright spots. Solano being ready to return to play could provide another good boost.
Grade: C-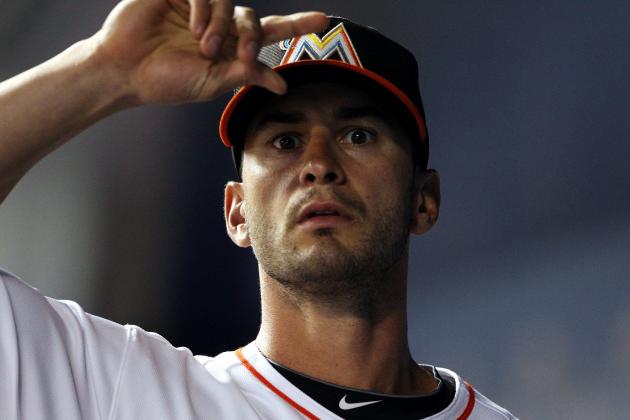 Marc Serota/Getty Images
Justin Ruggiano has remained one of Miami's top performers.
The outfield unit entered the season boasting the team's one true bona-fide star in Giancarlo Stanton. But the powerful right fielder missed a large part of the season through injury, leading other names to emerge as key contributors.
Leading the way has been the versatile Justin Ruggiano. Working off the back of a strong 2012 season, the former Tampa Bay Ray leads the team with 11 home runs and 28 RBI. He's also added eight stolen bases, but 62 strikeouts in 68 games is a disappointing stat.
Emerging as another bright young talent in this outfield crop is Marcell Ozuna. Having filled in for Stanton in right, Ozuna now occupies center field. He leads all qualified rookies with a .299 average, has chipped in with 27 RBI and has shown a fantastic arm.
Stanton's half of the season has been pretty strong overall. Eight homers in 39 games might be a bit low, but he's been effective since his return. More importantly, he adds that fearsome element to the lineup, the presence that makes pitchers think twice about their strategies.
Stanton's return, of course, had to leave one player as the odd man out. Unfortunately, that man has been fan favorite Juan Pierre. The 2003 world champion has his usual outlay of stolen bases—18 this season—but inconsistency and iffy defense has pushed him out of left field in favor of Ruggiano.
This season also marked a bit of a re-emergence for Chris Coghlan. The 2009 NL Rookie of the Year struggled with the rest of the team in April, but put together a strong May and was going strong into June until a lower back injury derailed his momentum.
These five players have provided all of the output, outside of a couple spot starts for Matt Diaz and Austin Kearns. And of course, much-hyped prospect Christian Yelich is still waiting in the wings though he may not be needed right now.
Overall, this unit's production has been hampered by injury but has seen the emergence of a new star in the making. A Ruggiano-Ozuna-Stanton trio looks one primed to make a big impact.
Grade: C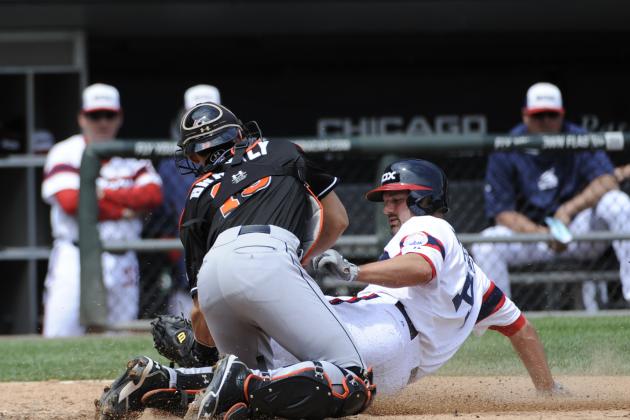 David Banks/Getty Images
Rob Brantly laying a tag on Paul Konerko.
It's not often that you see a team with three catchers on the active roster, but that's something the Marlins did for parts of this season. Those three guys are youngster Rob Brantly and veterans Jeff Mathis and Miguel Olivo.
Brantly entered the season as the first choice at the position, and has continued to grow under Mike Redmond. He's not a force offensively, with no homers and just a .287 slugging percentage. But he's gunned down more than 36 percent of potential base stealers, a mark better than former Marlin John Buck.
Mathis' season started late because of injury, but after his return he began getting more and more time in a split with Brantly. Notably, he's played four games in the last week, and has picked up 11 RBI—on just five hits. This includes the walk-off grand slam he hit on Sunday.
His veteran know-how has seen him backstop the Marlins' last three games, pitched by youngsters Jacob Turner, Nate Eovaldi and Jose Fernandez. He's also thrown out a high percentage of opposing base runners trying to steal—11 out of 16.
Mathis' emergence as an option quickly pushed Olivo out of favor, and the veteran catcher in his second stint with the club didn't like this at all. As reported by the Miami Herald, Olivo walked out on the club after falling down the pecking order and is now on the restricted list.
His contributions before this incident were average at best. He pitched in with four homers, but just 11 other hits in 33 games saw his average sit at a meager .203 with 23 strikeouts. He also had the lowest caught-stealing percentage of the three catchers with six out of 19.
The Marlins have another promising prospect behind the plate in Kyle Skipworth, their first-round pick in 2008. He's pinch-hit on four occasions and currently sits with Triple-A New Orleans where he is underperforming.
Mathis' sudden surge has brought the current catching duo to a good level. A veteran-youngster pairing will be beneficial for both parties. As long as they can remain consistent on both offense and defense, this position looks good for now.
Grade: C+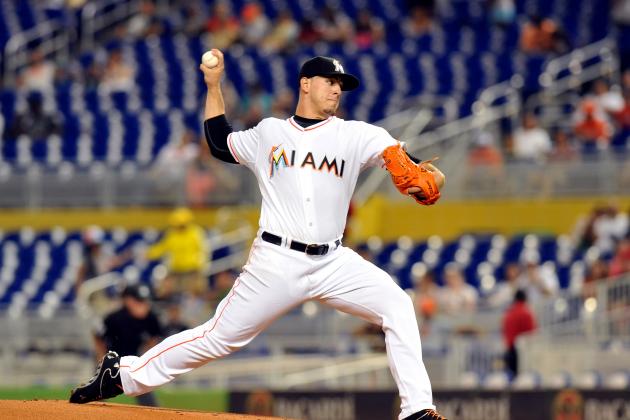 Steve Mitchell/Getty Images
Jose Fernandez has gone from Single-A player to Major League ace in no time at all.
The Marlins rotation has witnessed the rise of a veritable ace in 20-year-old Jose Fernandez. His story is perhaps even more enthralling than Ed Lucas' as he escaped Cuba as a 15-year-old on his fourth attempt, saving his mother in the process.
Drafted right out of high school, he spent just one season at Single-A before making the Marlins' opening day roster. And he has done nothing but impress, as his blazing fastball and wicked breaking ball have held opposing hitters to a .193 average and 94 strikeouts in 92.2 innings.
This has taken some of the spotlight away from the man who was supposed to be the team's ace, Ricky Nolasco. The veteran right-hander is in the last year of his deal and is subject to trade speculation while holding a 3.93 ERA and a 4-8 record.
Kevin Slowey's season has been an odd one. A strong April saw him with just a 2.12 ERA, but an 0-2 record. The wheels have fallen off a bit since then, but a fantastic seven-inning relief outing in the 20-inning win over the Mets was an encouraging sign.
Injuries to Jacob Turner and Nate Eovaldi saw both players out into June, leaving the void to be filled by the likes of Alex Sanabia, Wade LeBlanc and Tom Koehler. None were particularly great. LeBlanc was DFA'd, added by the Astros and promptly designated again.
Koehler is a converted reliever and could return to the bullpen with the impending addition of Henderson Alvarez to the rotation. Alvarez was added in the massive trade with the Blue Jays but was shelved with an injury. Sanabia is currently on the DL himself with a groin injury.
Turner and Eovaldi, meanwhile, have been impressive in their returns. Turner boasts a stellar 1.76 ERA in six starts, including a complete game against the Giants last week. Eovaldi has allowed just four runs over three starts, including six shutout innings Sunday against the Padres.
Alvarez's impending debut ought to add a new dimension to a unit that is slowly growing into a strong one. Whether Nolasco gets traded in the next month will have a huge impact on this rotation going forward as well.
Grade: C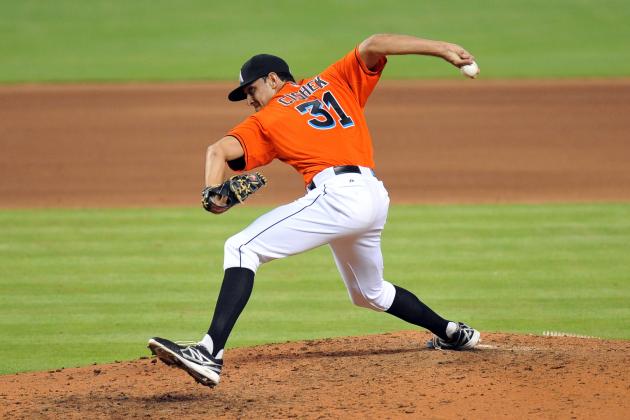 Steve Mitchell/Getty Images
Steve Cishek has been solid at the back of the Marlins bullpen.
Perhaps the weakest part of the Marlins this season has been the bullpen. This has been a consistent theme over the last few seasons, and a host of veteran arms hasn't been able to help this unit garner consistent results.
Steve Cishek has been installed as the primary closer and hasn't been too bad with 15 saves from 17 chances. An ERA over 3.00 is less-than-stellar, but a .197 batting average against and nearly a strikeout per inning are more indicative of his strong season.
The primary arms coming out to assist Cishek have been Mike Dunn and Ryan Webb. The left-handed Dunn has the team's only other save and holds a 2.75 ERA but a relatively high walks plus hits per inning ratio of 1.39 hampered his success.
Webb, a right-handed sinker specialist, lacks the higher strikeout rate of some of his colleagues—just 22 in 36.1 innings—but still walks batters at a similar clip with 17. His best asset is the aforementioned sinker, having forced seven double plays, most among Marlin relievers.
Chad Qualls has also provided a veteran presence in the relief crew, with a low walk rate—eight in 31.1 innings—being his best asset. He did serve up a two-run homer to Carlos Quentin on Sunday, the fourth he's allowed this season.
Towering right-hander Jon Rauch was less successful, with a 7.56 ERA in 15 appearances. Other underwhelming performances have come from the likes of Edgar Olmos, AJ Ramos and former Mets starter John Maine.
Koehler, LeBlanc and Slowey have each made a handful of appearances in relief as Redmond searches for the right rotation to take this team forward. If the bullpen can hold leads effectively, then the team can continue its turnaround.
Grade: D+
Victor Decolongon/Getty Images
Mike Redmond doing his duties as Marlins skipper.
Mike Redmond's first season as a professional manager was never going to be easy. He was taking over one of the worst teams in the league coming off a terrible season that saw them jettison a number of top-level players as well as manager Ozzie Guillen afterwards.
Redmond had spent two years as a manager at the Single-A level before being hired by the Marlins. And by all accounts, he has done a pretty good job given what he had to work with: a young, inexperienced roster shell-shocked by the loss of a number of stars.
He's had to also deal with a number of injuries to the likes of Giancarlo Stanton, Logan Morrison and Donovan Solano, having to shift the order on a fairly consistent basis. Being able to integrate minor leaguers like Ed Lucas, Derek Dietrich and Marcell Ozuna so effectively has been commendable.
The staff around him have done good work as well. The new staff is headlined by hitting coach Tino Martinez and pitching coach Chuck Hernandez. These two have had to do just as much work as Redmond in making sure the young players are up to snuff.
Martinez's efforts with players like Adeiny Hechavarria and Ozuna have been excellent. As young players they will always tend to suffer from pitch selection issues, but a player of Martinez's caliber who has been there and done that is an invaluable asset to instill the proper lessons.
For Hernandez, he's had to deal with a rotation continually in flux due to the early injuries to Jacob Turner, Nate Eovaldi and Henderson Alvarez. Managing a staff that struggled early on to groom a series of youngsters into top performers is commendable.
And of course, the usual suspects of base coaches Perry Hill and Joe Espada have done their jobs well. All in all, the job the coaching staff has done given the circumstances is quite remarkable. Hopefully they can help keep up the turnaround.
Grade: A-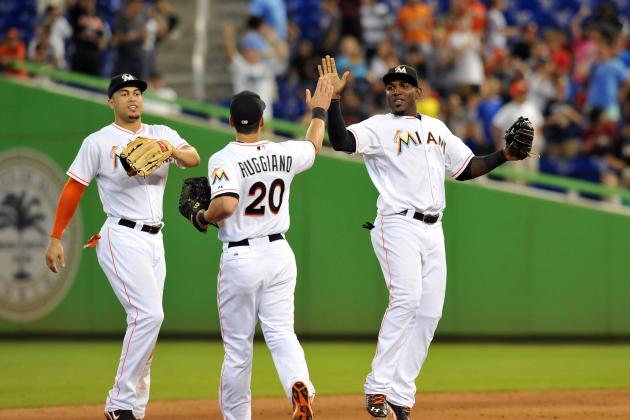 Steve Mitchell/Getty Images
Things are slowly looking up for the Marlins.
No matter how you look at it, this season has been about what most people expected from the Marlins. They're more than 20 games below .500, 17.5 games behind the division-leading Atlanta Braves and well on track for the worst record in the NL.
Yet they went 15-10 in June, one of the best records in baseball. They boast emerging stars like Marcell Ozuna and Jose Fernandez, as well as one of the most feared hitters in the game in Giancarlo Stanton. They've made great strides in a fairly short time span.
They may still be on pace for triple-digit losses, but the turnaround looks to have them on track for respectability. It hasn't been pretty by any means, but it's a sight for sore eyes if there could ever be one.
Grade: C